LA Dodgers 5, LA Angels 2, Mike Scioscia 0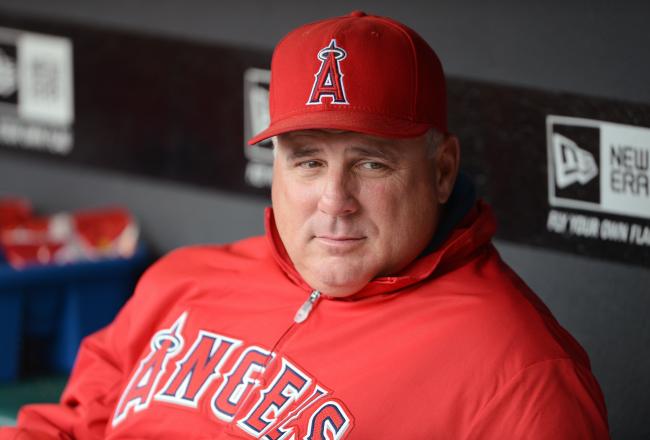 Mike Scioscia was asleep on the job for this game against the LA Dodgers
Jason Miller/Getty Images
They say a good manager can win a handful of games during a season. Well, how many can a manager lose?
Because tonight, Mike Scioscia lost his team a game.
First off, would somebody please tell Mike that Maicer Izturis is not, repeat, NOT a superstar. This is Mike at his worst. He is in love with scatbacks, his favorite kind of player and tries to find a place for Izzy in every game.
Maicer Izturis is hitting under .220, with zero home runs and six RBIs. Yeah, Mike—you got to get him in the game.
Okay, starting Maicer over Howie Kendricks was mistake number one.
Mistake number two: 6th inning. Kendrys Morales walks. Mark Trumbo singles. Up steps Izturis, all .220 of him. What do you do? Well, let's see—you could bunt. Yes, that would be the move. So Izturis steps up, swings at the first pitch and flies out.
Now, it's easy to know what Scioscia was thinking. Everyone is expecting Izturis to bunt, so he'll get a fastball down the middle and be able to smack it. A nice thought, except for one thing...Izturis is hitting .220. He's not smacking anything.
Next mistake. 8th inning. Jerome Williams has pitched a fantastic game. He cruised through the seventh and Scioscia let him bat in the 8th. Kind of a startling move, considering how well the bullpen has been doing and the fact that you don't really want Williams using up energy at the plate, but okay.
We'll give Scioscia that one. Even commend him for it. Williams was throwing well, pitch count was low, etc. So Williams gets the first guy out in the 8th and makes the face of a man in charge, of a man who can't be beaten, of a man who has lost his focus.
That's right, when I saw Williams react as if he had already won the game, I knew he was in trouble. And he was. He walked the next guy. And the next guy. Then a tough lefty comes up, Andre Ethier. Time to get Williams out of there and bring in Scott Downs, right?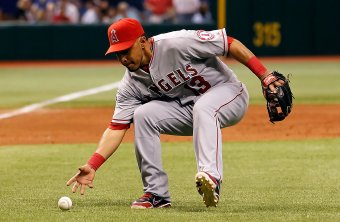 Maicer Izturis has been a steady player for the Angels, but this year has been underperforming.
J. Meric/Getty Images
Wrong. Downs wasn't even warming up. No on was. This made me think of the comment made by Torii Hunter weeks back when he said everyone had to put forth a greater effort. Well, this night, this inning, Mike Scioscia was somewhere else.
So he leaves Williams in, Ethier gets the hit and the game is tied. Okay, it was a bad mistake, but at least the Angels are still tied. Williams is done, right?
Wrong. Scioscia stays in dreamland, ex-Angel Juan Rivera hits a first pitch homer, flips his bat for extra revenge and the game is over.
Oh, right—that's when Scioscia made a pitching change.
This loss is on Manager Mike. The Angels scratched and clawed their way to a 2-1 lead in a game that would keep them on pace with the Texas Rangers. A game that could keep their momentum going. A game they could have, should have—won.
But Mike blew it.
And all we can hope for now is that Mike wakes up in time for tomorrow night's game and makes better choices.
Starting with NOT playing Maicer Izturis for once.
This article is
What is the duplicate article?
Why is this article offensive?
Where is this article plagiarized from?
Why is this article poorly edited?