NHL Playoffs 2012: 8 New Jersey Devils Who Need to Step Up for Round 2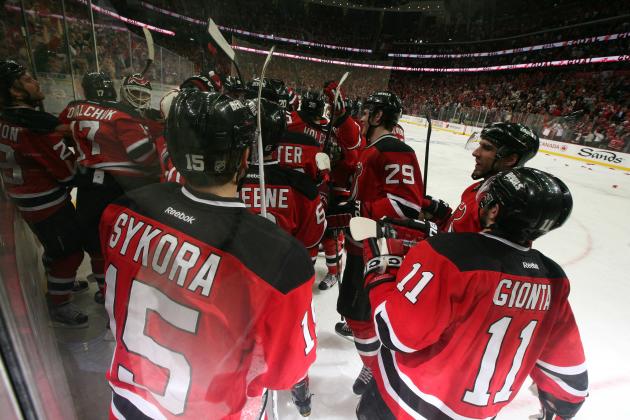 Bruce Bennett/Getty Images

It's a little hard to believe—I'm still struggling with the idea—but the New Jersey Devils have advanced to the second round of the Stanley Cup Playoffs!
The Devils managed to fight their way back from a 3-2 series deficit again the Florida, winning back-to-back games in overtime to win the series.
By advancing, they earned the right to play the Philadelphia Flyers. The Flyers were coming off a lot of rest after dismantling/having their way with the Penguins and are led by some pretty scary players.
Claude Giroux, Jaromir Jagr, Scott Hartnell and Danny Briere are just a few of the weapons Philadelphia possesses. And of course, they have Ilya Bryzgalov backing them up.
The Devils played hard and won when they needed to in the first round, but now, comes the real test. Yesterday's 4-3 overtime loss to the Flyers gave the Devils a taste of what they're up against.
Here are, in no particular order, eight New Jersey Devils who need to step up for Round 2.
All numbers obtained via NHL.com, Hockey Reference and the Devils' team site.
Begin Slideshow

»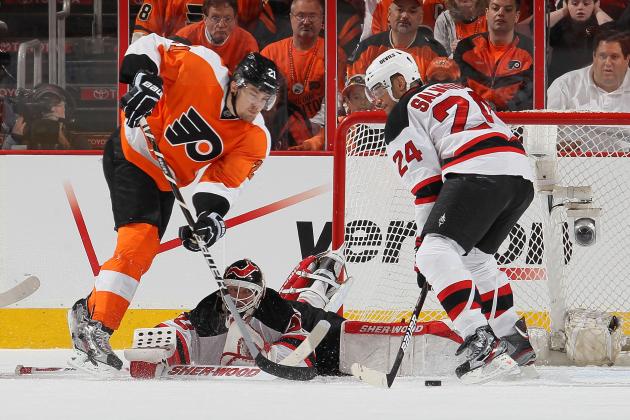 Jim McIsaac/Getty Images

Let me be clear here: I have no problems with how Marty's been playing. He had a couple dreadful games, but he's also had a few stellar ones.
His 2.28 GAA and .917 save percentage aren't bad, but they're not indicative of how crucial he's been to the Devils' success thus far.
Marty warrants mention on this list because he needs to keep it up. He's shown the league that he can still play at a high level late into April. Now, he needs to show that he can do it through two rounds.
With a team as offensively dynamic and talented as the Flyers, Marty is going to have to steal a few games for the Devils to advance. And maybe he will; the way he's been playing, I wouldn't put it past him.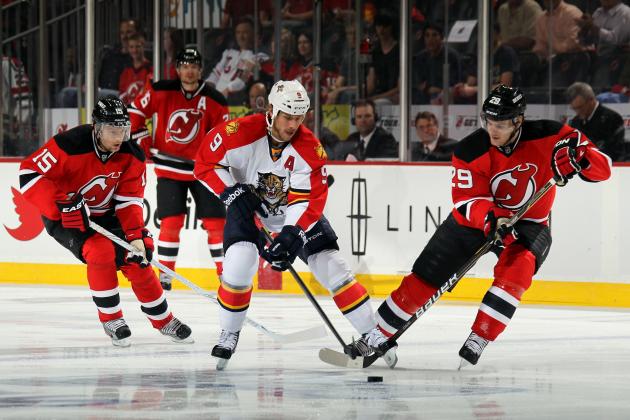 Bruce Bennett/Getty Images

Mark Fayne has to wake up each morning, look in the mirror and say to himself, "I'm being outscored by Anton Volchenkov."
Fayne has been up and down since emerging as a reliable defender last year—his rookie season. He put up 17 points for the Devils this season but often looked a bit slow or out of place. Ideally, he'd be a fifth or sixth defender, but the lack of depth at the defensive position for the Devils means that he has to play more than 20 minutes each game.
So far in the playoffs, Fayne has been dreadful. He's the only Devil to touch the ice without a point except for backup goaltender Johan Hedberg who has only played 36 minutes so far.
In eight games, he has no goals, no assists and no penalty minutes. On the defensive end, he's been nearly as invisible—eight hits, six blocked shots, three giveaways and two takeaways.
With the exception of 11 shots, there's very little evidence that Fayne is playing from one game to the next. He needs to inject himself into the game more and stop making stupid mistakes, or else he's just wasting roster space.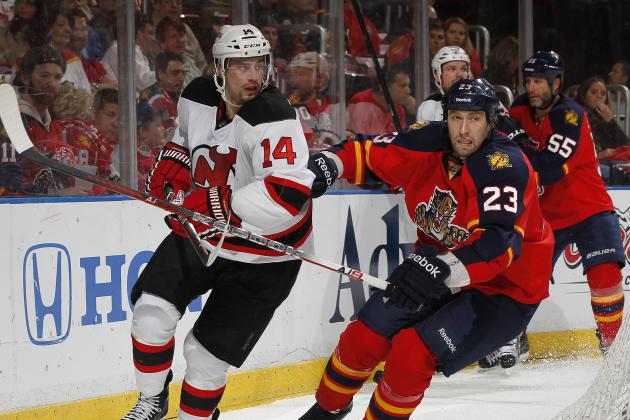 Joel Auerbach/Getty Images

It's hard to know what to expect of Adam Henrique. Henrique came from humble origins (third round of the 2008 NHL draft, 82nd overall) and wasn't even expected to be a definite member of the roster this year.
The Devils started the season in trouble at the center position: Travis Zajac was to miss extended time from the start, and early in the season, Jacob Josefson broke his collarbone. Henrique got the call and quickly began impressing.
Eventually, he found his way to the top line between Zach Parise and Ilya Kovalchuk, and he finished with a tremendous rookie season, garnering a Calder Trophy nomination. Late in the season though, when Zajac was finally able to return, Henrique was displaced, and he's struggled to find consistency since.
Eight games in, the rookie has just three points. Two were as important as any points in the playoffs so far. In Game 7, Henrique scored just 89 seconds in, effectively eliminating the home crowd's presence for quite a while. He would also cap off the game's scoring with a five-hole shot in double-overtime.
The problem is, that's kind of it. He had one assist in Game 2, which the Devils lost 3-2. Besides that, he has no points. Again, he picked absolutely the best time to have a two-goal night. But the Devils have to rely on him more than he's given them.
Also troubling is Henrique's faceoff ability. While during the regular season, his 48.8 faceoff-win percentage was above the Devils' average. Now, his 34.3 average is seriously costing the team.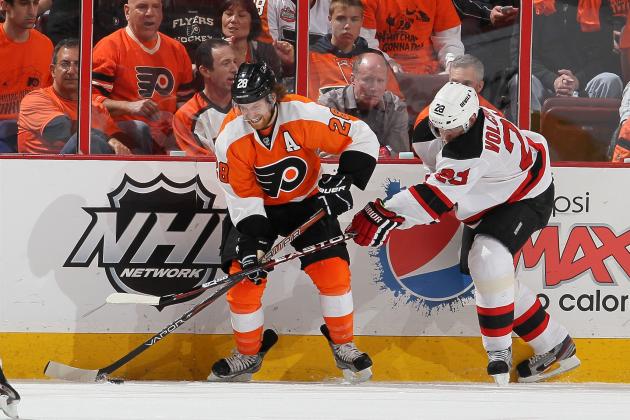 Jim McIsaac/Getty Images

Anton Volchenkov isn't expected to produce on offense, so his one assist is acceptable. The problem is that, because Volchenkov won't be scoring too often, he needs to be pretty effective on defense. So far, that hasn't been the case.
One of the most common stats you may hear is that he's been on ice for 14 of the team's 21 goals. That's obviously a pretty bad one.
The man once known as The A-Train has 19 hits, good for seventh on the team (49th in the league). He has just 11 blocked shots—just over a third of league-leader Dan Girardi's 32. He also has just one takeaway and more missed shots than shots on goal (three to two).
Volchenkov has the skill and power to be a force on the ice—a true shutdown defender. But right now, he's blocking Marty's view more than the puck and always seems to be a step behind an incoming forward.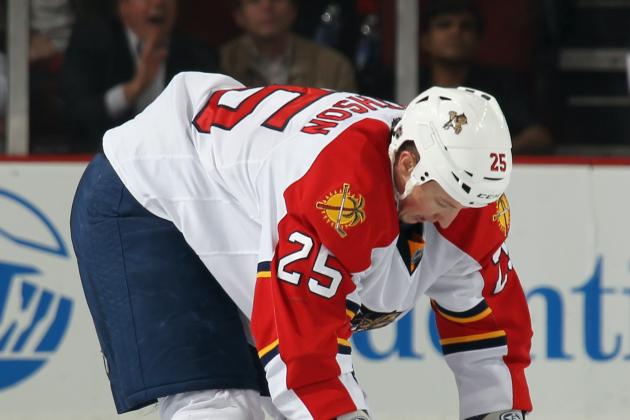 Bruce Bennett/Getty Images

Alexei Ponikarovsky was a midseason addition for the Devils. They acquired him from the Hurricanes in exchange for defensive prospect Joe Sova and a fourth-round pick. He quickly fit in with the Devils, and in 33 games, he contributed seven goals and 11 assists while going plus-nine.
In the postseason, however, he's been nearly invisible. Poni has just two assists in eight games despite almost 15 minutes per game. He's fifth on the team in hits with 23 but has only three blocked shots, one takeaway and nine shots.
He's become a non-factor, and that's the last thing the Devils need if they're going to compete against the depth of the Flyers.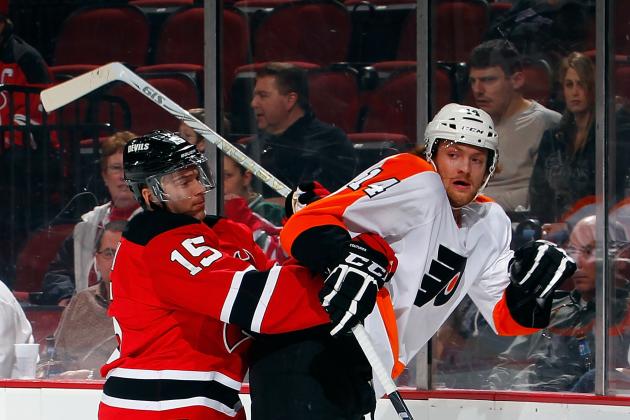 Paul Bereswill/Getty Images

Petr Sykora has been nothing but a pleasant surprise all season. After signing a tryout contract, he managed to work his way onto the team and slowly found his old stride—especially with long-time friend Patrik Elias on the same line. He finished the season with 21 goals and 23 assists.
The experienced vet has oodles of postseason experience—in this case, oodles means two Stanley Cups, five finals appearances, 122 games and 70 points. Is he Danny Briere? No. But he still knows how to produce in the playoffs.
All of that makes it all the more troubling that Sykora has managed just two points so far.
Admittedly, both have come in important situations. He registered an assist in Game 6 of the first round. The goal helped the Devils go up 2-0, before they eventually won in 3-2 in overtime.
His second point came just today. More than halfway through the third period, the Devils found themselves down 3-2 and not looking particularly impressive offensively. A quick turnaround and a beautiful setup pass from David Clarkson gave Sykora a breakaway where he snapped the puck five-hole before Bryzgalov was able to shut the hole.
Two points in his last three games is promising, but none in his first five is unacceptable. This series is sure to be emotional for the Devils, and Petr was a Devil in the heyday of the Devils/Flyers rivalry.
Perhaps, it will light a fire under the Czech vet's behind, and the Devils better hope so: Sykora is one of the few players on the roster with extensive playoff experience. If he can't come through, it's unclear who will in his place.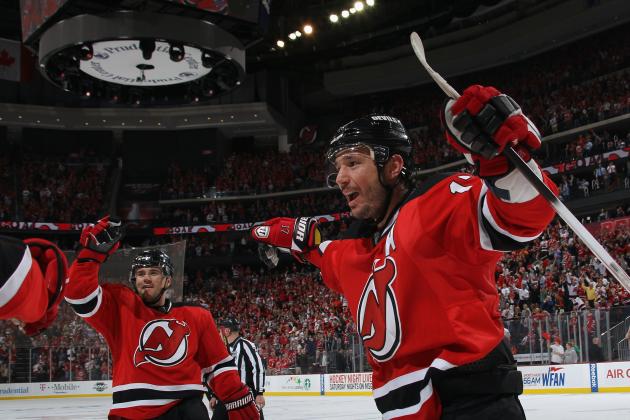 Bruce Bennett/Getty Images

I put these two together because they're in similar situations; they're tied for second on the team in scoring and at the same time not playing well enough.
Zach Parise and Ilya Kovalchuk are the two elite players on the Devils. Sure, Martin Brodeur used to be the best in the world, but those days are passed. Patrik Elias was never quite as dominating a player as the best in the game, and Adam Larsson...perhaps one day.
But right now, it's just Parise and Kovy. And that means that they need to be out there every game, driving the play and creating opportunities. So far, that hasn't been the case.
Parise's been better, certainly. They both have three goals and three assists, but Parise has an even plus/minus rating, a game-winning goal and 10 more shots. The problem is Parise's the captain. His expectations are higher than anyone else's. Six points in eight games is decent, but it's not good enough for a player of his caliber.
With Kovy, it's a murkier situation. He's a minus-five with just 25 shots. It's not just that, though: Kovalchuk's entire game seems to be off. Any comfort he found this past season in the Devils' system is gone now, and he appears to be pressing on every shift.
This is Kovy's first Round 2—his teams were previously 1-8 in playoff games over his career. Maybe that lack of experience is an explanation for Kovy's current struggles, but it doesn't feel like that.
On top of all of that, both players have been part of the Devils' struggles on the penalty kill. After setting a post-expansion record with their PK this season, the special teams unit was nearly the Devils' undoing against the Panthers. Parise has been on ice for five PP goals against so far, Kovy three.
Whatever the reason for their lackluster play so far, these two players have got to turn it around. If they fail to come out guns blazing, they won't have a chance in this series.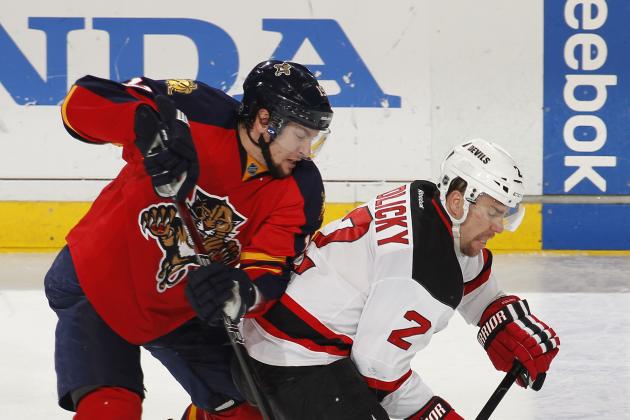 Joel Auerbach/Getty Images

Marek Zidlicky was the last major change the Devils made to their roster. New Jersey traded Kurtis Foster, Nick Palmieri, Stephane Veilleux and draft picks.
In the past, the Czech defender has been extremely dangerous offensively: he posted 14 goals and 39 assists in his rookie campaign with the Predators and put up 40-plus points in four of his next five seasons.
There has been a decline in his play though; Zidlicky hadn't scored a single goal before being dealt at the deadline (he finished the season with two). At 35 years old, there was some hope that he could rediscover his ability by playing alongside long-time friend Elias, but he hasn't yet paid off as much as hoped.
Now, he has just two assists in eight games. He's averaging more than 25 minutes per game, but his production is nearly non-existent. In addition, he's grown prone to poorly timed penalties. In Game 7 of the first round, a delay-of-game penalty taken by Zidlicky allowed the Panthers to score, forcing overtime.
In today's game, Zidlicky's delay-of-game penalty allowed Danny Briere to score a goal, though it was then (rightfully) disallowed. Just minutes later, he failed to land any kind of check on Jakub Voracek, allowing the latter to set up the game-winning goal.
It's one thing if he's an offensive dynamo, but Zidlicky can't fail like this at both ends of the ice—not when he's the team's No. 1 D-man. He needs to quickly prove that the trade for him wasn't a mistake.