Formula 1: Why the Field Is so Close in 2012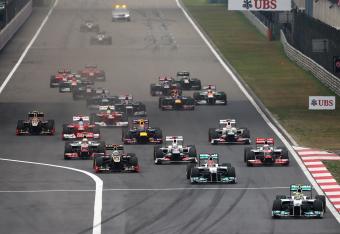 Clive Mason/Getty Images
After a somewhat dull and extremely predictable 2011, Formula 1 looks set for one of the best seasons in recent history.
The most notable thing is how the entire field has bunched up, and gaps in performance between the cars have been reduced.
In terms of lap times, it could actually be the closest an F1 field has ever been. And for once in this most complex of sports, the reason why—at least, what I believe to be the primary reason—is quite simple.
You cannot improve upon perfection.
For any given set of regulations, there is an absolute limit to what can be achieved within them. You reach a certain point and find that making even the smallest gain is almost impossible. Come up with a new technology or relax the rules, and gains once more become relatively easy.
In economics, this is known as the law of diminishing returns.
And as it applies to the wider world, so it applies to F1.
Frequent rule changes and brilliant innovations lead to a more spread-out field. A substantially different new regulation—or the discovery of a loophole in existing ones—sets everyone back to a point quite a distance away from optimal.
Some teams—the more wealthy ones, generally—are better at getting the most from their design teams very quickly. Or one of their designers has a moment of brilliance. They open up a lead over the rest of the field.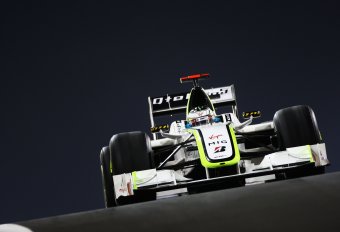 Paul Gilham/Getty Images
If the regulations stay largely the same over an extended period, old loopholes are closed and no new loopholes can be found, those top teams struggle to improve on designs that are already so close to optimal.
They have nowhere to go to find improvements—but the slower teams do. Given enough time without change, the rest of the field will inevitably catch up to the front-runners.
"Double diffusers" in 2009 created big performance gaps and a season of playing catch-up. Blown diffusers in 2010 and 2011 gave Red Bull in particular an edge, and even as recently as the end of last season they still got more out of it than anyone else.
Even the great minds of McLaren, Ferrari and Mercedes couldn't find an complete answer. What chance did the smaller teams have?
The blown diffuser and associated bits and pieces such as the exotic ECU maps and exhaust positioning were quite possibly the final areas within the recent regulations in which brilliance and budget could make a huge difference.
Now that's been taken away, and it shows.
In 2012, with the exception of the Mercedes "double-DRS"—which for all the hype isn't exactly a game-changer—there haven't been any inspired (legal) leaps forward.
And with the cars so similar to the 2011 machines, everything really significant the top teams could do within the rules, they've already done.
Mark Thompson/Getty Images
The midfield, on the other hand, have been given more time to use their limited budgets to creep up slowly on the leaders.
Take the Chinese Grand Prix qualifying for example. We'd expect the fastest lap this year to be slower than the fastest lap last year, mostly due to the loss of the blown diffuser and associated pieces. And so it was, by around a second and a half.
But the real story is in comparing how each individual team performed relative to their 2011 times. These sort of comparisons would be laughed out of a science fair, but they're a passable illustration of how the grid has changed.
The fastest time set by a Red Bull in 2012 was a staggering two seconds slower than the best Red Bull lap in 2011. McLaren's was 1.2 seconds slower. Ferrari lost eight tenths, Lotus the same, Force India six tenths and—despite Nico Rosberg's insanely quick lap—Mercedes half a second.
By contrast, the best Sauber lap in 2012 was 0.3 seconds faster than their 2011 best. Williams improved by two tenths.
The top teams have lost the diffuser and there's very little they can do to recover the time, because their cars were already so close to optimal. Improvements have been made, but each improvement brings a smaller return.
The lesser teams have lost it too, but the exhaust and diffuser area was arguably the place where they were losing the most to the likes of Red Bull.
They've had a year to catch up on development elsewhere on their racers, finding time all over the car while their illustrious rivals have spent the winter scrambling for fractions of a tenth.
The regulations are so tight that, for the first time in a long time, perfection has almost been achieved. And that's why everything is so very close this year.
Follow me on Twitter if you wish, @JamesNeilsen
This article is
What is the duplicate article?
Why is this article offensive?
Where is this article plagiarized from?
Why is this article poorly edited?