Final St. Louis Rams 7-Round Mock Draft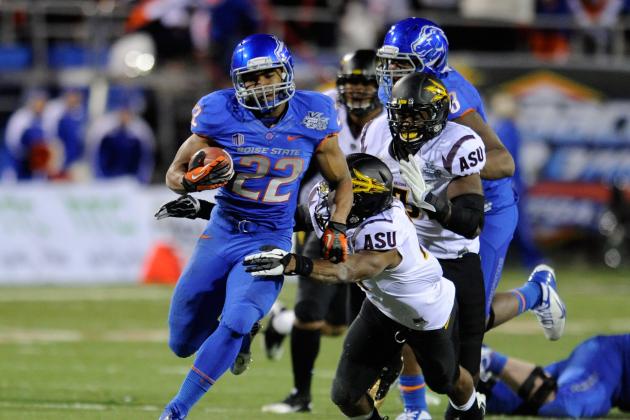 Ethan Miller/Getty Images

With the draft just hours away, news and rumors are bouncing around at light speed.
For St. Louis Rams fans, we are just as clueless about the No. 6 overall pick as we were two months ago. Coach Jeff Fisher and general manager Les Snead have done a phenomenal job concealing their intentions.
And while any predictions we make are speculation at best, let's take a look at the final Rams mock draft of the year.
Begin Slideshow

»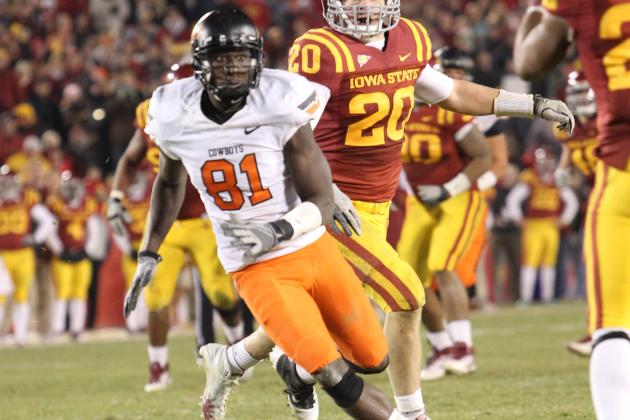 Reese Strickland/Getty Images

Is Fletcher Cox a promising talent? Yeah, he is. He's maybe the best defensive tackle in the draft and seemingly a solid option for Carolina at No. 9 overall.
But is Cox a good pick for the Rams at No. 6? No, probably not.
The Rams need to stick with the guy they've had their eye on for months now. Ignore the hype and smokescreens, because the Rams need a target for Sam Bradford more than anything else.
Blackmon is not quite a Calvin Johnson-caliber talent, but he's a possession guy who's capable of consistently catching 70 to 80 passes a season.
Unless Trent Richardson or Morris Claiborne slip out of the top five, Blackmon is the obvious choice.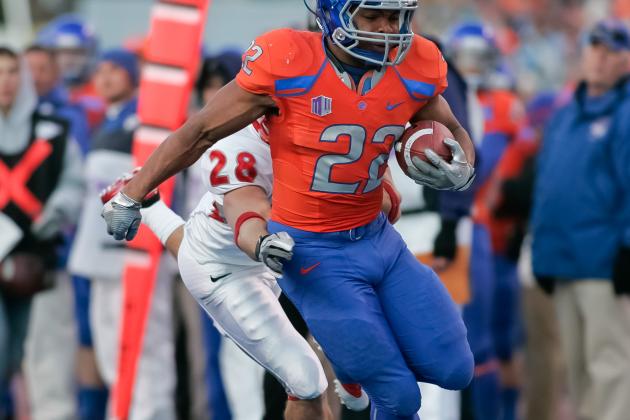 Otto Kitsinger III/Getty Images

Doug Martin runs with great speed and incredible agility. He also has enough power to break tackles when necessary.
Martin is constantly being compared to another second-round pick from the 2008 draft, a decent runner for Baltimore. Maybe you've heard of him—Ray Rice.
If the Rams can use their top two picks on a 1,000-yard receiver and the next Rice, they are in great shape as far as rebuilding the offense.
Martin will add some pop to the offense in a limited role behind the 29-year-old Steven Jackson. And in a few years, he'll be able to take over full time.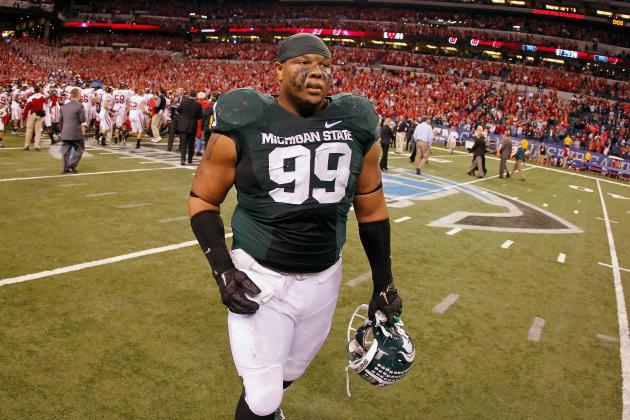 Gregory Shamus/Getty Images

Jerel Worthy is thought of as a 3-technique defensive tackle, which is not necessarily a huge need ever since the Rams acquired Kendall Langford in free agency.
However, while a giant run stopper for first- and second-down would be ideal, don't expect Fisher to get caught up in technicalities.
It could be 1-technique, 2-technique, 20-technique... the Rams just need another tackle who can play football.
Worthy may take some time to develop, but he'll be dominating offensive lines in the near future if he's properly coached.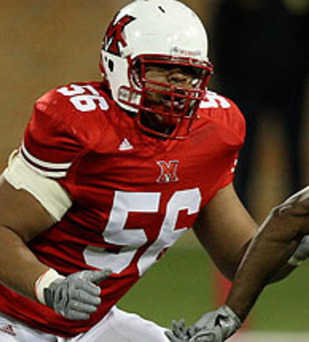 Tony Softli of ESPN 101 released a video where covered some second-round options. Due to that video, I'm now convinced that Brandon Brooks should be considered.
However, unlike Softli, I'm not ready to spend a second rounder on Brooks. But I'd love it if he slipped into the third round.
Brooks is a massive human being at 6'5" and 346 pounds. He will not be pushed around if the Rams stick him at left guard.
Also, he's versatile enough to play tackle in a pinch, which significantly adds to his overall value.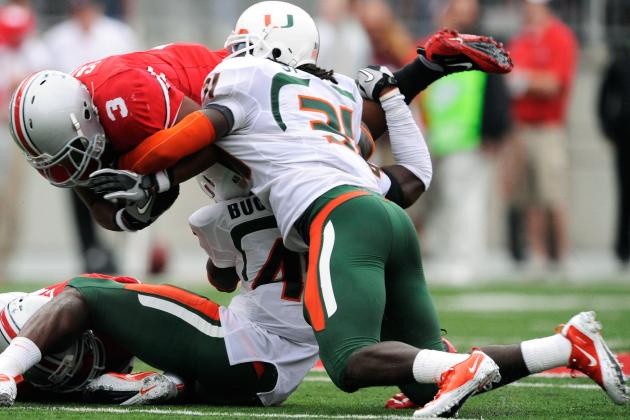 Jamie Sabau/Getty Images

Walter Football has outside linebacker Sean Spence going to the Rams in the fourth round, and it's a selection I happen to agree with.
Outside linebackers in 4-3 defenses are not overly valuable, so even though the Rams have a need at the position they should wait until at least the third round before exploring linebacker options.
At 5'11" and 231 pounds, Spence is undersized and destined to play weakside linebacker, so hopefully his athleticism will help him compensate.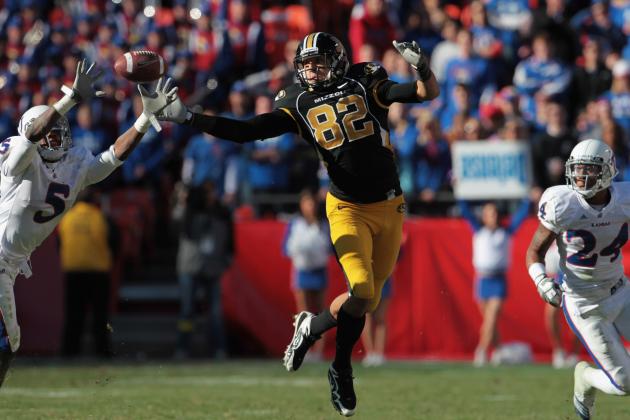 Jamie Squire/Getty Images

While the Rams used their top two picks on offensive weapons (Blackmon, Martin), they still need another option in the receiving game for Bradford.
Last year's second round pick, tight end Lance Kendricks, has incredible potential and could easily develop into a difference-making weapon. But he struggled with drops as a rookie, so the Rams need some insurance.
Michael Egnew is a local boy from the University of Missouri, so Rams fans will obviously be receptive.
And at 6'5" and 252 pounds, Egnew will provide the Rams with something they desperately need—a red zone target.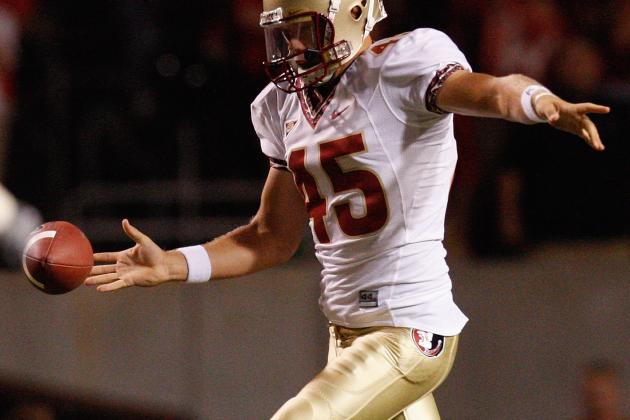 Kevin C. Cox/Getty Images

In the late rounds of the draft, teams typically look for players who have a shot at making the roster.
Instead of finding a seventh rounder who can merely make the roster, why not find a starter at a position of great need?
The Rams lost punter Donnie Jones in free agency, so they need to find a punter at some point.
Last season, Shawn Powell averaged 47 yards per punt and had 24 punts for over 50 yards. And at 6'4" and 235 pounds, he's not your typical punter. His size opens up some options if the team decides to develop a few trick plays with the punt team.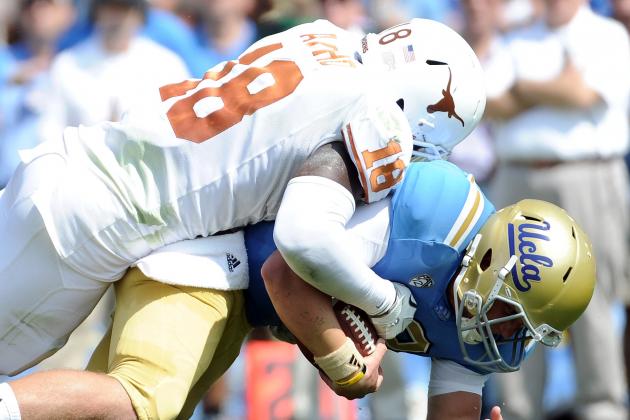 Harry How/Getty Images

The Rams signed Jo-Lonn Dunbar in free agency, and in this scenario they also used a fourth-round pick on Sean Spence.
Spence and Dunbar would likely be the starting outside linebackers for the Rams, but drafting Emmanuel Acho would provide both depth and competition.
Acho played solid competition in the Big 12 and is the brother of Sam Acho, who was a solid contributor for the Arizona Cardinals as a rookie last season.
Acho is undersized (6'2", 238 pounds), but he's a hard worker with solid athleticism, which could ultimately help him overcome his lack of size and strength.