Tracking North Carolina Football Players in the 2012 NFL Draft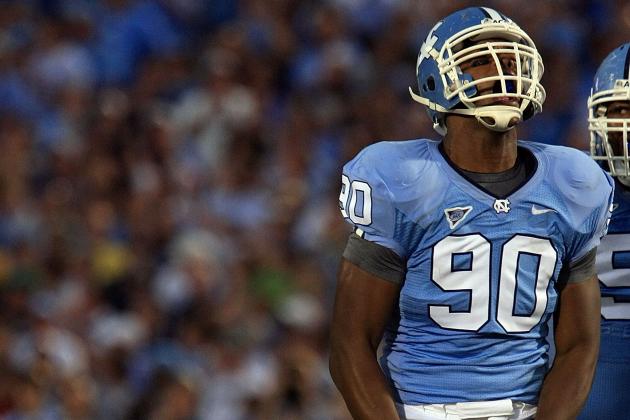 Scott Halleran/Getty Images

The three-day event that is the NFL draft will be getting underway later today, and one of the teams that has been well represented in recent years and will be looking to do the same in 2012 is the North Carolina Tar Heels.
North Carolina had nine players drafted a season ago, including one in the first round. This year they have a lock in defensive lineman Quinton Coples to go sometime on Day 1.
After that though, there is not nearly as much depth for the Tar Heels in the 2012 draft as there was a year ago.
Over the next three days we will have everything covered when it comes to North Carolina football, so check back here for all the latest draft updates as the Tar Heels are selected.
While they will not reach the nine players they had selected a year ago, there will be a few Tar Heels taken over the next few days.
Begin Slideshow

»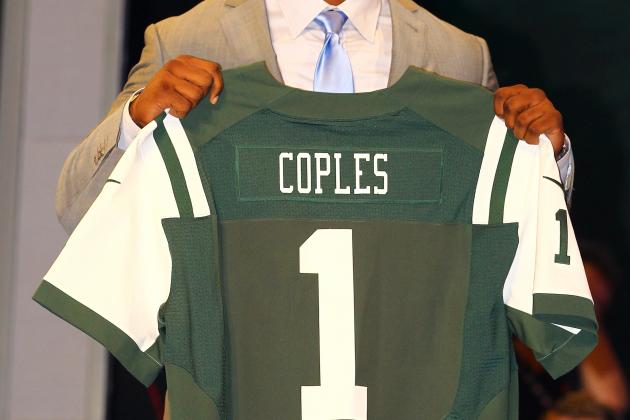 Al Bello/Getty Images

There are few 2012 NFL draft prospects more enigmatic than North Carolina's Quinton Coples. At 6'6" 284 pounds, he has an ideal NFL defensive end frame, and when he fires off the snap on time, he seems unstoppable (just like he was during Senior Bowl practices). On the other hand, his motor runs hot and cold and it shows. Effort questions are a major red flag to some teams, others feel that they can light a fire under a player. He recorded only 7.5 sacks last year, and four of those came against Duke and James Madison.
Coples also played some games at defensive tackle and could add even more punch to a pass rush lining up there on third down.
His scouting reports run the gamut from strongly negative to strongly positive:
There are enough times where Coples comes off the snap late and seems to give up after a hard block instead of re-directing, and this lends legitimacy to the concerns about his overall effort. It's pretty disturbing to see a 6-foot-6, 284-pound guy who can run a 4.78 40 at the combine get rolled up by tight ends and blocking backs as much as he did. Coples' tape very much brings to mind Arkansas' Jamaal Anderson, a 6-foot-6 288-pound mountain of a man who was selected eighth overall by the Atlanta Falcons in 2007. Anderson never came close to validating his high prospect status, and there was enough on his college tape to make people wonder. Anderson's size/speed combo hoodwinked the Falcons, and though he had his moments as an interior pass rusher, Anderson's NFL career has been an unqualified disappointment to date.
Walter Football's Charlie Campbell:
When Coples gets leverage, it is over. He has too much strength for tackles to hold back and is too fast for them to recover to move in front of. In the NFL, he would be best as a 4-3 defensive end where he can rush the passer with free abandon. Coples has the strength and size to be left defensive end, and when lining up there, his speed has been too much for right tackles to handle. He also has the speed to battle left tackles as a right defensive end. Left tackles don't typically see ends with Coples' power, size and speed. Coples is a solid run defender who holds his ground and can disrupt running plays that go the perimeter on his side. If Coples lands with a good coach who keeps him motivated and focused, he could be a Pro Bowl defensive end.
A top-10 physical talent who lacks the heart, desire and glass-eating makeup desired in the trenches and must ratchet up the intensity if he wants to play against the big boys in the pros. Has natural core power and flexibility reminiscent of Oakland Raiders DT Richard Seymour and could be a perennial Pro Bowl performer at multiple positions and excel in multiple schemes if he wants to be. Has bust potential.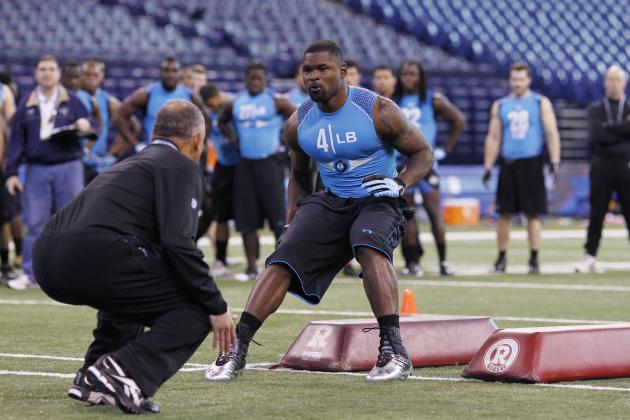 Joe Robbins/Getty Images

Zach Brown is one of the more polarizing prospects in this year's draft. Brown doubles as an indoor track star and holds the UNC school record for the 60-yard dash. He dominated the drills at the combine and has as much upside as any linebacker in the draft.
However, even with his enticing measurables, he does not play well on a consistent basis on tape. In other words, Brown is the definition of a "workout warrior."
Here is an excerpt from the NFL.com scouting report:
Brown might be one of the fastest straight-line linebackers to ever enter the NFL draft, making him one the most intriguing prospects of this class. He has shown sprinter-like speed on the field and should rack up tackles in the NFL. There are many questions about Brown's game, including whether he can adapt to the NFL after being able to make plays with minimal effort in college. Ultimately, though, he has yet to scratch the surface of his true potential.
Brown projects to play as an outside linebacker in a 4-3 scheme, but in reality, he can play just about anywhere in any scheme. With this athletic ability, you can move him inside in either a 3-4 or 4-3, or you could even test his ability to hold down an outside linebacker position in a 3-4.
Brown certainly has a ways to go in terms of cleaning up his game and using his speed and explosion properly, but with some proper coaching and time, he can turn out to be a great player. But with his inconsistent production on tape, I would be wary of using first-round pick on him.
Pick Analysis:
As Mike Mayock said on NFL Network's coverage, Brown is one of the most athletic players in the draft. Mayock also said he's "somewhat allergic to contact". Linebackers who don't love to hit people usually have short NFL careers. That said, he's got all the tools if he can figure that part of his game out.