2012 Final NFL Mock Draft 4.0: Player Stock Still on the Move
April 26, 2012

Kevin C. Cox/Getty Images
Here's my last attempt at predicting the first round (and a few thoughts on what happens after that) before the 2012 NFL draft gets underway tonight.
1. Indianapolis Colts: QB Andrew Luck, Stanford
Indy has cleaned house and will rebuild with the obvious selection as their cornerstone. A white and blue "12" jersey is waiting for Luck.
2. Washington Redskins: QB Robert Griffin III, Baylor
You might not be a fan of Jay Cutler, but 'Skins head coach Mike Shanahan drafted Cutler and turned him into a productive pro. Shanahan will do the same with Griffin, with the difference being that Griffin will turn Washington into winners finally.
3. Minnesota Vikings: CB Morris Claiborne, LSU
Either head coach Leslie Frazier is lying about his "left tackle is not necessarily the game-changer," comment, or he truly wants an impact player. If Claiborne is a shutdown corner, he would be the game-changer Frazier wants.
4. Cleveland Browns: RB Trent Richardson, Alabama
RB Peyton Hillis couldn't leave town quick enough. Cleveland is ecstatic to be rid of a player that put his contract ahead of his team. Quarterback is a dire need for the Browns, but they go with the best player available this early in the draft.
5. Tampa Bay Buccaneers: LB Luke Kuechly, Boston College
If the draft plays out this way, the Buccaneers will want to trade down. With the loss of free agent LB Geno Hayes, the Bucs take the versatile Kuechly and find the best fit for him among TB's young 'backers.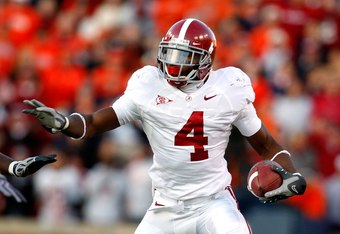 Kevin C. Cox/Getty Images
6. St. Louis Rams: OT Matt Kalil, USC
It will be a tough decision between a cornerstone LT or the best receiver in the draft. Because the O-line gave up 55 sacks, the Rams take Kalil. QB Sam Bradford is too valuable to not treat his health as a priority.
7. Jacksonville Jaguars: DE Melvin Ingram, South Carolina
Jacksonville has been trying for years to find a pass-rusher. They failed through the draft (Derrick Harvey and Quentin Groves in 2008) and through free agency (signing Aaron Kampman in 2008). They don't want to blow it again.
8. Miami Dolphins: QB Ryan Tannehill, Texas A&M
Reaching for quarterbacks in the first round has become a trend, from Tim Tebow (Denver, 2010) to Christian Ponder (Minnesota, 2010), and next will be Tannehill. After failing to land either Peyton Manning or Matt Flynn, the 'Fins get a signal-caller.
9. Carolina Panthers: WR Justin Blackmon, Oklahoma State
WR Steve Smith signed an extension with Carolina that will allow him to retire as a Panther. When it's time to pass the baton, Smith can hand it to the best receiver he's played with since Muhsin Muhammad.
10. Buffalo Bills: OT Riley Reiff, Iowa
LT Demetrius Bell will be taking snaps in Philadelphia next year, as he signed with the Eagles, leaving the Bills with Chris Hairston to protect QB Ryan Fitzpatrick's blind side. Buffalo invests in Reiff insurance.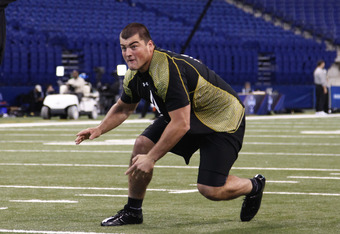 Joe Robbins/Getty Images
11. Kansas City Chiefs: DT Dontari Poe, Memphis
NT Kelly Gregg is a career over-achiever as a 6'0", 325-pound nose tackle. He wasn't bad, but at 35, Gregg is either almost done or is done, period. The massive Poe (6'5", 350 lbs) needs to become consistent. If Poe does, he will anchor the Chiefs' D-line for years.
12. Seattle Seahawks: DE Quinton Coples, North Carolina
Seattle needs an edge rusher to pair with, and eventually replace, DE Chris Clemons. Head coach Pete Carroll also said he would like to add an interior pass-rusher. Coples can do both for the Seahawks. His versatility will be too good to pass up.
13. Arizona Cardinals: OG David DeCastro, Stanford
'Zona was out of the Peyton Manning sweepstakes very early. That was probably because the Cardinals couldn't guarantee Manning's safety after allowing 54 sacks last year. This could be a tough call between protecting the quarterback or addressing the run defense.
14. Dallas Cowboys: S Mark Barron, Alabama
The secondary is undergoing an overhaul after the pass defense was ranked 23rd overall. Already in the fold are CB Brandon Carr and S Brodney Pool. After adding Barron, that's three-fourths of the Cowboys secondary changed from last year.
15. Philadelphia Eagles: DT Fletcher Cox, Mississippi State
Rumor has it that Philly likes Cox so much that they are exploring trading up for the active, penetrating D-tackle. They would be ecstatic if the former Bulldog falls down to No. 15. The Eagles won't waste much time turning in this selection to the commish.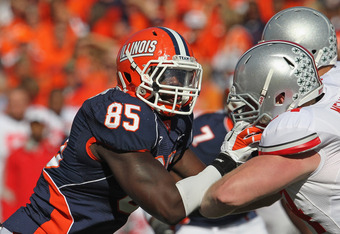 Jonathan Daniel/Getty Images
16. New York Jets: WR Michael Floyd, Notre Dame
If the Jets want QB Mark Sanchez to succeed, they must surround him with quality weapons. WR Santonio Holmes is becoming toxic, and WR Plaxico Burress couldn't even fill Braylon Edwards' shoes.
17. Cincinnati Bengals: CB Stephon Gilmore, South Carolina
There will be a wide open competition in the secondary for the Bengals. They've already added CBs Jason Allen and Terence Newman in free agency. Throw Gilmore into the mix. Chances are good that Gilmore wins one of the spots.
18. San Diego Chargers: DE/OLB Whitney Mercilus, Illinois
The Chargers spent the 16th overall selection on OLB Larry English in 2009. In three years the Northern Illinois product has just seven sacks. Hopefully they have better luck with the former Fighting Illini product Mercilus.
19. Chicago Bears: CB Dre Kirkpatrick, Alabama
Reducing the 254.1 passing yards per game allowed has to be a priority for the Bears. Getting help along the defensive line is one option, but Kirkpatrick is the choice, hoping he can cancel out his receiver for the game.
20. Tennessee Titans: DE Chandler Jones, Syracuse
One thing about the Titans is they line their D-linemen big. So when they lost two through free agency (Jason Jones and Williams Hayes), it leaves a big hole to fill. Jones' stock is rising, and it could take him up to Tennessee.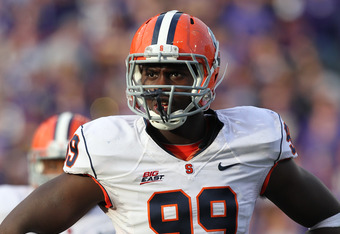 Otto Greule Jr/Getty Images
21. Cincinnati Bengals: DE Andre Branch, Clemson
The Bengals lost 10.5 sacks in free agency with DE Frostee Rucker and DT Jonathan Fanene moving on. Branch's transition from college to the pros won't be that difficult, as he remains a tiger. He just becomes a specific type.
22. Cleveland Browns: WR Stephen Hill, Georgia Tech
It's possible the Browns take a quarterback here, but with the fifth pick in the second round, there's still a good chance the third-rated passer will still be available by then. There's a greater chance that Hill will be off the board before the first round is over.
23. Detroit Lions: DE Courtney Upshaw, Alabama
A tweener. Too slow. Arms too short. Too productive. After all the criticism about Upshaw and his stock falling, the Lions trust what Upshaw did on the field instead of what tape measures and stop watches say about Upshaw's potential.
24. Pittsburgh Steelers: LB Dont'a Hightower, Alabama
This is a prefect marriage between player and defensive scheme. Hightower will fit in seamlessly into the Steelers' aggressive, blitz-heavy defense next to Lawrence Timmons. Hightower immediately steps into James Farrior's spot in the starting lineup.
25. Denver Broncos:  DT Michael Brockers, LSU
Already the Broncos lost DT Broderick Bunkley in free agency and Marcus Thomas is a free agent. Seems like Denver believes they can do better than Thomas. Drafting Brockers would be an attempt at doing so.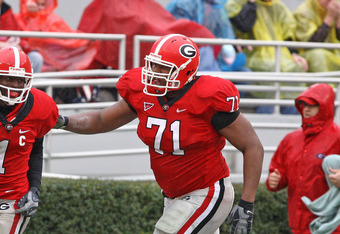 Mike Zarrilli/Getty Images
26. Houston Texans: TE Coby Fleener, Stanford
More and more teams are adopting the two quality tight ends approach. Houston's offense would still be great with just Owen Daniels. Pairing him with Fleener would add diversity and size to a passing game.
27. New England Patriots: DT Jerel Worthy, Michigan State
If the Patriots, as expected, trade one of their picks, this might be the one. If not, they would be very satisfied with Worthy. DEs Shawn Ellis and Gerard Warren might retire, and Ron Brace has been a disappointment. Figure in injuries and the Pats want more depth at the position.
28. Green Bay Packers: DE/OLB Vinny Curry, Marshall
Green Bay had more interceptions (31) than sacks (29). Obviously the Packers had problems with getting to the quarterback and must address the pass rush. Curry is a relentless player that should fit well opposite the all-out play of Clay Matthews.
29. Baltimore Ravens: OG Cordy Glenn, Georgia
The 10th-ranked rush offense adds a mauler to clear the path for RB Ray Rice and friends. Ben Grubbs is no longer a Raven, leaving a hole in the line that Grubbs can fit into immediately.
30. San Francisco 49ers: OT Jonathan Martin, Stanford
Hard to find holes in the 49ers, but opposing defenses found a few to get to the quarterback 44 times. After re-signing QB Alex Smith, San Fran takes Martin and worry about where he fits best later.
31. New England Patriots: OLB Ronnell Lewis, Oklahoma
At Oklahoma, Lewis played with a hand down, in a two-point stance, rushed the passer, and dropped back into coverage. Sounds like a versatile player that fits what New England looks for out of their OLBs. This is a bit of a reach, but Lewis might not make it to the Pats in the second round.
32. New York Giants:  DE Nick Perry, USC
DE Osi Umenyiora is pretty much playing chicken with the Giants to make a decision about his future. If New York trades Umenyiora, the Giants will do it when they know who will replace him. That would be Perry if he's the pick.
Outside the First Round
Atlanta Falcons: The gamble to trade away their first-round pick in last year's draft didn't pay off, as the Falcons learned they are more than one player away from being a championship contender. Getting a pass-rusher will get Atlanta closer to their goal.
New Orleans Saints: Bountygate cost the Saints their second-round selection this year and next year. That hasn't stopped New Orleans from fortifying the defense. They added three linebackers and a lane-clogging defensive tackle. The secondary might be on New Orleans' mind if they wait until their pick at 90.
Oakland Raiders: The Raiders don't have a selection until 95th in the third round. They could really use those selections as the losses through free agency are setting the team back. Defense will be a priority when Oakland finally gets the chance to replenish the roster.
Questions? Comments? Send to talktome@randolphc.com.