Stanley Cup Playoffs: Assessing the Phoenix vs Nashville Series
April 26, 2012

Frederick Breedon/Getty Images
The next round for the West starts on Friday. No other match up is as important for both teams like the Phoenix vs. Nashville series, for both have faced recent fiscal troubles and relocation rumours.
A win in this series would be an achievement for either team, as Nashville's first and only appearance beyond the first round was last season. The Coyotes on the other hand have not been to the second round since they wore a different logo, in fact it's been 25 years since the franchise has made it past the first round.
That is all in the past, however, and in the present these two teams are closely matched and are looking to put on a close, low-scoring series.
To make it to the second round, both teams defeated an Original Six team, who were both Stanley Cup winners in the last within the last five years. The stars of both series were the goaltenders, Mike Smith for Phoenix and Pekka Rinne for Nashville.
Smith's acquisition from Tampa had been questioned and heads scratched when he was given the starting job. Smith silenced his naysayers with a .930 save percentage and a 38-18-10 record on the regular season. They are now among his supporters after his series with Chicago.
Pekka Rinne has been the solid choice in Nashville since the 2008-09 season, and his seven year $49 million deal shows their faith in him. A 43-18-8 record placed him No.1 in the league for wins during the regular season, add that to his .923 save percentage to grant him a Vezina nomination.
In their last series the goalies on both teams were solid, stopping most of the shots fired at them. Rinne faced 151 shots from the seasoned Detroit Red Wings. At the other end Smith's team was out-shot nearly 100 times, as Chicago fired 228 shots on the Coyote netminder.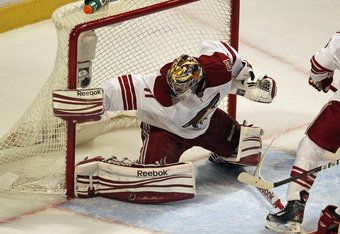 Jonathan Daniel/Getty Images
The playoffs are a time for players to step up their game, and for both these teams players did just that. While the big name stars were held to low numbers on both teams, lesser known names stepped up to fill the gap.
Phoenix had nine different forwards score in their first series tied for the most this postseason. Names like Mikkel Boedeker, who only had 11 goals this season, has notched two so far, both overtime winners.
Martin Hanzel was injured for games three through five, but his presence in front of the net was felt in games one and six, as well as his strong faceoff skills.
Gabriel Bourque likewise, was a surprise for Nashville as he scored three goals in the five-game series, with two in the first game including the game winner.
Paul Gaustad anchored the fourth line, used mainly to shut down Detroit's top line. He was also turned to for the important faceoffs, winning 55.2 percent of them in the first round.
Yet it is the defense of both teams that will make this an interesting series.
Phoenix has a tough defensive corps that include rookie Oliver Ekman-Larsson, Keith Yandle and Derek Morris as it leaders. The pairing of Yandle and Morris is tied for the team lead with five assists, taking advantage of the mistakes Chicago made.
Nashville's defense was built around team star Shea Weber, who had 18 shots on net in the Detroit series. The Predators defense was a large part in their series victory against the Red Wings and will be a major part in their game against the Coyotes.
The Deputy Managing Editor for NHL.com has called the coaches of these teams "Two of the game's best coaches" in his article. Which is another factor when looking at this series. Both have engrained their system into their players, who executed their coaches system to oust their first round opponents.
Dave Tippet has only been with Phoenix for the past three seasons, and has seen a great turnaround in the club. Coaching them to their first back-to-back postseason appearances since 1998-99 and 1999-2000 seasons. He gained the Jack Adams coach of the year award for the 2009-10 season with the Coyotes.
The Predators coach Barry Trotz, a Jack Adams awards finalist for the last two seasons, is the first and only coach for Nashville. Creating an atmosphere that his club thrives under, and has helped them average 98 points a season since 2003-04.
The stars that both teams can not be disregarded either, though they have yet to come to the forefront in this postseason.
Phoenix's Ray Whitney, Shane Doan and Radim Vrbata were held to two goals and four assists. They proved throughout the regular season that they can do big things with the puck combining for 189 points.
Nashville has a trio of goal scorers as well in Mike Fisher, Sergei Kostitsyn, and Martin Erat combined for 152 points. Like the Coyote counterparts they were silent during the first round being held to just one goal.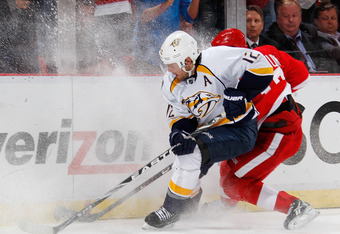 Gregory Shamus/Getty Images
With the defense playing a strong role for both teams, these six players will once again have a tough time scoring during this season. Should they step up their game the team will follow, making this series even more interesting than it already is shaping up.
When it comes down to it, the winner of this series will be the one who has the stronger defense and capitalizes on the other's mistake. Both teams need to see the production rise from their top forwards, yet the slack has been picked up for both teams.
Nashville needs to have their special teams play match that of their even strength play. They had only two goals on 22 powerplays, while short-handed they shut down 19-of-23 attempts.
Phoenix needs their defense to be a little tighter, while Mike Smith was stellar in net facing over 200 shots again could be their undoing.
Either way, this series goes it will be an entertaining series with the goaltending at the forefront. The defensive play of both teams will make this a tough fought series. Both teams have something to prove, it seems, to their fans, themselves and the league.