Tracking USC Football Players in the 2012 NFL Draft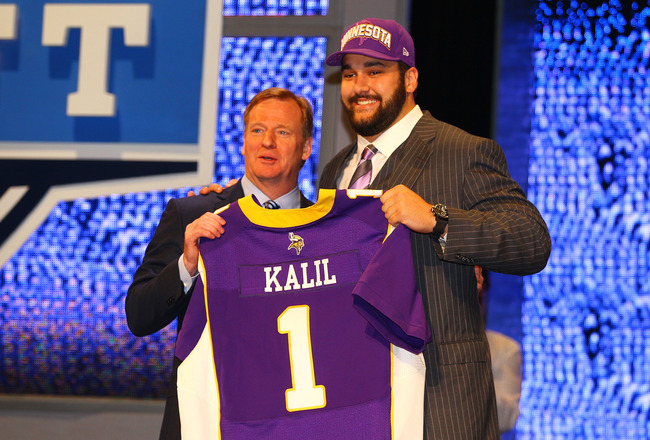 Al Bello/Getty Images
Today and this weekend is an exciting time for USC fans. Since the end of this past season, the Trojans have been picking up steam as a program.
Matt Barkley returned and will be a Heisman hopeful, the Trojans will be a top-10 team during the 2012 season and when it comes to the draft, the Trojans have high hopes for their draftees.
When looking at the eligible players coming out of USC, you do not have to look further than one of the top players in the draft, Matt Kalil. Kalil played a huge part in USC's success last year as a leader on their offensive line and is expected to go in the top five in this year's draft.
Along with Kalil, Nick Perry, DaJohn Harris and Rhett Ellison are also players that are projected to be drafted by the end of the day on Saturday.
As the Trojans program continues to turn the corner from the sanctions they were under these past couple of seasons, weekends like this one remind fans that USC is a force not only on the West Coast but nationwide.
Stay tuned to this slideshow as the draft progresses. As soon as a USC Trojan comes off the board, we will update it here live, letting you know where and when they went in this year's NFL draft.
Matt Kalil, OL, Drafted by Minnesota Vikings, No. 4 Overall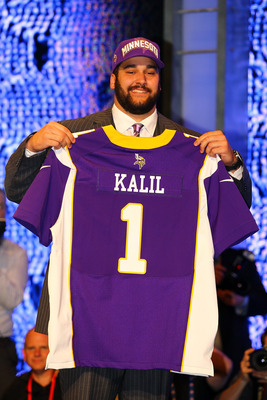 Al Bello/Getty Images
Elite left tackles don't come along every year, but Matt Kalil fits the bill. A big, strong offensive tackle with rare quickness, Kalil personifies what scouts look for at the position.

What makes Kalil so great?

You can start with his football pedigree, noting that his brother Ryan has made three straight Pro Bowls as a center for the Carolina Panthers. His work ethic is outstanding, as he gained 10 lbs before the NFL Scouting Combine to beef up his (relatively) lean frame. Kalil has the length to effectively punch defenders off the ball, allowing him to create space and then slide and mirror pass-rushers who try to work him with a double move.

Kalil does need work to maintain leverage by bending at the knees instead of the waist when engaging defenders in the run game, but this can be taught. Once he can master keeping his weight down in his rear, Kalil will become a dominant pass- and run-blocker.

Analysis: The Vikings need to protect Christian Ponder to give him a chance to become a solid starter in this league. Kalil is a big move toward building on that investment.
Nick Perry, DE, Drafted by Green Bay Packers, No. 28 Overall
Steve Dykes/Getty Images
One of the most explosive players in the 2012 NFL draft class, Nick Perry is one of the elite pass-rushers we saw last season.
Perry's "explosive number"—generated by his broad jump, his bench press reps and vertical jump—was an impressive 83.9. That was the highest of any player at this year's combine. Perry is an untapped athletic specimen who has an uncanny ability to rush the passer.
Learning to play the run and pass coverage from a stand-up position could be an adjustment for Perry, but he did often stand up as a rush end for the USC defense. In that role of an "elephant end," Perry dominated at times, but was inconsistent at times during games and needed to show he can continue to be a factor all 60 minutes.
Perry will bring quickness off the edge for the TEAM, and a nose for the ball to the outside of the defense.
Analysis: The Packers have one explosive USC-schooled pass rusher in Clay Matthews. Now, they add a second in Perry. Aaron Rodgers will put points on the board for the Packers. They need to do a better job of slowing opposing offenses down. Perry is extremely fast, but on the lighter side. He should be able to get to the passer.
Rhett Ellison, FB, Drafted by Minnesota Vikings, No. 128 Overall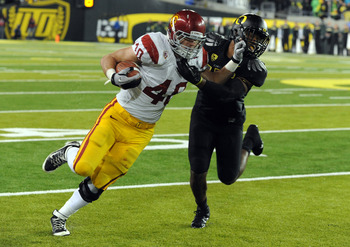 Steve Dykes/Getty Images
One of the first things you notice when looking up college stats for USC's Rhett Ellisonis that he's listed under two different positions. That's because after three years of playing tight end, Ellison was asked by USC head coach Lane Kiffin to read up and become the team's starting fullback.
With football in the 2011 co-captain's blood—his father, Riki, played linebacker at USC before playing professionally for the San Francisco 49ers and Los Angeles Raiders—Ellison is not only solid and reliable at any position he plays, but has a great work ethic and passion for the game.
CBSSport's Dane Brugler calls Ellison "a true hustle player ... playing every play as if it's his last."
WHAT THE EXPERTS SAY
While Ellison isn't very fast, he is speedy off the line of scrimmage and a good route runner. And while his average size and strength won't overwhelm the defensive players he'll face in the NFL, he has the tough exterior to take a hit, and he catches just about anything that comes his way.
ProFootballWeekly says Ellison has large hands and is versatile. They even go so far as to say that he'll "outplay other tight ends drafted ahead of him."
ROOKIE IMPACT
Rhett Ellison figures to make a big impact on special teams for the Vikings.
His versatility and work ethic will give him a lot of opportunities as a rookie special teamer. His solid skill set at multiple positions will allow him more playing time in Minnesota than lots of other draft prospects capable of playing special teams or the secondary.
Keep Reading

USC Football: Like this team?