Alan Belcher Exclusive: Being Older and Wiser Is Better
April 27, 2012

Michael Nagle/Getty Images
It was Aug. 26, 2006, when UFC middleweight Alan Belcher took the Octagon for the very first time.
Unfortunately for Belcher, things didn't go as expected as he would fall in his UFC debut to Yushin Okami via unanimous decision.
But as we know, a man isn't defined by how many times he falls, but rather the number of times he returns to his feet.
Through countless hours of dedication, Belcher would return to his feet as he would quickly become one of the best 185-pound fighters in the world.
Now, at the age of 28, Belcher will look to impose his will on fellow middleweight Rousimar Palhares in their upcoming bout at UFC on FOX 3.
Palhares Showdown
Belcher will enter the Octagon in East Rutherford, N.J., on May 5 in hopes of winning his fourth consecutive fight as he's coming off wins over Wilson Gouveia, Patrick Cote and Jason MacDonald.
However, "The Talent" will have his hands full as he'll meet one of the best submission artists in the world in just a few short days.
"My jiu-jitsu will play a big factor in this fight. I'm pretty good at being where I want to be. My ability to fight longer and my speed will contribute along with my many tools, experience and knowledge of the sport. He's going to find out that I'm the real deal and I'm also one of the best strikers in the division. There's no one like me."
On paper, Belcher is the clear favorite heading in as his well-rounded skill set outmatches Palhares' ground game. In the same breath, Belcher will enter the Octagon with caution, as the unexpected can happen in the blink of an eye.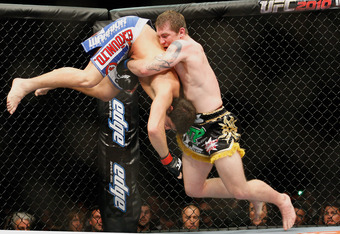 Richard Wolowicz/Getty Images
"I'll have to be careful on the ground with him. I think in that area, we'll be pretty even. He'll have the advantage when he gets into his submission game and he could hurt me there. So, I don't want to give him those opportunities.
"I'm going to stop his takedowns and prevent him from doing that. He knows what I'm going to do and I know what he's going to do. Let the best man win."
Two men will enter, but only one will come out on top. And, it's not always the player that's been dealt the best cards that wins, but rather he who plays his hand with wisdom.
"I'm going to try and be smart. I definitely don't want to get in there and rush things. But at the same time, I have that killer instinct. It could end at any time. I'm always trying to win every minute, every round, and eventually take control of the scorecards. It could really go either way.
"He's never fought anyone like me and that's why he's never really finished. I'm definitely going to hurt him and wear him down. I'm going to figure him out and get out of there in as less time in the Octagon as possible."
Older and Wiser
While Belcher has certainly established himself as a legitimate contender in the middleweight division, he's fought just two times over the course of the past two years. Even still, Belcher believes his time away from the Octagon has done nothing but help.
"The time off has really done nothing but help me. I'm older and wiser and more technical than I've ever been. Ring rust won't play into this fight because I'm the one who controls my emotions and mind. My confidence will help override that. Ring rust is really just in your head."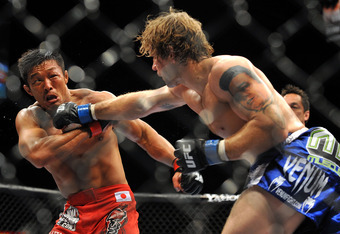 Jon Kopaloff/Getty Images
The time off has also helped Belcher realize the importance of winning rather than dazzling. While impressing is certainly an objective of Belcher's, chalking up another "W" for the win column is of the essence.
"I've learned how to control the fight and get the win opposed to getting in there and being wild. I've tried too hard to impress the crowd and the UFC at times. I know that I'm a true player in the division. This winning streak has helped me break my ups and downs."
As we've seen, it's been Belcher's knowledge and insight of the sport that has allowed him to rejuvenate his career and return to the top of the totem pole. However, Belcher still feels that he has work to do and is destined to do big things in the years that lie ahead.
"Once I realized winning alone will help me get to where I want to be, then I started working on my mental game and breaking everything down. My timing is everything. I'm just thinking about what I have to do to win and stop trying to always impress.
"I don't know what I used to do. I used to get in there and psych myself out, but now I'm older and wiser. After I win this fight, I'll be convinced that I'm going to do big things."
For additional information, follow Garrett Derr on Twitter.