2012 NFL Mock Draft: Ideal Picks for Every Team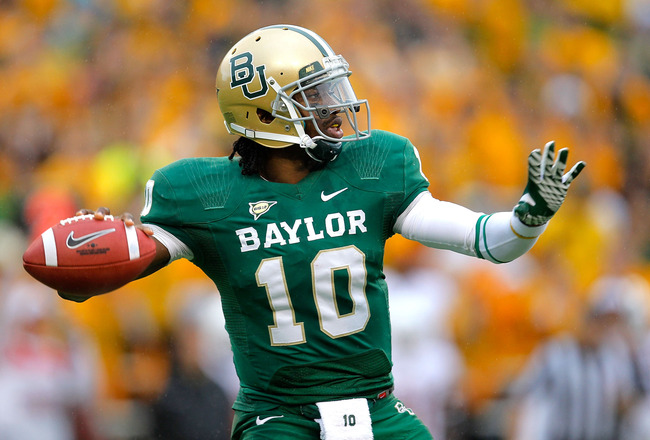 Sarah Glenn/Getty Images
The 2012 NFL draft is almost here, and every fan is wondering what his or her team will do.
Well, this isn't that type of mock draft.
This mock isn't telling you who your team will take, or even who it should take. It's telling you players who would be great fits—in mock draft forum.
Essentially, this is how the draft would go if every team drafted a player who would fit in well, while not placing as much importance on value.
It's safe to say the actual draft won't go this way.
1. Indianapolis Colts: Andrew Luck, QB, Stanford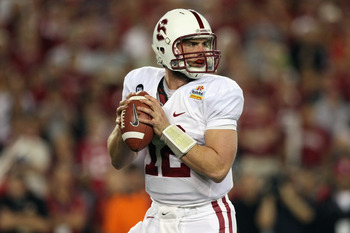 Donald Miralle/Getty Images
This is just obvious. Andrew Luck is the draft's best quarterback, and Indianapolis desperately needs a new signal-caller.
There really isn't a bad fit for Luck. He could join any team and play in any offense. There aren't many players who fit that profile.
2. Washington Redskins (from St. Louis): Robert Griffin III, QB, Baylor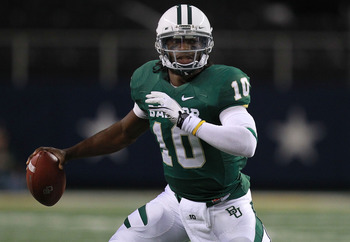 Ronald Martinez/Getty Images
Like the previous pick, this one is obvious. The Redskins traded up with Robert Griffin in mind, and they will take him.
However, Griffin is more than the pick that will happen. He fills a huge hole and is a terrific fit in Mike Shanahan's offense.
Just like he utilized Jay Cutler's physical ability, Shanahan will roll Griffin out and have him throw vertically.
That will be fun to watch.
3. Minnesota Vikings: Matt Kalil, OT, USC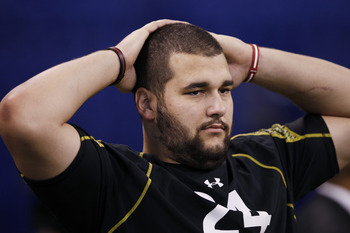 Joe Robbins/Getty Images
Minnesota is currently starting Charlie Johnson at left tackle. That's how bad the Vikings' offensive line situation is.
Matt Kalil is a scheme-diverse player, but he fills a huge need for Minnesota. Left tackle is still one of the most important positions on the field, and Kalil is a good one.
4. Cleveland Browns: Trent Richardson, RB, Alabama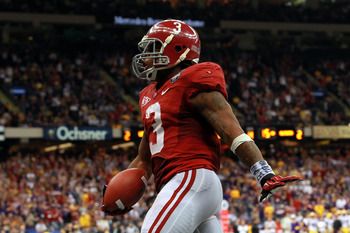 Ronald Martinez/Getty Images
The Browns need playmakers. It's as simple as that. Cleveland's offense is horrific, and Trent Richardson is the type of player who can change that.
The Alabama star can catch—a key trait in the West Coast offense—while also running the ball as well as anyone in football.
Cleveland can't afford not to add Richardson.
5. Tampa Bay Buccaneers: Morris Claiborne, CB, LSU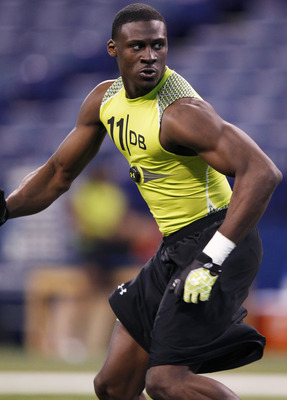 Joe Robbins/Getty Images
Tampa Bay added Eric Wright in free agency, but that's not enough to fix the team's dreadful secondary.
Ronde Barber is well past his prime, and the Buccaneers need a young star cornerback.
Morris Claiborne is him. Claiborne can play in man or zone coverage at an elite level. There's no reason he shouldn't be the pick here.
6. St. Louis Rams (from Washington): Justin Blackmon, WR, Oklahoma State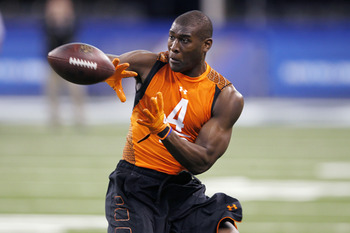 Joe Robbins/Getty Images
The Rams are in desperate need of a wide receiver. Justin Blackmon may not be A.J. Green, but he's at least a viable target for Sam Bradford to throw to.
It's not yet known what type of offensive coordinator Brian Schottenheimer will run, but either way, Blackmon would be a great addition.
7. Jacksonville Jaguars: Fletcher Cox, DT, Mississippi State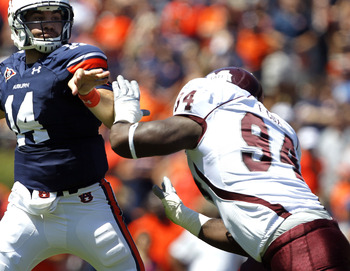 Butch Dill/Getty Images
With Terrance Knighton's future uncertain, the Jaguars aren't sitting as pretty as they thought at defensive tackle.
Fletcher Cox can also play defensive end, however, so if Knighton is good to go, the Jaguars don't have an extra player.
Regardless of what position he's playing, Cox is a dynamic talent. He can rush the passer, hold strong against the run or penetrate. There's nothing he can't do.
8. Miami Dolphins: Ryan Tannehill, QB, Texas A&M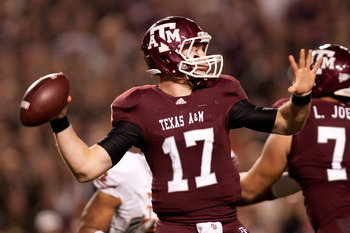 Darren Carroll/Getty Images
Miami's offseason shows how badly the team needs a quarterback. The Dolphins aren't an awful team, but they need someone who can throw the ball.
In Miami, Ryan Tannehill could be a star. Joe Philbin knows how to run an offense, and Mike Sherman is familiar with Tannehill.
This is not a desperation move like many believe it to be.
9. Carolina Panthers: Quinton Coples, DE, North Carolina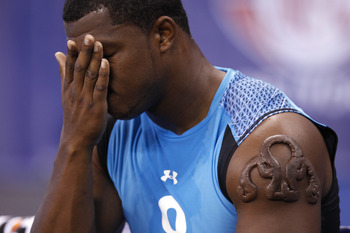 Joe Robbins/Getty Images
Carolina's defense is awful. The team has one solid defensive lineman in Charles Johnson and needs to spend early picks on the other three spots.
Quinton Coples could fill in next to or opposite Johnson. The North Carolina product is a massive, athletic lineman with experience inside and outside.
That type of flexibility is valuable to a defensive line as weak as Carolina's.
10. Buffalo Bills: Luke Kuechly, LB, Boston College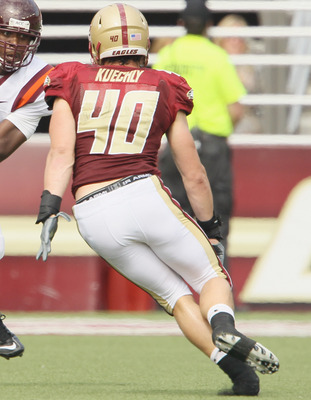 Elsa/Getty Images
Buffalo spent a ton of money in free agency upgrading its defensive line, but the team's linebackers aren't settled. Luke Kuechly can play inside or outside at a high level.
Behind Marcell Dareus and Kyle Williams, Kuechly's instincts and athleticism would show. The Boston College linebacker may not be great at shredding blockers, but with those defensive tackles, he doesn't have to be.
There isn't a better situation for Kuechly, and few linebackers would be better for Buffalo.
11. Kansas City Chiefs: Dontari Poe, DT, Memphis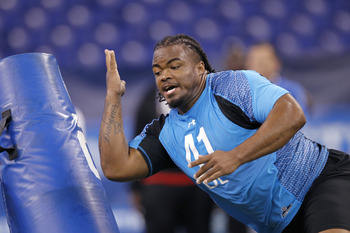 Joe Robbins/Getty Images
Kansas City is currently relying on an unproven sixth-round pick from last year to be its starting nose tackle. That's not a good situation.
Dontari Poe is full of potential as a nose tackle. At 6'4", 346 pounds, a player shouldn't move like Poe does, and there's nothing he's incapable of doing at defensive tackle.
12. Seattle Seahawks: Melvin Ingram, DE, South Carolina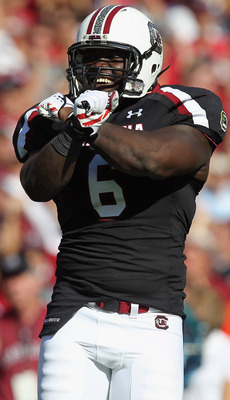 Streeter Lecka/Getty Images
Pete Carroll's defense requires versatility in its linebackers and defensive linemen. Melvin Ingram happens to be the king of versatility.
The South Carolina defensive end has played end, tackle and linebacker. This is the type of player Carroll dreams about, and Ingram fills a huge need as well.
13. Arizona Cardinals: Cordy Glenn, OT, Georgia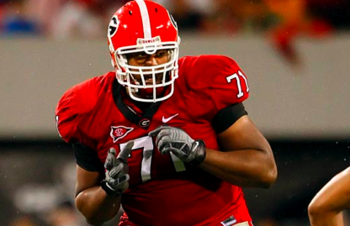 Arizona's offensive line is awful outside and inside. Because he can play guard or tackle, Cordy Glenn could upgrade either.
Glenn is the type of massive, athletic lineman Arizona consistently seeks.
He's 6'6", 345 pounds, but he moves like he's much smaller. The Cardinals' line is full of similarly large players.
14. Dallas Cowboys: Dre Kirkpatrick, CB, Alabama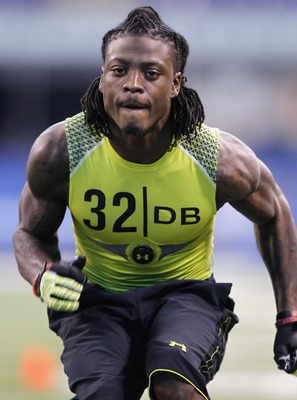 Joe Robbins/Getty Images
Dallas could use help at either cornerback or safety. Defensive coordinator Rob Ryan likes athletic players who also offer versatility. Dre Kirkpatrick fits all of the above.
Kirkpatrick is a 6'2", 186-pound cornerback/safety hybrid.
The Alabama star could immediately produce at either position, but he'll probably spend time at both.
15. Philadelphia Eagles: Stephon Gilmore, CB, South Carolina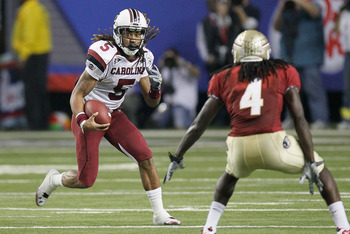 Kevin C. Cox/Getty Images
Philadelphia just traded Asante Samuel, and the Eagles are constantly in pursuit of cornerbacks.
With no star nickelback returning and Dominique Rodgers-Cromartie's contract expiring, Andy Reid is again looking for a defensive back.
Stephon Gilmore is scheme-versatile, and he's ready to contribute as a nickelback. Gilmore may have some consistency issues, but the talent is there to dominate.
16. New York Jets: Michael Floyd, WR, Notre Dame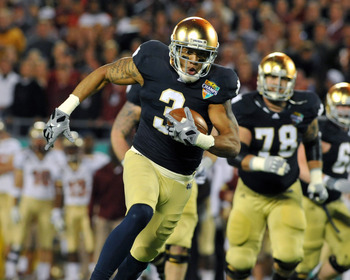 Al Messerschmidt/Getty Images
Plaxico Burress is gone, and the Jets need another big, reliable target for Mark Sanchez. Santonio Holmes certainly isn't that guy.
Michael Floyd occasionally struggles to separate, but he's big and catches everything. Sanchez needs at least one player he can just toss the ball up to.
17. Cincinnati Bengals (from Oakland): David DeCastro, OG, Stanford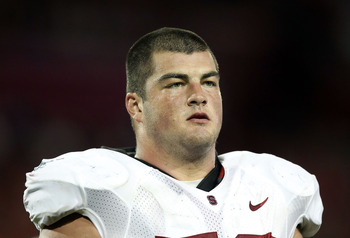 Christian Petersen/Getty Images
Cincinnati's interior line hurt its rushing attack almost as much as Cedric Benson did. The Bengals signed two guards, but they still have just one quality starter there.
An elite guard prospect, David DeCastro can play in any scheme. He's excellent in the open field but also plays with violence and physicality.
That's rare, and it's exactly what the Bengals need.
18. San Diego Chargers: Shea McClellin, OLB, Boston College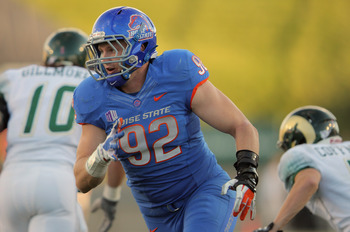 Doug Pensinger/Getty Images
In 2011, even Shaun Phillips failed to provide solid play from the outside linebacker position. San Diego needs to do a better job of pressuring the quarterback, and Shea McClellin is the perfect fit.
McClellin is a terrific athlete with bend and burst, but he's also already played linebacker. The Boise State product has the ability to be a stud in a 3-4 scheme, and he's ready to start now.
19. Chicago Bears: Coby Fleener, TE, Stanford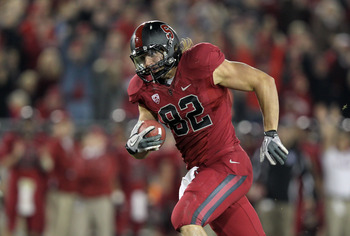 Ezra Shaw/Getty Images
After Mike Martz' scheme got rid of all the Bears' receiving tight ends, shockingly, the Bears are now in need of a receiving tight end.
Coby Fleener isn't a traditional tight end, but he's a great athlete with excellent receiving ability. At 6'6", 247 pounds, Fleener provides near-wide-receiver athleticism in a much bigger body.
That's what Jay Cutler is looking for.
20. Tennessee Titans: Whitney Mercilus, DE, Illinois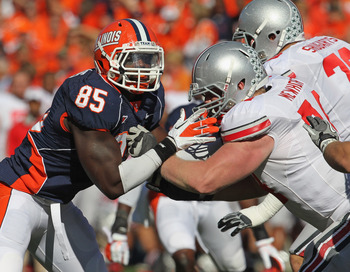 Jonathan Daniel/Getty Images
Even after signing Kamerion Wimbley, Tennessee needs a defensive end. More importantly, they need a pass-rushing end, not another run-stopper.
Whitney Mercilus is their guy. The Illinois defensive end has burst and production, but he's far from a run defender. Essentially, Mercilus is what the Titans lost in Jason Babin.
They seemed to miss his 12.5 sacks from 2010.
21. Cincinnati Bengals: Janoris Jenkins, CB, North Alabama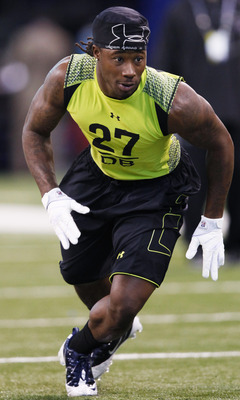 Joe Robbins/Getty Images
Janoris Jenkins probably won't go this high, but everyone knows he's a perfect fit with Cincinnati. The Bengals tend to ignore character issues, and Jenkins has plenty of them.
The former Florida Gator is a tremendously talented player, but his off-the-field issues may push him out of the first round. Cincinnati needs another cornerback, though, and the team is willing to take chances on talented players.
This is a match made in heaven.
22. Cleveland Browns (from Atlanta): Kendall Wright, WR, Baylor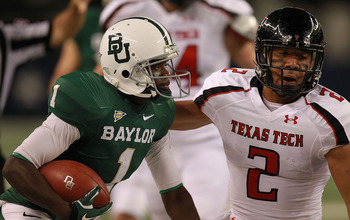 Ronald Martinez/Getty Images
Cleveland has one starting-caliber wide receiver in Greg Little, but the team lacks a legitimate deep threat. General Manager Tom Heckert is all about speed and explosiveness at wide receiver, so Kendall Wright is a perfect fit.
At just 5'10", Wright isn't big, but he's fast and quick enough to still get open on the outside. In Pat Shurmur's offense, Wright could work the underneath while also stretching the field vertically.
23. Detroit Lions: Riley Reiff, OT, Iowa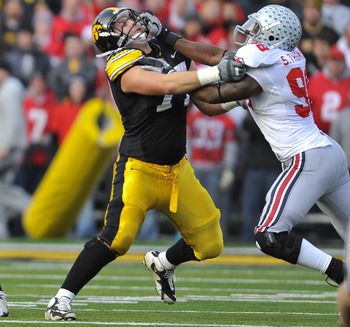 David Purdy/Getty Images
NFL fans have been begging the Lions to get Matthew Stafford an offensive line for years, and, thus far, they haven't listened.
Riley Reiff may be the exception. The Iowa offensive tackle is highly thought of and could play either right or left tackle for Detroit.
This is the one time value is a consideration because the Lions live and die by best player available. No player can be a fit for Detroit without having value, and Reiff has value at No. 23.
24. Pittsburgh Steelers: Dont'a Hightower, LB, Alabama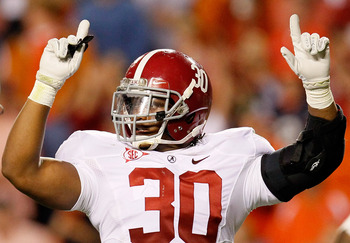 Kevin C. Cox/Getty Images
With James Farrior gone and James Harrison out soon, the Steelers need help at inside and outside linebacker.
Dont'a Hightower can play either position.
The Alabama linebacker has experience rushing the passer, but he's also a big, physical player who excels in the run game. The only thing Hightower can't do at a high level is play in coverage, and that's negated in Pittsburgh's 3-4 defense.
25. Denver Broncos: Peter Konz, C, Wisconsin
Jamie Sabau/Getty Images
Everyone knows that Peyton Manning's center has a difficult job. He has to make the line calls to follow Manning's many audibles, and Jeff Saturday was one of the few who could do it.
Peter Konz is another. Konz wowed NFL teams with his work at the whiteboard, and he is as smart as centers come.
The Broncos were already looking to upgrade over J.D. Walton, and Konz' intelligence makes him a perfect fit with Manning.
26. Houston Texans: Stephen Hill, WR, Georgia Tech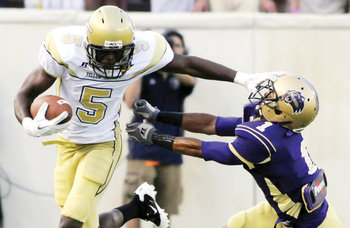 With Andre Johnson increasingly injured, the Texans are essentially looking for a second No. 1 wide receiver. Of all the wideouts in this draft, Stephen Hill has the most upside.
Houston can afford to wait on the raw Hill to develop. They don't need another stud right now, but they will in time.
As a rookie, however, Hill can stretch the field as a one-dimensional deep threat. That's not the worst thing in the world.
27. New England Patriots (from New Orleans): Michael Brockers, DT, LSU
Joe Murphy/Getty Images
New England's once elite defense is now at the bottom of the league, and a big reason for that is Richard Seymour and Ty Warren's absences.
Michael Brockers isn't near the prospect Seymour was, but he does have that type of potential. The 6'5", 322-pounder is an outstanding athlete who could be an animal in Bill Belichick's 3-4 defense.
Brockers is the type of talent Belichick dreams about.
28. Green Bay Packers: Jerel Worthy, DE, Michigan State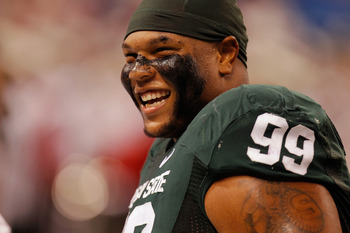 Gregory Shamus/Getty Images
Green Bay missed Cullen Jenkins in 2011. The now-Eagle provided a pass rush and was a great penetrator against the run.
A similar player, Jerel Worthy could eventually fill Jenkins' void. The Michigan State product offers the same size and skill set Jenkins does but will obviously need time to develop.
29. Baltimore Ravens: Courtney Upshaw, OLB, Alabama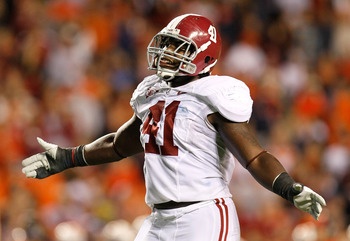 Kevin C. Cox/Getty Images
Jarrett Johnson left in free agency, and the Ravens don't have any future stars ready to step in. Terrell Suggs is obviously a star, but Baltimore does need someone opposite him.
Even though he probably isn't a star either, Courtney Upshaw would be a great fit. The Alabama linebacker is a violent, physical player who can defend the run while offering some value as a pass-rusher.
The Ravens don't need a star opposite Suggs, but they do need the type of player Upshaw is.
30. San Francisco 49ers: Kevin Zeitler, OG, Wisconsin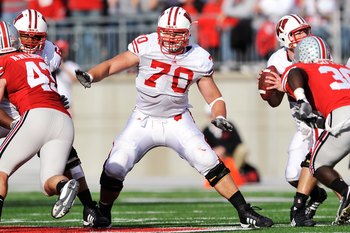 Jamie Sabau/Getty Images
San Francisco is a team with few weaknesses, but right guard is one of them. Adam Snyder isn't a good player, and he was the 49ers' best option before he left in free agency.
An athletic player, Kevin Zeitler isn't David DeCastro, but he is a solid option at the end of the first round.
The Wisconsin guard offers nastiness and the ability to play in space.
31. New England Patriots: Andre Branch, DE, Clemson
Streeter Lecka/Getty Images
Above all else, Bill Belichick values length in his pass-rushers. That's part of the reason why New England's pass rush is so bad. Belichick is too picky.
At 6'4", Andre Branch is long, and he's athletic enough to drop back in coverage. Belichick asks his defensive ends to do many things, and Branch can do them all.
32. New York Giants: Mike Adams, OT, Ohio State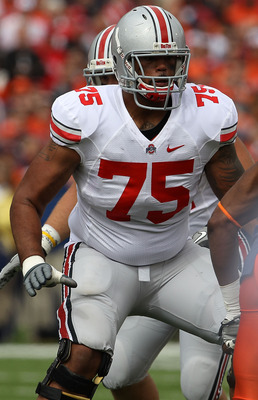 Jonathan Daniel/Getty Images
With Kareem McKenzie now an ex-Giant, New York is looking for an offensive tackle. David Diehl and William Beatty don't exactly inspire confidence.
A terrific athlete with better size, Mike Adams is full of upside. Adams can play either tackle position, and he can do so immediately.
Keep Reading