Post WrestleMania Debuts: The Fails and the Successes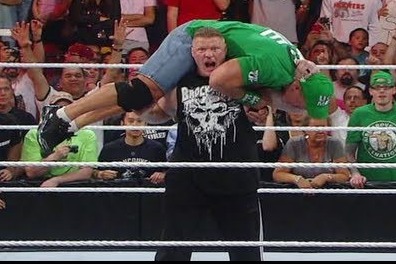 April 2, 2012 will forever go down in history as the night one man made his epic re-debut with WWE after a lengthy absence. This man had an epic feud with the Undertaker and a former singles champion. That man goes by the name of Prince Albert!
Okay, bad joke I know, but every so often the WWE will have a post-WrestleMania debut that leaves fans on the edge of their seats. The re-debut of Brock Lesnar on April 2 sent shockwaves throughout the wrestling world.
But for every Brock Lesnar, there are other debuts that fizzle out. One thing that is for certain is when the WWE debuts someone immediately after WrestleMania, almost 100 percent of the time, it means the company has big plans for them.
How do other post-WrestleMania debuts fare against Lesnar's? Let's find out:
Begin Slideshow

»
The night After WrestleMania 12, Mankind made his live debut against Bob "Spark Plug" Holly. This was around the genesis of the Monday Night Wars. Previously Mick Foley competed in rival organizations as Cactus Jack.
While not super popular, Cactus Jack was a name that was familiar to most hardcore wrestling fans. His memorable feuds in WCW and ECW won him notoriety with many wrestling critics of the day. When WWE began airing vignettes of a deranged individual, sitting alone in a basement and pulling out his hair, many fans knew that to be the voice of Cactus Jack.
However, WWE changed his name to Mankind and gave him a gimmick that in the hands of any other individual would have been cartoonish and infantile. I remember reading a scathing review of Mankind in a wrestling magazine where his WWE debut was being compared to the WWE's bastardization of Dusty Rhodes.
The fans in the arena were initially confused by Mankind. By the time he got to the ring, fans were in shock and awe at the fact that he was pulling out strands of his hair leaving bald patches in his head. Once he locked on the mandible claw to Bob Holly, the fans were scared and rightfully so, because Mankind was a scary individual.
Mick Foley was able to take, what on the surface, was a cartoonishly silly character and evolve him into a human being that people wanted to see. He was the first serious feud Undertaker had as a face (outside of Jake Roberts).
He was able to spawn other characters from this gimmick and become crossover into a successful writing career. Foley gets an A all the way!
Eddie Fatu's first run in the WWE was uneventful, to say the least, wrestling as Jamal, one half of the tag team 3 Minute Warning, paired with his cousin, Rosey (Matthew Anoai).
They rarely wrestled in actual matches and were used as Eric Bischoff's muscle to sneak-attack various WWE Superstars (or old ladies). After a year, Jamal was fired from WWE and Rosey was paired with The Hurricane.
Upon Fatu's return to the WWE he was paired with his "Cuban" (by way of Palestine) manager, Armando Alejandro Estrada and renamed "Umaga."
Umaga was a savage from the Isle of Samoa who communicated by yelling. Umaga made an immediate impact by laying waste to Ric Flair.
Umaga's debut, while impactful, did not garner a huge response from the crowd. Armando Estrada had a great verbal exchange with Ric Flair, and Umaga unleashed a ferocious beating on Flair, but the crowd just watched and gave a few oohs and awws at certain moves.
Although his time in the WWE was brief, Umaga quickly became a talent that fans took seriously. With a gimmick that was even more cartoonish than the Mankind gimmick, Umaga quickly became a force to be reckoned with and beat some of the WWE's top names.
His career highlight was representing Vince McMahon facing Bobby Lashley who was representing Donald Trump in a Hair vs. Hair match. Unfortunately, Fatu passed away on Dec. 4, 2009.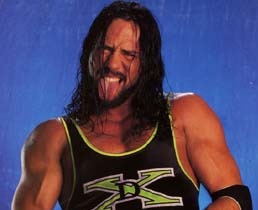 X-Pac's debut came at the height of the Monday Night Wars. The night after a tide turning WrestleMania 14 that saw Steve Austin beat Shawn Michaels and have his hand raised in victory by DX turncoat Mike Tyson, the wrestler who would be X-Pac (He didn't receive the name 'X-Pac' until a week later) fresh off of being fired from World Championship Wrestling, made his debut.
HHH had grown tired of playing second fiddle to Shawn Michaels and decided it was time to take over the reins of DGeneration X. His first recruit was his longtime clique buddy, Sean Waltman. The rest is history. The new and improved (as called by HHH) D-Generation X was coming into fruition.
Waltman received a thunderous ovation the night of his return. The promo he cut on then-WCW President Eric Bischoff and Hulk Hogan was epic. He blasted Bischoff from firing him and told Hulk Hogan that he "sucks."
He then went on to suggest that clique buddy's Kevin Nash and Scott Hall would be with him in WWE if they weren't being "held hostage" by WCW. It was probably the greatest promo of his career and the crowd was super hot for it.
X-Pac's return is significant for a two reasons. The first being that the night of his return, DX allies, The New Age Outlaws joined Pac and HHH to form the new and improved DX, and no matter what WWE will have you believe, this version of DX is the one that resonates most with fans.
The second reason was that only two weeks later, WWE finally was able to beat WCW in the Monday Night Wars and a new boom period was born.
I am not suggesting that X-Pac was the reason for the tide turning. What I am saying is that X-Pac was one of the only wrestlers to work for both WCW and WWE when both were the No. 1 company. Two weeks later, he would be able to stick it to WCW and poke fun at them falling to second place. DX even went to a WCW event to stir the pot even further.
After DX, however, X-Pac was never the same. When WWE bought out WCW, X-Pac was pretty much the only WWE wrestler who got booed over the WCW wrestlers and "X-Pac Heat" was born.
Matt Bloom, the former Prince Albert, was always just kinda "there" during his first stint in WWE. He went from being the tattoo artist for Darren Drozdov, to the uber-forgettable tag-team T&A with Test, to an even more forgettable Tag Team with Scotty 2 Hotty, until he finally settled into the gimmick of A-Train.
As A-Train, Bloom would find his most success in WWE being managed by Paul Heyman and even participating in a semi-decent feud with the Undertaker. He would then be a part of Team Lesnar with Brock Lesnar (that other guy who debuted on 4/2/12). After a rotator-cuff injury, Bloom was released in late 2004. For full details on Albert, go here:
After two weeks of hype videos promoting Bloom's return to the WWE under the Lord Tensai guise, Bloom made his epic return on April 2, 2012
The good news: Giant Bernard got to return to the WWE the night after WrestleMania and perhaps become the huge star that he wasn't during his first stint with the E.
The bad news: His return was on the same day as Brock Lesnar's so it's virtually forgettable. Even a match with John Cena, in which Tensai won, has not been enough to make a profound impact. It is rumored that Tensai was originally the man who was supposed to be John Laurinaitis's hired muscle, but plans changed once Brock Lesnar inked his current WWE deal.
He had a virtually nonexistent crowd reaction. He received lite "Albert" chants and a few "Yes" chants broke out (directed toward Daniel Bryan, a guy who wasn't even in the match). That Miami crowd wanted Brock Lesnar and could care less about the debut of anyone else.
It would be super unfair to try to sum up the legacy of Lord Tensai after only a few weeks. He's definitely more seasoned in the art of professional wrestling now than he was in during his first stint with the company and outside of the main eventers, there is no one on the midcard that I would consider stiff competition for Bloom.
With that said, I am not sure if Bloom will be able to turn Lord Tensai into a serious competitor the same way Mankind and Umaga before him did. Also, a significant amount of fans remember Lord Tensai being Albert and that might not bode well for the future of the Lord Tensai character
(Sigh) What can I say about Goldberg's WWE debut? It was grand! The fans were salivating at the mouth for it and when he finally came out to confront The Rock the crowd erupted into a frenzy. And this lasted for all of one night.
March 31, 2003 should have been the beginning of something epic. The Rock, on his way out of the WWE, was ready and willing to past the torch to Goldberg. However, WWE did everything in there power to take away Goldberg's mystique.
By Week 2, Goldberg was in comedy segments with Goldust and of course, everyone remember's the wig incident. Not the greatest way to present a guy you are trying to peg as a bad ass. In WCW, Goldberg was booked to his strengths. Rarely talking, blowing smoke through his nose, spear, jack-hammer, bada bing! A star is born. Nothing else to it.
WWE writers, however, over-thought the hell out of Goldberg's character. They changed his tights, his music and made him work matches that went way longer and were far more complex than any of his WCW matches. And the Rock's charisma certainly did little to help Goldberg.
The thing about the Rock wrestling as a heel is that when he is paired with the right guy, i.e., Steve Austin, Hulk Hogan, etc. everything works. Goldberg's wooden personality was not enough to overcome the Rock's personality, however.
In their match at Backlash, the fans began cheering for The Rock and cared less and less about Goldberg. Granted, this was probably inevitable anyway since The Rock, a WWE guy, was in there with Goldberg, a WCW guy.
Goldberg's initial debut was fantastic. The fans wanted him and chanted his name before he even came out.
Goldberg's wrestling legacy is in WCW. All of his career highs took place in WCW for much of the late 90's he was the face of that company.
On the flip side, his WWE career is an afterthought. It started out with promise but after a while, the WWE stopped caring and Goldberg himself stopped caring as evident in his final match with Brock Lesnar.
When Ryan Reeves, the wrestler who would be Ryback, first appeared on WWE, it was in 2004 on the forgettable Million Dollar Tough Enough that aired during Smackdown! Almost immediately, Reeves proved to be hungry. Don't believe me? Check this out.
After languishing in WWE's developmental territories for six years, Reeves made his re-debut to Television as the bumbling country bumpkin Skip Sheffield on WWE NXT.
After weeks of giving poor William Regal brain aneurysms, Sheffield would eventually team up with other NXT contestants to form Nexus. Gone was the country bumpkin and born was a bad ass. Unfortunately, Reeves would suffer an injury that kept him off of TV for over a year.
On April 6, 2012, Reeves would re-debut as Ryback. This time he was even more bad ass. He rocked gear similar in design to Rob Van Dam, yet he had an uncanny resemblance to Goldberg. He made quick work out of local jobber Barry Stevens, after Stevens cut a heel promo while backstage wrestlers watched.
As of this writing, this is still Ryback's gimmick. Local jobbers come to the ring, they talk smack, talent watches backstage, Ryback destroys them.
What will become of Ryback? Will he get over? Only time will tell. He's got obvious charisma but his resemblance to Goldberg is uncanny. So much so that he received Goldberg chants at his PPV debut and even caused "Goldberg" to trend on twitter.
Five days after WrestleMania 23, a monster from Punjab, India, appeared on WWE Television. Standing at over seven feet tall, The Great Khali was certainly a towering menace.
Immediately upon his debut, he made his presence felt when he attacked the Undertaker during a match with Mark Henry. At this time, the Undertaker was fresh off the heels of a casket match with Henry, who was managed at the time by Daivari. Since Henry was unable to get the job done at WrestleMania, Daivari enlisted the help of Khali.
I must admit, when I initially saw Daivari usher out Khali during Taker's match with Henry my mind immediately jumped to the trio of Harvey Wippleman, Mr. Hughes, and Giant Gonzales (notice the similarities).
I was REALLY dreading having to relive this horrible angle. Fortunately, Daivari dissolved his partnership with Hugh--- er, Henry. Unfortunately, we had to suffer through a series of horrible matches between Undertaker and Khali.
The Great Khali's debut did elicit shock and awe from the WWE audience upon his debut. After his debut, however, well that's another story. I would say that Khali was brought up to WWE too early but to be quite honest, Khali is still atrocious in the ring. Much like Giant Gonzales before him, he is too big and clumsy to have a good match with anyone.
With that said, Khali was eventually able to get a brief World Title run. Soon after, he was turned face and put into goofy comedy segments like the Khali Kiss Cam. Khali's run hasn't been a complete bust however.
In June 2008, the WWE inked a very lucrative TV deal with TenSports in India and it is said that Khali was one of the main reasons WWE was able to make such a deal and that his fanbase in India is why he has not been future endeavored.
Brock Lesnar's first reign of terror in WWE happened the night after WrestleMania X8. Led to the ring by Paul Heyman, Lesnar laid waste to everyone in sight. Matt Hardy, Maven, and Spike Dudley felt the wrath of the Next Big Thing as fans sat in shock.
Over the next two years Lesnar would make a huge impact during WWE's Ruthless Aggression era. He was a big musclebound guy, yet he had endurance like no other. He would go on to win the King of The Ring, the WWE Undisputed Title from the Rock, and the Royal Rumble within his first year of competition.
He would soon have epic feuds with The Undertaker, Kurt Angle, and Eddie Guerrero. He destroyed Hulk Hogan. He even had one of the better feuds with The Big Show that anyone's had in recent memory.
Unfortunately, Lesnar grew tired of the rigors of WWE life on the road. He put would let McMahon know a few weeks before WrestleMania XX he would be quitting WWE to pursue a football career.
His last match with Goldberg at Mania XX is memorable only because of how the Madison Square Garden crowd turned on both him and Goldberg (who was not renewing his WWE contract).
Football did not work out for Lesnar. He wrestled in Japan for a little while and won a couple more world titles before trying his hand at Mixed Martial Arts. Pretty soon the UFC came a knockin' and Brock Lesnar would achieve mainstream popularity as one of their premier fighters adding a UFC Title run to his already impressive resume.
Unfortunately a bout with diverticulitis halted the latter part of his UFC career. After coming back from the disease he was (barely) able to beat Shane Carwin but lost to consecutive fights; one to Cain Velasquez and one to Alistair Overeem.
After his fight with Overeem, he called it quits in UFC. He would soon go back to what brought him to the dance.
After Cena's loss to the Rock at WrestleMania 28, Cena cut a promo the next night on Raw to congratulate the Rock on his victory. As Cena called out the Rock, a familiar guitar riff hit over the loud speaker. Brock Lesnar, after an eight-year absence, made his return to the ring. What followed was an F5 to Cena heard round the world.
The fans were certainly hot for Lesnar's return. Word already leaked over the net that Lesnar would be returning and fans were foaming at the mouth for his return. It truly was an epic moment.
Lesnar made his in-ring return at WWE's Extreme Rules PPV in a match with Cena that he dominated. Unlike the first time Lesnar wrestled Cena in 2004, however, Cena was able to overcome Lesnar with a chain to the skull and an Attitude Adjustment into the steel steps.
While the match was great between Lesnar and Cena, a great deal of fans questioned the logic in booking Lesnar to lose his first match in the WWE.
Many fans thought it would make more sense for Lesnar to destroy everyone in sight and build to a match at WrestleMania 29 where Cena would win.
In any case Lesnar proved he wasn't a slouch in the ring. The night following Raw, Lesnar would destroy WWE COO HHH, breaking his arm in the process, perhaps leading to a match between the two down the road.
While the jury is still out on Lesnar's second WWE stint, one thing's for sure. It has made for some very solid TV.