5 Things I Do Like About the 2012 ACC Football Schedule
April 26, 2012

Streeter Lecka/Getty Images
A few days ago I wrote about the 5 things I don't like about the 2012 ACC Football Schedule. Hey, there's no need to only say what I didn't like, because when I look up and down the ACC schedule there are certainly some things that I do like about it.
Clemson vs Auburn 9/1
I am a huge fan of big opening weekend non-conference games, and Clemson vs Auburn is a classic ACC\SEC battle. This matchup is turning into a very nice regional rivalry. This will be the fourth time since 2010 that the Tigers and have played the Tigers.
When they match up in Atlanta it's certain to sell out, and will be great atmosphere. What's not to like about this non-conference game? Lose and you still can win the ACC Title.
NC State vs Tennessee 8/31
We have another ACC\SEC game to open the season. I really like NC State stepping out to play this game with Tennessee. In recent years the Vols have struggled. This is a winnable game for the Wolfpack that could really kickstart their season. I think it's a disservice to both teams that this solid matchup ended-up on ESPNU, but other than that I love the game. If the ACC were to start the season 2-0 against the mighty SEC, it would do wonders for the conference's early season perception.
Miami vs Notre Dame 10/6
20 years ago this would have been the game of the year. Who can forget "Catholics vs Convicts"? Both programs are trying to recapture some of that past glory, and even though a Miami and Notre Dame game has lost some luster, it's still a high-profile game. A lot of people will still watch the game and that's never a bad thing for an ACC school.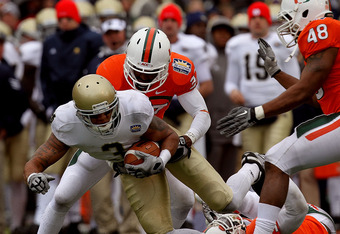 Ronald Martinez/Getty Images
Notre Dame is playing three ACC schools this year, and three Big 10 schools. Pittsburgh is a future ACC member that the Irish will play. Looks like 4-3 ACC, come on down Notre Dame to ACC country.
Florida State vs Virginia Tech 11/8 (Thursday Night)
I don't like that Virginia Tech is playing back to back Thursday night games first Miami then Florida State. That said the Florida State vs Virginia Tech is a game that deserves primetime and big audience. Thursday gives this game that. The Hokies and Seminoles don't play nearly often enough. The game would have been fine on a Saturday, but it's not often that a Thursday night game will have as much national interest as I expect this game will garner.
Virginia's and Miami's Non-Conference Schedule
I wrote in my "don't like" article that Virginia's three game stretch with Penn State, Georgia Tech and TCU was brutal. That said I give credit to the Cavaliers for stepping out of conference and playing two high quality non-conference opponents. Couldn't the ACC have spaced things out a bit for Virginia?
Miami has Kansas State, Notre Dame, and South Florida on their schedule. The Hurricanes have consistently played strong non-conference opponents. In recent years they've faced teams like Texas A&M, Ohio State and Oklahoma.
Virginia is trying to establish a national football brand. Miami is trying to rebuild one. You do both by playing and beating good out-of-conference teams.
Become a fan of the ACC on Facebook and follow the ACC on Twitter.