NBA Playoff Schedule 2012: Breaking Down Every Current Matchup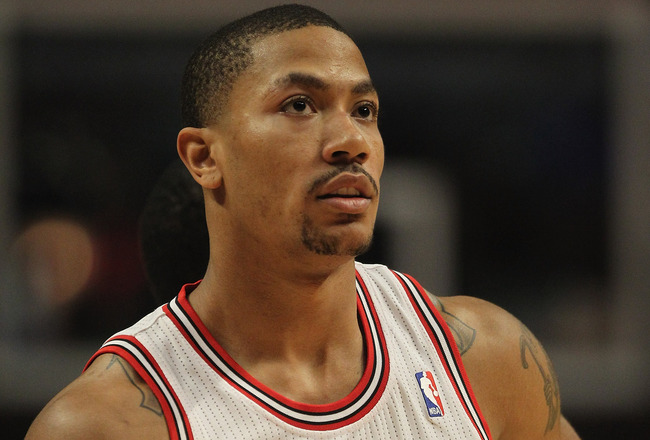 Jonathan Daniel/Getty Images
The NBA playoffs are mere days away, and it's time to break down the potential first-round matchups. Each of these series has great players and great individual matchups.
LeBron James and Dwyane Wade vs. Carmelo Anthony, Kevin Durant vs. Dirk Nowitzki, and Blake Griffin vs. Zach Randolph are just a few of the awesome matchups that we will get to witness should the current positioning stay the same after tonight's games end. The question now is who will win these series and why.
So, I'll give you the keys to every first-round series, who wins and why. Read on.
No. 1 Chicago Bulls vs. No. 8 Philadelphia 76ers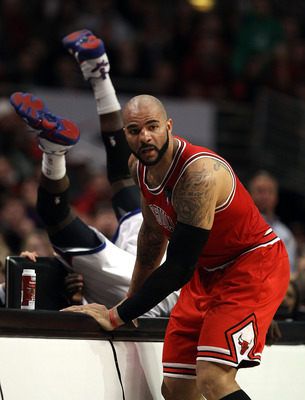 Jonathan Daniel/Getty Images
This series isn't the sexiest on the surface, but it will still be very entertaining. The Bulls and 76ers are two of the most balanced and deepest teams in the NBA. Each has young talent that is built on the foundation of solid defense and sharing the ball.
The 76ers are at a major disadvantage because they just aren't as talented as the Bulls, and they don't have a dynamic playmaker to match Derrick Rose.
Player to Watch: Richard Hamilton
Hamilton was brought in to be the No. 2 scoring option behind Derrick Rose. So far, there have been mixed results as to whether or not he can fulfill that role. What he does in this series will be a clear indicator of whether he can do that going forward.
Prediction: Chicago in 5
Philadelphia will make every game close, but Chicago's talent (namely Rose) will push them over the edge.

No. 1 San Antonio Spurs vs. No. 8 Utah Jazz
Harry How/Getty Images
The Utah Jazz have shown great, young potential during this season, despite their lack of consistency as far as winning goes. However, this San Antonio Spurs team can match Utah's youth while also tempering it with championship experience.
Player to Watch: Kawhi Leonard
The rookie Leonard has played great this season and should be in the rookie-of-the-year conversation. The San Diego State product is averaging 7.9 points and 5.1 rebounds while shooting 49 percent from the field. If Leonard can continue that in the playoffs, the Spurs will be ridiculously tough to beat.
Prediction: San Antonio Sweeps
The Spurs really are just that much better than the Jazz right now. In a few years, that could change, but for right now, it is what it is.

No. 2 Miami Heat vs. No. 7 New York Knicks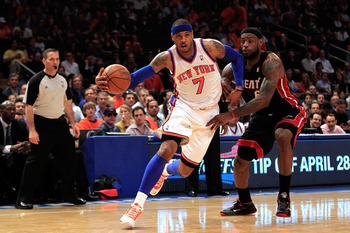 Chris Trotman/Getty Images
What could be better than watching LeBron James and Dwyane Wade face off against Carmelo Anthony in Madison Square Garden? Nothing, really. It will be an exciting series, but not a long one. The Heat are one of the few NBA teams that could beat the Knicks based merely on talent alone.
Player to Watch: Amar'e Stoudemire
Anthony is the player that makes the Knicks go, but they'll go a lot faster if Stoudemire is pushing the boat as well. He's struggled to find a place in the offense when on the floor with Anthony. If he can get it figured out, the Knicks could actually beat the Heat.
Prediction: Miami in 5
The Heat will prove to be too talented all around for the Knicks, as Anthony is forced to try and win it alone.

No. 2 Oklahoma City Thunder vs. No. 7 Dallas Mavericks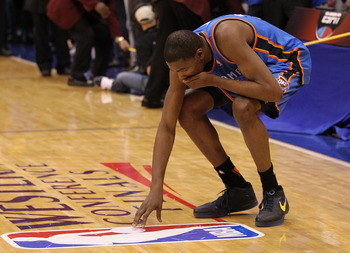 Ronald Martinez/Getty Images
A rematch of last season's Western Conference Finals should be fairly entertaining, even if the Mavericks look vastly different from last year's matchup. The Thunder are better than last season, even if some of the same questions about their play still linger.
Player to Watch: James Harden
There is a reason why Harden's recent concussion was such a big deal, besides the fact that Metta World Peace's elbow was so violent. Harden powers this Thunder team and is the best all-around playmaker with the ball is in his hands. He'll be key for the Thunder vs. Jason Terry and the Mavericks.
Prediction: Oklahoma City in 6
Home-court advantage will play a big role in deciding this one, along with the fact that Dallas lost so many difference-makers from last year's matchup.

No. 3 Indiana Pacers vs. No. 6 Orlando Magic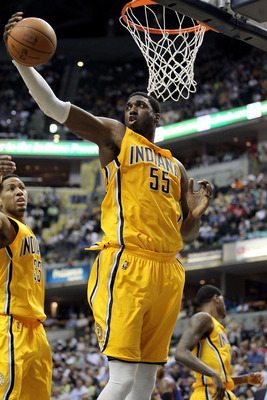 Andy Lyons/Getty Images
The loss of superstar center Dwight Howard has the potential to cripple the Orlando Magic, especially since they'll have no one to keep Indiana Pacers' emerging-star center Roy Hibbert in check. The Pacers are young but appear ready to advance in the playoffs.
Player to Watch: Roy Hibbert
Hibbert is proving to be the complete package as an NBA big man. He's averaging 13 points, 8.9 rebounds and two blocks per game. When you add the fact that he shoots 50 percent from the field and 71 percent from the three-point line, you have a potentially unstoppable player.
Prediction: Indiana in 5
The Pacers should sweep the Magic, but I'll give the Magic one win because of their significant advantage in the playoff experience department.

No. 3 Los Angeles Lakers vs. No. 6 Denver Nuggets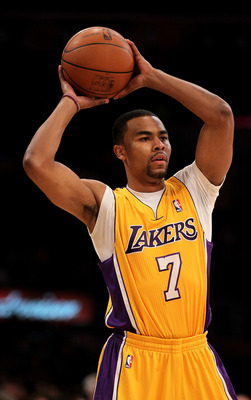 Stephen Dunn/Getty Images
The Los Angeles Lakers' matchup with the Denver Nuggets is one of opposites. The Lakers are a team with big size dominated by a single superstar. The Nuggets are an offensive juggernaut that shares the ball to a fault at times.
Player to Watch: Ty Lawson
This season has been a coming-out party for Lawson, who is averaging 16.3 points, 6.7 assists and 3.7 rebounds per game. If anyone is going to lead the Nuggets to an upset in this series, it will have to be Lawson.
Prediction: Lakers in 6

The Nuggets' balanced attack gives the Lakers issues by taking the focus away from their size. However, LA still pulls it out, thanks to Kobe Bryant and their two bigs.

No. 4 Boston Celtics vs. No. 5 Atlanta Hawks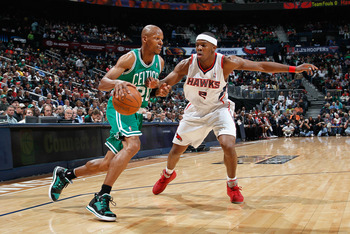 Kevin C. Cox/Getty Images
The Boston Celtics and the Atlanta Hawks are similar in some ways. Both are veteran teams that have been in the playoffs annually for the last several years. The difference is Boston's championship pedigree.
Player to Watch: Ray Allen
If Allen continues coming off the bench, he may be the spark that Boston's reserves need to play better. Few teams can boast sixth men better than Allen.
Prediction: Boston in 5

The Hawks test the Celtics physically, but Boston's ability to share the ball and play elite defense lends them the win.

No. 4 Los Angeles Clippers vs. No. 5 Memphis Grizzlies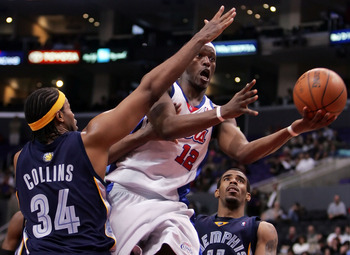 Jeff Gross/Getty Images
This series will be the most entertaining of them all in the first round. Blake Griffin and Chris Paul against Rudy Gay and Zach Randolph in the first round? It seems like it should be a conference finals, and it will definitely be played with the intensity of one.
Player to Watch: Marc Gasol
Gasol is one of the lesser-sung players in this matchup, but don't let that fool you. This guy will be the X-factor in who wins the series. His 14.5 points and nine rebounds per game could give the Clips fits.
Prediction: Grizzlies in 7

This will be a very similar series to the one the Grizz had with the Oklahoma City Thunder last year. Only this time, they'll be the more experience squad that pulls it out in the end.

Keep Reading