Steve Dykes/Getty Images
April 25, 2012
The Oregon football coaches have had a good time setting the rosters for the spring game. After the third week of spring practice, Chip Kelly initiated the 2012 Spring Game Draft.
In the system, which he has been using for years, Kelly divides his coaching staff into two groups. These two sets of coaches then draft the players they want for their team in the spring game.
The head coaches for the game will be offensive coordinator Mark Helfrich and defensive coordinator Nick Allioti, while Kelly remains a "neutral overseer." 
As far as I can tell, these two teams look pretty even. With a quarterback battle still in the works, I am curious to see Marcus Mariota and Bryan Bennett lead their respective teams. It should also be exciting to get our first real look at some of the younger guys and see who comes out on top this Saturday. 
Without further ado, here are the rosters for the 2012 spring game. 
Dark Team (Coached By Offensive Coordinator Mark Helfrich)
QB: Bryan Bennett, Dustin Haines
RB: Kenjon Barner, Kenny Bassett
WR: Eric Dungy, Keanon Lowe, B.J. Kelley, Ben Butterfield, Blake Stanton, Dane Ebanez, Miles Johnson
TE: Evan Baylis, Dallen Voeller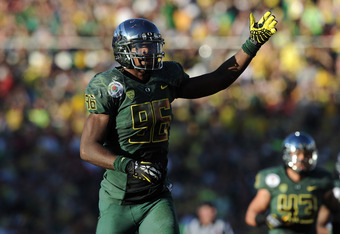 Dion Jordan
Harry How/Getty Images
OL: Ryan Clanton, Nick Cody, Brandon Thomas, Karrington Armstrong, Andre Yruretagoyena, Mana Greig, Tyler Johnstone
DT: Taylor Hart, Ricky Heimuli
DE: Dion Jordan
DL: Arik Armstead, Axel McQuaw, Nick Morrison, Sam Kamp
LB: Kiki Alonso, Carlyle Garrick, Jennings Stewart, Rahim Cassell, Rodney Hardrick, Grant Thompson, Mike Garrity, Keloni Kamalani
DB: Isaac Dixon, Avery Patterson, J.R. Maffie
CB: Troy Hill, Ifo Ekpre-Olomu
FS: John Boyett
K/P: Alejandro Maldonado
PK: Anthony Piganelli
LS: Drew Howell

Light Team (Coached By Defensive Coordinator Nick Aliotti)
QB: Marcus Mariota, Jake Rodrigues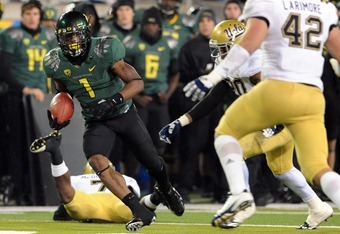 Josh Huff
Steve Dykes/Getty Images
RB: Ayele Forde, De'Anthony Thomas
WR: Josh Huff, Rahsaan Vaughn, Devon Blackmon, Tacoi Sumler, Daryle Hawkins, Chad Delaney, Will Murphy
TE: Colt Lyerla, Christian French, Brian Teague
OL: Hroniss Grasu, Jake Fisher, James Euscher, Trevor Fox, Hamani Stevens, Jamal Prater, Everett Benyard III
DT: Isaac Remington, Wade Keliikipi, Jared Ebert
DE: Tony Washington, Ryan McCandless, David Kafovalu
DL: Ryan Hagen, Koa Ka'ai
LB: Michael Clay, Boseko Lokombo, Derrick Malone Jr., Tyson Coleman, Anthony Wallace, Isaac Ava
DB: Brian Jackson, James Scales, Bronson Yim
CB: Terrance Mitchell, Dior Mathis
S: Erick Dargan, Jeff Palmer
P: Jackson Rice
PK: Rob Beard
Like the new article format? Send us feedback!