Fantasy Baseball: 5 Quick Tips to Grab Stolen Bases Without Trading Top Talent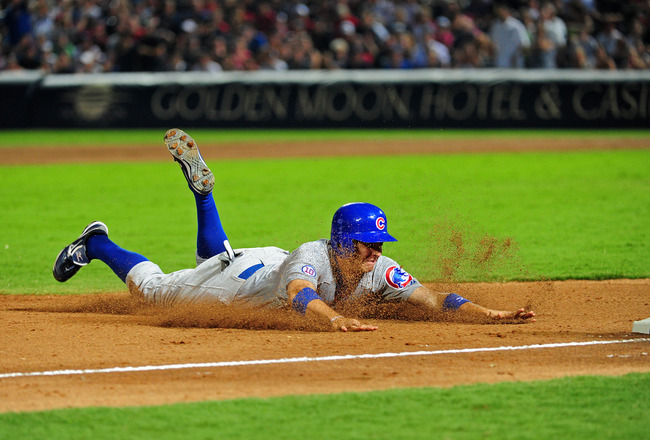 Campana can be a difference maker for you on the base paths.
Scott Cunningham/Getty Images
Is your team full of mashers who don't like to run?
Are you hurting because your main stolen base threat got injured?
Are you tired of losing every week in stolen bases?
If you answered "yes" to any of these questions, then I feel your pain. Often times, managers tend to overlook steals when they can draft a home run hitter. There's just some stigma against drafting an "only-speed" guy, which bugs me.
Luckily, steals can be found throughout the year. Here's a quick guide to improve your stolen base numbers without breaking the bank.
Concede Steals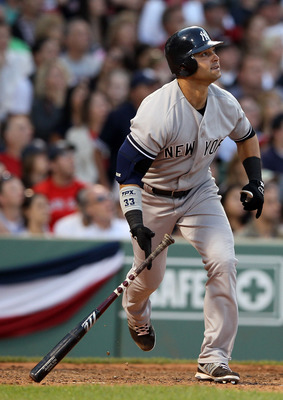 Swisher is a good OF option but won't get you many steals.
Elsa/Getty Images
Perhaps it sounds like defeating the purpose, but if you're counting on one guy to help your team in steals, then maybe the best route is to concede the category.
If you're leading guy only has two steals by now, you're probably screwed. Adding someone with speed but with no other impressive stats will most likely hurt your team in the long run.
Just stick to your mashers and try to gain on your opponents in your other offensive stats.
Scope out the Wavier Wire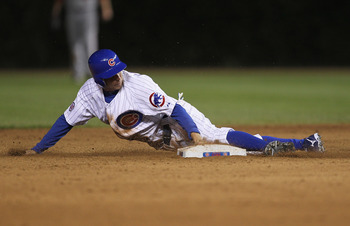 Campana will definitely help your stolen bases.
Jonathan Daniel/Getty Images
Unlike saves, you can find guys who are racking up steals on the waiver wire. If you don't feel like trading any of your players or you're waiting for one of your speed demons to finally start producing (cough, Cameron Maybin and Coco Crisp, cough), then look to the wire.
Here are a few guys who are capable of boosting your stolen base department that are most likely available (the percent owned is based off Yahoo! leagues):
Gerardo Parra (10 percent owned): He's started all 19 games for the D-backs and he's swiped five bases.
Tony Campana (3 percent owned): He's started the last five games for the Cubs and he's stolen four bases. He's an immediate impact in the running game. He should get the majority of starts against righties.
Jose Altuve (46 percent owned): He's absolutely on fire right now. The more he gets on base, the more he'll have a chance to steal. He has four steals so far.
Alcides Escobar (29 percent owned): The Royals are struggling, but Escobar has been consistent. He has four stolen bases to go with his .303 average.
Denard Span (20 percent owned): Span has three steals this season. His OBP is at .373, so as long as he's getting on base, he'll run on the base paths.
Buy Low
As Pagan warms up, he'll steal more bases.
Andy Lyons/Getty Images
So, you have a couple base stealers, but you need another guy to put you over the top. If the waiver wire doesn't suit you, then now is the time to buy low.
Here's a list of players who are having pretty bad starts to the season: Alex Gordon, Jemile Weeks, Jason Kipnis, Angel Pagan and Coco Crisp.
Chances are that most of the managers who own these players are frustrated. You can offer a trade and not give up much for them. Players like Gordon and Kipnis are certainly capable of 20/20 seasons, while Weeks should get close to 30 steals and Crisp could get close to 50 stolen bases again.
It's a low-risk, high-reward situation. If these players don't come around, then you are where you left off. If they end up producing, then you won big.
Ditch the Power Game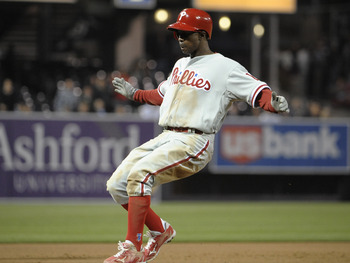 Pierre is the definition of speed over power.
Denis Poroy/Getty Images
If you're below average in steals and power numbers, then pick one over the other. There are a few exceptions, but the majority of players aren't like Ian Kinsler or Matt Kemp. If you want to take over steals, be prepared to lower your home runs.
While conceding one category doesn't sound smart, it's better to improve your chances of winning one every week rather than losing two. And for the most part, guys who are known just for steals, will help out the batting average.
Look to add Juan Pierre (.339 BA, 3 SBs), Alex Presley (.284 BA, 3 SBs), Rafael Furcal (.338 BA, 3 SBs) or Mat Gamel (.281 BA, 3 SBs).
These players are most likely available in your league and they'll certainly help your speed game.
Anticipate Future Call-Ups
Trout will see MLB time in 2012.
Jeff Gross/Getty Images
So you looked at the free-agent list and weren't impressed and none of the other managers are going for your low-ball trades. Now what?
It's time to find future stars. There are a bunch of big-time prospects that offer a lot of speed. Here's a list of four players who could make an impact for the 2012 season (again, percent owned is off of Yahoo! leagues).
Mike Trout (20 percent): The Angels top prospect stole 33 bases at Double-A and four with Los Angeles last year. He is hitting .419 with six steals this season at Triple-A.
Bryce Harper (23 percent owned): As if you don't know enough about him already. He'll be the real deal. Last year, between three different levels, Harper stole 30 bases.
Brett Jackson (1 percent owned): Jackson was a 20/20 guy in 2011, splitting time between Double-A and Triple-A. He's stolen four bases in 19 games for Triple-A so far.
Starling Marte (0 percent owned) : Marte grabbed everybody's attention in spring training this year, when he hit .520 (13-for-25) with three home runs. He already has nine stolen bases in Triple-A so far.
Keep Reading