2012 NFL Mock Draft: Full Second-Round Projections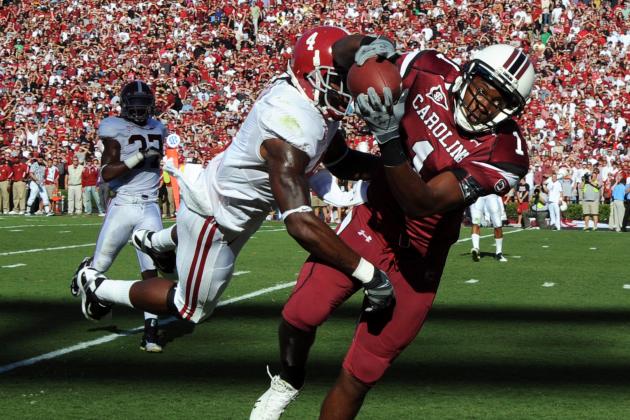 Al Messerschmidt/Getty Images

With Round 1 officially in the books, teams now have a night to shuffle, adjust, and reevaluate their draft boards to determine which direction to turn next.
For teams like Indianapolis and Washington, the players selected in the first round are enough to generate enthusiasm and infuse optimism into their franchises on their own, but don't let anyone tell you that every team doesn't have plenty of work left to do.
Talent, at every position, remains for the taking, and undoubtedly a number of starters will emerge from this year's second round. In fact, it was just last season that players such as Andy Dalton, Torrey Smith, Jabaal Sheard, Greg Little and Orlando Franklin heard their names called in the second round.
Which players will make up this year's wave of talented second-rounders? Let's take a look, but not before a couple of quick programming notes: St. Louis will pick first, as part of the NFL's alternating system for teams with identical records from the year before (Kansas City and Seattle, for example, will also switch spots in the order), and the New Orleans Saints have forfeited their selection as a result of the bounty program scandal.
Here we go.
Begin Slideshow

»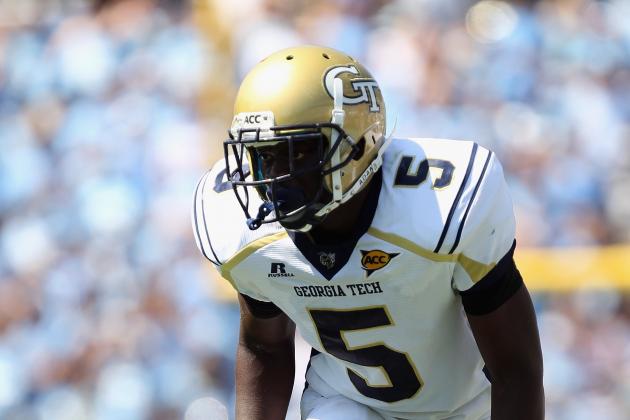 Streeter Lecka/Getty Images

Primary amongst the objectives for the St. Louis Rams in Round 2 is to find a weapon for Sam Bradford, and it's safe to say that's Hill.
He's an incredible athlete with immense raw potential. We know he can run and he had an absurd yards-per-catch average during his final year at Georgia Tech, and he could be a guy that we look back upon as an immediate steal in this draft.
Although he'll need some time to learn the nuances of the NFL game, Hill has the potential to become a lethal No. 1 perimeter receiver.
That's more than worth the investment in the second round, especially when you consider some saw him as a mid-first round draft choice.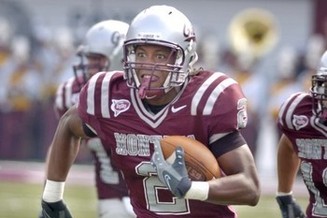 Photo Via MockDraftClub.com
The Colts landed the coup of the draft in Andrew Luck, but now the team must work to supplement its roster and continue its franchise overhaul.
There are plenty of directions the team could turn at this juncture, but landing on this talented cornerback from Montana is a wise choice.
Johnson has ridiculous size for the position (6'2", 204 pounds) and did what he was supposed to do at the Division I-AA level: dominate. Teams knew enough not to throw at the imposing corner, but he still managed 12 pass breakups in 2011.
While questions linger about his ability to adjust to the competition at the NFL level, Johnson looks like a keeper at the cornerback spot.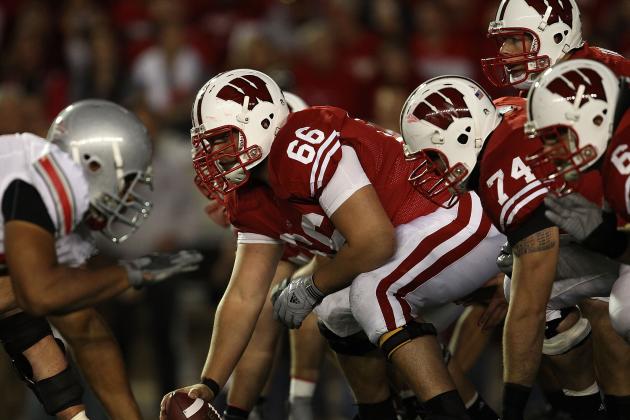 Jonathan Daniel/Getty Images

The Ravens don't have a pressing need to fill, so they pick up Konz in an effort to look towards the future.
Matt Birk is 35 and in the twilight stage of his career, and adding Konz would ease the transition when he decides that retirement is calling his name.
Konz is tough, physical, smart and capable to become an anchor for the Ravens in the near future and beyond.
Gregory Shamus/Getty Images

The Broncos moved back from the first round after seeing that their most-coveted defensive line prospects weren't there for the taking.
The fact remains, however, that they are in need of beef up the middle of their defense, and Worthy, who was once considered a sure-fire first-rounder, is exactly that.
Other possibilities to consider for Denver here include addressing the interior of their offensive line, and it wouldn't be an entire surprise to see the team continue its backwards movement and further stockpile later selections.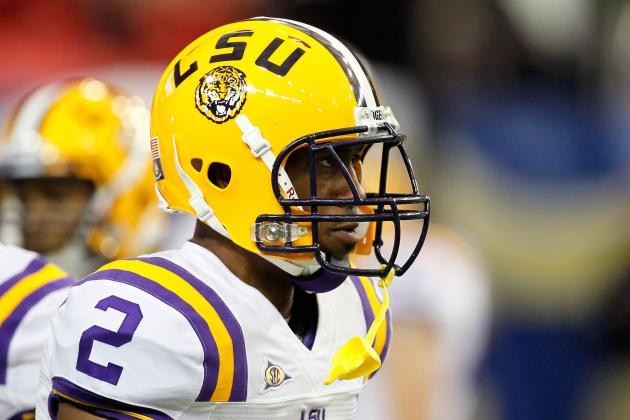 Kevin C. Cox/Getty Images

This would be the third pick in as many tries for Cleveland that fills a major need and injects optimism into what was a downtrodden offense in 2011.
Randle is a guy many considered a potential late first-round prospect, and he'll be gladly welcomed in Cleveland, where he can team up with Trent Richardson and Brandon Weeden to forge a potent nucleus.
Things are suddenly not looking so grim on offense for the Browns.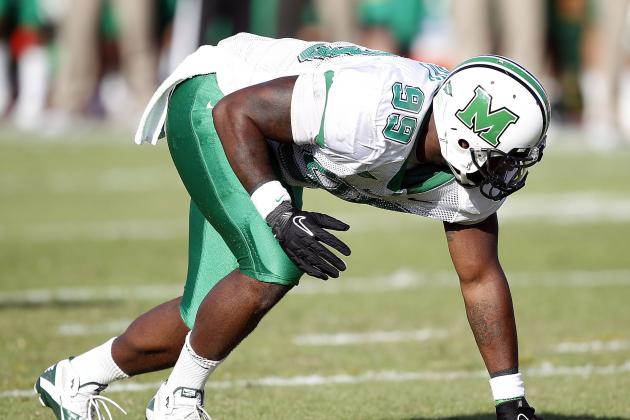 Bob Levey/Getty Images

After landing their receiving target in Round 1, the Jaguars can refocus their attention to the defensive side of the football and the pass rush.
Curry can play with a hand in the dirt or standing up, and he's a nice combination of power, speed and athleticism off of the edge.
He'll tag-team with Jeremy Mincey to form a solid sack-master duo for the Jags.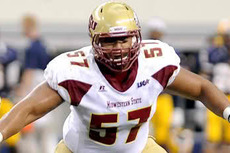 Photo Via SFGate.com
The Rams have already checked off a number of other needs, but targeting additional line help is another one that makes too much sense to pass up on.
Silatolu an interesting prospect, and not just because he went to a small school. As was mentioned with respect to Trumaine Johnson, it's important for NFL teams to see small-school prospects dominate their competition. Well, Silatolu did exactly that, and the Rams are hopeful the stage isn't too large for him in the pros.
As far as flexibility goes, he can potentially work as a guard or tackle. That is an underrated and pivotal part to finding offensive linemen in the draft.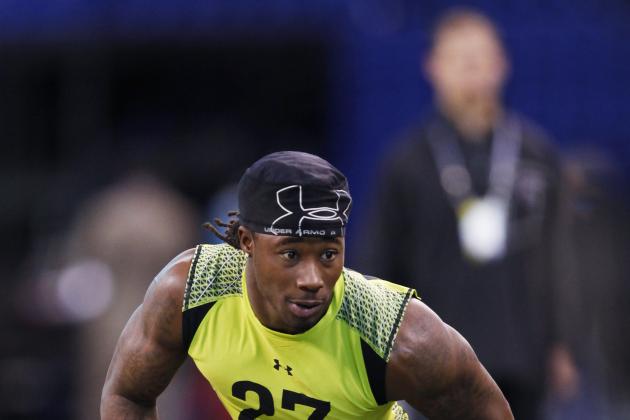 Joe Robbins/Getty Images

There's a lot of value in this pick for the Panthers, although Jenkins comes with a multitude of red flags as well.
The Panthers need an infusion of talent in the secondary, and perhaps no defensive player that is left on the board has as much upside as Jenkins does. He's a menace in man-to-man coverage, and has raw skills that are hard to come by.
Can he keep his off-field act together? That's the ultimate question for his career.
Ezra Shaw/Getty Images

The NFL is a league of trends and full of copycats. The Patriots opened the world's eyes to the potency of a multiple tight-end set, even though one of them (Aaron Hernandez) is more of an offensive weapon than anything else.
The Bills just so happen to play in the same division as New England, and this pick would be a perfect example of following the lead of a franchise you'd want to be like.
Fleener can run like a gazelle, and I always contend that Chan Gailey is amongst the most creative offensive minds in football.
Can this guy be an effective in-line blocker? Hardly, but he's too dangerous not to make defenses pay all over the field.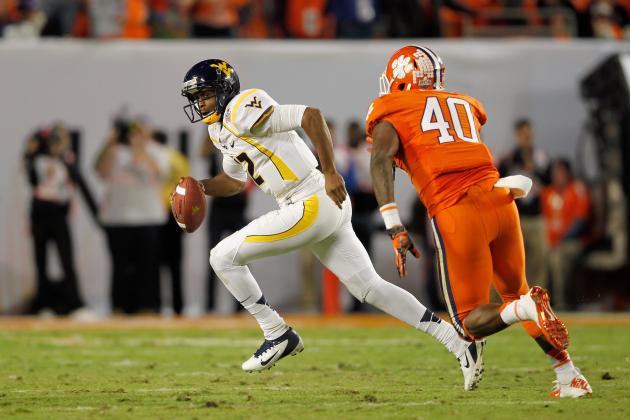 Streeter Lecka/Getty Images

The Dolphins came into this draft with a pretty direct set of objectives: find a quarterback, wide receiver, and pass rusher.
With Ryan Tannehill already in the fold, the team turns to Branch to become the complement to Cameron Wake, and landing him at Pick 42 is a great value.
Branch can ease the load on Wake and give the Dolphins a defensive boost that they lacked in 2011.
Photo Via GiantsGab.com
This pick for Seattle actually fills two needs: it allows James Carpenter, their 2011 first-round offensive lineman, to slide inside to the guard position, and frees up Massie to anchor the right tackle spot.
The Seahawks offense doesn't have an elite play-making wide receiver (well, unless Sidney Rice can come back around in 2012), but it does have a sufficient core of skill players.
Adding beef to an offensive line makes a lot of sense to take this group to the next level.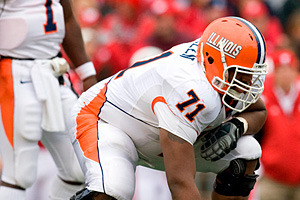 Photo Via ESPN.com
Here's one thing to keep in mind when it comes to Chiefs general manager Scott Pioli and drafting offensive linemen: positional versatility.
Allen, who played offensive tackle at Illinois, brings a ton of that. He can slide inside to guard and operate as a sixth lineman for Kansas City in 2012. A year from now, he can take over for Ryan Lilja at the guard spot, as he may be in his last year with the Chiefs as a starter.
Allen is a little bit of an unknown in terms of second-round considerations, but I love his game, especially for Kansas City.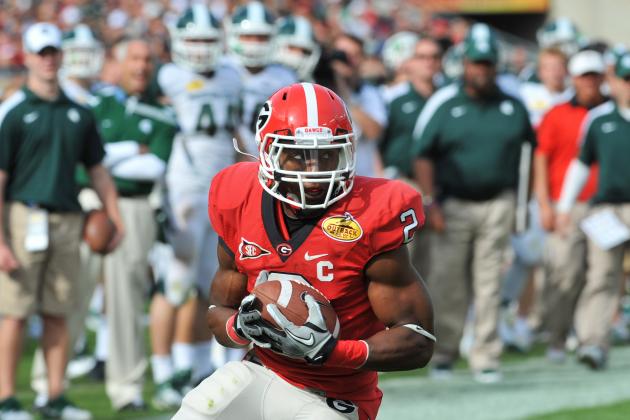 Al Messerschmidt/Getty Images

The Rams continue to their early draft haul by landing a nifty corner from Georgia who can do a little of everything.
Boykin scored on offense, defense and special teams during his college career, so you know he can be used in a lot of ways in the NFL.
St. Louis signed Cortland Finnegan for big money during free agency. Now they find another guy to add to the secondary mix.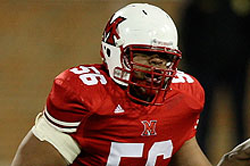 Photo Via FootballsFuture.com
The Eagles invested in a young guard last year in Danny Watkins, but the team understands more than ever how important offensive-line depth is with the recent loss of Jason Peters to an injury.
Brooks, who was not invited to the Combine, appeared on a mission during the pre-draft process to prove that was a mistake on the committee's part.
While Brooks may not supplant Watkins as a starter in Philly, he's a really good option to provide depth in the middle of the Eagles' line.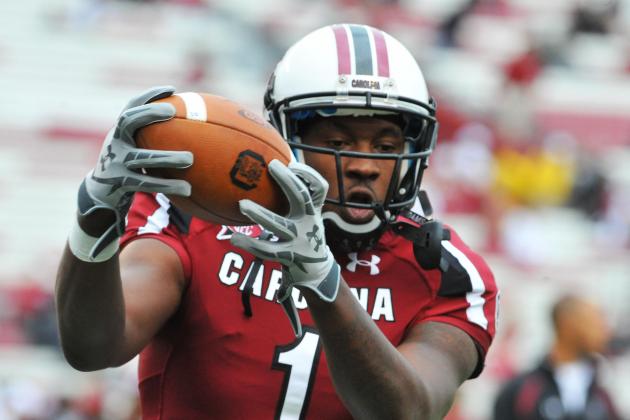 Al Messerschmidt/Getty Images

The fall for Alshon Jeffery ends with the Jets, unafraid to take a chance on a kid with an abundance of talent and potentially an abundance of weight.
Jeffery elected not to run at the combine despite his trimmer figure, but it's an issue that has followed him since his season concluded at South Carolina.
In terms of ability and production, it's clear that Jeffery has what it takes to find his way onto the field in the NFL. Question is, will he find a way to take himself off it too by not keeping his figure under wraps?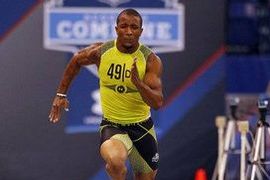 Photo Via NationalFootballPost.com
Talk about strong pre-draft workouts.
Josh Robinson was one of the stars of the combine, running the fastest 40 time and negotiating his way into the conversation for teams in the second round.
And while the Patriots aren't just seeking speedsters for their secondary, it's clear the team needs to upgrade some of its parts in order to prevent a repeat of 2011.
This kid can fly, but he can also play, too.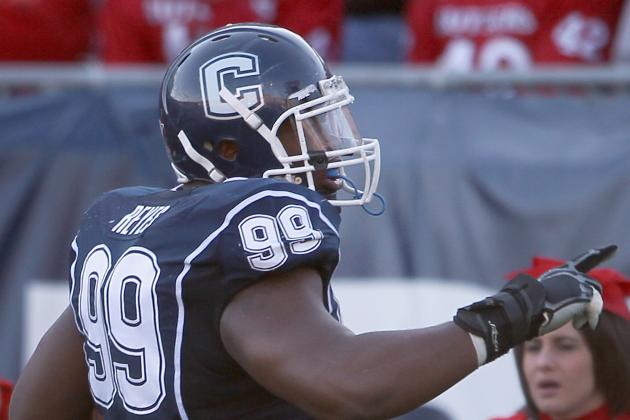 Elsa/Getty Images

The Chargers need to beef up their defensive line, and finding a guy like Reyes at Pick 49 accomplishes that.
He's flashed some explosion and interior rushing ability during his college career, although questions linger about his ability to two-gap along the defensive front.
Beyond that, San Diego needs to infuse youth into its defense. The team is heading into a make-or-break year for its head coach and GM, and Reyes could play a part in a surging 2012 for San Diego.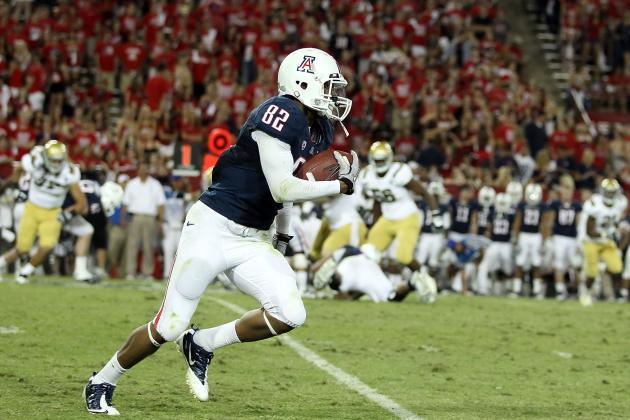 Christian Petersen/Getty Images

The Bears need another weapon for Jay Cutler to throw to, and Criner can become a complementary wide receiver to Brandon Marshall.
After kicking things off with defense in Round 1, new GM Phil Emery finds his first offensive standout by taking the reliable Criner at Pick 50.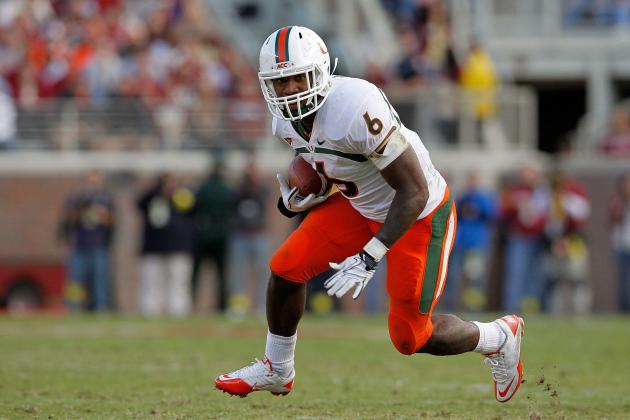 Mike Ehrmann/Getty Images

Andy Reid simply cannot help himself when he crosses an offensive skill player too good to pass up.
And Lamar Miller is exactly that. He's a dynamite runner who could add a secondary punch to the Eagles backfield behind LeSean McCoy.
Much like tight ends, two is the number when it comes to running backs in today's NFL offenses. Successful ones often integrate multiple runners into their game plan. For that, Miller makes sense to the Eagles.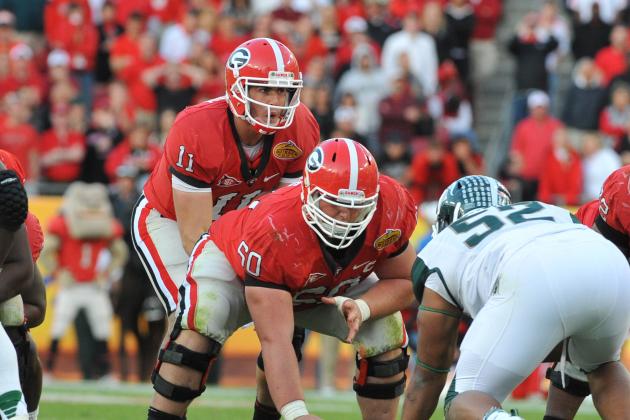 Al Messerschmidt/Getty Images

Maybe the Titans' weakest position in 2011 was the center spot, held down by Eugene Amano, who has really struggled in the past two seasons.
Enter Ben Jones.
This guy is tough as nails, a fierce competitor, and a dependable anchor to an offensive line.
While as complete of a player as Peter Konz, Jones is a masher in the middle who will be loved in Tennessee.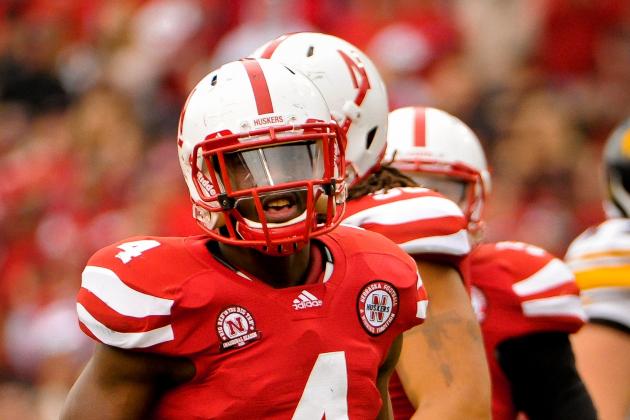 Eric Francis/Getty Images

Is it too soon to call a guy a steal if he hasn't even been drafted yet?
Well, if it isn't, then consider this my steal for Round 2.
With his movement skills and versatility, I would have approved of this pick for someone in Round 1. Landing him a round later? A major win for Cincinnati.
Don't discount what he can do on special teams, too.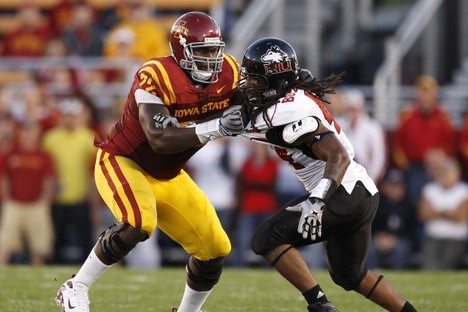 Sure, the Lions took Riley Reiff in the first round, but I'm not convinced that they are sold on either of their offensive tackles from 2011.
Osemele can join Reiff as future bookends, and if he doesn't become an immediate starter, then he adds value as a rotational depth player as a rookie.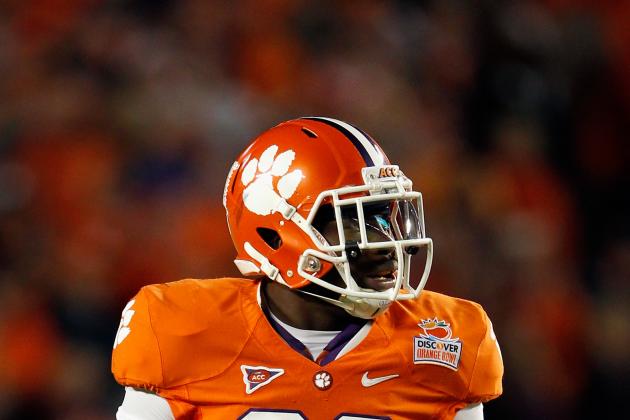 Streeter Lecka/Getty Images

The Falcons are already prepared to enter 2012 with lofty expectations and a roster without many holes, but it's never too soon to look ahead.
Tony Gonzalez is amongst the preeminent ageless wonders in the NFL, but the Falcons tight end can't play forever, right?
Allen could both help in the short-term and assume Gonzalez's position when he decides to hang up the cleats.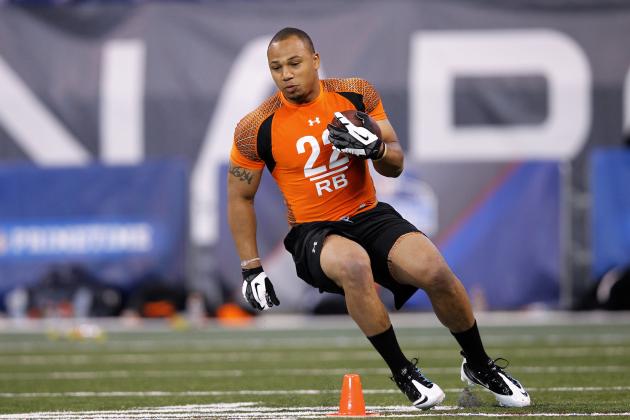 Joe Robbins/Getty Images

If Rashard Mendenall isn't available to start the 2012 regular season, the Steelers are currently without an option on their roster to play as a dynamic running back.
Polk, with his well-rounded game, can come in and start in Mendenhall's place. He can catch the football out of the backfield and block as well, equating to three-down value that teams love.
Yet another value pick for the draft-savvy Steelers.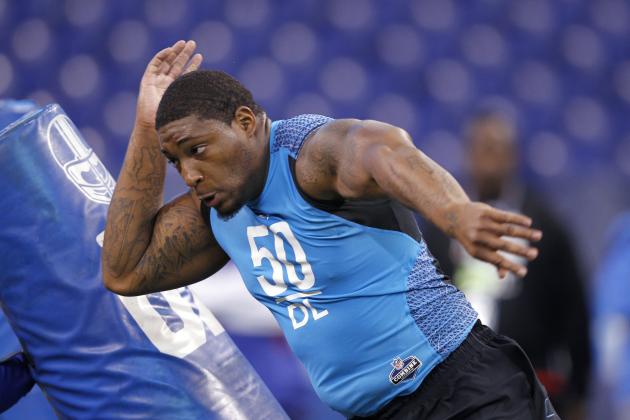 Joe Robbins/Getty Images

Still, who was originally thought of a first-rounder, slips to the Broncos and fills a need for a team looking to continue shore up a porous run defense.
The Broncos need to be able to roll out a complementary defense for Peyton Manning in 2012, and adding some more meat to the interior will help do that.
It will also help decrease the pressure on the linebacking corps, who is facing the prospect of playing without DJ Williams to start the season due to a suspension.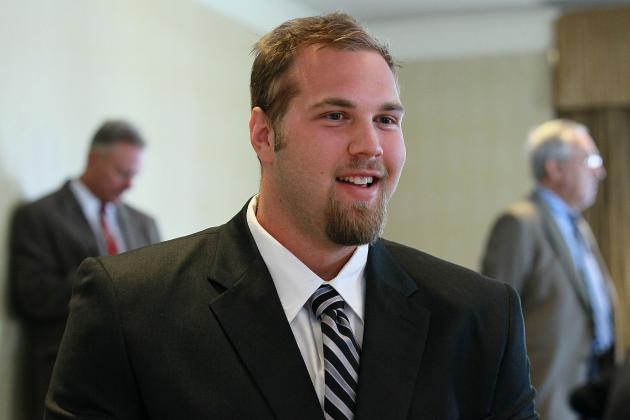 Justin Sullivan/Getty Images

The Texans unloaded Eric Winston during free agency. It was an odd move that the team has no chance but to try to make up for during the draft.
Schwartz may not turn out to be Winston's equivalent (which is sort of unfair to say, because he's arguably the best right tackle in the league), but he can surely be a good enough tackle in his first year on the job.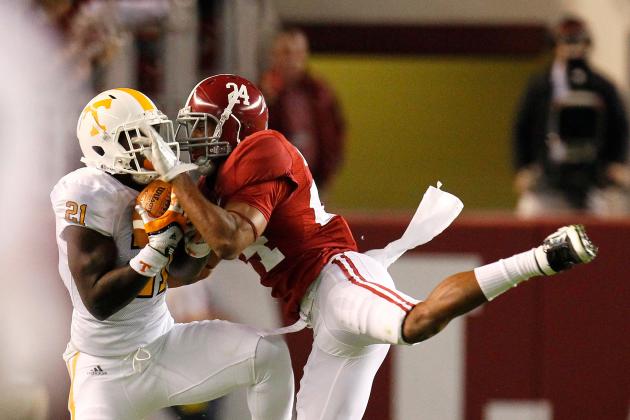 Kevin C. Cox/Getty Images

Facts are facts: the Packers secondary was historically poor during 2011.
The funny thing is, there are still some talented pieces in place. Charles Woodson is a stud, Tramon Williams is a really solid cover corner, and Morgan Burnett has performed well as a safety.
But again, with no results to show for it in 2011, it's time for the team to add some new talent to the bunch to help remedy that.
Menzie is an under-the-radar guy who can play both safety and corner. That's the kind of defensive player Dom Capers (Green Bay's defensive coordinator) loves.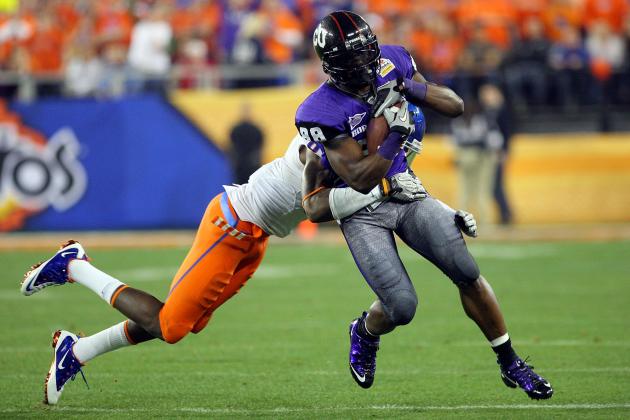 Christian Petersen/Getty Images

Like I mentioned about Tony Gonzalez earlier, Ed Reed, the Ravens all-world safety, cannot play forever (it only seems that way to opposing quarterbacks).
So rather than waiting for him to be gone and trying to make up for it on the fly, the Ravens do well to land a safety who can learn from the best and contribute along the way.
I like Iloka's game and have heard the argument for him in the earlier portion of the second round. Ravens GM Ozzie Newsome will be happy to land him here.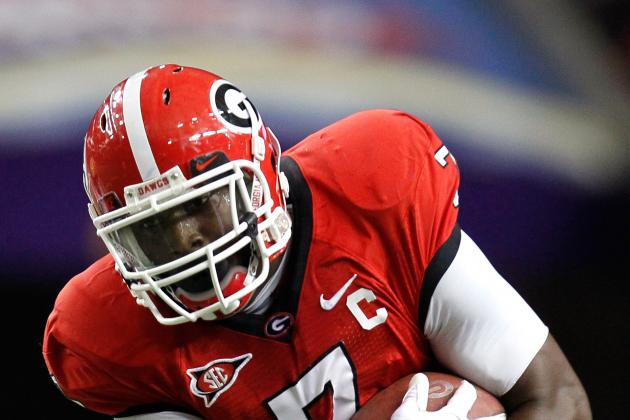 Kevin C. Cox/Getty Images

Sticking with the multiple tight-end theme, this pick makes sense for the 49ers and their revamped offense for 2012.
Charles is an excellent athlete, but his pre-draft process was clouded by a DUI charge.
Jim Harbaugh is an excellent personality manager, and I think he could find a way to keep Charles on track and also make the most of him as a player.
Next to Vernon Davis and Delani Walker? Wow, to the 49ers tight ends.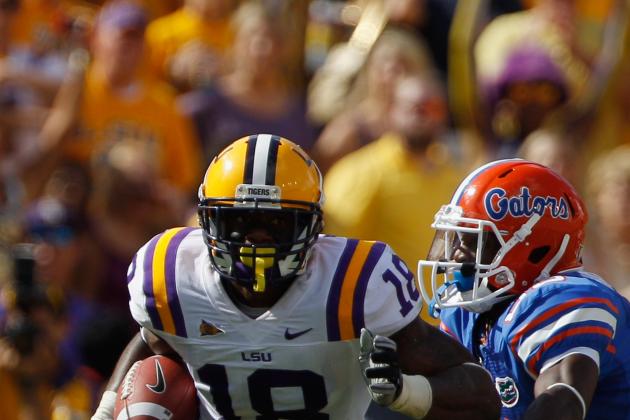 Chris Graythen/Getty Images

The Patriots continue to address their secondary by adding Taylor, an important part of an incredible defense at LSU in 2011.
He's a well-rounded player who showed in 2011 that he can capably defend the run and pass. He'll add play-making ability and toughness to the Patriots' defensive rear guard, too.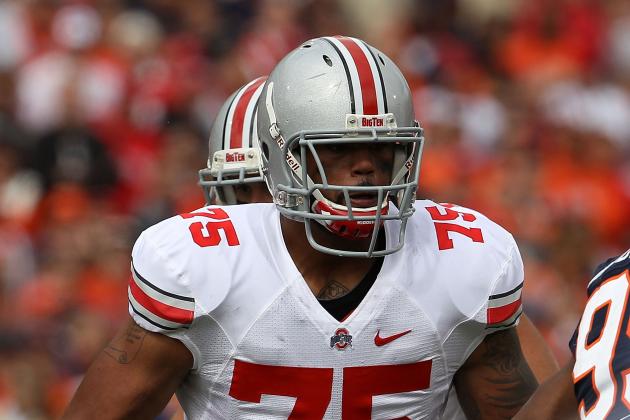 Jonathan Daniel/Getty Images

Adams' plummet stops at the conclusion of Round 2, as the Giants pick up a mountain of a man and a possible starting right tackle for 2012.
Adams may not have blown people away with his athleticism, and there are some character concerns that have recently come to light, but he's a value pick that also fits a need for the defending Super Bowl champions.