2012 NFL Mock Draft: Prospects Who Will Far Exceed Expected Value
April 26, 2012

Stephen Dunn/Getty Images
Players like Robert Griffin III and Andrew Luck are essentially expected to move mountains with their football prowess next season, but for guys like Jonathan Martin, Stephon Gilmore or Whitney Mercilus, that's not the case.
Even though they're first-rounders, prospects like them are expected to be parts, not centerpieces, of their 2012 teams, but the lucky GMs who draft them will end up getting much more than their money's worth.
Here's a complete first-round mock draft with a special emphasis on players who will exceed their projected value.

1. Indianapolis Colts (2-14): Andrew Luck, QB, Stanford
Jim Irsay and the Colts made it official that Andrew Luck will be the first pick in the 2012 draft, and he's the prototype of exactly what you'd want a first-pick quarterback to be.
2. Washington Redskins (from Rams) (5-11): Robert Griffin III, QB, Baylor
Luck aside, Griffin has been called the most physical and the most talented prospect on the entire 2012 board, and his athleticism will serve him well for years to come in Washington.
3. Miami Dolphins (mock trade from Vikings) (6-10): Ryan Tannehill, QB, Texas A&M
A lot of scouts are drinking the Tannehill Kool-Aid in a year when there aren't a lot of elite QB prospects. Tannehill is the best the Dolphins can do and, after he's afforded some time to learn the system, has the upside to be a good long-term option.
4. Cleveland Browns (4-12): Trent Richardson, RB, Alabama
As one of the cornerstones of this year's national champion team, Richardson established himself as the only running back worth taking in the first round as well as the best prospect on the board since Adrian Peterson. 
5. Tampa Bay Buccaneers (5-11): Morris Claiborne, CB, LSU
As the NCAA's top defensive back in 2011, Claiborne will help Tampa build the kind of secondary it needs to compete with the elite quarterbacks in its division.
6. St. Louis Rams (from Washington) (2-14): Matt Kalil, OT, USC
The Rams need an offensive playmaker like Justin Blackmon, but with Kalil still on the board, they can't pass up a left tackle who could be the cornerstone of their line for a decade.
7. Jacksonville Jaguars (5-11): Justin Blackmon, WR, Oklahoma State
The Jaguars, of course, would love it if Blackmon somehow fell to them. As the best wide receiver in the nation in 2011, he's the most talented player left on the board.
8. Minnesota Vikings (mock trade from Miami) (3-13): Riley Reiff, OT, Iowa
After losing out on the top three players they were considering, the Vikings go for the second-best OT option in Reiff and fill a big hole.
9. Carolina Panthers (6-10):  Melvin Ingram, DE/OLB, South Carolina
The Panthers need a defensive end and an outside linebacker, and Ingram has the versatility to fit in at either spot. The Panthers would love to see him fall to them.
10. Buffalo Bills (6-10): Michael Floyd, WR, Notre Dame
Once again, the Bills miss out on a franchise offensive lineman in the draft. Instead, they plug a hole at wide receiver and hopefully get someone who can run all over New England's and New York's defenses.
11. Kansas City Chiefs (7-9): Luke Kuechly, LB, Boston College
As one of the most productive college linebackers in years, Kuechly led the nation in tackles and has terrific instincts that will serve him well at the next level.
12. Seattle Seahawks (7-9): Quinton Coples, DE, North Carolina
The Seahawks badly need a defensive end, and Coples—whose quickness and size are very encouraging—is a raw talent who could pay off in a big way.
13. Arizona Cardinals (8-8): Chandler Jones, DE, Syracuse
With Floyd off the board and no other top-of-the-line wide receivers worth taking here, the Cardinals opt for Jones, who will shore up their defensive line.
Jones is a player who could go anywhere from ninth to the late teens in this draft. He's the third-ranked defensive end available, and his long arms are  big plus. But the biggest benefit to selecting him is his speed and agility. For someone who's almost 6'6" and 266 pounds, he moves like someone much smaller.
Furthermore, he's described as a respectable hard worker who will do anything and everything he can to improve. He's a raw talent, but one with tremendous upside who will pay off big for the Cardinals defense.
14. Dallas Cowboys (8-8): Mark Barron, S, Alabama
Barron is a ball hawk who was one of the best defensive backs in the nation last year and quarterbacked the nation's top-rated defense. The Cowboys have long been searching for someone like him, and finally, they get him.
15. Philadelphia Eagles (8-8): Fletcher Cox, DT, Mississippi State
If Cox falls this far, the Eagles need to plug their hole at defensive tackle and take him. He's a top-tier pass rusher who had the skills to go in the top 10.
16. New York Jets (8-8): Cordy Glenn, OT/G, Georgia
With all of their most-wanted players off the board, the Jets would be wise to trade down here. If they're stuck, Glenn gives them a safe pick at right tackle, which fills a need.
17. Cincinnati Bengals (from Oakland) (8-8): Dontari Poe, DT, Memphis
With Poe sliding down the board to No. 17, the Bengals will snag him because of the massive, yet agile presence he'll provide at 6'5" and 346 pounds.
18. San Diego Chargers (8-8): David DeCastro, OG, Stanford
DeCastro offers great value here for a Chargers team that needs a solid presence on the line to keep Philip Rivers secure.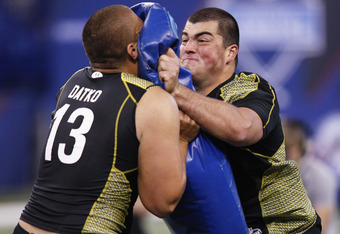 Joe Robbins/Getty Images
Though he's been dinged for a lack of athleticism, DeCastro was one of the linemen charged with protecting Luck in a pro-style system at Stanford, and he excelled at that. Since becoming a starter at right guard in 2009, DeCastro hasn't missed a game, so he's proven to be durable enough to give the Chargers the lasting presence they need.
Although he's not in the top tier in terms of athleticism, DeCastro is an excellent run-blocker and moves very well. Plus, his instincts are great and he has a tough, hardworking attitude that will make him a dream addition for any offensive line coach.
19. Chicago Bears (8-8): Jonathan Martin, OT, Stanford
Martin, like his linemate DeCastro, provides excellent value at this stage for a Bears team that is seeking a solid presence in front of Jay Cutler. He is one of this draft's elite tackle prospects and proved to be a smart and aggressive player during his three years playing at Stanford.
Since 2010, Martin has started every game and has shown the kind of toughness scouts love to see. He's a staunch run-blocker, and despite the fact that he's 6'5" and 312 pounds, he moves very well and displays excellent footwork.
Martin is a top-of-the-line, NFL-ready prospect, and he has the experience and the intelligence necessary to excel immediately.
20. Tennessee Titans (9-7): Dre Kirkpatrick, CB, Alabama
As one of the few elite defensive backs available in this draft, he's athletic enough to excel immediately in the league and to offset any concerns about his footwork or ball skills.
21. Cincinnati Bengals (9-7): Stephon Gilmore, CB, South Carolina
And Gilmore is right behind Kirkpatrick, but will be the second choice because he doesn't have the prototypical build of most NFL corners and isn't quite as athletic.
23. Detroit Lions (10-6): Courtney Upshaw, DE, Alabama
Upshaw is someone who's drifted down the board quite a bit over the last few weeks as other defensive ends have risen, but he's one of the elite edge-rushers available, so the Lions get great value here.
24. Pittsburgh Steelers (12-4): Dont'a Hightower, ILB, Alabama
Another component of the Crimson Tide's explosive defense, Hightower has been described as a physical inside presence who will excel in a 3-4 scheme.
25. Denver Broncos (8-8): Michael Brockers, DT, LSU
Though he's not as skilled a pass-rusher as some other defensive linemen available, he's versatile enough to be effective in either a 3-4 or a 4-3.
26. Houston Texans (10-6): Stephen Hill, WR, Georgia Tech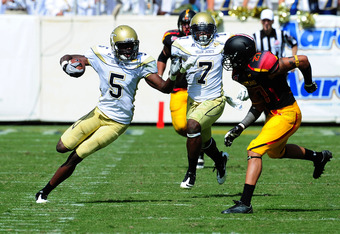 Scott Cunningham/Getty Images
Though he's not quite up there with Blackmon or Floyd, Hill is a deep threat who led the nation in yards per catch in 2011. Unfortunately, though, his routes at Georgia Tech were very basic and teams might not be able to use him outside of go routes.
27. New England Patriots (from New Orleans) (13-3): Nick Perry, DE/LB, USC
He was the best lineman in the Pac-12 last season and developed into one of the better, most athletic pass-rushers as well.
28. Green Bay Packers (15-1): Whitney Mercilus, DE/OLB, Illinois
Mercilus is described as a low-20s pick in some drafts and has completely fallen out of the first round in others. Though there's fear he could be a one-year wonder after an explosive junior season at Illinois, he's displayed the work ethic and commitment to excel in the NFL.
29. Baltimore Ravens (12-4): Harrison Smith, S, Notre Dame
He's forced himself into the first round as a defensive back with excellent instincts and great field vision.
30. San Francisco 49ers (13-3): Andre Branch, DE, Clemson
He's not as strong against the run as some of the other prospects, but he's played on the right and left sides at Clemson and would be most effective in a 3-4 scheme.
31. New England Patriots (13-3): Kendall Reyes, DT, Connecticut
His intangibles are one of his biggest selling points. He has good size and decent pass-rush skills, but his work ethic and versatility make him the perfect fit for a Bill Belichick, team-first defense.
32. New York Giants (9-7): Coby Fleener, TE, Stanford
He's an above-average athlete with the potential to give the Giants a Rob Gronkowski-esque weapon.