NBA Draft 2012: 5 Players Who Wisely Chose to Return to School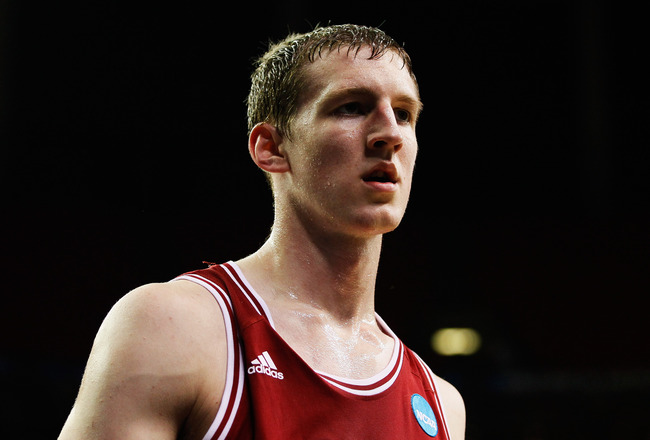 Kevin C. Cox/Getty Images
School is cool, or that is at least the case for many players who chose to scorn the upcoming NBA draft to stay in school next year.
The 2012 NBA draft is stacked with players, so although some players who chose to go back to school may have been drafted this year, their stock will be that much better next year.
"Should I stay or should I go?" was probably going through the minds of many collegiate basketball players this year.
With that said, read on to see five players who wisely chose to return to school next year.
Patric Young, Florida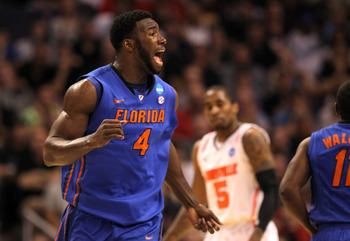 Jamie Squire/Getty Images
Points per game: 10.2
Rebounds per game: 6.4
Patric Young made the correct move on staying at Florida for another year.
This past year, the Gators were filled with guards, who shot more threes than most people can even count. This did not help Young's draft stock, because he rarely got the ball. However, when he did, he usually scored.
Young obviously has an NBA-type body. Just look at the guy.
He is known for his defense and rebounding skills, but his offensive game is starting to really come along. Expect Young's numbers to skyrocket next season when he is one of the primary scorers for Florida.
Young really needs to work on his offensive game next season, though, if he plans on his draft stock improving. Also, Young is pretty undersized at the center position, which there is really nothing he can do about other than working on his mid-range shot, so he could play at either forward position at the next level.
James Michael McAdoo, North Carolina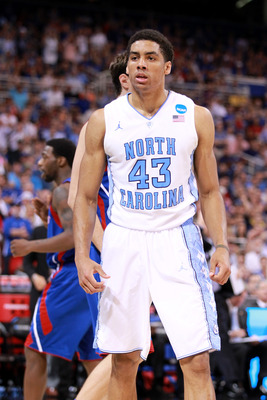 Andy Lyons/Getty Images
Points per game: 6.1
Rebounds per game: 3.9
James Michael McAdoo did not have the best numbers in the world in his freshman season, but that can be blamed against his playing time. McAdoo only averaged 15.6 minutes per game last season and he certainly made the most of it.
With some more playing time next year, this guy could be a star for North Carolina.
He is clearly a good rebounder and pretty darn good on defense as well. McAdoo is also a smart player, which is a plus for any big man or basketball player for that matter.
Over the course of next year, McAdoo must improve his perimeter game, which shouldn't be too hard considering how good of an athlete he is.
C.J. Leslie, North Carolina State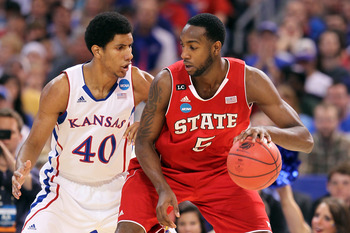 Andy Lyons/Getty Images
Points per game: 14.7
Rebounds per game: 7.3
C.J. Leslie would be more fit as a guard, thanks to his athletic ability, the way he runs the court, his quickness and his ball-handling skills.
Leslie is obviously a tremendous athlete, but he doesn't really fit his position as a power forward, outside of the fact that he gets up like no other, rebounds well and is 6'8''.
If Leslie plans on being a lottery pick, he must work on his post moves and his presence in the post altogether, for that matter.
No matter the case, he will put up some great numbers in points and rebounds next year.
Jeff Withey, Kansas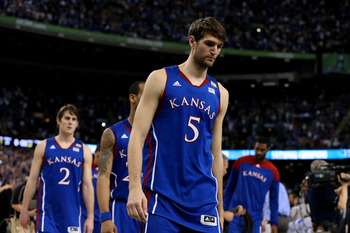 Jeff Gross/Getty Images
Points per game: 9
Rebounds per game: 6.3
Jeff Withey is a true big man at 7'0'', but he isn't the greatest in the world when it comes to scoring points. That is because his post game is kind of nonexistent.
However, with some work, Withey could very easily change this and become a better scorer.
He is a center, so you can always count on Withey rebounding the ball at a high rate. His defense is also one of his best attributes and his 3.6 blocked shots per game proves this.
Cody Zeller, Indiana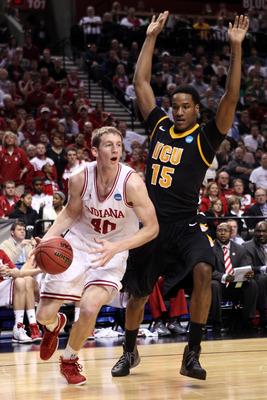 Jed Jacobsohn/Getty Images
Points per game: 15.6
Rebounds per game: 6.6
Cody Zeller would have most likely been the second center drafted in the 2012 NBA draft, so you can only imagine how early he will go in next year's draft.
Zeller is an elite scorer, who also rebounds the ball very well. He also surprisingly has good handles for a center and could run the court if needed.
The only issue is the fact that Zeller could really add some muscle and he needs to be more physical in the paint, but those two go hand in hand.
If an NBA team is looking for a scoring center that can also play defense, Cody Zeller is their man.
If you're a tweeter, feel free to follow me @TheTrevorLowry.
Keep Reading