Real Madrid vs. Bayern Munich: Dramatic Semifinal Sends Germans Home for Final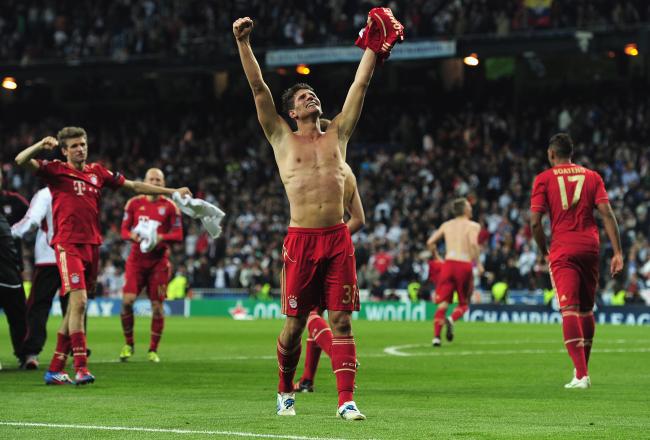 Shaun Botterill/Getty Images
Bastian Schweinsteiger went one way, Iker Casillas went the other, the ball flew into the net and 85,000 Madridistas fell silent as a nun at Sunday mass.
With that, it was over.
After a break-neck first half full of starts and stops and goals and misses, a tense and tight second half that felt more like a battle of nerves than wits and 30 grueling minutes of iron-man extra time, it came down to this.
A game of truth or dare.
The truth, of course, being that Germans never lose penalty shootouts—almost to the point of national pride—and not even when it's Jose Mourinho making the dare.
To be sure, it was quite a dare that Mourinho's Madrid threw down.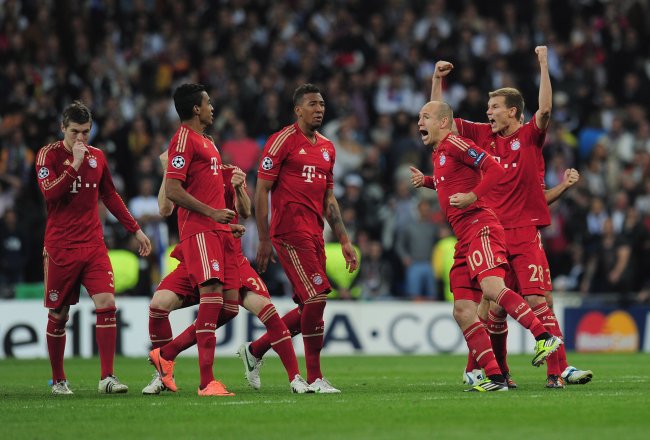 Shaun Botterill/Getty Images
Inside 14 minutes, Los Blancos led, 2-0, behind two
Cristiano Ronaldo
strikes. The first owed plenty to a dodgy penalty decision, and the second owed more to a defensive lapse by Bayern's Philipp Lahm—but as statements go, this one was powerful.
Unlike Lionel Messi before him, Ronaldo had stepped up in the semifinal second leg, filled the gap and scored when it really mattered. Because of that, Real had one foot in next month's final.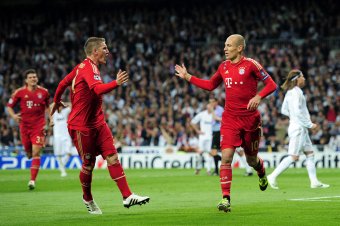 Shaun Botterill/Getty Images
But, it wasn't there long. Thirteen minutes after Ronaldo's second, Arjen Robben scored the only goal Bayern would need, a pinpoint penalty kick just far enough to his left that Casillas—who guessed correctly—could only help the ball into the Madrid net.
For the rest of the half, the match went vintage. Both teams emptied their catalogs, and the results were accordingly rich: skill, pace, emotion, riveting twists and misses, and drama, drama, drama and more drama.
As B/R's Dan Levy wrote on Twitter, the first half was so good that it could have served as an excellent introduction to any of your soccer-ambivalent friends.
If I was going to show someone how great soccer can be, I'd show the tape of this 30 mins. Open, fast, scoring, tough, fair, fun. #UCL

— Dan Levy (@DanLevyThinks) April 25, 2012
In fairness, the tape should have ended there, at least until the penalty shootout.
The match itself ended in a 2-1 win for Real Madrid. To be honest, not a lot happened after halftime. Neither team wanted to make a fatal mistake, and the fact that only one substitute appeared before extra time confirmed that both were playing it safe.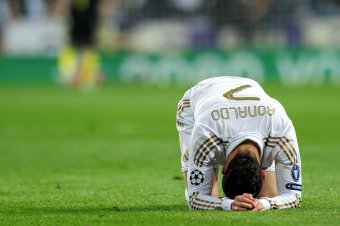 Shaun Botterill/Getty Images
But that 2-1 win for Real secured only a 3-3 aggregate draw. And by the arrival of extra time, fatigue had started to show—affecting Real more than Bayern—and, tellingly, on the face of Real's superstar.
After Ronaldo's weariness became plain, you had to wonder what kind of toll the weekend's "El Clasico" triumph over Barcelona had taken on Real. Still, with Mourinho working the controls, Madrid had a chance.
The Portuguese manager was vying for his third Champions League title with his third different team. In his already glorious European career, Mourinho has engineered more than a few miraculous escapes.
Who deserved to reach the final?
But, in this season of Champions League destiny (
Chelsea
in the final?) and with the presence of a German team in the penalty shootout (again, national pride), only one team was going to advance to Munich.
It was the team from Munich, of course. Fate wouldn't have wanted it any other way.
Now, Bayern will host Chelsea in a final that few probably wanted and fewer probably predicted. But considering the cosmic level of drama both finalists conjured in the semifinals, maybe it's the final we needed.
This article is
What is the duplicate article?
Why is this article offensive?
Where is this article plagiarized from?
Why is this article poorly edited?