WWE Extreme Rules 2012: Why Santino Marella vs. Miz Would Be Match of the Night
April 26, 2012

I can't believe this is pre-show! I also know what some of you will be thinking - "Have you lost your mind, man?" Some might say that I have, but there is logic behind this.
While Brock Lesnar vs. John Cena and CM Punk vs. Chris Jericho will be the most anticipated matches at Extreme Rules 2012, I feel as though Santino vs. The Miz could have had a chance to steal the show. Allow me to lay out the aforementioned logic.
Firstly, let's look at each man individually.
Santino Marella
The power-walking, cobra-thrusting Italian is currently on the best push of his career. Since replacing Randy Orton in Smackdown's Elimination chamber and going on to feature in the final two, Marella has been booked with more credibility than anyone expected.
Not only was he one-on-one with the World Heavy Weight Champion as that chamber match concluded; some people thought he might just have a chance to claim the gold.
Since then he has gone on to surprisingly win the US title and defend it on numerous occasions. Every time we have expected Marella to drop the title to a more "respectable" WWE Superstar, he has come out on top.
On top of this, he has continued his comedic exploits and been associated with popular faces such as Brodus Clay and, more recently, Zack Ryder. Whilst doing so, he has also picked up impressive victories against credible heels including Dolph Ziggler and Jack Swagger. As a result, he has never been so over with the fans.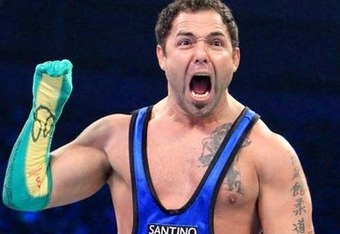 While his strong booking has come as a surprise, his comedic talent has never been in question. What is happening, however, is many who hadn't already noticed are starting to say "this guy can actually wrestle."
This comes down to his baby face status. In the role of international good-guy and funnyman, Santino has been afforded more airtime, more victories and more offensive opportunities in general.
Again, this has not been in lieu of his hilarity, but in aid of it. He has been impressing in the ring and has still made us laugh.
The thing is, typically he only features in short matches which don't offer time to deliver much beyond the splits, some hip tossing, a diving headbutt and the cobra.
We get to see enough to know the man can work the ring, but I for one think that he would impress given a 10-15 minute title defense at Extreme Rules. Any exposure would work.
It wouldn't have the raw power of John Cena and Brock Lesnar and would lack the precision of CM Punk and Chris Jericho, but that's not to say this couldn't have a little of both and still be electrifying.
While a lengthy match may well be unlikely and it is only a pre-show match, a lot depends on how WWE wants to book The Miz and whether they want to continue with the momentum Santino currently enjoys.
I do see Miz walking away as the new US Champion, but I am hoping it is after both men get a chance to impress in the ring...If only it was more than the pre-show.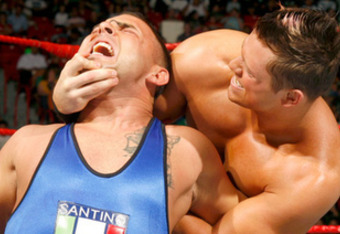 Which brings me to...
The Miz
Recently, The Miz seemed like he was in the doghouse with the WWE brass. He was jobbing to all and sundry and went on quite the losing streak. He even seemed destined to miss out on WrestleMania - a far cry from 12 months earlier.
This all finally appeared to be part of a larger angle as he went on to save John Laurinaitis, pick up the victory for Team Johnny at WrestleMania and ultimately earned himself a shot at the US title. There looks to be more to come.
It would seem that The Miz is back and in line for another push. This time however, he looks to be building a strong foundation in the mid-card with a US title challenge and a probable strong victory over one of the WWE's most popular faces.
The Miz has improved by leaps and bounds in the ring over the last couple of years, and while he seemed to fall off the pace during his recent downturn, that may have been an impressive inclusion to the larger angle. He now seems to be on the up once more.
What would truly get the ball rolling for The Miz along this new trajectory is a lengthy and tough bout against a now credible Santino Marella. It is a match that would allow both men to walk away from an impressed arena. It would just need to have the same effect on a television audience.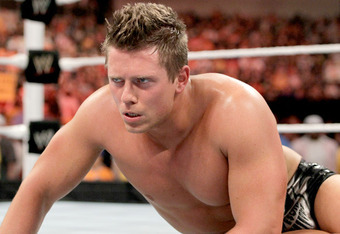 Simply put, to get back on track The Miz needs to bring it to the ring and put on a show. He needs to regain his momentum and show the WWE Universe that he is again the real deal. I do hope many choose to stream this match. 
Conclusion
I wish this pair was being given more credit than just appearing as a pre-show match. I feel this is a waste of an opportunity to further these two men and to show a larger percentage of the WWE Universe what could be a great match.
So how does this all play out? It's difficult to be sure and it may not matter being a pre-show match. I, for one, see The Miz taking Santino's belt, but hope the match plays out like it should.
The WWE should want to continue the popularity of Marella, and while a loss won't hurt him, he should be given the chance to show us what he can do and put on one hell of a match. Not to mention the fact that Santino will likely want to earn a continued push with an amazing match.
From here his popularity and mid-card credibility can remain intact and could lay the foundation for a feud or a strong run in a tag team.
As for The Miz, he needs to put on a show to remain relevant. A squash wouldn't do him any favours as Santino must pose a legitimate threat and obviously, a loss is out of the question. The Miz needs to go to war with Marella and come out on top to show the fans and the WWE brass that he has the fortitude and the stock to rise to the top once more.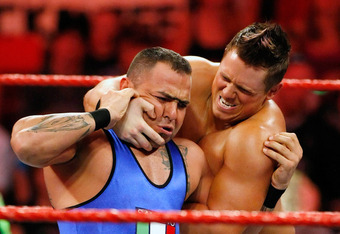 This could be the start of another solid push for "The Awesome One" and (I hope) an eventual face turn.
But is this all lost in a pre-show match that can only be streamed online? I say yes.
Both men have the skills to put on a great match and the WWE need both of them to remain legitimate in the eyes of the WWE Universe. Keeping them off the main card doesn't help this.
I think what would have made the difference is that both men have something to prove. Such a shame many will miss out.
If this match received the backing of the WWE in featuring on the main card and allowing them to put on a show, I think we could have been surprised by one amazing contest and what could possibly be the match of the night.
I do hope many of you choose to stream this match. It could prove to be the best Extreme Rules contest of them all.
COBRA!