5 Bold Predictions for Philadelphia 76ers in the Playoffs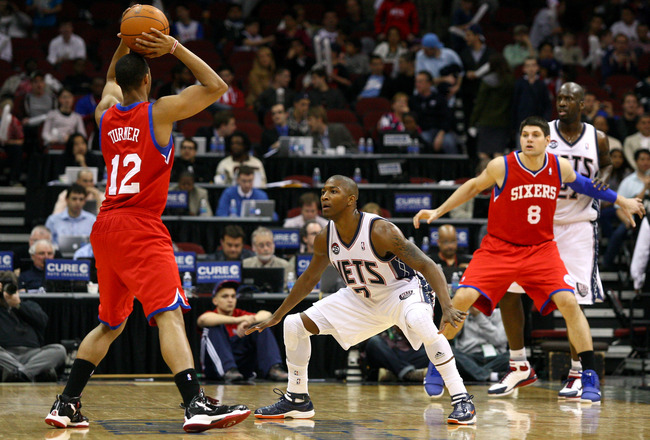 Chris Chambers/Getty Images
The NBA playoffs are just around the corner and the Philadelphia 76ers will no doubt see tough competition. With this in mind, there's certainly opportunity to make some bold predictions.
"Bold" is often defined as having the ability to take risks. In order to fulfill this definition with predictions, it's safe to conclude that these predictions will be optimistic.
Although the odds aren't in favor of the Sixers entering the postseason, you never know what can happen.
Jrue Holiday Will Lead the Team in Scoring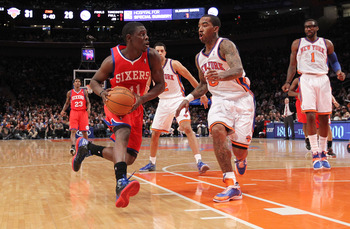 Nick Laham/Getty Images
If this happens, it wouldn't definitely give off a vibe of reassurance.
Many expected more out of Holiday offensively this season and just didn't see it. Although this season he may not have met expectation, the potential is still there and his ceiling remains high.
Although he isn't known for having great scoring abilities, he is proven from three-point range and has displayed in previous games he can catch fire at any time.
Holiday's performance this postseason will be crucial, especially if the team faces off against the Chicago Bulls and Derrick Rose. Holiday has to show up if the Sixers want to contend, and I say he does just that.
Lou Williams Hits a Game-Winner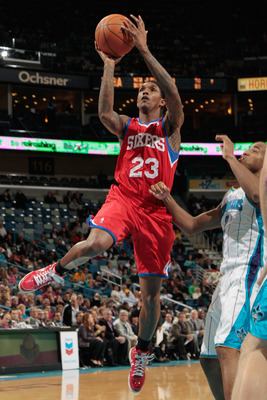 Chris Graythen/Getty Images
He did it last year, so why not again?
The Sixers always find themselves in close games coming down to the wire. Granted, they usually don't have the outcome they'd like them to, but Sweet Lou has a pedigree of shutting out games with his clutch ability.
It's truly an amazing thing when it happens in the playoffs, and I say Lou gets it done.
Elton Brand Has a Great Series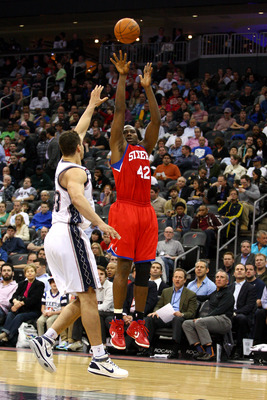 Chris Chambers/Getty Images
I'm confident about this and believe in Elton Brand. Despite his hefty contract that usually sways fans away from giving him credit, he is one of the Sixers' most valuable players.
His mid-range game has proved to be automatic and his defense superb this season. He protects the basket well, and even though he is undersized, he doesn't shy away from getting boards or playing hard defense.
However, one big thing that sticks out about Brand is he always gives you 110 percent. In every game he plays, he hustles to every ball and always gives the effort to keep up with the young guys in transition. Literally. Every game. The man doesn't stop. It's pretty admirable.
Brand averaged nearly 16 points and more than eight rebounds per game in the playoffs last year, and he is certainly capable of doing it again.
Evan Turner Will Shine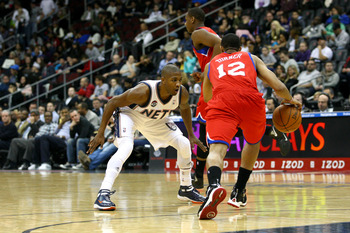 Chris Chambers/Getty Images
I'd say this is pretty bold considering his playing time has been nothing but unpredictable.
However, he did show he can produce at this time last year. In the three games where he saw more than 25 minutes, he showed up. He recorded 15 and 17 points respectively in two of the games and recorded 10 rebounds in his last game.
From a rookie against the Miami Heat, that's pretty impressive.
If the Sixers wind up playing the Bulls, I say there's definitely a better chance he can shine, just because he won't be going up against Dwyane Wade and LeBron James.
The Sixers Bring It to Six Games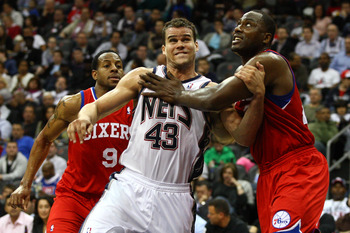 Chris Chambers/Getty Images
This would surprise everyone.
Bringing a series to six games would be extremely hard to accomplish, especially if they play the Miami Heat, in which case this has a slim-to0none chance of happening. But if it did, the Sixers would need to do a few things.
For one, they would need to put the inconsistent regular season behind them and be completely focused on winning now. Secondly, they would need to execute everything and win the game defensively.
Basically, everything would have to go their way and they'd have to play to the best of their abilities. It's not likely, but hey, it could happen and it's something very bold to go out on.
Keep Reading

Philadelphia 76ers: Like this team?