Baltimore Orioles: Has Robert Andino Played His Way into Future Team Plans?
April 26, 2012

Rob Carr/Getty Images
During his first six seasons at the major league level, Robert Andino was simply a decent fielding utility guy with some speed who offered very little at the plate. He was tagged as a replacement player who wasn't long for the majors.
Last season Andino was given a full season of at-bats because of an injury to star second baseman Brian Roberts, and for the most part, Andino did nothing to change his reputation as a bench player.
But as the Orioles started to play their best baseball of the 2011 season, so did Andino. In September the Orioles went 15-12, and Andino hit three of his five home runs, stole four bases, had 15 RBI and achieved a .729 OPS.
September ended famously with an Andino line drive dropping in front of a sliding Carl Crawford as Baltimore knocked off the Red Sox in walk-off fashion.
The play of Andino in September made the Orioles confident enough in his abilities to stay put and not seek second base help, even though it was clear Roberts wouldn't be ready for Opening Day.
So as suspected, Andino began the season as the Orioles everyday second baseman and has picked up right where he left off last September. He is currently batting .300 with a .767 OPS.
His hot start to begin the season has got to get Baltimore management and fans wondering whether Andino is considered a part of the Orioles future plans or whether he is an expendable piece that will be moved once younger prospects are ready for the majors.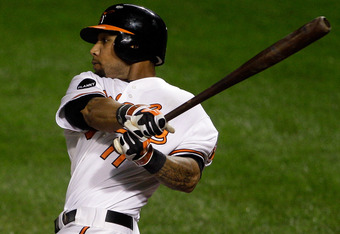 Rob Carr/Getty Images
As it stands right now, the Orioles appear to have several key positions filled with players they expect to keep improving and build around. These players include catcher Matt Wieters, first baseman Chris Davis, right fielder Nick Markakis, left fielder Nolan Reimold and center fielder Adam Jones.
That leaves shortstop, second base and third base.
Shortstop J.J. Hardy is under contract through the 2014 season but he turns 30 this season and his range could force him to another position in the coming years. Manny Machado is one of the top prospects in all of baseball and should satisfy the shortstop need in the near future.
Mark Reynolds looks more and more like he should be at first or serving as a DH everyday, and the O's are aware of this. So even though he is only 28, Reynolds is not the third baseman of the future even if he stays in Baltimore long term.
There are other in house options as well. Rookie Ryan Flaherty is listed as a shortstop but is capable of playing all over the field, including third, and will be given an opportunity to prove he is a capable everyday big league ballplayer. Youngster Nicky Delmonico is with future ace Dylan Bundy in Low-A Delmarva and projects as a big league third baseman.  This need could also be filled in free agency as there are often times talented corner infielders available.
Even if Roberts is able to return from injury and be the player he once was he clearly isn't a part of any Oriole future plans at second base, but there are some in house possibilities at this position too.
J.J. Hardy could move over once Machado is ready to play at the Major League Baseball level. Another option is Machado's double play partner at Bowie Jonathan Schoop, who is ranked No. 2 at second base in MLB.com's "Prospect Watch" series.
That is some stiff competition for Andino at second base. Even if Schoop isn't able to continue his development, it is likely that Hardy could end up pushing Andino out of second once Machado arrives in Baltimore. Flaherty could also play here if another option presents itself at third.
So that is one knock against Andino projecting as a future everyday player in Baltimore.
Another issue for Andino is his age, as he just turned 28. Traditionally that would mean Andino's ceiling has either already been reached or may not be much higher than his current production. Certainly there have been players that have continued to improve even into their 30's, but it is rare.
So both his age and organizational depth could hurt Andino.
Another issue is sustainability. Andino must sustain his current production all summer. If he begins to struggle, players like Flaherty will steal some at-bats. A possible return of Roberts could also hurt his playing time.
Based on all the reasons listed above, it seems unlikely that Andino is currently part of the Orioles' future plans at least as an everyday second baseman. With his age, organizational competition and questionable sustainability Andino likely projects as a utility guy at best in the future.