2012 NFL Mock Draft: Developing Players Who Will Be Absolute Steals
April 25, 2012

Kevin C. Cox/Getty Images
Theoretically speaking, any player entering the NFL is a developing player, save a few guys who seem destined to be can't-miss prospects.
For every Andrew Luck, Robert Griffin III, Trent Richardson or David DeCastro, there are a hundred guys who have a lot of developing still to do.
But most of those guys proved a lot on the field, and the question is whether or not it will translate to the next level.
And others have shown flashes of talent and unreal athleticism, leaving teams to wonder if they'll ever fulfill their full potential. Let's take a look at those players. Get your hand on the mock, and let's do this.
1. Indianapolis Colts: Andrew Luck, QB (Stanford)
He'll hit the ground running in Indianapolis, even if he won't have many weapons to run with.
2. Washington Redskins: Robert Griffin III, QB (Baylor)*
Griffin should end up having more success than Luck his rookie year based upon the Redskins having the better roster. But in the end, Luck will be the better pro.
3. Minnesota Vikings: Matt Kalil, OT (USC)
At the end of the day, they have last year's first-round investment, Christian Ponder, to protect. They're trying to convince the Bucs they'll take Morris Claiborne to invoke a trade with Tampa Bay, but at the end of the day, I believe Kalil is the guy.
4. Cleveland Browns: Trent Richardson, RB (Alabama)
Cleveland, you have your new face of the franchise. Enjoy.

5. Tampa Bay Buccaneers: Morris Claiborne, CB (LSU)
Tampa Bay wants to come out of this draft with either Richardson or Claiborne, so don't be surprised if they move up to No. 3. Either option is an excellent one for Tampa Bay.
6. St. Louis Rams: Justin Blackmon, WR (Oklahoma State)
He's the last player in the elite tier of this class, and Sam Bradford really needs a new toy. This pick is a lock, in my opinion.
7. Jacksonville Jaguars: Melvin Ingram, DE (South Carolina)
Jacksonville will try to move down here, but they'll have a lot of options if they can't. I think Ingram represents the best value here, and he also fills a big need for the team at defensive end.

8. Miami Dolphins: Ryan Tannehill, QB (Texas A&M) 
I think Tannehill will develop into a decent quarterback, but he still won't be a steal after being drafted in the top 10.
9. Carolina Panthers: Fletcher Cox, DT (Mississippi State)

This could also be linebacker Luke Kuechly, but I think the defensive line is the bigger need. And quite a few teams seem to covet Cox, making me wonder if he'll drop past Jacksonville.
10. Buffalo Bills: Riley Reiff, OT (Iowa)
Michael Floyd, Mark Barron or a cornerback are also possibile, namely if the Bills don't believe Reiff is a viable option at left tackle in the NFL. If they believe he is, he's the pick.
11. Kansas City Chiefs: Dontari Poe, NT (Memphis)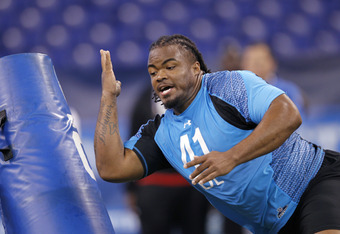 Joe Robbins/Getty Images
If you don't already know about his legendary NFL Scouting Combine, you might live under a rock. Chances are, that rock is Dontari Poe, because he's that big.
His combination of size and strength had some folks thinking of Haloti Ngata, though his lack of dominance at Memphis balanced the praise.
Still, he could develop into an elite interior presence, and with Kansas City in need of a nose tackle, Poe could be the perfect fit. I think they'll look back on this selection quite fondly in a few years.
12. Seattle Seahawks: Luke Kuechly, MLB (Boston College)

If he's here, he's the pick. His athleticism and ability to play all three downs will perfectly fit the Seahawks defense.
13. Arizona Cardinals: Michael Floyd, WR (Notre Dame)

Great value here, and it gives Kevin Kolb a dangerous pair of wide receivers to throw to. Plus, it should limit the double teams on Larry Fitzgerald, making his life easier as well.
14. Dallas Cowboys: Mark Barron, S (Alabama) 
The consensus seems to be that Mark Barron will be the pick here. I still think David DeCastro is a possibility, but with Barron a guy that can start immediately in a suddenly pass-heavy division, he could be the final piece in a rehabilitated Dallas secondary.
15. Philadelphia Eagles: Michael Brockers, DT (LSU)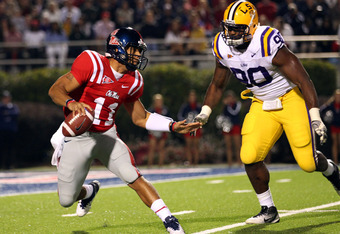 Joe Murphy/Getty Images
Brockers is a converted defensive end who has teams drooling with his athletic ability and strength on the interior of the line. Mike Tanier of Yahoo! had a nice scouting report on Brockers, which I would like to share with you now:
Brockers has ideal size, strength, and athleticism. He is quick off the line of scrimmage, but he is also very loose-limbed and fluid for an interior lineman. He looks very natural when moving laterally and can avoid blockers when pursuing a play. While he is not great at anchoring against double teams, Brockers often bends single blockers backward and steers them into the backfield.

Brockers displays great potential as a pass rusher. He wins some first-step battles. He displays quickness on stunts and was sometimes asked to loop to the outside. He keeps working when blocked, and sometimes collapses the pocket or flushes the quarterback after his initial move is stymied.
He's only a one-year starter, and he has room to improve. He'll fit into Jim Washburn's Wide 9 system quite nicely in my opinion.
16. New York Jets: Courtney Upshaw, OLB (Alabama)
He just feels like a Rex Ryan guy to me. With a big need for an edge-rusher, I think the Jets make Upshaw their guy.
17. Cincinnati Bengals: David DeCastro, OG (Stanford) ** 

This is the perfect situation for the Bengals. Not only do they fill a huge need here, they get the best guard prospect in years to do it.

18. San Diego Chargers: Nick Perry, OLB (USC) 
Is he a second-round talent? A top-tier pass-rusher? A guy that will fit certain teams perfectly and be a reach for other? I don't have the answers, but I think San Diego will see his potential and lock him up at 18.
19. Chicago Bears: Jonathan Martin, OT (Stanford)

The Bears need to protect Jay Cutler. The team's playoff chances rest solely on his powerful right shoulder. Jonathan Martin, you have your mission.
20. Tennessee Titans: Dre Kirkpatrick, CB (Alabama)
This one is simple enough—Kirkpatrick makes an excellent replacement for the departed Cortland Finnegan. No need to over-think these things, you guys.
21. Cincinnati Bengals: Kendall Wright, WR (Baylor)

This could also be a player like Stephen Hill or Stephon Gilmore, but I think this team wants to build around the arm of Andy Dalton. This gives the young signal-caller another excellent weapon and makes the Bengals a team to be feared going forward.
22. Cleveland Browns: Stephen Hill, WR (Georgia Tech)***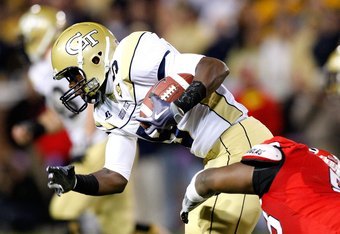 Kevin C. Cox/Getty Images
The Browns will go from being one of the most boring offenses in recent memory to one of the most exciting, all on one fateful Thursday evening.
Hill came from a run-first offense last season and only caught 28 passes, but he turned that into 820 yards and the best yards per catch average in the nation (29.3).
Hill's combination of size and speed has some folks thinking he'll be a poor man's Randy Moss and should step in and be a factor as a deep threat immediately.
He could end up being one of the game's best field-stretching options in a few years, and if he picks up the more complex route trees in the NFL and works hard at his craft, could become one of the game's best receivers, period.
23. Detroit Lions: Stephon Gilmore, CB (South Carolina)   

Gilmore has rocketed up draft boards, but I still think he's a player that will go in the early 20's of the first round. Detroit would love nothing more than if he dropped to them here.
24. Pittsburgh Steelers: Dont'a Hightower, LB (Alabama)
He's a Pittsburgh guy, plain and simple. He was the leader of the nation's top defense last year, and the Pittsburgh scheme is similar. It's a good fit.
25. Denver Broncos: Jerel Worthy, DT (Michigan State) 

This is a reach, though not a huge one, and the Broncos must upgrade the interior of the defensive line in this draft. Worthy is a worthy selection.
26. Houston Texans: Quinton Coples, DE (North Carolina)

Not needing to reach for any position in particular, the Texans can afford to draft the best player on the board. And lo and behold, Quinton Coples is still around, surprising many with his fall this far. Great value here for the Texans.

27. New England Patriots: Chandler Jones, DE (Syracuse)****
Jones is a solid value here and helps the Patriots address a huge need at the edge-rushing position.
28. Green Bay Packers: Whitney Mercilus, OLB, Illinois 
Clay Matthews III needs someone to attract some attention so he isn't constantly swallowed up in double teams. Mercilus will be a big help in that regard.
29. Baltimore Ravens: Cordy Glenn, OG (Georgia)  
The Ravens luck out that Glenn drops to them, filling the team's most pressing and immediate need.
30. San Francisco 49ers:  Rueben Randle, WR (LSU) 
Randy Moss is unkown, Ted Ginn is unreliable and Mario Manningham is a solid but unspectacular option. Randle won't have to be the guy right away, but he'll help, and he'll have time to develop as the top receiver moving forward.
31. New England Patriots: Janoris Jenkins, CB (North Alabama) 

The Patriots were dreadful in the secondary last year. Jenkins has a lot of character issues, but his talent can't be ignored. The Patriots can afford to take a chance and could end up with the steal of the draft if Jenkins dedicates himself to the game.
32. New York Giants: Coby Fleener, TE (Stanford)

Fleener, Hakeem Nicks and Victor Cruz—Eli Manning will enjoy this pick quite a bit.
*The Redskins traded the sixth pick in the first round, along with their second-round pick this year and first-round picks in 2013 and 2014 to St. Louis for 2012's second-overall pick.
**From Oakland in the Carson Palmer trade.
***From Atlanta in last year's Julio Jones draft day trade.
****From New Orleans in last year's Mark Ingram draft day trade.
Hit me up on Twitter—my tweets always hit the spot, like Philip Humber.