2012 NFL Draft Projections: Matt Kalil and Other Players Who Will Fall
April 25, 2012

Joe Robbins/Getty Images
We're now just one day away from the 2012 NFL draft.
Speculation and rumors have been running wild for months now. In those months, we've had enough time for the draft stock of Arizona State University's Vontaze Burfict to plummet, while the draft stock of Ryan Tannehill rocketed through the roof.
But what players in the 2012 Draft will have to wait longer than anticipated to hear their name called?
Matt Kalil
Let's start with a guy who would generate some major buzz even if he dropped just one spot.
Increasing reports have said that if the Vikings decide to either trade back or take someone other than Kalil with their choice at No. 3, there's a high possibility that he could fall as far back as the Buffalo Bills choice at No. 10.
The Bills, who clearly need help bolstering their offensive line, would be thrilled to see the top-rated offensive tackle in the draft fall to them at No. 10.
While there's still a big chance that the Vikes stand still and take Kalil with the third overall pick, if they decide to go elsewhere, Kalil could fall.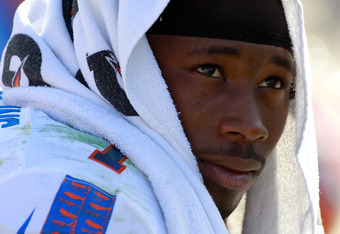 Sam Greenwood/Getty Images
The Cleveland Browns have Joe Thomas.
The Tampa Bay Buccaneers may choose to go a different route with a guy like Morris Claiborne or Trent Richardson.
The St. Louis Rams and Jacksonville Jaguars are probably better off drafting a playmaker to help their quarterbacks or addressing their defense.
The Miami Dolphins have Jake Long and will likely take Ryan Tannehill at No. 8.
The Carolina Panthers are nearly a lock to pick a guy on defense at No. 9.
So that leaves the Buffalo Bills at No. 10.
It's almost a certainty that Kalil won't fall any further than the Bills' choice because they have a big need at left tackle and he's the best on the board. But you can be sure that if he falls out of the spot at No. 3, he may have to wait far longer than he anticipated to hear his name get called.
Another player who could slip down the draft board is cornerback Janoris Jenkins.
Jenkins stock has plummeted after his plethora of off-the-field issues scared off a bunch of teams.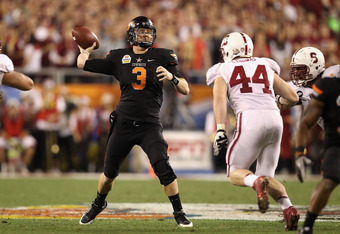 Christian Petersen/Getty Images
I thought a few weeks ago that the New England Patriots might take a chance on him in the late first round, but it's become increasingly evident that the Pats might be able to wait him out.
He's still a very talented cornerback, but the baggage he carries might prevent teams from taking a chance on him.
At this point, I wouldn't be shocked to see Jenkins fall to the third round of the draft. However, it's more likely that he'll find himself drafted in the mid-to-late second round.
Brandon Weeden
Although Skip Bayless would tell you that the Cleveland Browns would be foolish not to take Weeden with the fourth overall pick in the draft, I wouldn't be shocked to see his draft stock take a tumble when we hit the draft day reality.
Although Weeden is a solid prospect, he's currently 28 years old.
Even if he were to come to a team and be the starter from day one and have a successful career, you're only looking at about seven to eight years out of the guy.
When you factor in that he probably won't play for a team in Week 1 this season, and he may need two years or so to prepare himself as an NFL quarterback, that lifespan diminishes quite a bit.
Nevertheless, I was impressed with his accuracy on Sports Science, no matter how silly that drill was.
Rueben Randle
Although Randle is the fifth-highest rated wide receiver according to CBS Sports, he's still very raw as a football player. I can certainly see this guy being a draft bust.
He caught only 44 passes in his first two seasons at LSU, but ended up catching 53 passes last season.
Yes, Randle had a jump in production, but I think he still has a lot to learn to be a solid talent at the NFL level. I tend to shy away from players who weren't consistent college players. One good year from Randle doesn't jump out at me.
Unlike Justin Blackmon or Michael Floyd or even Kendall Wright, I don't think that Randle is mentally prepared to be an NFL wide receiver.
I still expect Randle to be drafted as high as the second round, but for how raw he is as a player, I think that NFL teams would be wise to wait on pulling the trigger on a guy like Randle.
He does have a cool name though!