NFL Draft 2012: Updating the Best Current Prospect at Every Position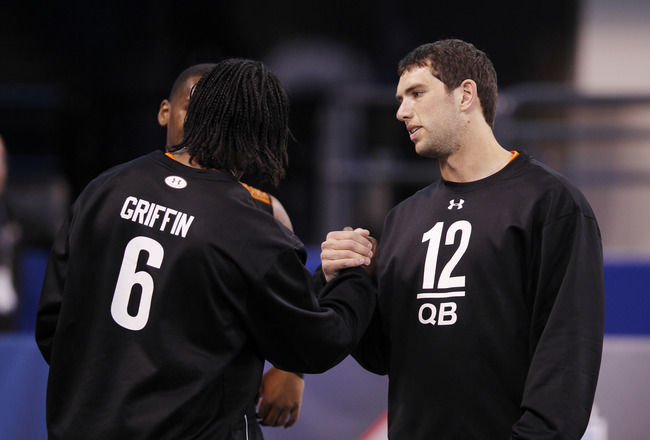 Joe Robbins/Getty Images
We are just hours away from the 2012 NFL draft. I can't type that without a smile coming to my face.
It is pretty exciting for any sports fan but especially this one, who has been researching and writing about the draft for months and months.
Of course, there are still more predictions to make and numbers to be crunched.
Here is the final list for the best prospect at every position in the 2012 NFL draft. Get happy!
Quarterback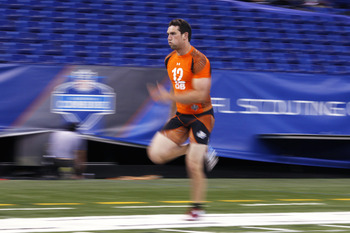 Joe Robbins/Getty Images
Andrew Luck, Stanford
No surprise here: RG3 is a great prospect, but he pales in comparison to Luck, the classic, drop-back pocket passer who could save the Indianapolis Colts.
In the age of Facebook and Twitter, Luck has been hyped up with no signs of slowing down. He is the best prospect by far and is as much of a sure thing as there can be in the draft.
It would take a lot of hard work for the official No. 1 pick to screw this up.
On the Radar: Robert Griffin III, Baylor
Center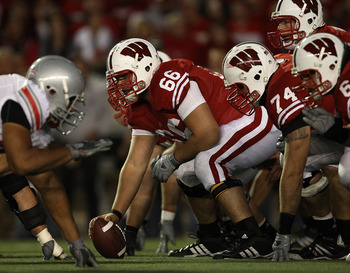 Jonathan Daniel/Getty Images
Peter Konz, Wisconsin
The ankle that sidelined Konz for the last three games of his college career seems to be healing well, but there are still durability concerns with him after the Badger missed time each of his past three seasons with several injuries.
That being said, Konz is aggressive and tough. When pass-blocking, he shows extreme balance and shoots his hands into defenders to hold blocks for extended periods of time.
Konz is athletic and has a bright future in the league—if he can stay healthy.
On the Radar: David Molk, Michigan
Offensive Tackle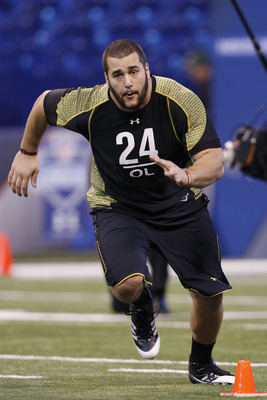 Joe Robbins/Getty Images
Matt Kalil, USC
This is another no-brainer. Kalil is the best offensive tackle prospect since Jake Long.
Big and athletic, and with an eye for blitzes, he will be a guaranteed opening day starter.
I see the Vikings picking up this former Trojan. He would give Christian Ponder time to make good passes and let a healthy Adrian Peterson run wild.
Kalil will be the franchise tackle Minnesota is looking for.
On the Radar: Riley Reiff, Iowa
Offensive Guard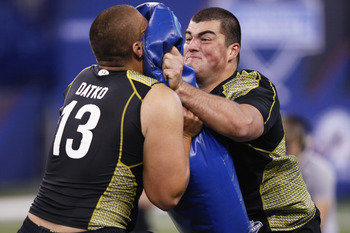 Joe Robbins/Getty Images
David DeCastro, Stanford
DeCastro is ranking in the top 15 in many mock drafts. What makes his tale even more surprising is that guards usually don't rank that high.
That just goes to show how good DeCastro is. The Cardinal is an absolute stud and an instant impact player.
He is a can't-miss prospect at the guard position and a big reason for the success of Andrew Luck.
It is simple—DeCastro never gets beaten.
Whether he is pulling or pass-blocking, he plays his heart out until the whistle.
On the Radar: Cordy Glenn, Georgia
Fullback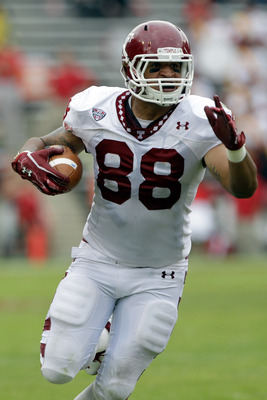 Rob Carr/Getty Images
Evan Rodriguez, Temple
Rodriguez is not expected to go before the fifth round, but the team that lands this "fullback" will have a very versatile player on their roster.
He has been described as a poor man's Aaron Hernandez and lines up at fullback and tight end.
He is a natural athlete that can block and is also a good pass catcher. Rodriguez has great vision, whether he is tracking the ball or taking on contact as a lead-blocking fullback.
But there is a huge red flag when it comes to drafting the Temple product.
For all the potential this kid has, he has done little with it. Rodriguez is undersized and lacks strength. It also hurts that he was considered lazy in his first three seasons.
The potential is there, though, and Rodriguez is an intriguing prospect.
On the Radar: Brad Smelley, Alabama
Running Back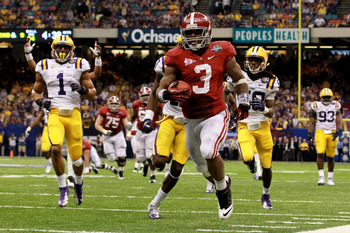 Ronald Martinez/Getty Images
Trent Richardson, Alabama
Richardson is a special player.
Teams do not get the chance to scout an athlete of his caliber every day, and the Alabama product will be a great addition to whichever organization picks him up.
With the league turning into a pass-happy environment, Richardson can bring back memories of illustrious runners and be an elite back in the NFL.
This season, he killed the mighty defenses of the SEC with his speed and gift to keep a play going by breaking tackles.
Richardson can do it all and will be a Day 1 NFL starter.
On the Radar: Lamar Miller, Miami
Wide Receiver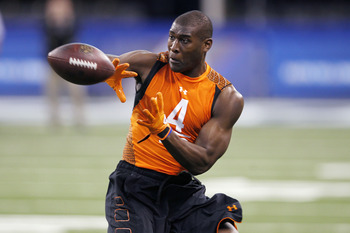 Joe Robbins/Getty Images
Justin Blackmon, Oklahoma State
Blackmon has seen his stock drop with the rise of other receivers, namely Michael Floyd. He isn't a once-in-a-generation player but will be a definite boost to any quarterback that lands him.
The OK State product fights for yards after the catch and is able to run block when needed.
He is a physical presence and will create a big mismatch.
Blackmon has already proven that he is an elite receiver, lighting up stadiums with his physicality and speed.
He is tough as nails and a true fighter. We could be seeing Blackmon touchdowns for a while to come.
On the Radar: Michael Floyd, Notre Dame
Tight End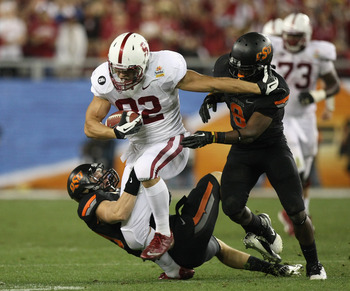 Donald Miralle/Getty Images
Coby Fleener, Stanford
I once had Dwayne Allen in this spot, but the Clemson prospect has seen his draft stock fall while Coby Fleener has seen his rise.
Maybe Fleener benefited from a good quarterback in college, but he has shown us at the combine and his pro day that he is a player that can succeed in the next level.
He has a never ending motor with a great work ethic. Pair that with a prospect who has great hands, vision and blocking ability and you have a potential first-round pick.
On the Radar: Dwayne Allen, Clemson
Punter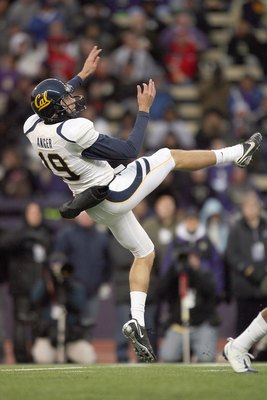 Otto Greule Jr/Getty Images
Bryan Anger, California
Anger is the best pro prospect on the Cal special teams squad.
He was named first-team all-conference, while averaging 44.6 yards per punt.
Anger has a bright future in the league because he is skilled at landing the ball inside the 20-yard line.
On the Radar: Shawn Powell, Florida State
Place Kicker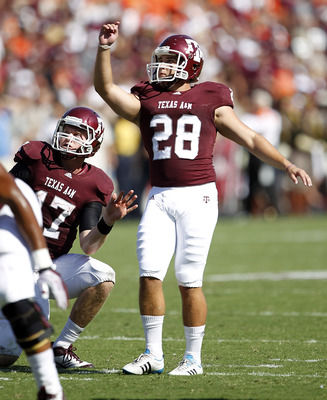 Bob Levey/Getty Images
Randy Bullock, Texas A&M
The kicker position has proven to be extremely important in the NFL—just ask Billy Cundiff.
Bullock has shown this year that he has a solid leg and can get three points under pressure. He was 29-if-33 on field goals and an impressive 55-of-57 on extra points.
The kid has a bright future kicking in the league.
On the Radar: Blair Walsh, Georgia
Cornerback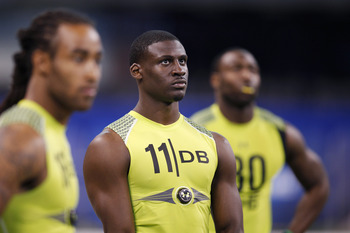 Joe Robbins/Getty Images
Morris Claiborne, LSU
Picking Claiborne is another no-brainer.
The LSU product has been providing excellent pass coverage and big returns this season.
Claiborne led the nation in interception return yards, with 173 to go along with his six picks. He is a shutdown, speedy corner and will probably be the first defensive player off the board come tomorrow.
Claiborne has a bright future in the league and should morph into a premier corner.
On the Radar: Dre Kirkpatrick, Alabama
Defensive End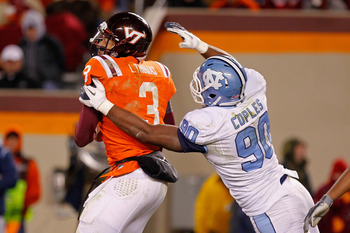 Geoff Burke/Getty Images
Quinton Coples, North Carolina
Coples is a curious player.
Some experts are high on him, while others don't think he will be a star in the league. I'm neutral with the UNC product.
He played brilliantly in the Senior Bowl, beating up on offensive linemen with his unmatched combination of strength and speed. The 6'6", 285-pound monster is a developed pass-rusher that has a wide arsenal of moves to beat you with.
This season, facing a constant double team, Coples had 55 tackles with 15 tackles for a loss, 7.5 sacks and three forced fumbles.
He should explode onto the NFL scene if he is able to maintain his focus and keep motivated. If not, then Coples will be a bust.
On the Radar: Melvin Ingram, South Carolina
Defensive Tackle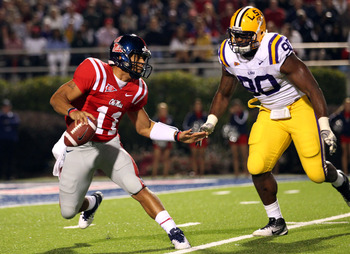 Joe Murphy/Getty Images
Michael Brockers, LSU
Right now, this is a race between Brockers and Devon Still. I don't think that Dontari Poe can succeed in the NFL. He is crazy athletic but nothing more than a workout warrior. At Memphis, he never went up against elite competition.
I hope Poe proves me wrong, but right now I can't make him No. 1 here.
As for the best defensive tackle, the former Tiger has the edge.
Brockers was disruptive this year, totaling 54 tackles with 10 tackles for a loss, two sacks, a forced fumble and even a blocked kick.
This 6'5", 306-pound giant has an unmatched balance between size and strength.
The only knock against him is that Brockers is a sophomore. But his fountain of youth makes his ceiling nonexistent. This season Brockers played well beyond his years and can keep that level of intensity throughout his NFL career.
On the Radar: Devon Still, Penn State
Safety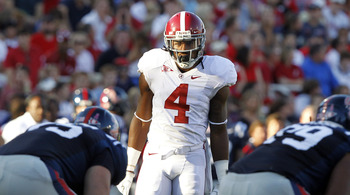 Butch Dill/Getty Images
Mark Barron, Alabama
Without a doubt, Barron is the top safety in this class.
The only problem that could derail his track is a recent double-hernia surgery. He wasn't able to attend the scouting combine or the Crimson Tide's pro day on March 7.
But the injury isn't expected to keep him out of his projected first-round slot. Scouts have recently got pretty high on Barron and a first-round pick is in the cards.
Barron is a hard-hitting safety with 66 tackles on the season, including 42 solos, four tackles for loss, one quarterback hurry, five pass breakups, two interceptions and a fumble recovery.
He is the cream of the crop for this position and, if healthy, should be a star in the NFL.
On the Radar: George Iloka, Boise State
Linebacker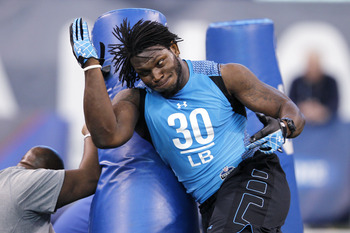 Joe Robbins/Getty Images
Courtney Upshaw, Alabama
Upshaw paired a tremendous season with a solid Senior Bowl performance, and he has scouts drooling.
The 6'1", 273-pound monster posted 52 tackles, 9.5 sacks, 18 tackles for a loss, two forced fumbles and an interception on the season.
He is a versatile player that can line up in many different places on the defensive side of the ball. He is best at rushing the passer with huge bursts of speed and finishes explosion of a sack. He uses his hands well and can get inside the pocket.
Upshaw founded The 41 Fund in the spring of last year to raises funds for the victims of the Alabama tornadoes. While that has nothing to do with football, the NFL loves to honor players that help out the community, and the explosive Upshaw could find his place in the league both on the field and off it.
On the Radar: Luke Kuechly, Boston College
Keep Reading

Minnesota Vikings: Like this team?