Analyzing the AFC East Picks in BR Blogger 2012 NFL Mock Draft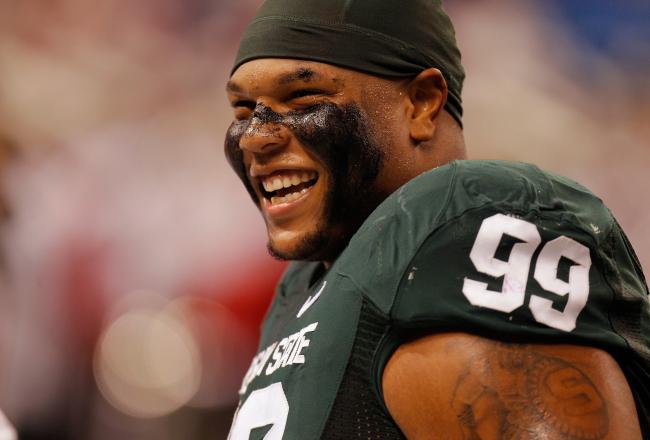 Is Jerel a worthy pick for the Patriots at the end of the first round?
Gregory Shamus/Getty Images
With the 2012 NFL Draft right around the corner, the Bleacher Report bloggers got together for a big mock party on Twitter.
The team of bloggers included NFL lead blogger Aaron Nagler, NFL Draft lead blogger Sigmund Bloom NFL Associate Editor Michael Schottey, AFC South correspondent Nate Dunlevy, AFC North lead blogger Andrea Hangst, NFC South lead blogger Knox Bardeen, NFC North lead blogger Andrew Garda and myself.
Here's a complete rundown of the picks, but here are the picks I made for each of the AFC East teams with a brief explanation.
8. Miami Dolphins: Quinton Coples, DE, North Carolina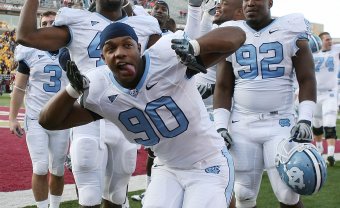 Elsa/Getty Images
The consensus pick has been Texas A&M quarterback Ryan Tannehill, but I stayed true to my gut with this pick, having made the same selection in my
final Dolphins seven-round mock draft
.
The quarterback is the biggest need for the future, but the question has to be whether it's better to land the third-best quarterback or the No. 1-ranked defensive end at this point in the top 10.
Quite simply, Coples is a top five talent. He has the quick twitch and athleticism necessary to push the pocket from the outside in the NFL. Teaming him up with Cameron Wake provides the Dolphins an incredible one-two punch for pass-rushers for the next three to five years at least.
10. Buffalo Bills: Luke Kuechly, LB, Boston College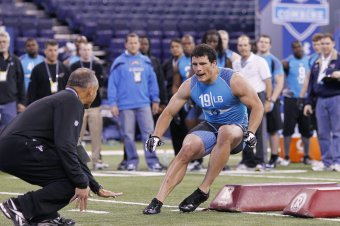 Joe Robbins/Getty Images
Staying true to
my mock
and going against the grain once again, Kuechly strikes me as a better value pick for the Bills than Notre Dame wide receiver Michael Floyd.
History has shown
us that going high for receivers doesn't equal Super Bowl wins, and the class at wide receiver is deep enough that the Bills could still get someone in the second round (via
Football Nation
).
There aren't any linebacker talents like Kuechly available anywhere but No. 10. With Kuechly, the Bills would have one of the final pieces to their front seven. They would be set there for the next three years at least.
13. New York Jets: Michael Floyd, WR, Notre Dame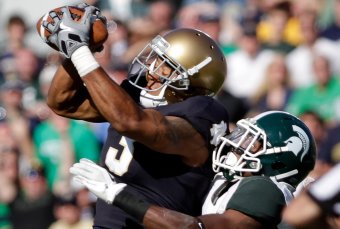 John Gress/Getty Images
The Eagles have shown some interest in Floyd, enough that it was worth it to move past them just to make sure. The Panthers were a willing trade participant, and the trade was pulled off to near perfection. The value of the three picks the Jets sent (1.16, 3.77 and 5.154) was equal to the value of the two picks sent by the Panthers (1.13 and 4.105)—1,234 points.
Melvin Ingram was off the board, and there are players at safety and outside linebacker that can be had later in the draft. Even though the Jets want to return to ground and pound, adding Floyd would help them do so and would immediately open things up underneath by tilting the numbers in their advantage.
Mark Sanchez would be one happy camper.
27. New England Patriots: Shea McClellin, DE/OLB, Boise State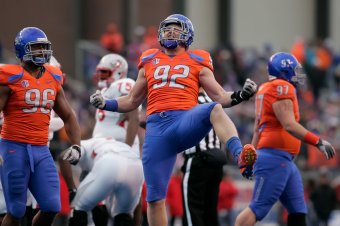 Otto Kitsinger III/Getty Images
This is another pick I predicted in
my own Patriots mock draft
. If there's one outside linebacker prospect that fits the Patriots mold in the first round, it's McClellin.
If the Patriots want him, though, they'll have to take him at 27. The Packers, Ravens and 49ers all pick immediately after the Patriots, and all run a 3-4 scheme that could put McClellin's athleticism to good use. He wouldn't be available at 31.
McClellin has what the Patriots lack on the outside with his athleticism, pass rush potency and versatility. He's not a true 3-4 outside linebacker yet, but could get there with polish.
31. New England Patriots: Jerel Worthy, DT, Michigan State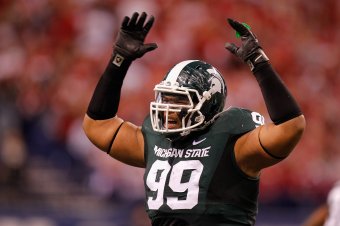 Gregory Shamus/Getty Images
Schottey sniped my man Wisconsin guard Kevin Zeitler for the 49ers at 30, just before the Patriots got on the clock. So Worthy seems like a worthy replacement. He's another player that's not a "perfect" Patriots fit, but from the start, Worthy could give the Patriots a boost as a pass-rusher.
They already have a solid core of run-stuffing five-techniques, and though Worthy is more of a penetrating defensive tackle than the Patriots classic two-gap, he could get playing time as a rookie on passing downs while perfecting his craft and eventually becoming a three-down player in their system.
This article is
What is the duplicate article?
Why is this article offensive?
Where is this article plagiarized from?
Why is this article poorly edited?