2012 NFL Draft Tracker: First-Round Selections, Trades and Pick Analysis
April 26, 2012

Al Bello/Getty Images
2012 First Round NFL Draft Tracker and Pick Analysis
No. 1—Indianapolis Colts—Andrew Luck, QB, Stanford
No surprise here, as the Colts have already made their selection known. Luck is the best QB prospect to come along since either Peyton Manning or John Elway, depending on who you ask. Either way, the Colts hope to achieve the same success under Luck as they did under the last quarterback they selected No. 1 overall—Peyton Manning.
No. 2—St. Louis Rams (traded to Washington Redskins)—Robert Griffin III, QB, Baylor
No surprise here either. With Luck officially becoming the No. 1 overall pick, the Redskins get their man in RG3. He is expected to become the 22nd QB to start a game for the Redskins in the past 20 years, as well as provide a dynamic aspect to the offense that's been missing in years past.
No. 3—Minnesota Vikings (traded to Cleveland Browns)—Trent Richardson, RB, Alabama
With the departure of Peyton Hillis in free agency, running back was a huge need for the Browns. Richardson is the best RB prospect to come along since Vikings' RB Adrian Peterson. He's strong, he's fast, and he doesn't fumble. The Browns get a true game-changing running back who can play on every down—a rare thing in today's NFL. 
No. 4—Cleveland Browns (traded to Minnesota Vikings)—Matt Kalil, OT, USC
With the drafting of the quarterback Christian Ponder last year, the Vikings get the top offensive lineman in the draft to protect their investment. Ponder showed flashes of greatness last year, and now that he doesn't have to worry about his blindside, Minnesota can see if Ponder really is their quarterback of the future.
No. 5—Tampa Bay Buccaneers (traded to Jacksonville Jaguars)—Justin Blackmon, WR, Oklahoma State
Jaguars' quarterback Blaine Gabbert looked awful last season. Part of that can be attributed to the fact that he didn't have anyone to throw the ball to. Blackmon was the top receiver in this draft according to most scouts, and Jacksonville's front office has to hope that Blackmon will speed up Gabbert's development and provide a playmaking wide receiver for years to come.
No. 6— Washington Redskins (traded to St. Louis Rams, traded to Dallas Cowboys)—Morris Claiborne, CB, LSU
One of the biggest surprises to this point, Dallas trades up to get the best defensive player in the draft in Claiborne. Claiborne is a former wide receiver and has tremendous ball skills for a corner of his size. Despite adding former Chiefs CB Brandon Carr in free agency, the Cowboys needed a corner because they let Terence Newman take his talents to Cincinnati. Claiborne should start right away over Mike Jenkins, and will be a welcome addition in a division the features Eli Manning, Mike Vick and now Robert Griffin III.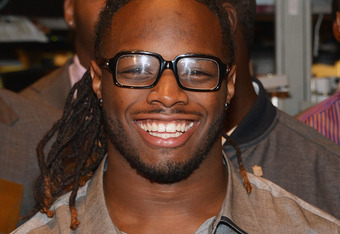 Slaven Vlasic/Getty Images
No. 7—Jacksonville Jaguars (traded to Tampa Bay Buccaneers)—Mark Barron, S, Alabama
Last year was the year of the tight end. To defend against a dangerous pass-catching tight end like the Saints' Jimmy Graham or the Falcons' Tony Gonzalez, a great safety is a necessity. Mark Barron is hands down the best safety in the draft. He's phenomenal against the pass and a true force against the run.
No. 8—Miami Dolphins—Ryan Tannehill, QB, Texas A&M
Miami does what many hoped they wouldn't—draft a quarterback in the top 10 who wouldn't be able to start from day one. The disturbing trend of reaching for quarterbacks continues, but it will be worth it if Tannehill (who will be reunited with his college head coach in Mike Sherman) can become the best QB in Miami since Dan Marino. He's got all the physical tools to be successful, and if he can learn to effectively read defenses and can stop staring down his receivers.
No. 9—Carolina Panthers—Luke Kuechly, LB, Boston College
There were really only two options here—Fletcher Cox and Kuechly. Initially there were questions about Kuechly's athleticism, but after a solid showing at the combine and BC's pro day, he erased all questions. Kuechly is a tackling machine, and is solid dropping into coverage. Kuechly will join incumbent Panthers' linebackers Jon Beason, James Anderson and Thomas Davis to form one of the best and most athletic linebacking corps in the NFL. Still, you have to wonder if Carolina would've been better off addressing their defensive line.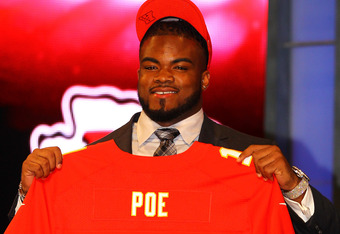 Al Bello/Getty Images
No. 10—Buffalo Bills—Stephon Gilmore, CB, South Carolina
Another big surprise here as most mock drafts had the Bills selecting an offensive lineman or wide receiver. Gilmore is considered a top-tier cover corner in this draft, which is a huge need when you play Tom Brady twice a year. Gilmore will likely start from day one 
No. 11—Kansas City Chiefs—Dontari Poe, NT, Memphis
Poe had one of the best combines in NFL history. At 346 lbs, he ran a 4.98 40 time and benched 225 lbs. 44 times. He's an enormous body with seemingly-unlimited potential, but his tape from Memphis was less than impressive, as he failed to dominate competition in Conference-USA. New Chiefs head coach Romeo Crennell will hope to develop Poe into the dominant force that he believes he can be.
No. 12—Seattle Seahawks (traded to Philadelphia Eagles)—Fletcher Cox, DT, Mississippi State
The Eagles' defense struggled mightily against the run last year. In Philadelphia's wide-9 defensive scheme, the defensive ends are responsible purely for rushing the quarterback, which requires the defensive tackles to take on all of the run-stuffing responsibilities. Pairing Cox with Cullen Jenkins should immediately improve the Eagles' defense. Additionally, Cox is capable of playing on the outside and generating a pass rush, and should see some time at end on first down and in running situations over Jason Babin.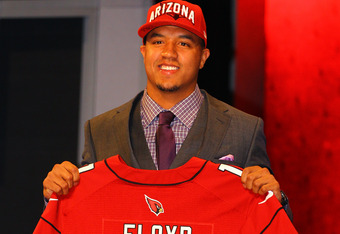 Al Bello/Getty Images
No. 13—Arizona Cardinals—Michael Floyd, WR, Notre Dame
The Cardinals have been searching for a No. 2 wide receiver since Anquan Boldin left for Baltimore. They've finally found their man in Floyd. Like Boldin, Floyd is a big, physical receiver and he's the best blocker at his position in this class. With Larry Fitzgerald on one side of the field and Floyd on the other, Arizona's quarterback, whether it's Kevin Kolb or John Skelton has to like their odds heading into 2012.  
No. 14—Dallas Cowboys (traded to St. Louis Rams)—Michael Brockers, DT, LSU
St. Louis had done a tremendous job in this draft even before selecting Brockers—they've already acquired two additional first-round picks in next year's draft and another first-rounder in 2014. Brockers was initially thought of as the best DT in the draft. He's got a big body at 6'6" 320 lbs, and he's very good against the run. If he can develop as a pass rusher from the inside, he could be a Pro-Bowler for the next decade.
No. 15—Philadelphia Eagles (traded to Seattle Seahawks)—Bruce Irvin, DE/OLB, West Virginia
First big reach here. By most accounts, Irvin could have been had in the second or third round. While a lot of scouts think he's the best pure pass-rusher available in the draft, but he's not stout against the run and offers nothing in terms of pass coverage. That having been said, if Irvin is as good a rusher as scouts say he is, it might not matter.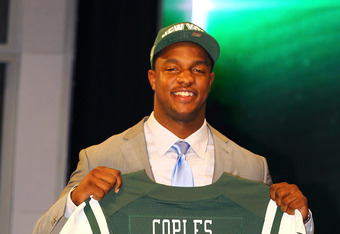 Al Bello/Getty Images
No. 16—New York Jets—Quinton Coples, DE, UNC
Another surprise here, as several outlets reported that Rex Ryan loved Melvin Ingram. Coples has a prototype defensive end body at 6'6" and 285 lbs. While many scouts had questions about his effort and motor after watching tape of his senior year, he completely dominated the senior bowl and put his skills on display. He's shown that he can be a dangerous pass rusher, but he can also anchor against the run. It'll be interesting to see what role he'll play on the Jets' defense, as he'll have to add mass to be a 5-technique defensive end, and he's likely too big to play the 3-4 OLB role. Either way, with Ingram still available, you have to question this pick.
No. 17—Cincinnati Bengals—Dre Kirkpatrick, CB, Alabama
The third member of the Alabama Crimson Tide selected thus far, Kirkpatrick is a big, long physical pcorner who can also play free safety, and was the last true first-round prospect at the position. Despite adding Jason Allen and Terence Newman, as well as re-signing Pacman Jones in the offseason, corner is still a position of need when you face receivers like Mike Wallace, Antonio Brown, Anquan Boldin and Torrey Smith twice a year. 
No. 18—San Diego Chargers—Melvin Ingram, DE/OLB, South Carolina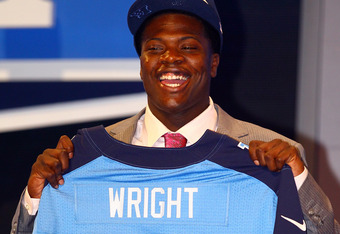 Al Bello/Getty Images
A.J. Smith finally gives Chargers' fans the player they've wanted since Shawne Merriman fell off. There are questions about Ingram's wingspan, but he's as versatile player as there is in this draft. He can play inside on the line in pass-rushing scenarios, he can play with his hand in the dirt as a 4-3 end or standing up as a 3-4 OLB. Despite never having played linebacker, he looked like a natural performing the linebacker drills at the combine. 
No. 19—Chicago Bears—Shea McClellin, DE, Boise State
Chicago bolsters their defensive line by adding an a player who can line up opposite Julius Peppers as a legitimate pass rusher to help pressure the quarterback. In a division where the Bears will face Aaron Rodgers, Matt Stafford and Christian Ponder twice a year, bringing the heat is vital, and the Bears will hope McClellin can do just that.   
No. 20—Tennessee Titans—Kendall Wright, WR, Baylor
The Titans add one of the better receivers in this years draft with Wright. If Kenny Britt can successfully return from a torn ACL and Chris Johnson regains his place among the NFL's best running backs, the Titans offense could become a force to be reckoned with. Wright can take the top off of the defense while also working the shorter and intermediate routes well. 
Doug Pensinger/Getty Images
No. 21—Cincinnati Bengals (traded to New England Patriots)—Chandler Jones, DE, Syracuse
Belichick actually traded up in the first round to choose his guy. According to NFL Network's Mike Mayock, Jones will be the best defensive player in this draft. He can play with a hand in the dirt as a 4-3 DE and can also rush the passer from the 3-4 OLB position, which is appropriate because the Pats love mixing it up on defense. And Jones has a pretty good pedigree too—his older brother Arthur is a defensive lineman for the Ravens and his other older brother Jonny Bones is the UFC Light Heavyweight Champion of the World.
No. 22—Cleveland Browns—Brandon Weeden, QB, Oklahoma State
The writing is on the wall for Colt McCoy. Brandon Weeden is an intriguing player—due to a stint in the minors playing for the Yankees, he's already 28 years old. But he's also a winner, which he proved by beating Andrew Luck, Robert Griffin III, Ryan Tannehill and Landry Jones last season at Oklahoma State. Given his maturity, he should be able to start right away and will be an improvement at the most important position on the field for Cleveland.
No. 23—Detroit Lions—Riley Reiff, OT, Iowa
Great pick for the Lions. Reiff had been projected as high as the top ten and he will fill an immediate need for the Lions. Reiff can play either tackle position, and should be an upgrade over Gosder Cherilus or the eventual replacement for 12-year-pro Jeff Backus. Reiff is an excellent run-blocker and should help Jahvid Best and a (hopefully) healthy Mikel Leshoure establish a solid running game next season.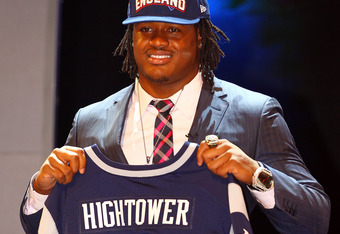 Al Bello/Getty Images
No. 24—Pittsburgh Steelers—David DeCastro, G, Standford
One of the bigger surprises of the fist round is that DeCastro has lasted until No. 24. He's the best interior lineman hands down—he's a great pulling guard and a true mauler. If the Steelers are interested in re-establishing their notorious running game, drafting DeCastro is a step in the right direction. He's also a more than capable pass blocker, and should become the player that Alan Faneca was for the next decade.
No. 25—Denver Broncos (traded to New England Patriots)—Dont'a Hightower, LB, Alabama
Again, completely unlike Belichick, the Patriots actually trade up in the first round, so you know Belichick loves Hightower. He's a big guy at 6'4" 260 lbs, and he's a solid run stuffer and he's a solid pass rusher, both up the A-gap and from the outside, bringing the versatility the the Patriots love.
No. 26—Houston Texans—Whitney Mercilus, DE/OLB, Illinois
A lot of people expected the Texans to add an offensive weapon here, but they go the way of the New York Giants and add another pass rusher to a stable that already includes Connor Barwin and Brooks Reed. Despite losing Mario Williams mid-season to a torn pectoral muscle (and then in the offseasn to the Bills), the Texans held their own on defense, notching 44 sacks on the season.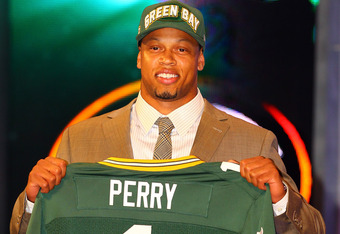 Al Bello/Getty Images
No. 27—New England Patriots (traded to Cincinnati Bengals)—Kevin Zeitler, G, Wisconsin
Like all Wisconsin offensive lineman, Zeitler is an enormous man and a proficient run-blocker. He shined at the senior bowl and is a cerebral guard who can start from day one. This addition should allow free agent acquisition running back BenJarvus Green-Ellis to run wild.  
No. 28—Green Bay Backers—Nick Perry, DE/OLB, USC
The Packers struggled to generate a legitimate pass rush all season last year. The addition of Nick Perry should dramatically improve the pass rush—both by generating a rush himself and by forcing opposing offensive lineman to stop doubling Clay Matthews. The Packers pass defense was atrocious last year, expect them to improve in 2012.
No. 29— Baltimore Ravens (traded to Minnesota Vikings)—Harrison Smith, S, Notre Dame
Minnesota trades back up into the first to address their concerns in the secondary. They have lacked a real presence at safety since Darren Sharper left for New Orleans. And I hate to beat a dead horse, but when you face Aaron Rodgers, Matthew Stafford and Jay Cutler twice a year, a good secondary is a must. Smith was the second-best safety in this year's draft, so this is a good move by the Vikings.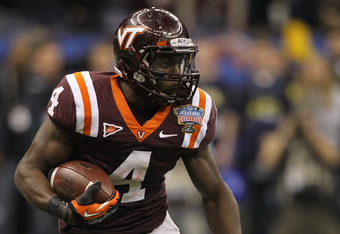 Matthew Stockman/Getty Images
No. 30—San Francisco 49ers—A.J. Jenkins, WR, Illinois
A surprising pick towards the end of the first round, adding Jenkins to a receiving corps of Michael Crabtree, Randy Moss and Michael Crabtree is an interesting move. The 49ers brass has certainly given Alex Smith all of the tools to succeed, and if all goes according to plan, 2012 could be his real breakout season.
No. 31—New England Patriots (traded to Denver Broncos, traded to Tampa Bay Buccaneers)—Doug Martin, RB, Boise State
With WRs Mike Williams, Arrelious Benn and free agent addition Vincent Jackson, running back LeGarette Blount and QB Josh Freeman, Tampa Bay adds yet another dimension to their offense. Martin, to a lesser extent than Trent Richardson, is a three down back who runs well, blocks well and is a dangerous pass-catching option out of the backfield. 
No. 32—New York Giants—David Wilson, RB, Virginia Tech
A bit of a surprise to close out the first round. Because the Giants lost two tight ends in the Super Bowl, almost everyone projected that they would take the top tight end on the board in Stanford's Coby Fleener. Instead they make Wilson the selection, which makes sense, considering that the Giants—a team known for their running game—was ranked dead last in rushing last season, before they lost Brandon Jacobs to the 49ers in free agency. Wilson's game is similar to Ahmad Bradshaw's— he's a dynamic running back and a legitimate receiving option out of the backfield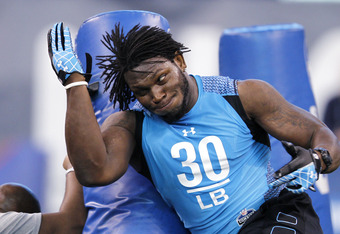 Joe Robbins/Getty Images
Notable Players Still Available:
Coby Fleener, TE, Standford
Courtney Upshaw, DE/OLB, Alabama
Devon Still, DT, Penn State
Cordy Glenn, G, Georgia
Jerel Worthy, DT, Michigan State
Stephen Hill, WR, Georgia Tech
Jonathan Martin, OT, Stanford
Alshon Jeffery, WR, South Carolina
Janoris Jenkins, CB, Northern Alabama
Lamar Miller, RB, Miami
Mike Adams, OT, Ohio State
Peter Konz, C, Wisconsin