Miami Heat's 'Maintenance Program' Will Cost LeBron James Another Shot at Title
April 25, 2012

Mike Ehrmann/Getty Images
Most coaches would do what Erik Spoelstra is doing. When you have veterans on the roster who are a little beaten up, you gives those guys some extra rest out of an abundance of caution—especially when they include the likes of Dwyane Wade.
The so-called "maintenance program" is designed to rest the Miami Heat's key players in anticipation of a tough first-round test against the New York Knicks. 
Wade has missed seven of his last 14 games and barely played in another. Wade, Chris Bosh and LeBron James all sat out Tuesday night against the Boston Celtics in the most recent instance of Spoelstra's program.
Some of the absences this season have been well-deserved. Wade has dealt with an ankle sprain and a dislocated finger. Mike Miller, meanwhile, has missed nearly half the season with a variety of injuries.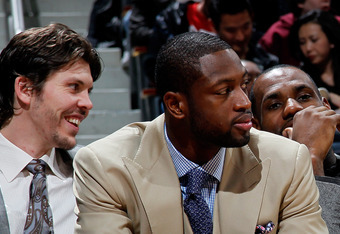 Kevin C. Cox/Getty Images
As much as these decisions make sense, they also pose risks.
Miller is a streaky perimeter shooter who could suffer should his rhythm turn rusty. He may be replaceable if Shane Battier and James Jones can pick up the slack, but any setback on Miami's bench is magnified by questionable depth.
More importantly, there's just no telling what Dwyane Wade we'll see in the first round.
We know he can play through injury and remain extremely effective—even if his shot is hampered by a sore finger, he'll get to the basket and shoot plenty of free throws. The bigger concern is that he just won't be as sharp on the court due to the inconsistent playing time; the kind of thing that can affect someone's timing, defense and shooting.
While there's little risk that LeBron James gets in a funk, the Heat will need Wade in top form—and Bosh for that matter, too. 
After all, with LeBron facing an equally dynamic scorer in Carmelo Anthony, this series could come down to supporting casts.
If key parts aren't in perfect sync in the postseason, it can be more than enough to change the momentum in a series. 
Spoelstra may be making the right decision; the same one most of us would make. Just don't be surprised if it has some unfortunate side-effects.