NBA Playoff Schedule 2012: 4 Lower Seeds Primed for Upsets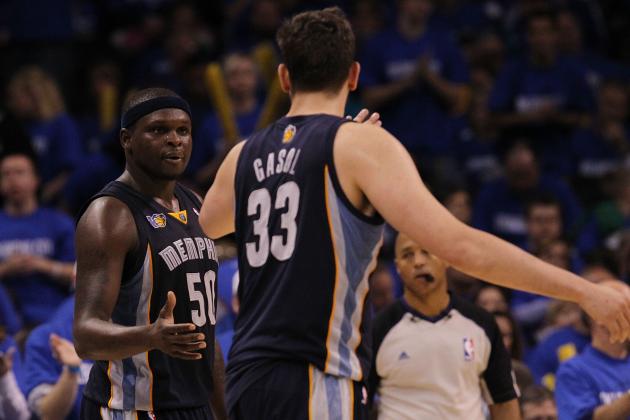 Ronald Martinez/Getty Images

When I think "upset" in terms of the NBA playoffs, the first thought that comes to mind is the gritty 2007 Golden State Warriors team.
That roster became the first No. 8 seed to oust a No. 1 seed (the Dallas Mavericks) in a seven-game playoff series.
Baron Davis, Stephen Jackson and others proved to be the David to the Mavs' Goliath.
They were facing off against a loaded Mavericks team as well as that year's MVP award winner Dirk Nowitzki. The Warriors' series win proved to be one of the biggest underdog stories in sports.
While lower playoff seeds in the NBA don't win as often in a seven-game series as teams in hockey (case in point with this year's Los Angeles Kings squad), it's still always a possibility.
Ironically, with the current playoff matchups, every team with a higher seed won their season series against their opponent.
Nevertheless, here are four playoff teams with a lower seed who are primed for an upset (keep in mind that the playoff matchups are not yet set in stone).
Begin Slideshow

»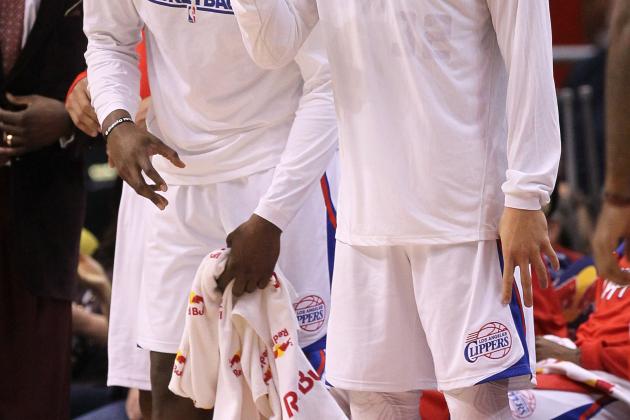 Stephen Dunn/Getty Images
The Los Angeles Clippers will be depending upon their big men to defend against Marc Gasol and Zach Randolph.
Last season, the eighth-seeded Memphis Grizzlies became the second eighth-seed ever to knock off a top seed in a seven-game series.
They managed to oust the top-seeded San Antonio Spurs in a masterful performance.
Not only that, but big men Marc Gasol and Zach Randolph led the Grizzlies franchise to their first ever playoff series victory.
I think that the Grizzlies are a team that nobody wanted to face in the first round of the playoffs.
They play solid defense, have outside shooters who can score and most importantly, have two of the most talented big men in all of basketball with Gasol and Randolph.
The Los Angeles Clippers have bigs who may be able to compete in Blake Griffin and DeAndre Jordan, but it will prove to be a tall task.
Jordan is perhaps one of the best defensive centers in the league. He averaged 2.1 blocks per game for the season and is extremely athletic for his size.
However, Jordan will be guarding one of the best centers in the NBA in Gasol. One of the huge X-factors in this series will be whether or not the Clippers' starting center can stay out of foul trouble.
Jordan is tied for 11th in the NBA in fouls per game at 2.9. Perhaps even more disconcerting is that Jordan averages 5.1 fouls per 48 minutes.
If Jordan is asked to play more minutes to defend against the frontcourt threats the Grizzlies have, he'll have to stay out of foul trouble to stay on the court.
While Jordan and Griffin are both great players, they also have one glaring weakness that they both share.
Free-throw shooting.
For the season, Griffin shot just 52.2 percent from the charity stripe. Jordan wasn't much better at 52.5 percent for the season.
If this series has a few close games (which playoff games more often than not will have), the Clippers are at a disadvantage because of those two players' Achilles heels.
If those two are only knocking down one out of every two free throws in crunch time, the Grizzlies may take advantage in a big way.
The Grizz are certainly not strangers to upsetting higher seeds.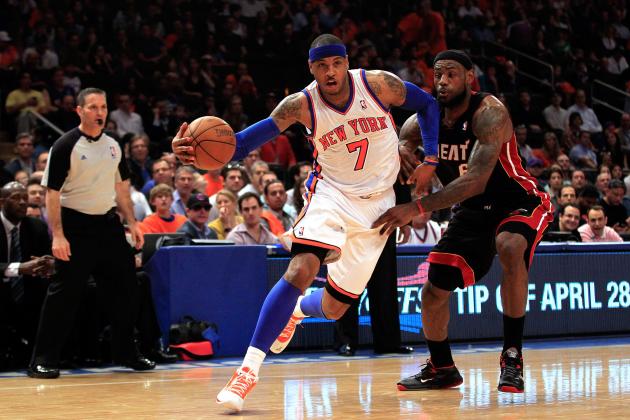 Chris Trotman/Getty Images

The New York Knicks will be a scary team for the Miami Heat to face in the first round.
While the Knicks will be playing with nothing to lose, the Heat will be playing with the undertone of pressure that accompanies championship hype.
Needless to say, the Heat's big three did that to themselves.
Now the pressure will be at a new high.
Not winning it all last year already had the critics licking their chops. If the Heat fail to make it out of the first round against a talented Knicks team, those critics may just have a Fourth of July barbeque a few months early.
The Heat are an extremely talented ballclub, don't get me wrong. LeBron James seems to be the favorite to win this year's MVP award and Dwyane Wade is no slouch.
However, there's something that jumps out at me about this matchup.
Remember back, if you would, to the April 15 matchup between these two teams.
The Knicks seemed to be at a clear disadvantage with Jeremy Lin and Amar'e Stoudemire both on the sidelines in street clothes.
Carmelo Anthony would have to carry the load offensively, while being matched up on defense against James and/or Wade for the majority of the contest.
Anthony was one of just two Knicks players to score in double digits as he racked up 42 points. J.R. Smith was the other double-digit scorer with 16.
Nobody else on the Knicks squad other than those two guys scored more than nine points…
Baron Davis, Landry Fields and Iman Shumpert combined to shoot 4-for-18 from the field. The three of them combined for just 10 points.
Ready to hear the payoff…
The Heat only won by eight points! Eight points against a team that was basically Anthony, Tyson Chandler and seven scrubs.
If Anthony got even mediocre production from his teammates, they would have won that game easily.
That is not a good sign if you're a Miami Heat fan. This will be a very interesting matchup to watch.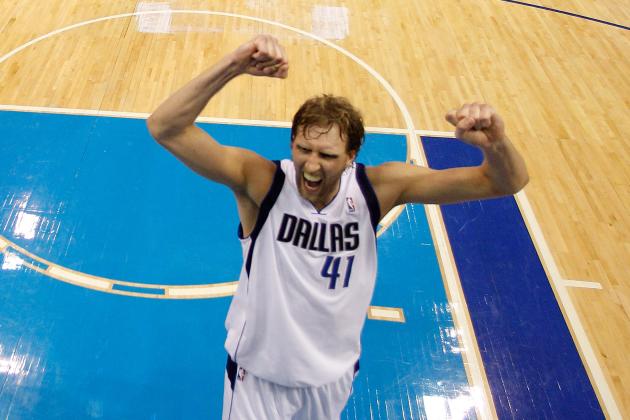 Pool/Getty Images

No matter how sluggish the Mavericks were out of the gate, no matter how little production they got from new addition Lamar Odom and how much production they lost from the departure of Tyson Chandler, I'm not ready to write off the defending champs.
The Oklahoma City Thunder will be an extremely tough matchup as they have a ton of talent on their roster.
Russell Westbrook is arguably a top-five point guard and Kevin Durant is in the running for the MVP race.
Serge Ibaka is leading the league in blocks per game and James Harden is a lock to win the Sixth Man of the Year award.
However, we're not sure how Harden will be from a health standpoint after he received a concussion courtesy of an elbow from Metta World Peace.
Harden is a tough player and he'll likely be back at full strength, but it's still a cause for concern on a team contending for a championship.
If this series isn't put away early by the Thunder, I wouldn't be shocked to see Nowitzki lead the Mavericks through the first round on their way to defending their championship.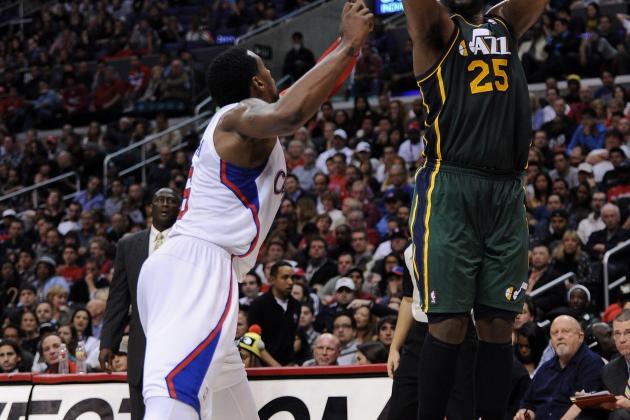 Harry How/Getty Images

While the Utah Jazz in theory have no chance against the top-seeded San Antonio Spurs, I could see an upset happening here.
The Spurs lost as the No. 1 seed in the Western Conference last year against a spunky Memphis Grizzlies team.
I think that the Jazz resemble last year's Grizzlies team in a lot of ways.
First of all, this will be Jazz star Al Jefferson's first ever trip to the postseason. You think that this guy isn't stoked for the opportunity to showcase his skills on the big stage?
He's been on some terrible basketball teams in his career. Now that he's finally in the playoffs, I'm looking for Jefferson to have a breakout performance.
While the Jazz weren't a great defensive team this season, ranking 24th in the league in points allowed, they impressed in other areas.
The Jazz ranked third overall in the NBA in rebounds per game and fourth overall in points per game.
If the Jazz and Spurs get into a few low-scoring, grind-it-out type battles, I wouldn't be surprised to see the Jazz victorious in some of those contests.
The Spurs are also fragile. Tim Duncan is getting up there in age and Manu Ginobili has struggled through injuries all season long.
If the Jazz play with a "never say die" attitude against a team that might take them for granted, I could see Utah pulling this one out.