2012 NFL Draft: 3 Reasons Why Michael Floyd Is the Best Receiver in the Draft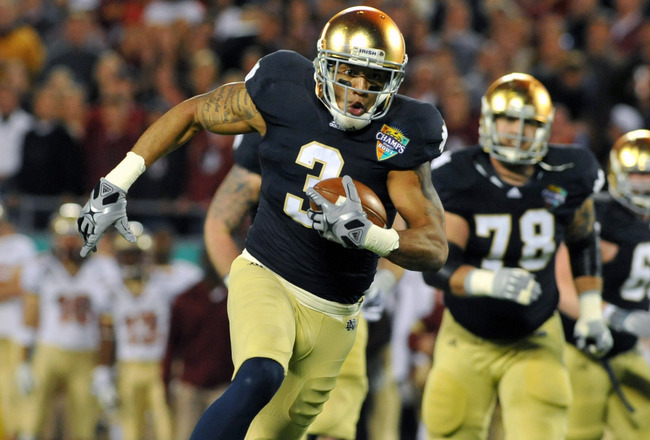 Al Messerschmidt/Getty Images
When the 2011 college football season ended, Justin Blackmon was regarded as the unquestioned best receiver entering the draft.
His unrivaled stat sheet and sheer dominance on the field was a sight to behold, and any mention of another receiver even joining him as a top-ten pick was met with looks of disbelief.

Fast forward a few months, and Notre Dame's Michael Floyd may not only join Blackmon as a top-ten pick, some experts believe that Floyd could turn out to be the best receiver in the 2012 NFL Draft.
Here are three reasons why I believe those experts are right.
1. He Is a Physical Specimen
Standing tall at 6'3" and weighing in at 225 pounds with 33-inch arms, Floyd certainly looks the part of an NFL receiver.
Take those impressive statistics, add in a 4.47 40-time, a 122-inch broad jump and a 36.5 inch vertical leap, and you have a receiver with the physical capabilities to abuse just about any NFL cornerback.
Size and athleticism alone does not, by any means, make someone a great NFL receiver, but it is a huge (no pun intended) advantage to have on the field.
2. He Has Experience in a Pro-Style Offense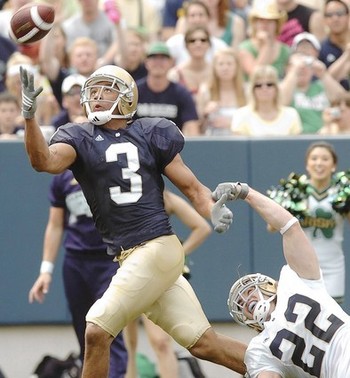 The recent popularity of the spread offense in college football has made it increasingly difficult to judge how players will make the transition to the NFL.

Does this receiver consistently block well? Can he run a full route tree? Will he create enough separation by the time the quarterback finishes his five-step drop?

None of those questions pertain to Floyd.

Everything you need to know was on full display throughout Floyd's career at Notre Dame, as he played in Charlie Weiss' pro-style offense.
No inflated stats, no offenses specially tailored to make him look good, just Floyd playing NFL-style football, and playing it well.
3. He Is a Complete Receiver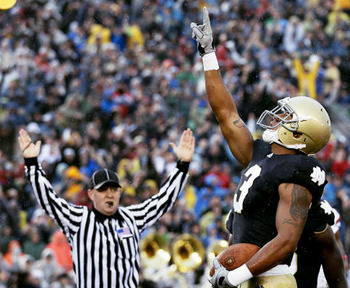 Some receivers run right past defenders with blazing speed. Some beat them with crisp routes and great hands. Others dominate defensive backs with their size and raw power.

Floyd can do all of the above.

He has the all-around skill set that gives corners fits and keeps defensive coordinators up at night. Throw in the fact that he is also a dominant run-blocker and you will be hard-pressed to find any aspect in Floyd's game that he doesn't shine in.
Keep Reading

Arizona Cardinals: Like this team?