NFL Trades: How Asante Samuel to the Falcons Benefits Both Sides
April 25, 2012

Kevin C. Cox/Getty Images
ESPN, amongst other news outlets, is reporting that the Atlanta Falcons picked up cornerback Asante Samuel from the Eagles for a sixth-round pick.
This is a great move for both parties involved.
For the Falcons, you are instantly fixing one of the team's biggest issues: the secondary.  The Falcons' secondary is often exposed in big games, and one doesn't have to look too far back to see examples of this.  How about Aaron Rodgers' clinic in the 2010 divisional round of the playoffs?  Eli Manning seemed to do just fine against that same secondary in last year's wild-card round.
The Falcons have a solid one-two punch with Dunta Robinson and Brent Grimes, but after them, there is a major drop-off in the quality of cornerback play.  This doesn't help a team when you are going up against teams like the Packers and Giants, both of whom have a lot of weapons in the passing game.
The Falcons were criticized for moving way up to pick up Julio Jones in the draft, and I would say that criticism is about half warranted.  Yes, Jones ended up being an impact player and a good deep threat for the Falcons.  However, the Falcons didn't address one of their main needs in that offseason, cornerback, to the satisfaction of the fans.
This year, they have learned from past mistakes.  First, they used the franchise tag on Grimes, the best player in their secondary.  Now they have gone out and picked up Asante Samuel.  The Falcons now have three rock solid cornerbacks to anchor their secondary in a league where corners are perhaps more valuable than ever.
On the Eagles' side, one of the issues with their defense last year was a clear lack of identity in their secondary.  After acquiring Nnamdi Asomugha and Dominique Rodgers-Cromartie, everyone assumed that the Eagles had the best secondary in the league.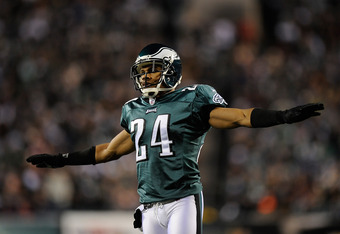 Patrick McDermott/Getty Images
The Eagles soon learned that sometimes less is more.
The problem is that Asomugha works best as a corner who simply lines up against the best receiver the opposing team has and shuts them down.  The Eagles tried to put Asomugha in a Charles Woodson, pseudo-safety type of role.  The problem is that Asomugha isn't quite as multi-talented as Woodson is.  He isn't a run-stopper.  He isn't a blitzer.  He is a shutdown corner.  Plain and simple.
With Samuel out of the way, the Eagles can have him embrace that role. 
Oh, and I haven't even mentioned that getting rid of Samuel cleans up $10.5 million in cap space.  This gives the Eagles some room to go after some of their needs in the draft on Thursday.
Even though the Eagles aren't getting a lot for him, trading Samuel was a good move for them.  Luckily, they found a natural suitor in the Falcons who were looking for someone to help shore up their secondary.  This move should benefit both sides nicely.