Joe Robbins/Getty Images
April 26, 2012
Finally, the NFL draft is here to give us some closure to the biggest questions facing the future of the league. 
Here is a first-round mock draft that includes the most pertinent information surrounding the day one superstars. 
We take away the fluff and give you everything you need to know about the men who will fly off the board on day one. 
Here is an NFL mock draft with the most pertinent information you need for the most likely first-round selections.  
1. Indianapolis Colts: Andrew Luck, QB, Stanford
He is the most NFL-ready quarterback on the board, and possibly most complete athlete at this point. He doesn't have any obvious holes on his game, but may have the slightest of question marks on arm strength—but that would be extreme nitpicking.    
2. Washington Redskins (via STL): Robert Griffin III, QB, Baylor
He is quick, fast and has a cannon for an arm. There isn't a lot that he is lacking and will come into a much better situation that Andrew Luck. RG3 is also touted for his accuracy and his fantastic collection of socks.
Yes, he has talent and swagger, which makes him a fan favorite immediately.   
3. Minnesota Vikings: Morris Claiborne, CB, LSU
Here is your shutdown corner of the draft. If he is going to be touted for anything, it won't be his strength or speed, of which he has plenty. 
Claiborne comes in with impeccable instincts that will have the Vikings looking at him above Matt Kalil for this pick. 
4. Cleveland Browns: Trent Richardson, RB, Alabama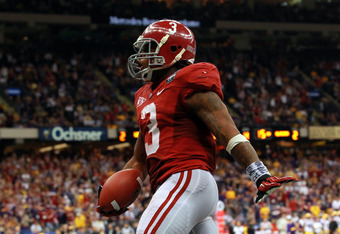 Ronald Martinez/Getty Images
At times, it seems that Trent Richardson can't be tackled. Yes, he has a nose for openings and can hit the next level as well as any running back, but his ability to stay upright is unmatched.  
5. Tampa Bay Buccaneers: Justin Blackmon, WR, Oklahoma State
This receiver is a beast. He may lack the speed that would beat every last receiver in a foot race, he runs unbelievable routes and will destroy corners at the point of contact.
He is a winner who lives for getting physical and beating his opponents through sheer will.   
6. St. Louis Rams (via WAS): Matt Kalil, OT, USC
There is nothing flashy about being a steady rock, and that may be why Kalil will fall out of the top three on draft day. There is no better tackle in the draft, making him a candidate to be around for the next decade in the NFL.  
7. Jacksonville Jaguars: Melvin Ingram, DE/OLB, South Carolina 
He blows away other defensive ends for top-10 consideration for a couple reasons. He is tenacious and passionate on every play, but the best part of his game is his versatility.
Ingram can play up front or outside linebacker. Either way, you are getting a player who will get to the QB.  
8. Miami Dolphins: Ryan Tannehill, QB, Texas A&M 
He only started 19 games but has shown enough flashes of brilliance to warrant the Dolphins reaching for this possible franchise quarterback. He has the ability and willingness to test the smallest of windows. 
9. Carolina Panthers: Fletcher Cox, DT, Mississippi State 
He is a ball of lightning off the line. He has the size to dominate the line, but with 4.79 40-yard dash speed, he has the talent to get around them, too.      
10. Buffalo Bills: Riley Reiff, OT, Iowa  
Reiff has been so up and down draft boards it should make fans dizzy. He is a solid lineman who can feature on either side. Best of all, he won't break down, adding consistency and durability to the offense.   
11. Kansas City Chiefs: Luke Kuechly, ILB, Boston College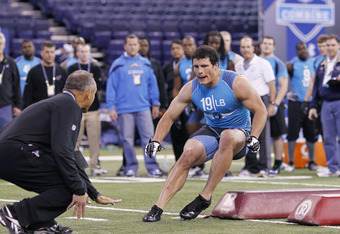 Joe Robbins/Getty Images
There were questions on his size and speed heading into the combine, and then he subsequently destroyed those thoughts.
He has a knack for finding the ball and being at the right place at the right time. That begs the question as to what his best attribute might be: speed, instincts or tackling? Why not all three?  
12. Seattle Seahawks: Quinton Coples, DE, North Carolina
He really could fit in the top 10, but scouts are wary about his motor that was far too inconsistent last year for his own good. Still, he has the size and explosive first step to be among the best in this class at getting to the QB. 
13. Arizona Cardinals: Cordy Glenn, G/T, Georgia
Glenn has been a mainstay on my first-round draft, largely for his versatility, and can play guard or tackle. His best attribute is his footwork and speed. It should be unfair for a man his size to be this agile.  
14. Dallas Cowboys: Dontari Poe, DT, Memphis
If the NFL fails him, he could always make money working out for fans. He was that amazing at the combine.
Poe is roughly the size and build of a mountain, but still managed 44 reps with 225 pounds, and a 40-yard dash time of 4.98 seconds at the all-important workout.   
15. Philadelphia Eagles: Mark Barron, S, Alabama
The Cowboys will also be tempted to take Mark Barron, who may be the most complete defender in the class. 
He has great speed, instincts and power for his size. He is everything you want in the last line of defense, and will matchup with just about any position that comes his way, as he is a great tackler. 
16. New York Jets: Courtney Upshaw, OLB, Alabama
He had a lackluster combine which, combined with issues on size, have him dropping on boards. I still have him as one of the best linebackers for a number of reasons. 
First is his motor, which is among the best in the draft. He loves to play the game and it shows in how he presents himself on every play. Secondly, I love his pass rushing ability. 
17. Cincinnati Bengals (via OAK): Michael Floyd, WR, Notre Dame
He isn't merely a deep threat or red-zone delight—he is all of that. He is as versatile as receivers come, able to be physical in the short game or as spry as he needs to be in getting vertical. 
18. San Diego Chargers: Whitney Mercilus, DE/OLB, Illinois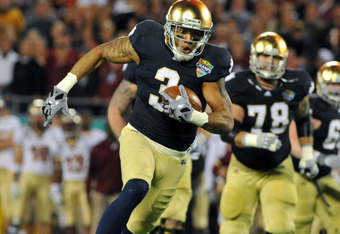 Al Messerschmidt/Getty Images
He raised his game to another level last year, but there are questions on his motor. He shows flashes of pure brilliance, but he has work to do to be an every down player. 
If he can bring the same intensity and form for every play he is on the field, he will be one of the top-five talents from this draft. 
19. Chicago Bears: Jonathan Martin, OT, Stanford
He comes in ready for NFL-level schemes after playing at Stanford, but it's his agility and footwork that are the reason I am confident he stays in the first round.  
20. Tennessee Titans: Dre Kirkpatrick, CB, Alabama 
At 6'2'' and close to 200 pounds, he has the size I like for the corner position. He is a tough defender who will win the physical battle more times than not. He is but a shade below Morris Claiborne in instincts and athleticism.   
21. Cincinnati Bengals: Stephon Gilmore, CB, South Carolina
Some have flip-flopped Kirkpatrick with Gilmore in their mock drafts, but he is still the third corner off my board. 
My issue is that he doesn't excel in any one thing, but is instead a jack of all trades. Still, his versatility will have him gone on day one. 
22. Cleveland Browns (via ATL): Kendall Wright, WR, Baylor
I love his initial burst off the line, but am enamored more with his top end speed. There is hardly a corner who will keep up with him down the line. 
23. Detroit Lions: David DeCastro, G, Stanford 
Andrew Luck was well taken care of at Stanford, and DeCastro is just one of the many reasons. His main talent is in the run game, having the power to get up the hill to the next level. He will open up a great amount of holes.   
24. Pittsburgh Steelers: Dont'a Hightower, ILB, Alabama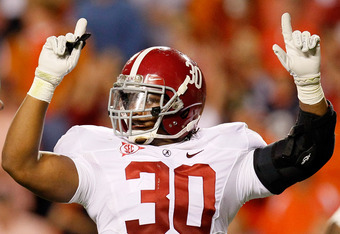 Kevin C. Cox/Getty Images
He is a perfect fit for the Steelers and comes loaded with all the intangibles you want from a long-term answer at linebacker. 
He recognizes the run immediately and has great form at the point of contact. In short, you will not be getting beyond Dont'a Hightower. 
25. Denver Broncos: Jerel Worthy, DT, Michigan State 
Here is another gamble worth a first-round pick. He has great explosion off the line and may be a top-end player up front with polish with his moves. The one downside is his motor, which is inconsistent.  
26. Houston Texans: Stephen Hill, WR, Georgia Tech
He doesn't have the top-end speed that will blow you away, but he makes up for it in other ways. He has the size, height and route-running ability to make a great receiver in the NFL. 
He is also well adept at making the difficult catch. 
27. New England Patriots (via NO): Michael Brockers, DT, LSU
He is being noticed for his versatility and ability to play in any system. His speed and tenacity will command a great deal of attention on the line. 
28. Green Bay Packers: Andre Branch, DE/OLB, Clemson
Quick first step and moves very well considering his enormous size. 
29. Baltimore Ravens: Harrison Smith, S, Notre Dame 
He could very well be the next in line for Ed Reed. He showed great versatility at the combine and ability to move seamlessly and change directions with his hips. His football IQ and instincts are top-tier.  
30. San Francisco 49ers: Janoris Jenkins, CB, North Alabama

He comes in with a great many off-the-field issues, and is the reason he is ranging anywhere from the first to fourth rounds in mock drafts. His amazing athleticism has me confident a GM will take the gamble in the first round. 
31. New England Patriots: Rueben Randle, WR, LSU
He is a solid contributor and will win balls in space. His 53 receptions for 917 yards and eight touchdowns in his senior season is testament to that. 
32. New York Giants: Amini Silatolu, G, Midwestern State (Texas)
He has the size and power that saw him dominate the opposition in college, and that means bad habits. However, his talents and strength make him an intriguing find that just needs grooming.  
OTHER NAMES FROM FIRST ROUND
Alshon Jeffery: Hard worker and great leader on and off the field. 
Brandon Weeden: Great arm and accurate passer when he has time in the pocket. 
Chandler Jones: Has great length and moves with fluid motion. 
Like the new article format? Send us feedback!