Fletcher Cox: 6 Biggest Strengths and Weaknesses of 2012 NFL Draft Prospect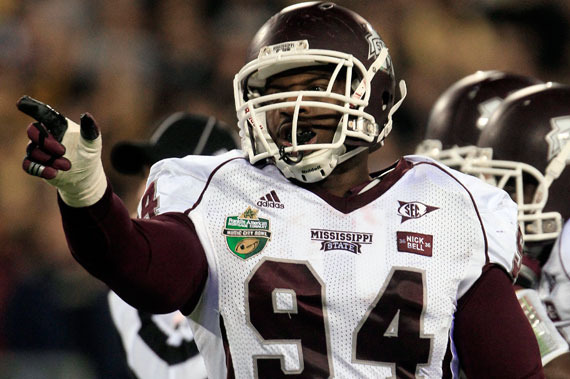 Fletcher Cox is a guy who has seen his name shoot up draft boards over the past two months, and rightfully so.
Cox was a two-and-a-half year starter at Mississippi State at the defensive tackle position. What makes him so impressive to NFL scouts is his size and ability to play multiple positions on the defensive line. His explosive pass-rushing ability sets him apart from the other top-notch defensive tackle prospects in this year's draft class.
But as impressive as Cox has been leading up to this draft, is it possible that this top-notch defensive lineman could have some weaknesses in his game as well?
Let's go ahead and break down six strengths and weaknesses of Fletcher Cox's game.
Bleacher Report Style!
Begin Slideshow

»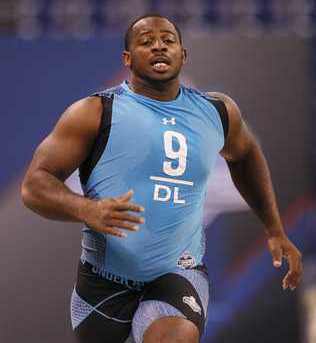 Quick, how many defensive tackles ran under a 4.80 40-yard dash at this year's NFL combine?
The answer is, one.
Fletcher Cox.
In fact, Cox ran the seventh fastest time of all defensive linemen at this year's NFL combine and was the only defensive tackle to place in the top 12.
But the thing with Cox is that he knows how to use that speed to his advantage out on the football field. He is an explosive rusher who can collapse the pocket whether he's lined up on the inside or the outside. This athleticism and high motor allows him to blow past offensive lineman with aggression.
You simply won't find a more athletic defensive tackle in this year's draft than Cox.
No questions asked.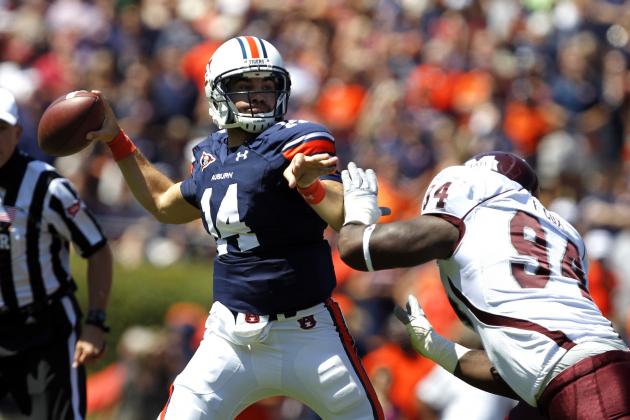 Butch Dill/Getty Images

When opposing teams make the decision to put one offensive lineman on Fletcher Cox, the strong defensive tackle usually always wins that battle.
But when Cox is double-teamed, he will often rely on his athletic ability to blow by opposing offensive linemen or overpower them instead of staying back and remain as a gap-filler. This is an example of him being extremely raw at this point.
Once Cox learns to play with more smarts, he could be an elite level defensive tackle in the NFL.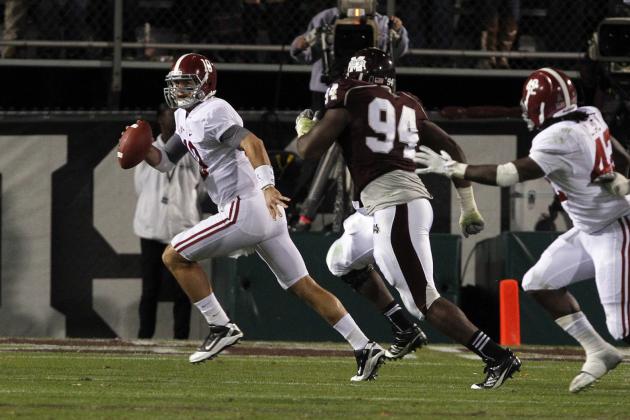 Butch Dill/Getty Images

Fletcher Cox is hands down the best pass-rushing defensive tackle in this year's NFL draft.
Cox has elite size (6'4", 300 pounds), strength (30 bench press reps) and speed (4.79 40-yard dash), which makes him such a good pass-rusher. He uses his elite speed and quickness to get off the line of scrimmage and get into the backfield as quickly as any tackle prospect in the country.
Cox totaled 56 tackles with 14.5 tackles for a loss, five sacks and one forced fumble in 2011.
He should be a pass-rushing force in the NFL sooner than later.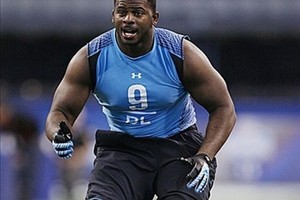 Fletcher Cox is a guy who has very active hands from his defensive tackle position, but he needs to improve on using them in order to gain extension.
With his speed and strength, Cox already has a leg up on his competition, and now, if he can improve his hand use and counters, he could be an exceptional defensive tackle at the NFL level.
This is something that will come with time and should be a quick fix once he gets working with NFL defensive line coaches.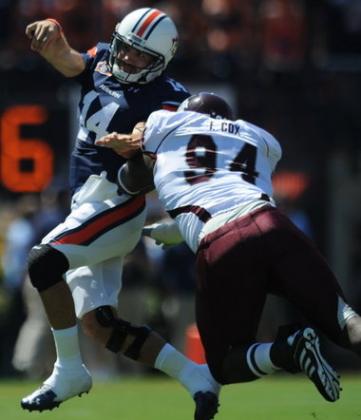 As good as Fletcher Cox was this past year for Mississippi State, he is only touching the surface as to how good he could be.
Cox started off slow this season but then came alive in the second half of the season, recording five sacks in his team's final six games. He got better as the season went on and the college football world was just finding out how good this guy can be.
Cox flashed the ability to dominate SEC competition, which is widely considered to be the best conference in America. He had two of his best games against Alabama and Arkansas in the second half of the season, which both bolstered very good offensive lines.
This kid is simply loaded with upside.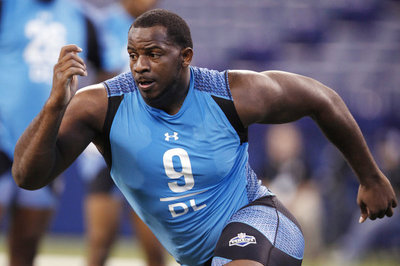 Fletcher Cox simply needs to be more mature if he is going to be a star at the next level.
Cox was suspended for Mississippi State's opening game of the 2011 season because he violated team rules and did not live up to academic standards.
Of course, there are no academic standards to follow in the NFL, but that goes a long way in showing what type of dedication you have not only to the game, but to your team as well.
This is a simple fix that Cox should make.
He may not be the brightest player in this draft, but he does have a very bright future ahead of him in the NFL.