2012 NFL Mock Draft: Landing Spots For Underrated College Stars
April 26, 2012

Kevin C. Cox/Getty Images
Some of the best NFL players were underrated prospects heading into the NFL draft.
The 2012 NFL draft will be no different, and this mock draft will highlight landing spots for this year's underrated college stars.
Some of them hail from small schools—which is why most of you don't know much about their talents—but these men will become big-time playmakers when they hit the field on the biggest stage of all.
1. Indianapolis Colts: Andrew Luck, Quarterback, Stanford
Luck will have his hands full resurrecting the Colts, but he's got the tools to make it happen.
2. Washington Redskins: Robert Griffin III, Quarterback, Baylor
RG3 may have an easier road to instant success due to the roster around him. But he will also be learning an entirely new way of playing quarterback—unlike Luck, who has played in a pro-style offense his entire college career—and it'll be interesting to see how he takes to the task.
3. Minnesota Vikings: Matt Kalil, Offensive Tackle, USC
The Vikings will ultimately settle on taking the safe pick here to protect their quarterback's health and future.
4. Cleveland Browns: Trent Richardson, Running Back, Alabama
The Browns could go in a number of different directions, but Richardson's value is too high to pass up.
5. Tampa Bay Buccaneers: Morris Claiborne, Cornerback, LSU
Claiborne will give the Bucs a fearsome defense, playing alongside Aqib Talib and Ronde Barber.
6. St. Louis Rams: Fletcher Cox, Defensive Tackle, Mississippi State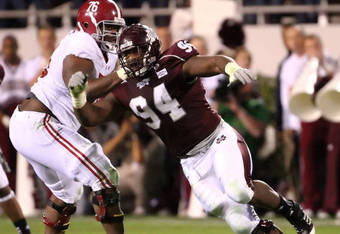 Fletcher Cox hasn't been highly touted in the media, and until a few weeks ago he was considered by most to be a middle-to-late first-round pick. 
He is a natural athlete who anchored his high school's 400-meter relay team—at 240 pounds. He has since grown into his frame, though there is still plenty of room for him to grow even more.
At 6'4" and 298 pounds, Cox is quick off the snap and has the power and skills to shoot the gap and penetrate into opponents' backfields before they can even get the snap off.
He reminds me of a young Warren Sapp, and as a 49ers fan I will be watching with great interest to see if he ends up becoming that kind of dominant player in the NFL.
7. Jacksonville Jaguars: Melvin Ingram, Defensive End, South Carolina
The Jaguars need help across the board and could take a wide receiver here, but Ingram is an elite pass-rusher who will instantly impact the effectiveness of their defense—making him a terrific value pick.
8. Miami Dolphins: Ryan Tannehill, Quarterback, Texas A&M
Dolphins owner Stephen Ross is hot to trot to land a franchise quarterback. If Tannehill is still on the board here at No. 8, they won't look anywhere else.
9. Carolina Panthers: Stephon Gilmore, Cornerback, South Carolina
Gilmore is extremely underrated. 
He dispelled any concerns about his speed when he posted a 4.40-second 40-yard dash at the scouting combine. 
Combined with his high football I.Q., his big frame and elite athleticism, Gilmore has the skill set to become an elite cornerback in the NFL.
10. Buffalo Bills: Michael Floyd, Wide Receiver, Notre Dame
The Bills will be happy to add Floyd to their wide receiving corps. Combined with Steve Johnson and David Nelson, they are a formidable group, indeed.
11. Kansas City Chiefs: David DeCastro, Offensive Guard, Stanford
The Chiefs will build upon their ever-improving offensive line and select this year's safest pick.
12. Seattle Seahawks: Chandler Jones, Defensive End, Syracuse
Jones is a bit raw, but his ability to get to the passer will ultimately land him in Seattle. They are building a scary defense up there in the northwest—one that is beginning to rival the one in San Francisco.
13. Arizona Cardinals: Justin Blackmon, Wide Receiver, Oklahoma State
Larry Fitzgerald needs help. He was double- and triple-teamed throughout the 2011 season, and bringing in Blackmon will go far to help him out, opening up the entire offense.
14. Dallas Cowboys: Mark Barron, Safety, Alabama
The Cowboys will run to the podium to take Barron. His presence in their secondary will vastly improve the entire defense.
15. Philadelphia Eagles: Michael Brockers, Defensive Tackle, LSU
After failing to land Cox, the Eagles will do the next-best thing by taking Brockers to plug up the middle of their porous run defense.
16. New York Jets: Whitney Mercilus, Outside Linebacker, Illinois
The Jets really hoped to land Ingram, but they can still upgrade their anemic pass rush by selecting Mercilus. He will need time to transition to a two-point stance, but his athleticism and pass-rushing prowess will make the transition smoother than it has been for other players in the past.
17. Cincinnati Bengals: Luke Kuechly, Middle Linebacker, Boston College
Kuechly will be an excellent fit in the middle of Mike Zimmer's defense. He's smart and instinctual, and as long as the big guys up front occupy the blockers, Kuechly will also be highly effective at the next level.
18. San Diego Chargers: Riley Reiff, Offensive Tackle, Iowa
Reiff will come in and start from day one on the right side. He will give the Chargers stability on their offensive line—something that was clearly lacking last year.
19. Chicago Bears: Cordy Glenn, Offensive Tackle, Georgia
Jay Cutler needs to be healthy in order for the Bears to win games. Glenn will help him stay upright, and his ability to pave highways in the running game will be a welcome addition.
20. Tennessee Titans: Quinton Coples, Defensive End, North Carolina
Coples will start right away for the Titans. I have high hopes for him and expect him to collect double-digit sacks in his rookie campaign.
21. Cincinnati Bengals: Kendall Wright, Wide Receiver, Baylor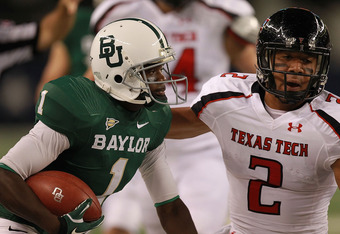 Ronald Martinez/Getty Images
Wright is one of the most underrated players with a first-round grade. 
He was Robert Griffin III's favorite and most consistent receiver in college, but the knock on him coming out of school was that he didn't possess game-breaking speed.
Wright put those concerns to rest at his pro day, posting times of 4.44 and 4.47 seconds in the 40-yard dash (H/T AOL.SportingNews.com).
Combined with his soft hands and precise route-running, Wright is going to be a phenomenal receiver at the next level. 
He and A.J. Green will give opposing defenses nightmares for years to come.
22. Cleveland Browns: Kevin Zeitler, Offensive Guard, Wisconsin
The Browns let Eric Steinbach go earlier this spring, and they need another stud guard to come in and take over. Zeitler should be an instant starter, and his run-blocking prowess will greatly assist Richardson's Pro Bowl chances.
23. Detroit Lions: Dre Kirkpatrick, Cornerback, Alabama
The Lions somehow need to be able to defend the Packers' insane array of passing weapons. Kirkpatrick will be an excellent man-to-man corner, and his addition will go a long way towards helping the Lions achieve that difficult goal.
24. Pittsburgh Steelers: Dont'a Hightower, Middle Linebacker, Alabama
Hightower will bring youth to an aging linebacking corps that needs the new blood. He is a hard-nosed player than can run sideline-to-sideline and should be dynamic playing next to Lawrence Timmons.
25. Denver Broncos: Doug Martin, Running Back, Boise State
The Broncos need to get younger at the running back position, and Martin's complete game makes him the perfect choice to line up behind Peyton Manning.
26. Houston Texans: Shea McClellin, Outside Linebacker, Boise State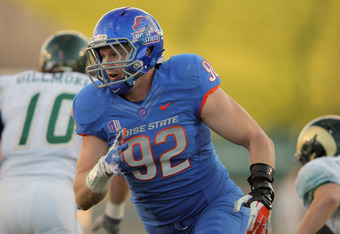 Doug Pensinger/Getty Images
After losing Mario Williams to the Bills via free agency, the Texans need to find another dynamic pass-rusher to add to the mix. 
McClellin has all the tools to become an elite pass-rusher in the NFL. He should excel in Wade Phillips' system, and I expect him to be an NFL Defensive ROY contender.
27. New England Patriots: Courtney Upshaw, Outside Linebacker/Defensive End, Alabama
The Patriots run multiple schemes on defense. Upshaw has the skills to play in both the 3-4 and 4-3 sets and will be a perfect fit to bring the heat off the edge for the Pats.
28. Green Bay Packers: Vinny Curry, Outside Linebacker, Marshall
Clay Matthews isn't Superman. He needs another pass-rushing outside linebacker to play opposite him for the Packers to be successful. Curry will provide that pressure.
29. Baltimore Ravens: Peter Konz, Center, Wisconsin
Matt Birk is back after contemplating retirement, but he won't be around much longer. The Ravens should look to the future now.
30. San Francisco 49ers: Dontari Poe, Defensive Tackle, Memphis
The 49ers could use an offensive guard here, but Trent Baalke is not going to let Poe slip past him here. Poe is a freak of nature that will be able to play all over the line for the 49ers, and his addition makes an already dominant defense downright scary.
31. New England Patriots: Harrison Smith, Safety, Notre Dame
The Patriots are in desperate need of secondary help. Smith should come in and start right away, and his talent and leadership will make the rest of the defense better.
32. New York Giants: Stephen Hill, Wide Receiver, Georgia Tech
After losing Mario Manningham to the 49ers in free agency, the Giants need to find his replacement. Though Hill is extremely raw, his speed alone makes their offense more dangerous.