2012 NBA Playoffs
NBA Playoffs 2012: Projecting First-Round Stats for Most Dynamic Stars

Mike Ehrmann/Getty Images
April 25, 2012
The 2012 NBA Playoffs are just around the corner, and all the star players are going to thrive in the spotlight. 
In doing so, they'll help make this year one of the best postseasons ever. There's no huge overwhelming favorite this year, which is quite exciting.
The championship is up for grabs, and whoever wants it the most will walk away victorious. While we don't know exactly the playoff lineup yet, it's never too early to speculate how well the stars will do.
With that said, here's how I project some of the league's biggest stars will perform in the first round of the 2012 NBA playoffs.
The biggest star in the NBA today, LeBron is going to put on a show in the first round and beyond.
He's on a mission to finally become a champion in the NBA, and he won't let anyone get in his way this time around. 
In the postseason, LeBron's career averages are 28 points, 8.4 rebounds and seven assists. With Dwyane Wade having a banged-up finger, the Heat will be counting on LeBron much more, and he's going to come through. 
Look for the self-proclaimed "King" to continue to shred his opposing defenders with ease on his way to the finals. 
First-Round Stat Prediction: 27.4 points, 8.2 rebounds, 6.8 assists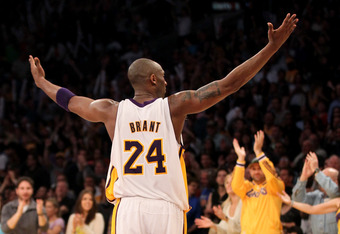 Stephen Dunn/Getty Images
If you disagree with LeBron being the biggest star in the league, then chances are you're in favor of it being Kobe.
If you don't think either of these two are the biggest stars in the NBA, I have nothing to say to you. 
The Lakers want revenge for their major collapse a year ago, and Kobe will help them get it. A lot will depend on the matchups, but the Lakers have the strength to make a deep playoff run. 
Kobe's career averages for the postseason are 25.4 points, 4.8 assists and 5.1 rebounds. He's there to score, and expect him to do a great deal of that in the coming weeks.
First-Round Stat Prediction: 29.7 points, 4.8 rebounds, 3.9 assists 
Kevin Durant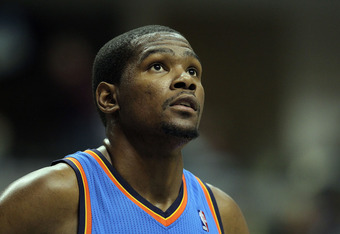 Andy Lyons/Getty Images
If James Harden is unable to play in the first round of the playoffs because of the concussion he suffered from Metta World Peace, Durant will have to take his game to new heights even more so than what he had originally planned. 
I think Harden will be on the court, but it's a mystery as to how much production he will give. Look for Durant to rise up and put the team on his back, scoring at will and playing superb defense. 
Durant and the rest of the Thunder are hungry for a championship, and even though they're young, they're going to thrive this postseason. 
In his small playoff appearances, Durant's career averages are 27.7 points, eight rebounds and 2.7 assists. 
First-Round Stat Prediction: 28.2 points, 7.7 rebounds, 3.2 assists 
Carmelo has been on a big tear for the Knicks as of late, and the results have been great because New York has been winning and will get a chance to play in the playoffs. 
In his last five games, Carmelo is averaging 32.2 points, 7.8 rebounds and five assists per contest. That's incredible, and it's going to keep happening in the postseason. 
Carmelo is all the Knicks have right now, with their other star players banged up. It's been a tough season for New York in terms of staying healthy, but it did allow Carmelo to get on a recent hot streak. 
His career average in the postseason is 24.7 points, 7.3 rebounds and 3.1 assists. Carmelo will continue to perform at a high level as the Knicks try to pull off a major upset. 
First-Round Stat Prediction: 30.1 points, 6.4 rebounds, 2.9 assists
Like the new article format? Send us feedback!