Ask Andrea: The AFC North Mailbag, Pre-Draft Edition
April 25, 2012

Chris Graythen/Getty Images
To call this pre-draft edition of the Ask Andrea Mailbag an AFC North affair would be a bit misleading—all the questions submitted this week concern just one team, the Cleveland Browns.
It makes sense: The Browns have a degree of controversy surrounding their approach to this year's draft, thanks to their recent history of making poor decisions, the fact that they have 13 picks this time around and all the Trent Richardson-focused speculation weaving about the NFL at large.
In fact, three of the four questions all focus on the same thing: Trades.
Both Dan and Travis here wonder what the Browns would do if another team traded up to the No. 3 overall pick and snagged Richardson out from under them: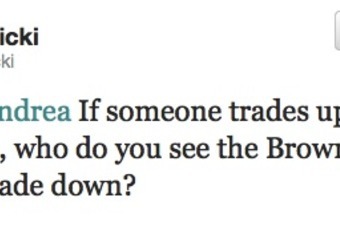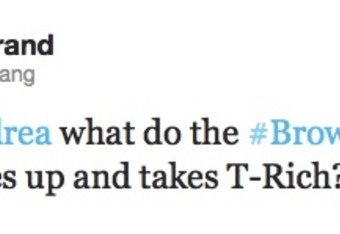 And zbullsmoke asks, more generally, how many trades the Browns may make in the next few days: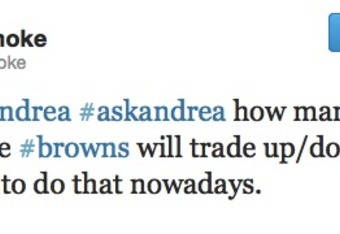 Let's tackle Dan's and Travis' inquiries first. Reports have been flying of a number of teams being interested in swapping spots with the Minnesota Vikings, who currently hold the No. 3 overall pick, to leapfrog the Browns and land Richardson for themselves.
The combination of the Vikings supposedly being not completely sold on left tackle Matt Kalil and the sheer number of teams who would love to have a playmaker like Richardson on the roster has created a perfect storm of right on-cue speculation that isn't likely to end until picks three and four are announced on Thursday night.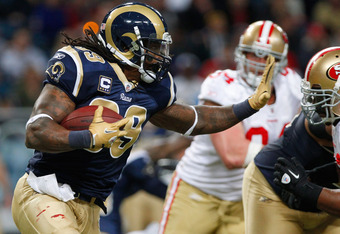 Whitney Curtis/Getty Images
It's not just the usual suspects—Tampa Bay, the St. Louis Rams (who were rumored to perhaps trade Steven Jackson if they landed Richardson—allegedly)—who are a part of this speculation. Now the New York Jets are in the mix, though it seems crazy they'd do something that expensive in the first round of the draft this year.
Now, all of this seems like boilerplate draft-week misdirection by all parties involved. I don't see the Vikings trading out of No. 3 (even if they don't take Kalil; and no, I don't see the Browns taking him either), to begin with.
But if they did, the Jets don't seem to be the trade partner, the Rams have already refuted the if-Richardson-then-trade-Jackson rumors and the Buccaneers seem now to have their eyes on another prize.
For the sake of anything-can-happen (and will; it's the draft, my friends), let's take a look at the Browns' other options at No. 3. Clearly, the first would be Matt Kalil. The Browns need a starting right tackle, and though Kalil may prove expensive down the road, especially with Joe Thomas on that line as well, he certainly meets one of the Browns' biggest needs.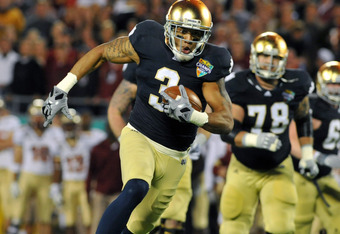 Al Messerschmidt/Getty Images
The next option would be a wide receiver. Justin Blackmon seems like the no-brainer, considering he's thought to be the best receiver in the draft class. However, if the Browns want to go with a better fit, I like Notre Dame's Michael Floyd.
The most outside option at the pick, in my estimation, is Morris Claiborne. He can't take Joe Haden's starting spot, and the Browns would feel foolish to have agreed to pay Dimitri Patterson starter money just to put him back in the nickel, so while I'm sure they appreciate his talents, he'd be Plan B at pick four.
The Browns could trade down to get any of these players if Richardson is gone, and it would give them further ammo for this year as well as the next. But Cleveland really needs to get out of the habit of trading down when they have a top 10 pick. It's the NFL equivalent of biting one's nails to bloody stumps—it's just unattractive.
Cleveland is primed to make some trades this year, though—with 13 picks, it's hard to imagine them using every single one of them, no matter how badly I'd like them to. They have needs, to be sure, and this is a stacked draft class from rounds one through seven, but 13 players are a lot to add over the span of three days and they're likely to hear an offer or two they can't refuse.
I think it's a possibility (albeit remote) that the Browns try to package their second and one of their two fourth-round picks to move back up to the bottom of the first round, with the Baltimore Ravens one potential partner.
Otherwise, I think they could also package one of those two fourth-rounders with a sixth and a seventh to get another third-round selection this year, or give up a fifth, sixth and seventh this year for a third or fourth in the next. I don't see a lot of trading down, though. They have two fifth rounders, two sixth rounders and three sevenths as it is.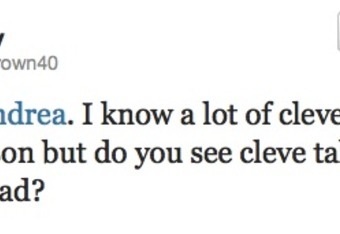 Cornerback Chase Minnifield could end up off the board anywhere from the late first into the third round, depending on who you believe, and it certainly makes sense why the Browns would be interested in him though they don't have the most pressing need at the position.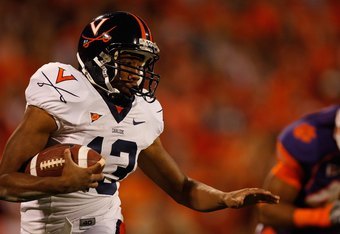 Streeter Lecka/Getty Images
Chase is the son of Browns legend Frank Minnifield and helped come up with the "Dawg Pound" moniker for the team's rowdier fans. Chase also happens to be extremely talented—perhaps the best pure zone corner in the draft class—so the fans aren't off-base at all to want him on the roster.
It really all depends on what the cornerback market is like this year. There are few top-tier corners, but certain names keep rising up recent draft boards and there could be a veritable run on the position in rounds two and three.
If the Browns want a corner and miss out on the feeding frenzy, then there goes Minnifield. However, Janoris Jenkins could certainly be within their grasp. According to Adam Schefter (via Pro Football Talk) a number of teams have taken the troubled Jenkins off their boards entirely.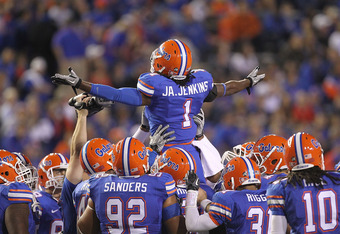 Mike Ehrmann/Getty Images
It's hard to tell how many risks the Browns are willing to take with this draft. Jenkins' myriad off-field issues may not translate to trouble on the field, but they could, considering that they do belie issues staying focused and motivated. With players and agents alike disparaging the Browns as a landing spot this year, Jenkins may be none-too-happy to be a Brown and his talent could go to waste.
Minnifield knows what his father meant to the Browns organization and would most likely embrace being drafted by them as a result. Further, Minnifield has no off-field issues, no concerns about his motivation and a great deal of talent.
If Cleveland is in a situation where they could pick either of the two, I say they go Minnifield, if only for the lack of headaches that will result from him being on the team. I don't really have a problem with players who had or have off-field issues, and I think the with the right team, Jenkins could be quite good. I just don't see the Browns as that team.
Next week, the AFC North Mailbag will return on its usually scheduled Friday. Make sure you follow me on Twitter (follow button conveniently located below) to get the next call for submissions and to send in your questions.