Mickey Loomis: Eavesdropping Charges Against Saints GM Totally Overblown
April 25, 2012

So it turns out that New Orleans Saints general manager Mickey Loomis isn't just guilty of presiding over a morally twisted coaching staff. He's also guilty of a federal crime.
At least, so says ESPN.
It was reported by "Outside the Lines" this week that Loomis eavesdropped on opposing coaching staffs for a period of three years between 2002 and 2004. If true, this makes him a despicable cheater, and it makes the Saints organization look even worse after the whole "Bountygate" thing.
You'll have to excuse me for not wanting to condemn Loomis after hearing ESPN's latest scoop. In fact, I'd just as soon let this situation slide completely.
For starters, I'm not sure any of us should be too quick to buy that Loomis did eavesdrop on opposing teams. Predictably, he denied the report, but the initial report itself is hardly clear on whether or not Loomis actually took advantage of the eavesdropping system that was supposedly in place.
The report merely says that Loomis had "the ability to secretly listen," and later on in the report is this little story:
After the transition from [former GM Randy] Mueller to Loomis, the electronic device was re-wired to listen only to opposing coaches and could no longer be used to listen to any game-day communications between members of the Saints' coaching staff, one source said.

"There was a switch, and the switch accessed offense and defense," said the source. "When Randy was there, it was the Saints offense or defense, and when Mickey was there it changed over so it was the visiting offense or defense," the source said.

"Outside the Lines" could not determine for certain whether Loomis ever made use of the electronic setup.
So ESPN has it from anonymous sources that Loomis could cheat, but the Worldwide Leader doesn't know for a certainty that he did cheat.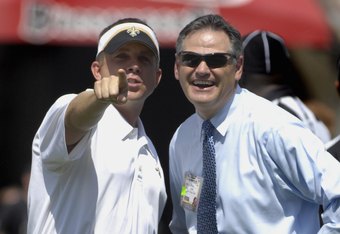 Al Messerschmidt/Getty Images
This is one of those things that makes you go, "Hmmm...."
The first thing I thought to do when I caught wind of the report was to look up the Saints' records in the three seasons in question. They went 9-7 in 2002, 8-8 in 2003 and 8-8 in 2004.
There are two explanations for these unspectacular records. ESPN's Adam Schefter outlined the first one when he said this about Loomis, via CBSSports.com:
[Loomis isn't] "an Xs and Os evaluator, so it would be difficult for him to get that information down to somebody in a timely fashion when that's not the language he's accustomed to speaking. He's accustomed to dealing with agents, doing contracts, managing the cap, finagling the roster, not dealing with play calls and Xs and Os." 
In other words, Loomis may have heard what was going on, but didn't know what to make of it. His little setup, therefore, wasn't a competitive advantage due to Loomis' own ignorance.
Either that, or Loomis is telling the truth in saying that the report is categorically false.
By now, a lot of people have overreacted anyway, in large part because the Saints are not in the public's good graces after the Bountygate scandal came to life. A lot of people are looking to kick the Saints while they're down. And if Bountygate wasn't a fireable offense, eavesdropping surely is.
That's not how I view the situation. Bountygate was a lot worse than mere accusations of eavesdropping. The Saints were trying to gain a competitive advantage by injuring players bad enough to remove them from games, and the fact that they won a Super Bowl while Bountygate was going on looks really, really bad.
Loomis should have been fired for that. Same goes for Sean Payton. Both of them are lucky to still be employed right now.
These latest charges don't provide more evidence that Loomis should be fired. It's way too hard to tell what's fact and what's fiction, and the story itself could end up being fiction. It wouldn't be the first time a story broken by Outside the Lines was debunked (think Syracuse).
So everyone should stop freaking out over these accusations and calm down. This is a very flimsy story, and it's really not all that bad compared to Bountygate.
In the event that it is determined beyond a shadow of a doubt that Loomis did cheat, well, nobody should act so surprised.