2012 NFL Mock Draft: Final First-Round Mock Draft with Analysis
April 25, 2012

Chris Trotman/Getty Images
Draft season is over. Here is my final first-round mock:
1. Indianapolis Colts—Andrew Luck, QB, Stanford
As I have been saying for months, there is no drama here. The Colts have announced that Luck is the pick.
2. Washington Redskins (from St. Louis)—Robert Griffin III, QB, Baylor
See above. 
3. Minnesota Vikings—Matt Kalil, OT, USC
As much as some would have you believe Minnesota is looking to trade down or Kalil is not everything he was made out to be for the majority of draft season, it is all a smoke screen. Kalil is a franchise left tackle. Those do not come around often for a team.
4. Cleveland Browns—Trent Richardson, RB, Alabama
You would think the city was on fire with all the smoke coming from Cleveland these days. Talk of Justin Blackmon here is still prevalent, but the Browns go with the best player available and a real position of need here in Trent Richardson. 
5. Tampa Bay Buccaneers—Morris Claiborne, CB, LSU
There has been little change here since the outset of draft season. Barring a trade, the Buccaneers will likely choose between Claiborne and Richardson here. With the latter off the board, their decision is made easily.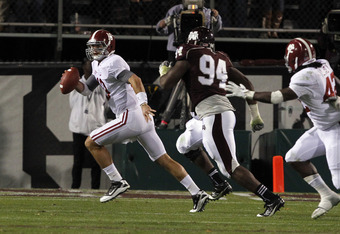 Butch Dill/Getty Images
6. St. Louis Rams (from Washington)—Fletcher Cox, DT, Mississippi State
While the Rams certainly need to get Sam Bradford some help, they go with their board here, and Cox is higher up. With a deep receiver class, St. Louis opts to go with the best defensive tackle in the draft, fulfilling a position of need and taking their best player available at the same time.
7. Jacksonville Jaguars—Riley Reiff, OT, Iowa
The Jaguars are desperate to trade down. Why? Aside from gaining more picks, they are likely targeting a guy who they feel they can get somewhere in the teens. That means Riley Reiff here. While it may come as a bit of a shock here, considering Reiff's stock plunged in recent months, the Jaguars will happily take the second-best offensive tackle in the draft.
8. Miami Dolphins—Ryan Tannehill, QB, Texas A&M
If Cleveland is on fire, Miami must be ashes by now with the levels of smoke rising from South Florida. The front office is going out of their way to refute the notion they want Tannehill, he is the pick here without a buyer for the pick. Thirteen years of stopgap quarterbacking dictate this pick more than anything.
9. Dallas Cowboys (from Carolina)—Mark Barron, S, Alabama
The Cowboys want to assure they get their man in Barron here. Although a bit high for Barron, he is the best safety in the class and a major need for the Cowboys. 
10. Buffalo Bills—Michael Floyd, WR, Notre Dame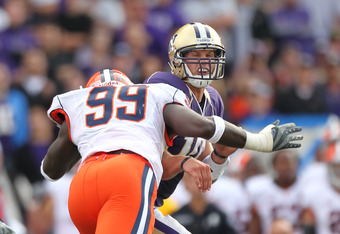 Otto Greule Jr/Getty Images
Despite retaining Stevie Johnson's services, the Bills could use an upgrade at wide receiver. Enter Michael Floyd, who may be a surprise as the first receiver taken to some. Were it not for his well-publicized off-the-field issues, Floyd would likely be the consensus No. 1 receiver in the draft. It is likely several teams view him as such.
11. Kansas City Chiefs—David DeCastro, OG/OT, Stanford
The Chiefs need help on the interior of their line, and they get some here with David DeCastro, who arguably has top-six talent. Were it not for his position as guard, he would likely have gone higher.
12. Seattle Seahawks—Quinton Coples, DE, UNC
Seattle needs a pass-rusher opposite Chris Clemons, and Coples is the best player available here. It would likely be a close call between Coples and Melvin Ingram, but Coples' measurables and potential win out over Ingram's college production.
13. Arizona Cardinals—Justin Blackmon, WR, Oklahoma State
Not quite a precipitous fall for Blackmon here, but for a guy who is in the top ten of many mock drafts, this will come as a bit of a shock. The Cardinals cannot resist drafting the best player left on their board to pair with Larry Fitzgerald, making an excellent 1-2 tandem for whichever quarterback they draft in 2013.
14. Carolina (from Dallas)—Michael Brockers, DT, LSU
Brockers' draft stock is all over the map, but the Panthers are able to pick up their next-best target after Cox and pick up an extra draft pick or two in the process.
15. San Diego Chargers (from Philadelphia)—Courtney Upshaw, DE/OLB, Alabama
By moving up, the Chargers ensure they get one of their two BPA players here. Between Upshaw and Melvin Ingram, they cannot go wrong.
16. New York Jets—Melvin Ingram, DE/OLB, South Carolina
The Jets get their man here after sweating the San Diego move. Ingram is an excellent pass-rusher whose arm-length issues are holding him back. Hopefully offensive linemen will not be doing the same to him at the next level as a result.
17. Cincinnati Bengals—Stephon Gilmore, CB, South Carolina
The Bengals are thrilled to take fast-riser Stephon Gilmore here. The former Gamecock has overtaken Dre Kirkpatrick as the second-best cornerback in the draft, and Cincinnati is lucky he fell to them at No. 17.
18. Philadelphia Eagles (from San Diego)—Dre Kirkpatrick, CB, Alabama
The Eagles could use a replacement after sending Asante Samuel. They will gladly take Kirkpatrick here after trading back, though Gilmore would have been nicer.
19. Chicago Bears—Jonathan Martin, OT, Stanford
Chicago continues to try to find some protection for Jay Cutler. Martin is the best player available to them at this stage. Enough said?
20. Tennessee Titans—Chandler Jones, DE, Syracuse
Another fast-riser makes it into the top 20 here in Chandler Jones. The Titans are looking for help at pass-rusher, and Jones fits that bill.
21. Cincinnati Bengals—Luke Kuechly, ILB, Boston College
In a minor surprise, Kuechly falls out of the top 20 here, much to the delight of the Bengals. The middle linebacker was a tackling machine in college and should continue to do so as a pro.
22. Cleveland Browns—Kendall Wright, WR, Baylor
The Browns may take a good, hard look at Brandon Weeden here, but they ultimately decide to take one of the draft's best receiving prospects in Wright instead. They have now bolstered their offense with Richardson and Wright as Colt McCoy sits at home watching and smiling.
23. Detroit Lions—Cordy Glenn, OG/OT, Georgia
The Lions have watched in horror as all their top choices have been snapped up. Glenn is a fine consolation prize, even if he will take some molding. The versatile lineman can only help a rickety offensive line.
24. Pittsburgh Steelers—Dont'a Hightower, LB, Alabama
They have been rumored to slightly favor Dontari Poe, but the Steelers take Hightower, who is a perfect fit for this defense. 
25. St. Louis Rams (from Denver)—Alshon Jeffery, WR, South Carolina
After receiving a Bear's ransom from Washington for the No. 2 pick, the Rams give some of that back to ensure they draft the highest receiver on their board, fearing they might lose him and others before their pick in the second round. Jeffery's 
26. Baltimore Ravens (from Houston)—Shea McClellin, DE/OLB, Boise State
Never a stranger to draft-day trades, Ozzie Newsome pulls the trigger to ensure they get their man, Shea McClellin, as the Patriots were a major threat.
27. New England Patriots (from New Orleans)—Andre Branch, DE, Clemson
Bill Belichick scowls from his hoodie as the Ravens moved up to steal their draft pick. The Patriots take the next best defensive end on their board in Branch, however, an excellent consolation.
28. Green Bay Packers—Nick Perry, DE, USC
Perry does not come without risk for the Packers. He is slightly undersized for the position at 6'3" and lacks a diverse repertoire as a pass-rusher. Still, the Packers need to plug someone in opposite Clay Matthews, and Perry is their best bet after a run on pass-rushers leaves the first-round cupboard bare.
29. Houston Texans (from Baltimore)—Rueben Randle, WR, LSU
With the Rams having hopped them for Jeffery, the Texans decide to trade down and wait for the next best receiver on their board. They happen to land him anyway in Randle. Although raw coming out of college, Randle may turn out to be a better prospect than Jeffery.
30. San Francisco 49ers—Janoris Jenkins, CB, North Alabama
Jenkins' off-field issues have sunk his draft stock, but he is being called the best cover corner in the draft by the likes of Greg Cosell. That is music to San Francisco's ears as they eagerly bolster their elite defense with Jenkins here.
31. Indianapolis Colts (from New England)—Coby Fleener, TE, Stanford
True to form, Bill Belichick opts to trade out of this draft spot with so many targets left on the board. The Colts get to pair Luck with his college buddy Fleener here. After losing Dallas Clark and Jacob Tamme, they could use a guy like Fleener to replenish the ranks at tight end. This may seem luxurious, but taking one of Luck's trusted guys will benefit both of them and the team in the long run.
32. New York Giants—Mike Adams, OT, Ohio State
Despite a need at running back and the latest craze putting Doug Martin here, the Giants must address the offensive line. Mike Adams may lack a certain work ethic, but the massive tackle is too gifted to pass up here.