NFL Draft 2012: 10 Questions I Can't Wait to Have Answered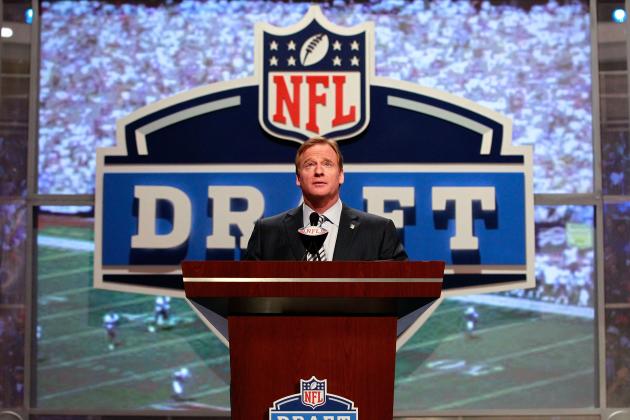 Chris Trotman/Getty Images
Roger "The Goods" Goodell
The NFL draft is almost here.
Come Thursday, endless hours of analyst speculation, sports dweebs getting their dweeb on (see: me) about the entire process, and the athletes' years of tireless preparation will come to a head.
Roger Goodell will stride to the podium in a suit that costs more than most colleges' tuition and put an end to the drawn out predictions and mock drafts. He'll tap the mic, clear his throat and make someone a millionaire. Then he'll do it again. And again.
The NFL draft is coming, oh yes, and here are the questions I'm most excited to watch for this Thursday night.
Begin Slideshow

»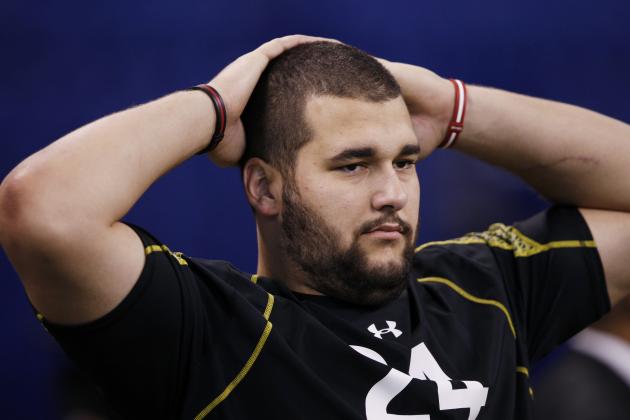 Joe Robbins/Getty Images
The "What, you can't take Morris Claiborne!?!?!" Face.
These picks belong to the Minnesota Vikings, the Cleveland Browns, and the Tampa Bay Buccaneers, respectively.
While picks No. 1 and 2 are all but assuredly going to be Andrew Luck and Robert Griffin III, reason would dictate that each of these teams will address their needs from their current drafting positions.
However, recently these three teams have all been letting on that they're open to trade possibilities. Will there be any trades? Who knows. The NFL draft involves Cold War levels of subterfuge and misinformation prior to the draft. Some of it could be real, but the rest could be some smoke screen that would make the Kings and Queens in Game of Thrones look like beacons of truth and honesty.
Personally, I'm betting it'll go down just like the talking heads predict: Matt Kalil, Trent Richardson and Morris Claiborne, in that order. Do I hope there are trades galore and more partner-swapping during the early stages of the draft than on Jersey Shore? Absolutely.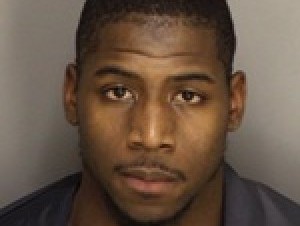 "Heyyy-- Heyyy--quit Tazering me, officer."
Alfonzo Dennard nearly went pro last year. After a stellar junior season the Husker defensive back took a long, hard look at the NFL before deciding to return to Lincoln for his senior year. After spending a chunk of the season injured he returned to a season of above average but unspectacular play which unfortunately culminated with an ejection in the Capital One Bowl after a shoving match turned to punches with South Carolina receiver Alshon Jeffrey.
Last Saturday Dennard was arrested after allegedly punching a police officer outside of a downtown Lincoln bar. According to reports it took four officers to subdue the incensed former Husker, though there is no word yet on how many officers it took to wrestle him out of his patented leather jacket.
It will be interesting to me to see how this arrest will impact Dennard's draft status. He had already been mildly underwhelming this season, the opposite of predictions that had him as a surefire All-American type player.
This latest setback could negatively impact his position amongst the other corners in this year's crop. Will GM's let him slide or will they look at this as just another slip up by a talented young player? We'll have to wait to see.
A talented player who has found himself on the wrong side of the law and has what some would call "character issues with good to very good potential? Paging Jerry Jones, please.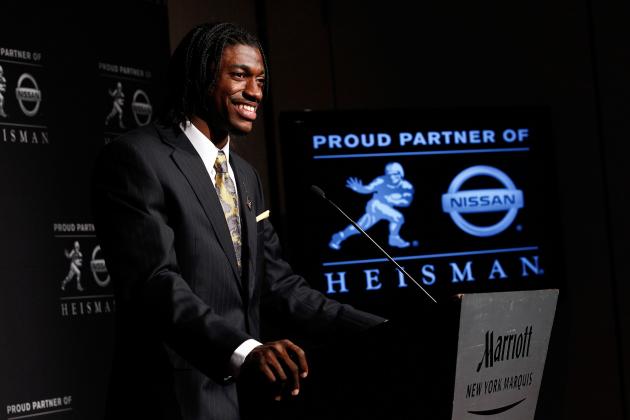 Jeff Zelevansky/Getty Images
"Oh really, ESPN? RGIII used to do the hurdles? We had NO idea." - No one on the planet
I have the over/under set at 11.5. In the first 30 minutes of the show.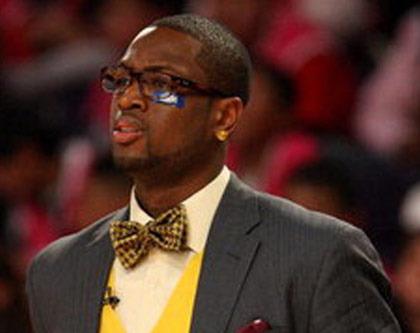 Wrong sport? Maybe. Wrong idea? Definitely.
Bow ties are, unfortunately, back. They've exploded in a nerdy mushroom cloud of plaid and there may not be any survivors. We're potentially going to suffer through a parade of guys who look like they're dressing in vintage Carlton from The Fresh Prince of Bel-Air in HD and I'm not looking forward to that at all. And since I know literally nothing about fashion that leads us into. . .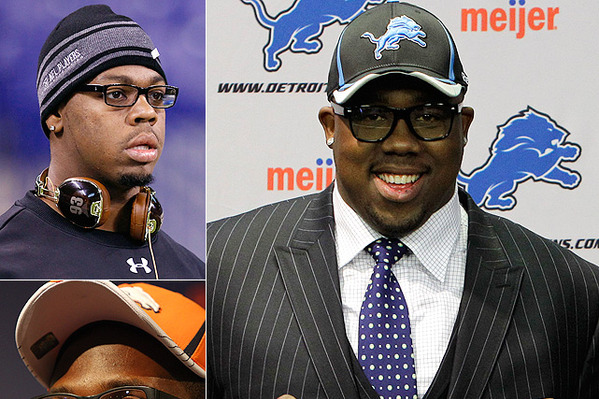 Lens Crafters: the official non-prescription, can't-help-you-see-any-better glasses of the NFL.
I can't make up my mind on this one. The fake glasses trope has never been hotter with modern athletes, and for some reason it's now cooler to look like Clark Kent than Superman.
However, I'm hoping that at least one of the athletes invited to NYC to sit in the greenroom and wait to have their names called will show up wearing his entire signing bonus. I'm hoping for, at the minimum, three bowler hats, one cane and as many diamonds the size of tractor hubcaps as possible.
The more ridiculous the better.
I hope that at least one of these gentleman goes all in and arrives looking like a Vegas high roller that just hitt blackjack 30 times in a row and cashed out.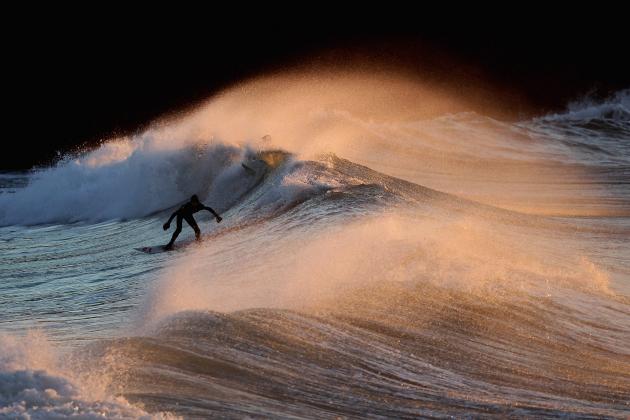 Matt Cardy/Getty Images
Nothing says, "Chill Bro" like catching some waves.
Every year there's a high-profile draft pick who doesn't want to come to New York, doesn't care about soaking in the glitz and the glamor of the Draft Circus, and would prefer instead to go fishing with his Dad or skiing with his family or (insert something rustic/outdoorsy here).
I'm fascinated to hear what down-to-earth, too-cool-for-school player will be so undeniably chill that he won't even show up for his own multi-million dollar party.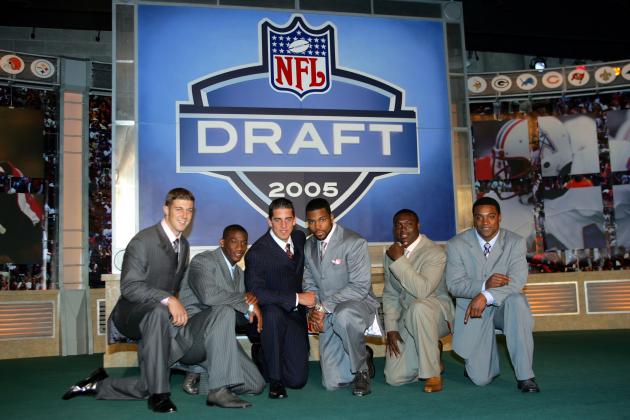 Chris Trotman/Getty Images
Apparently the carpet might actually be greener on the other side
Another recurring theme of the NFL draft's live coverage is that there is inevitably a player invited to the proceedings who doesn't get chosen as high as they thought, in some cases slipping excruciatingly far down the draft before being chosen.
Every closeup of the hopeful, angst-ridden face of the player seems like it should have a Sarah McLachlan song playing in the background. Each time another one of the players' cellphones rings around them and the player leaps to their feet the un-picked slider looks ready to puke.
Depending on the player this is either vindicating (Brady Quinn and any Texas player ever) or it makes your gut wrench like a cheaply made roller coaster loop. It's a moment of human drama and fuel for the fire for many an unpicked player.
(As an aside, I think that the footage of a young Aaron Rodgers watching pick after pick get chosen ahead of him should be shown to any child who has been picked last during a game of dodgeball. On a related note, I still cry myself to sleep when I think of the 49ers taking Alex Smith first in that draft.)
Another part of the draft I enjoy is the in-home cameras that many of the potential draftees have installed in their homes to record the jubilation when their name finally gets called.
It's equally interesting to see players' families going unabashedly buckwild in gigantic houses and families in tiny, dumpy living rooms whose lives you know have just changed fundamentally forever. The rooms usually explode, players get mobbed, and mothers completely lose their minds.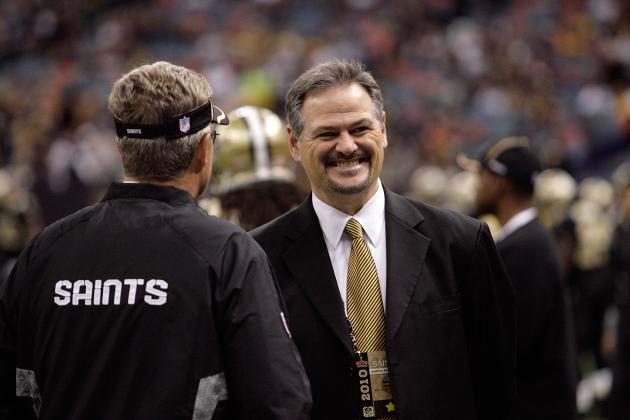 Matthew Sharpe/Getty Images
I've seen that face many times, albeit in night vision camera mode, on "Cheaters."
The Saints organization is reeling from more allegations of cheating. This time it was the GM of the team, Mickey Loomis, bugged the opposing team's locker room. This comes on the heels of a highly publicized bounty scandal that broke in the spring.
It's worth noting, by the way, that the team was only .500 at home during the period this listening device was allegedly used. Was there interference? Static? That's not cheating very efficiently, Mr. Loomis.
These guys cheat more than the dudes on Jerry Springer. Is there anything else the Saints can do wrong right now? Please tell me they were mixing cocaine in with the team's Gatorade powder or that they hired the hookers that the U.S. Secret Service was using in Colombia to try to gain a competitive advantage over the U.S. Government.
Enough is enough, guys.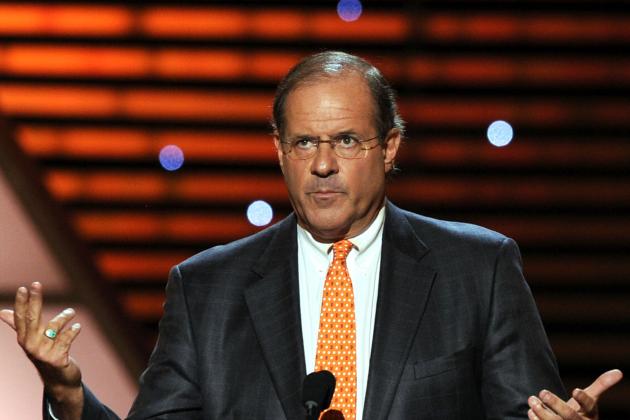 Kevin Winter/Getty Images
Ad-bagshrugswhat? (*Author's note: I'm a moron.)
Berman might be ESPN's most famous analyst. He is also their most obnoxious, pretentious, blowhard, with apologies to Skip Bayless and Stephen A. Smith who actually are such morons that I cannot even articulate it in a sentence. Every year during the draft I foolishly subject myself to Berman's tyrannical reign as the focal point of ESPN's draft coverage.
If I listen to him long enough one of two things usually happens:
1) I become immune to his excessive volume, like a worker in a saw mill who's been there for 20 years, or
2) I listen for so long that I crack and writhe around in pain clutching at my ears like the King in Hamlet.
I'm hoping for the former, planning for the latter and still mulling over whether to just watch the NFL network's doubtlessly stultifying coverage.