2012 NFL Mock Draft: Players That Will Thrive with Playoff Contenders
April 26, 2012

Joe Robbins/Getty Images
With the pure excitement over the 2012 NFL draft at an all-time high, it's time to get ready by putting out yet another excellent mock draft.
The following italicized players will be drafted by playoff contenders and thrive in their rookie seasons. How lucky are some guys?
1. Indianapolis Colts—Andrew Luck, QB, Stanford
Andrew Luck will go No. 1 overall. I promise.
2. Washington Redskins (via trade with St. Louis Rams)—Robert Griffin III, QB, Baylor
As certain as I am about No. 1 overall, I'm just as certain about No. 2 overall. The Washington Redskins get Robert Griffin III.
3. Minnesota Vikings—Morris Claiborne, CB, LSU
With some internal debate about who the Vikings should take, the need at cornerback and the talents Morris Claiborne have are too great to let him slide past No. 3.
4. Cleveland Browns—Trent Richardson, RB, Alabama
Despite looking to trade out, Cleveland will not find a partner offering enough and will take bruising running back Trent Richardson.
5. Tampa Bay Buccaneers—Matt Kalil, OT, Southern California
After watching two teams ahead of them pass on USC franchise left tackle Matt Kalil, the Tampa Bay Buccaneers will not make the same mistake.
It will be the addition of Kalil to the team that puts the Bucs over the top in a NFC South division surrounded by questions. As good as the decision is, this truly is anyone's race.
I think the addition of Kalil will help Tampa Bay win 10 games this season and sneak into the playoffs as an NFC wild-card team.
6. St. Louis Rams (via WAS)—Justin Blackmon, WR, Oklahoma State
St. Louis knows they can't go very far without having a weapon for young QB Sam Bradford to use. That weapon will be star wide receiver Justin Blackmon.
7. Jacksonville Jaguars—Fletcher Cox, DT, Mississippi State
The Jaguars are looking for answers in the middle of their defense and tackle Fletcher Cox fits that mold perfectly.
8. Miami Dolphins—Ryan Tannehill, QB, Texas A&M
Miami botched their entire offseason, so what's one more mistake? They will hinge their next few seasons on a poorly advised selection of Ryan Tannehill.
9. Carolina Panthers—Riley Reiff, OT, Iowa
Despite being uber-mobile, Cam Newton still needs protection and Riley Reiff will have plenty of that for his new quarterback.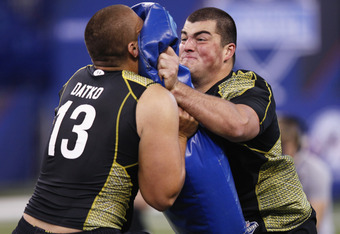 Joe Robbins/Getty Images
10. Buffalo Bills—David DeCastro, OG, Stanford
As good as Buffalo's offensive line was last season, a versatile guard that can play both sides and center at a Pro Bowl level like David DeCastro doesn't come along very often.
11. Kansas City Chiefs—Melvin Ingram, OLB, South Carolina
With Tamba Hali attacking from the edge, Melvin Ingram will be the ultimate pass-rush complement for the Kansas City Chiefs.
12. Seattle Seahawks—Nick Perry, OLB, Southern California
The Seahawks pass rush was terrible last season, so Pete Carroll will add USC star outside linebacker Nick Perry.
13. Arizona Cardinals—Luke Kuechly, ILB, Boston College
The need still remains at middle linebacker, and if Luke Kuechly is here, he will be an Arizona Cardinal.
14. Dallas Cowboys—Mark Barron, S, Alabama
As much as taking an offensive lineman here would be the smart move, trying to convince Jerry Jones two years in a row to do so is impossible. Mark Barron fits the team's needs.
15. Philadelphia Eagles—Quinton Coples, DE, North Carolina
After the Eagles missed out on the playoffs last season, there is no doubt that the organization is refocused on winning now. With that said, Philadelphia will take the best player available: Quinton Coples.
The star defensive end from North Carolina has the size and speed to be a defensive end or an outside linebacker in the NFL, but the Eagles will use him almost exclusively on the defensive line.
With the ability to stop the run and rush the passer, Coples could play defensive tackle on obvious passing downs and sub in for either defensive end the Eagles currently have.
16. New York Jets—Dontari Poe, DT, Memphis
Rex Ryan and the New York Jets are looking for another defensive lineman who can handle everything they will throw at him. Dontari Poe is their man.
17. Cincinnati Bengals (via OAK)—Cordy Glenn, OG, Georgia
With Andy Dalton needing more time in the pocket, adding a versatile offensive lineman like Cordy Glenn will ensure the Bengals are successful next season.
18. San Diego Chargers—Stephon Gilmore, CB, South Carolina
With a secondary in need of legitimate cornerbacks, Stephon Gilmore will step right in and be the future of that group.
19. Chicago Bears—Coby Fleener, TE, Stanford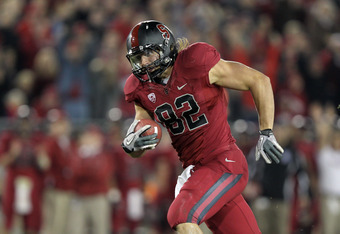 Ezra Shaw/Getty Images
The Bears offense is going in a new direction, and that will involve stellar tight end Coby Fleener.
20. Tennessee Titans—Michael Floyd, WR, Notre Dame
The Titans will be looking for a long-term partner for quarterback Jake Locker, and they will find the right receiver in Notre Dame star Michael Floyd.
21. Cincinnati Bengals—Dre Kirkpatrick, CB, Alabama
With Leon Hall coming off injuries and a need for a No. 2 cornerback, Dre Kirkpatrick is the perfect fit for the Bengals.
22. Cleveland Browns (via ATL)—Whitney Mercilus, OLB, Illinois
The Browns will find the pass-rushing outside linebacker they have been searching for. Whitney Mercilus will be Cleveland's Clay Matthews.
23. Detroit Lions—Mike Adams, OT, Ohio State
Protecting Matthew Stafford with a stud like Mike Adams should be a must for a team that has seen what it's like without their star QB.
24. Pittsburgh Steelers—Courtney Upshaw, OLB, Alabama
The Steelers' rebuilding of the defense will begin with a star pass rusher like Courtney Upshaw.
25. Denver Broncos—Michael Brockers, DT, LSU
The Denver Broncos and head coach John Fox are still in the process of rebuilding the defense in the 4-3 schemes that Fox installed in Carolina. Adding Peyton Manning has put the rush on the rebuild.
With all considered, the team will take a flyer on star defensive tackle Michael Brockers. While the young man still has so much room to grow physically and as a football player, he will be the kind of star in the middle that can evolve into a Pro Bowl player.
If Brockers falls this far, Fox won't be able to contain the joy he feels as the team adds the star tackle.
26. Houston Texans—Stephen Hill, WR, Georgia Tech
There is good reason for the Houston Texans to be looking for a wide receiver in the first round after Andre Johnson's injury set them back for months.
27. New England Patriots (via NO)—Andre Branch, OLB, Clemson
The New England Patriots lost their Super Bowl appearance because of a non-existent pass rush. With Andre Branch on the team, that won't be the case.
28. Green Bay Packers— Shea McClellin, OLB, Boise St
The Green Bay Packers are hoping that they will be drafting a mini-Clay Matthews when they take Boise State star Shea MClellin.
29. Baltimore Ravens—Dont'a Hightower, ILB, Alabama
Ray Lewis can't play forever, so Baltimore will draft his replacement and backup. Dont'a Hightower couldn't play with a better teacher.
30. San Francisco 49ers—Kendall Wright, WR, Baylor
Alex Smith will be looking for another weapon, and the 49ers love Kendall Wright. It's a perfect fit.
31. New England Patriots— Peter Konz, OG, Wisconsin
While the need for another pass rusher is great, the versatility of Konz will be a perfect addition to a team that has issues on the offensive line.
32. New York Giants—Lamar Miller, RB, Miami (FL)
With Brandon Jacobs headed to San Fran, the New York Giants will take a chance on star running back Lamar Miller.
Check back for more on the National Football League as it comes, and check out Bleacher Report's NFL Page to get your fill of all things football.