Deion Sanders: Misdemeanor Assault Charge a Slap on the Wrist for Neon Deion
April 25, 2012

Joey Foley/Getty Images
The mess that has come from the altercation between former NFL All-Pro Deion Sanders and Pilar Sanders really doesn't affect the NFL Network employee.
Sanders was charged with simple assault in a Monday altercation with his estranged wife on late Tuesday. USA Today provided the details on what the police spokesmen said about the charge:
Prosper police spokesman Celso Martinez wouldn't detail the allegations, but said the charge covers any act considered aggressive and could be as simple as touching or defensively jerking away from someone's grip. The charge carries a fine of up to $500.
A fine up to $500? That's chump change for Deion.
He can pay the fine and move on. What he needs to do is stop tweeting and commenting on it publicly to ensure he comes off as the "good guy" in the eyes of the public. He wasn't the one that brought a friend over to the mansion and allegedly attack somebody else in front of children.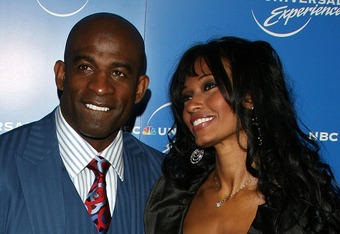 Bryan Bedder/Getty Images
Sanders needs to just pay the fine and let the legal process play out for his estranged wife.
Pilar was taken to jail overnight and booked on a misdemeanor domestic assault charge on Monday, while also being issued an emergency protective order that prohibits her from entering the couple's home for the next 60 days. When the police spoke about her situation, the tone was more serious (via Jamestownsun.com):
The assault action that occurred was a criminal action that also constitutes family violence. Pilar Sanders was arrested for that and jailed.
"Criminal action" and "family violence" are not phrases you'd like to hear from an officer.
While getting involved in any sort of legal matter isn't ideal, Deion shouldn't be worried with his charge whatsoever. His wife is the one that needs to lawyer up and ensure she doesn't lose all visiting rights with her kids.
This is a Pilar problem, not a Neon Deion one. As long as he keeps his mouth shut and lets the process play out, Deion is going to come away from this messy altercation unscathed.