Recapping the AFC North Picks in the Bleacher Report Blogger 2012 NFL Mock Draft
April 25, 2012

Sarah Glenn/Getty Images
Those of us charged with heading up the Bleacher Report NFL universe conducted ourselves a little first-round Twitter mock draft today (you can find it by searching the hashtag #BRBloggerDraft) and I was charged with running the war rooms of the four AFC North teams.
Below are my picks for the Baltimore Ravens, Cincinnati Bengals, Cleveland Browns and Pittsburgh Steelers and my rationale behind each one.
Cleveland Browns, Pick 4: RB Trent Richardson, Alabama
This is a no-brainer pick for the Browns. Trent Richardson is the most complete and talented offensive player in this year's draft behind Andrew Luck and Robert Griffin III and the one who is destined to make the most immediate, positive impact for the Browns this year. I would have fired myself if I didn't take Richardson here.
Cincinnati Bengals, Pick 17: OG David DeCastro, Stanford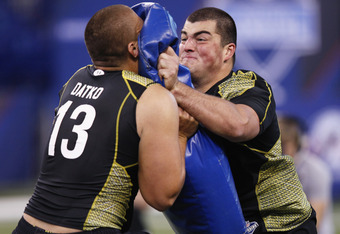 Joe Robbins/Getty Images
My fellow general managers apparently didn't need the top-rated offensive guard in this year's draft class and, just as many have predicted, Stanford's David DeCastro fell all the way to 17, where the Cincinnati Bengals gladly snapped him up. Going at 17 is but one of many things DeCastro has in common with Steve Hutchinson, and the Bengals got themselves a future Pro Bowler at a relative value.
Cincinnati Bengals, Pick 21: CB Stephon Gilmore, South Carolina
It was a bit of a head-scratcher here for the Bengals. Did I want to go with a wide receiver (only Michael Floyd and Justin Blackmon had gone off the board by this point) or avoid playing cornerback roulette in a later round?
Ultimately, I went with one of the draft's top corners, Stephon Gilmore, because his talent wasn't worth ignoring.
I took Gilmore over Dre Kirkpatrick because I believe Gilmore is more consistent and also fits into the Bengals' system better. Cincy needs to find the true replacement for Johnathan Joseph, and Gilmore could easily be that guy. 
Cleveland Browns, Pick 22: WR Kendall Wright, Baylor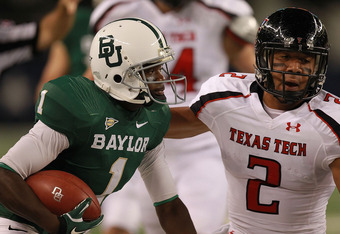 Ronald Martinez/Getty Images
For all the AFC North and Cleveland Browns first-round mock drafts I've done, for all the changes I made, when it came time to make this 22nd overall pick, I went back to an old standby—Baylor receiver Kendall Wright.
I elected to go receiver here instead of allowing it to wait (ostensibly for the 37th pick in the second round) because I wanted a guaranteed playmaker rather than a boom-or-bust prospect. With this selection, I (hypothetically) committed myself to the Browns taking a right tackle in round two.
Pittsburgh Steelers, Pick 24: LB Dont'a Hightower, Alabama
I know a lot of people aren't entirely sold on Dont'a Hightower, but for the Pittsburgh Steelers, he's both a perfect fit and meets an immediate need. Georgia guard/tackle Cordy Glenn was still on the board, but I took a pass on him for the explosive Hightower, a player I think has Steeler written all over him.
Baltimore Ravens, Pick 29: OG/C Peter Konz, Wisconsin
This pick was the one that really felt like I was running a war room. I had plans for this pick—big plans—that were thwarted, starting with the Steelers' selection of Dont'a Hightower at 24. My next-best pick was going to be a relatively unexpected one—Georgia Tech wide receiver Stephen Hill, who the Ravens have reportedly fallen for.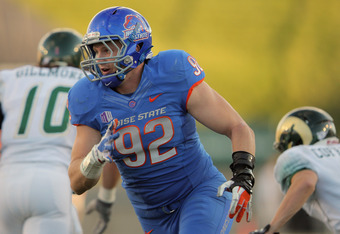 Doug Pensinger/Getty Images
But no, that couldn't happen because the Houston Texans selected him at 26. I then set my sights on OLB/DE Shea McClellin from Boise State, who is flying up draft boards and almost guaranteed to be selected in the end of the first round. But the New England Patriots got to him first, at No. 27.
Since this was just a one-round draft, I couldn't put a call into the Browns' GM (that would be, ahem, me) to trade down to their No. 37 spot in round two in order to grab Peter Konz at better value, and thus had to take him here.
There's nothing wrong with Konz, of course—he can play guard now, center later if need be, and played on the vaunted Wisconsin offensive line. But I was really hoping to do something a bit more splashy here, with either Hill or McClellin. Alas, it was not meant to be, and I closed the morning feeling one of the most realistic harsh-reality feelings the draft can produce—cursing the one who got away.