NFL Mock Draft 2012: Studs Who Will Shift the Balance of Power
April 26, 2012

Christian Petersen/Getty Images
The NFL draft is where the foundation of a team gets built. Free agency helps fill some holes, but the players selected on Thursday, Friday and Saturday will ultimately determine how successful a franchise is in the future. 
This draft class is filled with a number of talented players who are going to determine the future of the NFL as we know it. 
Here is the latest mock draft with notes on the players who will shift the balance of power in the NFL. 
1. Indianapolis Colts (2-14): Andrew Luck, QB, Stanford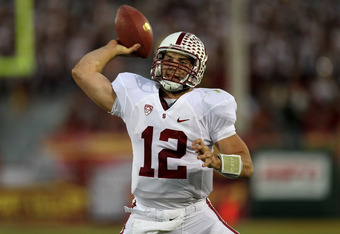 Stephen Dunn/Getty Images
No player in this draft has more pressure on his shoulders than Luck, who the Colts are taking to be the heir apparent to arguably the greatest quarterback of this generation and one of the best in history. 
Fortunately, Luck is more than capable of handling the responsibility. His tangibles are off the charts, with the accuracy, pocket presence and arm strength rarely seen from any college quarterback. 
There is a lot of work for the Colts to do to become Super Bowl contenders again, but as long as they have Luck, they will compete for playoff spots sooner rather than later. 
2. Washington Redskins (5-11): Robert Griffin III, QB, Baylor
Griffin is not quite the prospect that Andrew Luck is, but he is still one of the best quarterbacks to come out of college in recent memory. 
3. Minnesota Vikings (3-13): Matt Kalil, OT, USC
It is rare to find an offensive lineman worth getting so excited about, but Kalil is a game-changer for the Vikings. 
In addition to filling the most critical position on the offensive line, Kalil will make it easier for Christian Ponder to succeed because he doesn't have to worry about his blind side. 
4. Cleveland Browns (4-12): Trent Richardson, RB, Alabama 
Richardson gives the Browns the best running back they have had since returning to the league in 1999. 
5. Tampa Bay Buccaneers (4-12): Morris Claiborne, CB, LSU 
The Buccaneers need to get a swagger back on defense. What better way to do that than by drafting Morris Claiborne, the best cover cornerback in the draft?
6. St. Louis Rams (2-14): Michael Brockers, DT, LSU
A surprise pick, sure, but the Rams' biggest problems last year were protection up front and interior defense. 
Brockers is an NFL-ready defensive tackle with the kind of ceiling to become an All-Pro in the not-too-distant future. 
7. Jacksonville Jaguars (5-11): Justin Blackmon, WR, Oklahoma State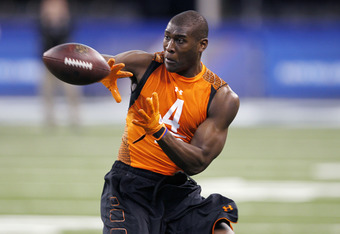 Joe Robbins/Getty Images
With the Jaguars kind of giving Blaine Gabbert a vote of confidence by not acquiring Tim Tebow, it is time to rebuild the receiving corps to see what he can do. 
Blackmon will make a great complement to free-agent signee Laurent Robinson. The Oklahoma State star has great hands, leaping ability and separation skills to become at least a very good NFL receiver. 
8. Miami Dolphins (6-10): Ryan Tannehill, QB, Texas A&M
The biggest knock against Tannehill is that he wasn't great in college. He has played quarterback for just two years and has a ceiling almost as high as RG3. Give him time and he will be a star. 
9. Carolina Panthers (6-10): Fletcher Cox, DT, Mississippi State
Cox has flown under the radar because of Dontari Poe's impressive workouts, but he is the second-best defensive tackle available and a worthy selection at No. 9. 
The Panthers are so close to becoming contenders in the NFC South. Their biggest weakness last year was up the middle on defense and stopping the run. Cox has the brute strength to be a force right away and the speed to get past blockers to sack the quarterback. 
10. Buffalo Bills (6-10): Michael Floyd, WR, Notre Dame 
With talk of the Bills going after another wide receiver instead of trying to fill their biggest hole—cornerback—I have to throw my hands up and just say they will take the No. 2 pass-catcher on the board. 
11. Kansas City Chiefs (7-9): David DeCastro, G, Stanford 
There are few offensive linemen who come along with the versatility to play at least four positions up front. DeCastro is going to make Jamaal Charles and Matt Cassel look like All-Pro players. 
12. Seattle Seahawks (7-9): Luke Kuechly, LB, Boston College
Kuechly has the best tackling ability of any linebacker in this draft to go along with off-the-charts instincts and take-charge attitude. 
13. Arizona Cardinals (8-8): Melvin Ingram, DE, South Carolina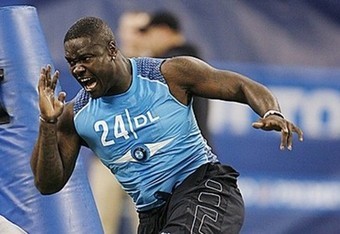 Given Ken Whisenhunt's knack for going after the best player available instead of trying to fill a need, Ingram fits this team perfectly. 
While Ingram won't help protect Kevin Kolb, he can make fields shorter so the offense doesn't have to do much work. He is a versatile defensive lineman, playing both end and tackle in college. 
Ingram's explosiveness off the line are second to none, and he should be a premier pass-rusher in the NFL for the next decade. 
14. Dallas Cowboys (8-8): Mark Barron, S, Alabama
Barron doesn't have great coverage skills, but he is a ball hawk and hits as hard as anyone in the league. He will be the anchor of the Cowboys defense for a long time. 
15. Philadelphia Eagles (8-8): Dontari Poe, DT, Memphis 
Even if Poe didn't always play up to his potential at Memphis, his raw talent is too good to pass up for a team as starved for a dominant defensive tackle like the Eagles. 
16. New York Jets (8-8): Courtney Upshaw, OLB, Alabama
The Jets need to get back to playing strong defense as opposed to trying to become a pass-happy team with Mark Sanchez calling the shots.
17. Cincinnati Bengals (via OAK 8-8): Quinton Coples, DE, North Carolina
With Coples being one of the most polarizing players in the draft, Marvin Lewis will look at his potential and consider him a great value at this spot. At his peak, Coples can become an outstanding pass-rusher, but he has to prove he is going to work to get there. 
18. San Diego Chargers (8-8): Riley Reiff, OT, Iowa  
The Chargers have lacked direction for a long time. Philip Rivers fell apart last year because he was trying to do too much and the offensive line gave him no help. Reiff has always played above his raw tools because of his strong work ethic. 
19. Chicago Bears (8-8): Jonathan Martin, OT, Stanford
Martin's actual potential isn't that of an All-Pro player, but he will make a few Pro Bowls in his peak years and be part of a solid foundation for the Bears.
20. Tennessee Titans (9-7): Stephon Gilmore, CB, South Carolina 
Gilmore has surpassed Dre Kirkpatrick as the No 2 cornerback in this draft thanks to his instincts and man-to-man coverage skills. 
21. Cincinnati Bengals (9-7): Janoris Jenkins, CB, North Alabama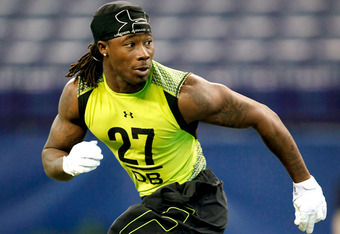 Jenkins may have a lot of baggage from his days at Florida to overcome, but it is hard not to look at the raw talent and think he won't be a star. 
He is an incredibly gifted athlete with the ability to handle himself in single coverage situations and going after the ball. The Bengals need that kind of difference maker to keep up with the Ravens and Steelers in the AFC North.
22. Cleveland Browns (via ATL 10-6): Kendall Wright, WR, Baylor 
No matter what, the Browns have to come out of this draft with a top-tier wide receiver for Colt McCoy to throw to. 
Wright is not a high-upside player, but he does provide good value at the No. 22 pick. His hands are better than advertised, and his route running is second to none in this class. 
23. Detroit Lions (10-6): Cordy Glenn, G, Georgia  
Another offensive lineman who is going to make a huge difference for his new team. Glenn looks the part of a dominant guard, but he did have some inconsistencies in his play at Georgia. 
The Lions have a veteran offensive line that can help mentor him before he is given a full-time job in 2013. 
24. Pittsburgh Steelers (12-4): Dre Kirkpatrick, CB, Alabama
Kirkpatrick has some maturing to do as a player, particularly in man-to-man coverage, but he gets after the ball and reads quarterbacks as well as any cornerback this year. 
25. Denver Broncos (8-8): Alshon Jeffery, WR, South Carolina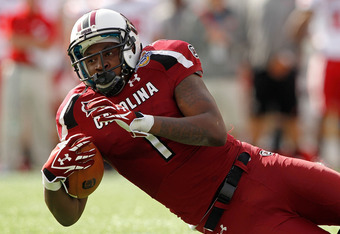 Mike Ehrmann/Getty Images
With the Broncos unable to get the defensive tackle they so desperately need, they can get Peyton Manning another weapon to play with. 
Don't underestimate just how good Jeffery can be in the NFL. His career at South Carolina looks even more impressive when you consider that he was playing with mediocre-at-best quarterbacks. 
The Broncos need to get more weapons on the outside to ease the already tremendous burden on Manning's shoulders. Jeffery is more solid than superstar, but he is exactly what this team needs to stay atop the AFC West. 
26. Houston Texans (10-6): Stephen Hill, WR, Georgia Tech
Hill's track-star speed is going to make him a first-round pick, but it's how quickly he learns to run routes and actually play the position instead of just running straight lines past everyone like he did in college. 
27. New England Patriots (via New Orleans 13-3): Peter Konz, C, Wisconsin 
The Patriots are already the class of the AFC, but they need to get more athletic up front to keep Tom Brady upright. 
28. Green Bay Packers (15-1): Whitney Mercilus, DE/OLB, Illinois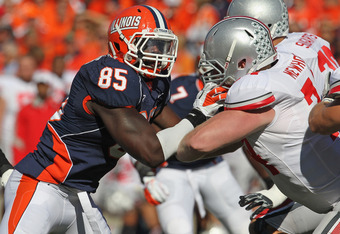 Jonathan Daniel/Getty Images
One year ago, we were talking about the Packers as the next great dynasty because of their youth on offense and always-stellar defense. 
Now, we are worried about how they are going to patch up their secondary and pass-rush. Enter Whitney Mercilus, the versatile edge-rusher from Illinois. 
The Packers can plant him alongside Clay Matthews at linebacker or put him at defensive end and cut him loose. 
29. Baltimore Ravens (12-4): Dont'a Hightower, LB, Alabama 
The Ravens have to find Ray Lewis' eventual successor. Hightower is worthy of a higher pick, but team needs will push him down to the bottom of the round. 
30. San Francisco 49ers (13-3): Kevin Zeitler, G, Wisconsin
With the 49ers addressing their most-pressing need through free agency, their biggest hole now remains at the right guard spot on the offensive line. Zeitler has flown under the radar during this process, but he is as polished as any guard available. 
31. New England Patriots (13-3): Andre Branch, DE, Clemson
A sleeper pick, Branch gives Bill Belichick that versatility up front he desperately needs. 
32. New York Giants (9-7): Coby Fleener, TE, Stanford
It would be hard for Fleener to make the Giants more powerful than they were at the end of last year, but he has the size and presence in the red zone to make this offense even more lethal.