2012 NFL Draft Projections: Positions That Will Dominate the 1st Round
April 25, 2012
Christian Petersen/Getty Images
The 2012 NFL draft class is one of the deepest in recent memory. Teams on the lookout for quick fixes at specific positions are going to have no problem coming up with answers in the next couple of days.
The first round is particularly deep. Teams looking to land impact players will have no trouble doing so, and a lot of teams are going to be able to satisfy their most pressing needs. The first round of the draft is going to have something for everyone.
All eyes will be on the two quarterbacks slated to go at the top of the draft, Andrew Luck and Robert Griffin III. This draft isn't all about the quarterbacks, however. On the contrary, it's much deeper at other positions.
To give you an idea, here's a look at four different positions that are going to dominate Thursday's first round.
Defensive Tackle: 4
Last year, the draft was loaded with stud defensive end prospects. This year, defensive tackles will get their turn.
It's sounding more and more like Mississippi State's Fletcher Cox is going to be the first defensive tackle off the board. Jason La Canfora of the NFL Network has reported that he could go to the St. Louis Rams at No. 6, and maybe even as high as No. 5 if the Tampa Bay Buccaneers choose to make a deal.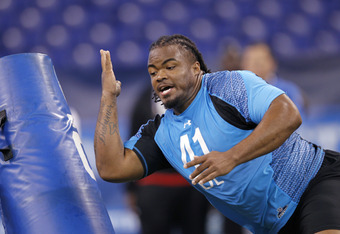 Joe Robbins/Getty Images
After Cox comes off the board, look for Memphis' Dontari Poe to come off the board. He's more of a nose tackle, but his ability to penetrate through the line of scrimmage arguably makes him a better fit to play in a 4-3 than a 3-4. He'll be in play for teams that use both schemes.
Michael Brockers out of LSU is one of this year's biggest project players, but his upside makes him well worth a first-round pick. It wouldn't be a huge shock if he went in the top 10, but I doubt he'll last past the middle of the first round, where he could be snatched up by either the Dallas Cowboys or the Philadelphia Eagles.
Once those three are gone, we're going to see one more DT come off the board later in the first round. The Broncos will be on the lookout for a defensive tackle, the Pittsburgh Steelers could draft a new nose tackle and the New England Patriots will be looking for defensive line help as well. Of the three, the Pats are the most likely to pull the trigger on a DT. They could go for Jerel Worthy out of Michigan State or possibly Kendall Reyes out of UConn.
The bar is set at four defensive tackles. I'll be shocked if we see any fewer than that go in the first round.
Wide Receiver: 4
This year's wide receiver class is very deep, and there are as many as six or seven wide receivers who could conceivably go in the first round.
My guess is that we're only going to see four go in the first round, starting with Oklahoma State's Justin Blackmon. He'll be a top-10 pick, and he could end up on either the Cleveland Browns, St. Louis Rams, Jacksonville Jaguars or Carolina Panthers. One of them will jump at the chance to draft him.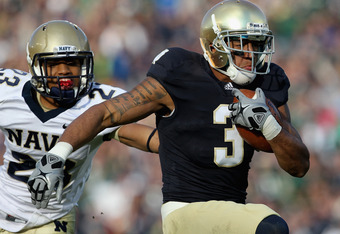 Jonathan Daniel/Getty Images
After Blackmon, Michael Floyd will come off the board. He could also sneak into the top 10, but I doubt he'll fall past the New York Jets at No. 16. Some argue that he has even more upside than Blackmon, so Floyd won't last long.
Kendall Wright should follow Floyd. I doubt he'll crack the top 20, but there are several teams in the lower third of the first round that could target him. He seems like a perfect fit for the Browns at No. 22, so I'll be surprised if they don't take him.
After Wright will come Stephen Hill, a big speedster out of Georgia Tech. He was one of the fastest runners at the NFL combine, so he'll get looks from teams looking for a wide receiver who can stretch the field. The Houston Texans are a natural fit, but he could also go to the San Francisco 49ers at No. 30.
Cornerback: 4
This is a good year to find a cornerback in the first round of the draft. There are three in particular who stand out as being immensely talented.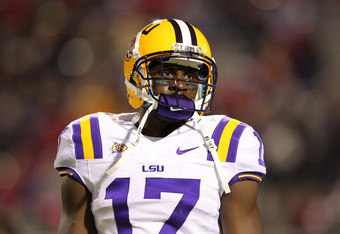 Joe Murphy/Getty Images
These three would be—in no particular order—LSU's Morris Claiborne, South Carolina's Stephon Gilmore and North Alabama's Janoris Jenkins. Greg Cosell of NFL Films had all three of them going in the top 10 in his mock, which is saying something.
Claiborne is likely to come off the board first, and he could go as high as No. 3 to the Vikings. After him, Gilmore will be the next corner off the board, and he could go as high as No. 7 to the Jaguars.
It's a lot harder to figure out where Jenkins is going to go. He's got loads of talent, but his character issues are going to make a lot of teams uneasy. It's a question of when somebody is going to decide to roll the dice on him, and that could happen in the top 10 or all the way down in the 20s.
Because of that, Alabama's Dre Kirkpatrick could come off the board before Jenkins. Kirkpatrick doesn't have an elite skill set, but he's bigger than most corners, and he'll be able to succeed in a scheme that properly utilizes him. He won't come off the board in the top 20, but somebody will snatch him up.
Offensive Tackle: 5
Quarterback is the most important position in all of sports, but even the best quarterbacks aren't good for much if they don't have good protection. Finding offensive line help is always going to be a major draft priority.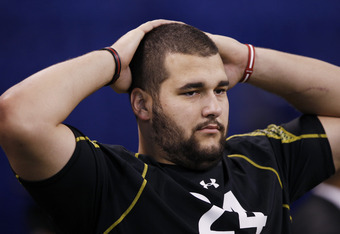 Joe Robbins/Getty Images
This year, there are four offensive tackles that stand a good chance of coming off the board in the first round. USC's Matt Kalil will be the first, as he projects as a franchise left tackle. He's likely to be a top-five pick, and the general consensus is that he'll go No. 3 overall to the Minnesota Vikings.
After Kalil comes off the board, look for Iowa's Riley Reiff to come off the board. He also projects as a solid left tackle, and he could go as high as No. 10 to the Bills.
After Kalil and Reiff come off the board, there's no telling how things will shake out. What we do know is that teams are going to take long looks at Ohio State's Mike Adams, Georgia's Cordy Glenn and Stanford's Jonathan Martin.
Of the three, my guess is that Adams will be the first off the board. His positive marijuana test is a red flag, but not a huge one. Teams will be more interested in his massive frame than his off-field habits. Adams is yet another guy who projects as a left tackle.
Cordy Glenn will likely follow Adams. He projects as a right tackle, one who could also move inside to play guard if need be. His versatility is a major asset, so there's no way he's falling out of the first round with so many needy teams looking to find offensive line help in the latter third of the first round.
Jonathan Martin is a guy who could fall out of the first round, but I don't think he will. He'll be in play for needy teams like the Lions and Steelers, and he could also go to the Ravens all the way down at No. 29.
In short, it's a good year to be a stud offensive tackle. They're going to be in demand on Thursday night.