Green Bay Packers Cut Nick Collins: How This Change Their Draft Plans?
April 25, 2012

Al Bello/Getty Images
The roller coaster is over.
While many believed the Packers knew all along that it was possible that Nick Collins would not play another down in a Packers uniform, we were kept waiting until today to see what his future with the organization was.
As it turns out, there wasn't one.
That the Packers have let the Pro Bowl safety go should speak volumes as to how he is physically. I reiterate what I have said before—there was a delay because they were hoping the last report would be better.
Either it wasn't or they couldn't wait anymore.
He may play again, but the team didn't want further (and more severe) injury on their shoulders.
What does this mean, coming a day before the 2012 NFL draft?
Well, if I might 'Ted Thompson' it for a second: a lot and nothing much.
Let me explain.
The Packers likely have multiple plans in place already for this. In many ways, this just clears things up—they use plans A through M5 as opposed to A through X.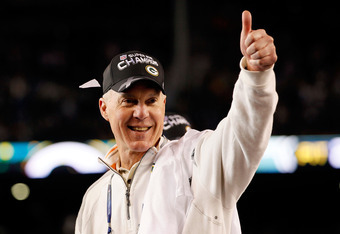 Kevin C. Cox/Getty Images
So from that standpoint, they were likely prepared for this scenario. Also, consider what Thompson said in the press conference last week.
They don't rank players by positions, nor do they do so by need. They rank a player on his own merits and draft for the best possible player on the board.
That's not to say they won't take Alabama's Mark Barron if he's there—merely that they won't likely trade up for him or reach for Harrison Smith if Barron is gone.
They do trade on occasion—Clay Matthews being an example—but they aren't the Pats, who trade every half hour to gain more picks, or the Falcons, who will jump hard and fast to get 'that guy.'
They'll mark down 'safety' as a need, and if (or when) the value is there, they will move.
So they'll maybe keep an eye on Barron, Smith in the second, or even Dre Kirkpatrick if they think he's more a safety than a corner.
Ultimately though, this won't change all that much.
The Packers will keep doing what they do and drafting the talent that fits into their own board and system whatever we think.