2012 NFL Mock Draft: 3 Teams That Must Draft Best Available Player on the Board
April 26, 2012

Joe Murphy/Getty Images
A perfect method for building an NFL team through the draft still hasn't been discovered, so every franchise enters draft day with its own approach. One popular plan of attack is taking the best player available and finding a spot for them.
It doesn't always please veterans since it seemingly puts their jobs in danger, but it ensures the team will add the most talent possible each year. With that in mind, here's a complete mock draft of the opening round featuring three teams that should use the best available approach.
1. Indianapolis Colts (2-14): Andrew Luck, QB, Stanford
Quarterback will always be the most important position when attempting to rebuild a team like the Colts have started to do this offseason. There isn't a better choice than Luck.
2. Washington Redskins (via STL 2-14): Robert Griffin III, QB, Baylor
Another team that struggled to get production from its quarterbacks last season, the Redskins traded a bunch of picks to select Griffin. He'll be well worth the hefty investment.
3. Minnesota Vikings (3-13): Matt Kalil, OT, USC
Christian Ponder enters his second season under center for the Vikings with a lot of questions about his ability to hold the job. Kalil should at least give him a clean pocket to work with.
4. Cleveland Browns (4-12): Trent Richardson, RB, Alabama
Even though the Browns do have other needs, Richardson will help a dreadful offense start giving the defense at least a little support. He's a rare running back worth taking this high.
5. Tampa Bay Buccaneers (4-12): Morris Claiborne, CB, LSU
There are no shortage of holes to fill for the Buccaneers following a disappointing season. So instead of attempting to pinpoint one position to upgrade first, Tampa Bay should just take the best player on the board, which would be Claiborne based on this scenario.
He helped LSU become a defensive powerhouse last season with his dynamic play opposite of Tyrann Mathieu. Not only was Claiborne a shutdown corner, but he played a vital role on special teams as well by returning kicks.
The Bucs still have plenty of talented pieces on the roster. It's just a matter of getting them all to play up to their potential at the same time to become a cohesive unit. Claiborne will have no trouble holding up his end of the bargain on defense.
6. St. Louis Rams (via WAS 5-11): Justin Blackmon, WR, Oklahoma State
The Rams have left Sam Bradford without a top target since he was drafted, so it's no surprise he's struggled to reach expectations. They really need to draft Blackmon.
7. Jacksonville Jaguars (5-11): Quinton Coples, DE, North Carolina
Coples is a polarizing prospect with everybody having their own opinion about his future, but the Jaguars shouldn't let effort concerns stop them from adding a potential star.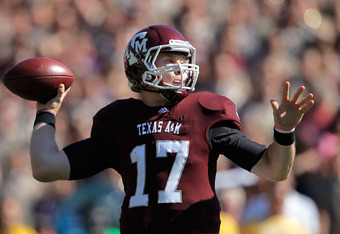 Sarah Glenn/Getty Images
8. Miami Dolphins (6-10): Ryan Tannehill, QB, Texas A&M
Yes, Tannehill should be considered a reach if he's taken this high. After failing to reel in another quarterback, however, the Dolphins don't have much other choice.
9. Carolina Panthers (6-10): Fletcher Cox, DT, Mississippi State
Suddenly there's a lot of hype surrounding Cox, which will help his draft stock while also increasing the amount of pressure on his shoulders. The Panthers are a good fit.
10. Buffalo Bills (6-10): Mark Barron, SS, Alabama
The Bills hold one of the turning point picks in the first round. They can go several different direction, each of which will change a couple picks moving forward. Barron fills a big need.
11. Kansas City Chiefs (7-9): Michael Brockers, DT, LSU
After a lackluster pass rush caused them to miss the playoffs in the weak AFC West, the Chiefs shouldn't hesitate to add a disruptive force like Brockers to the mix.
12. Seattle Seahawks (7-9): Riley Reiff, OT, Iowa
Reiff won't have any trouble stepping right into Seattle's starting lineup. The Seahawks have a new quarterback in Matt Flynn and must protect him.
13. Arizona Cardinals (8-8): Michael Floyd, WR, Notre Dame
Give credit to Floyd for narrowing the gap between himself and Blackmon, but it probably won't be enough to overtake him as the top wideout. The Cardinals need his size on the outside.
14. Dallas Cowboys (8-8): Dre Kirkpatrick, CB, Alabama
Kirkpatrick will bring a much-needed physical presence to the Cowboys secondary. He should provide terrific value based on this draft position.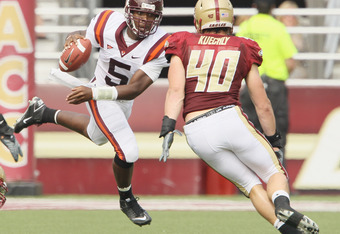 Elsa/Getty Images
15. Philadelphia Eagles (8-8): Luke Kuechly, ILB, Boston College
Watching the Eagles linebackers trying to tackle last season was often an adventure. Kuechly doesn't bring much flash to the table, but he won't miss many tackles.
16. New York Jets (8-8): Melvin Ingram, OLB, South Carolina
Ingram will open up plenty of possibilities for Rex Ryan based on his ability to move around the defense. He's exactly what the Jets need to make life tougher on Tom Brady.
17. Cincinnati Bengals (via OAK 8-8): David DeCastro, OG, Stanford
Fans of every team fall in love with playmakers during the draft process. Whether it's a wide receiver who ran a lightning-quick 40-yard dash or an outside linebacker who shine in workouts, fanbases love players with who get hyped by the media.
Those players aren't usually the best picks, however. The Bengals are a perfect example. They would be much better off selecting DeCastro, who has the potential to become a huge piece of their offensive line for many years to come, instead of a flashy potential bust.
The Bengals made a surprising run to the playoffs last season, but need to upgrade in the trenches to make it back and possibly advance. There won't be another interior lineman like DeCastro available later on, so Cincinnati should snag him.
18. San Diego Chargers (8-8): Courtney Upshaw, OLB, Alabama
The Chargers' biggest need is an outside linebacker that can start putting pressure on the quarterback right away. Upshaw fits the bill and played a bunch of big games at Alabama.
19. Chicago Bears (8-8): Peter Konz, C, Wisconsin
The Bears have some issues on the interior of their offensive line. Instead of taking a chance on a middle round prospect, they should fill the hole with Konz.
20. Tennessee Titans (9-7): Dontari Poe, DT, Memphis
Poe didn't garner much attention in college because he played at Memphis, but his performances during the draft process have pushed him into the first round.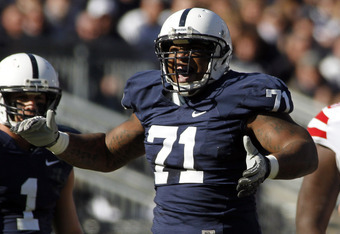 Justin K. Aller/Getty Images
21. Cincinnati Bengals (9-7): Devon Still, DT, Penn State
Don't be surprised if the Bengals think outside of the box with this pick. That said, if they decide to play it by the book, Still would be a nice addition to the defensive line.
22. Cleveland Browns (via ATL 10-6): Stephen Hill, WR, Georgia Tech
While Hill still has a long way to go before he becomes the complete package, he'll still be the most talented receiver on Cleveland's roster next season.
23. Detroit Lions (10-6): Jonathan Martin, OT, Stanford
The Lions have continued to trend in the right direction for a couple of years now. It looks like they are finally ready to put it all together and Martin will help by solidifying the line.
24. Pittsburgh Steelers (12-4): Cordy Glenn, OT, Georgia
Pittsburgh's offensive line has a tough job to do because Ben Roethlisberger likes to hold the ball for far too long in the pocket. Glenn offers versatility to fill any holes.
25. Denver Broncos (8-8): Jerel Worthy, DT, Michigan State
The Broncos were able to win eight games and win a playoff game with Tim Tebow. Now that Peyton Manning has taken over and an addition like Worthy is on the way, Denver is in great shape.
26. Houston Texans (10-6): Kendall Wright, WR, Baylor
Sometimes the best pick is simply the easiest pick. The Texans need another wide receiver to start alongside Andre Johnson and Wright should slide in perfectly.
27. New England Patriots (via NO 13-3): Janoris Jenkins, CB, North Alabama
If Jenkins was a model citizen, he would be challenging Claiborne to become the first defensive player drafted. The Patriots won't pass on that type of ability despite the baggage.
28. Green Bay Packers (15-1): Stephon Gilmore, CB, South Carolina
The Packers would be happy to see Gilmore still on the board due to his late rise, but this draft position actually represents his value well. He doesn't deserve to get picked in the top 10.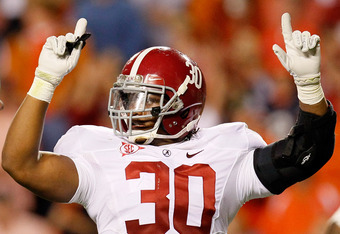 Kevin C. Cox/Getty Images
29. Baltimore Ravens (12-4): Dont'a Hightower, ILB, Alabama
Ray Lewis has enough intensity to play forever, but unfortunately his body isn't holding up quite as well. The Ravens need to start planning for the future with Hightower.
30. San Francisco 49ers (13-3): Alfonzo Dennard, CB, Nebraska
Dennard has slipped on most boards since his recent off-field incident, but the 49ers shouldn't let that stop them from adding a solid corner if they liked him beforehand.
31. New England Patriots (13-3): Whitney Mercilus, OLB, Illinois
Knowing Bill Belichick and the Patriots front office, this pick has all the makings of a trade. If they stand pat, Mercilus would provide them with the most rookie-season value.
32. New York Giants (9-7): Coby Fleener, TE, Stanford
As you'd expect for a team coming off a Super Bowl victory, the Giants don't have a ton of holes to fill before next season. That affords them the luxury of selecting the most talented prospect left when it's finally their turn to pick.
In this case, that's Fleener. He wasn't considered a first-round player when the draft process began, but he's slowly moved himself into that range. One of Luck's favorite targets at Stanford, he has all the tools to develop into the next great tight end.
The Giants lack a superior pass catcher at TE and lost wide receiver Mario Manningham in free agent. So giving Eli Manning another dependable weapon like Fleener should help the quarterback put New York back in the title mix.