NFL: Projecting the New York Jets' Roster for 2012 Training Camp
April 25, 2012

Patrick McDermott/Getty Images
There's only one day left before the NFL Draft, and I think that no fan, analyst, player or coach involved with the New York Jets can agree on what the team plans on doing at the draft. Some have called for the Jets to select strong safety Mark Barron out of Alabama; while others have called for New York to take an impact player on offense, such as Michael Floyd of Notre Dame or even Trent Richardson of Alabama.
However, the majority would like to see a player chosen like Courtney Upshaw or Chandler Jones out of Syracuse. Let's look at the top players who I project will be available when the Jets pick at No. 16. In random order:
Quinton Coples, DE/OLB, UNC – mid-to-late first round
David DeCastro, OG, Stanford – top-20 pick
Jonathon Martin, OT, Stanford – top-25 pick
Chandler Jones, OLB, Syracuse – first round
Courtney Upshaw, OLB, Alabama – top-20 pick
Dont'a Hightower, ILB, Alabama – first round
Brandon Weeden, QB, Texas A&M – first or second round
Andre Branch, DE/OLB, Clemson – first or second round
Coby Fleener, TE, Stanford – late first round
Dre Kirkpatrick, CB, Alabama – late first round
Mike Adams, OT, Ohio State – early second round
Cordy Glenn, OG, Georgia – late first round
Nick Perry, DE, USC – first or second round
Dontari Poe, NT, Memphis – top-20 pick
I would say that the Jets would realistically like to see the following players fall downward:
Michael Floyd, WR, Notre Dame
Melvin Ingram, DE/OLB, South Carolina
Trent Richardson, RB, Alabama
Mark Barron, SS, Alabama
Now, let's think of who the Jets will take. Coples probably would not be an A-plus fit in the Jets 3-4 defense, and it would be a bit of a reach. DeCastro would be a decent pickup, being coined one of the best guards to come into the NFL draft since Steve Hutchinson, but it is not a need at this point. Also, ignore Glenn.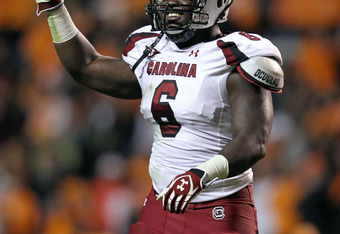 Andy Lyons/Getty Images
Martin would be a hot commodity to snag with the 16th pick, him being a great offensive tackel prospect. But I'm not sure that right tackle is New York's biggest need, so that also takes Adams off our board.
Branch and Perry would both be reaches if the Jets took either of them. Few mock drafts have either of them being taken in the first round. Hightower is not a need either, and if the Jets were to get him, they should at least trade down a few spots to do so.
Poe would be a good pick, but the last workout warrior the Jets took was Vernon Gholston, and many agree that Poe's game tape does not warrant a long look in the mid-first round.
Fleener is not at all a need in the first round, neither is Weeden, or even Kirkpatrick.
That leaves Jonathon Martin, Chandler Jones, Courtney Upshaw, and the hopeful fallers, Mark Barron, Trent Richardson, Melvin Ingram and Michael Floyd.
I really do not think that the Jets would take Mark Barron if he does fall as they are working out Yeremiah Bell and have LaRon Landry on their defense. I think Chandler Jones will fall further than 16, although he could be an Aldon Smith type prospect. Trent Richardson definitely won't be around by the 16th pick. Lastly, Michael Floyd shouldn't be around by 16 and if he is around at about 14, I could see some team trading up, similar to a few years ago with Dez Bryant.
That leaves Melvin Ingram, Jonathon Martin and Courtney Upshaw. The Jets have not shown much interest in Martin, which leads me to think that it will be Ingram at No. 16. If he is off the board, I'd like to see the Jets trade down with the Cleveland Browns at No. 22 (who would either take Tannehill or Weeden). The Jets would trade a first-, third- and fifth-round draft pick for a first- and second-rounder (picks 22 and 37).
Norm Hall/Getty Images
With the 22nd pick, the New York Jets would take Chandler Jones, outside linebacker out ofSyracuse. Then, with the 37th pick, they would take Stephen Hill, wide receiver out of Georgia Tech. He could easily be the best downfield threat in the AFC, as he averaged almost 30 yards per catch last season.
Finally, with their second-round pick, No. 47, the Jets would take the falling running back, David Wilson, from Virginia Tech, a great home-run threat complementing Shonn Greene's game. New York would not have a third-round pick (traded to Cleveland), a fourth-round pick (Tim Tebow trade) or a fifth-round pick (said trade with Cleveland). I would like to see the Jets trade their true sixth- and seventh-round picks to get back into the fifth round (trading with Buffalo) and take offensive tackle Andrew Datko from Florida State, who was at one point a first-round prospect.
They would still have four picks remaining, and with them, the Jets would take Bryan Anger, punter out of California; Vontaze Burfict, inside linebacker from Arizona State, in the sixth round; Johnnie Troutman, offensive guard out of Penn State (seventh round); and  Ryan Van Bergen nose tackle/defensive end from Michigan. So, in a more reader-friendly view, the Jets' draft looks like this:
Round 1 (16): New York Jets trade to Cleveland Browns
Round 1 (22): New York Jets select Chandler Jones, OLB, Syracuse – from Cleveland
Round 2 (37): New York Jets select Stephen Hill, WR, Georgia Tech – from Cleveland
Round 2 (47): New York Jets select David Wilson, RB, Virginia Tech
Round 3 (78): New York Jets trade to Cleveland Browns
Round 4 (109): New York Jets trade to Denver Broncos
Round 5 (147): New York Jets select Andrew Datko, OT, Florida State – from Buffalo
Round 5 (154): New York Jets trade to Cleveland Browns
Round 6 (187): New York Jets trade to Buffalo Bills
Round 6 (202): New York Jets select Bryan Anger, P, California – CP
Round 6 (203): New York Jets select Vontaze Burfict, ILB, Arizona State – CP
Round 7 (232): New York Jets trade to Buffalo Bills
Round 7 (242): New York Jets select Johnnie Troutman, OG, Penn State – CP
Round 7 (244): New York Jets select Ryan Van Bergen, NT/DE, Michigan – CP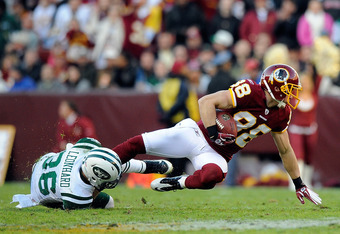 Patrick McDermott/Getty Images
With all of these picks, the Jets have taken a new pass rusher, a deep-threat wide receiver, a home-run hitting running back, a terrific offensive tackle to go against Wayne Hunter through training camp, the No. 1 punter in the draft, a player who is two months removed from being a second-round pick, a strong offensive guard who provides depth and a nose tackle who could be a good fill-in player.
Now the team's needs coming into training camp are scarce: a safety, another outside linebacker, a sure-fire inside linebacker and a proven offensive tackle. New York would then bring in Jim Leonhard and Yeremiah Bell for visits, signing only Leonhard. Then they finish the offseason by bringing back Braylon Edwards. Here is the Jets' depth chart going into next season:
QB: Mark Sanchez, Tim Tebow, Greg McElroy
RB: Shonn Greene, David Wilson, Joe McKnight, Bilal Powell
FB: John Conner
WR: Santonio Holmes, Chaz Schilens,
WR: Stephen Hill, Braylon Edwards,
Slot: Jeremey Kerley
TE: Dustin Keller, Shawn Nelson, Tanner Purdum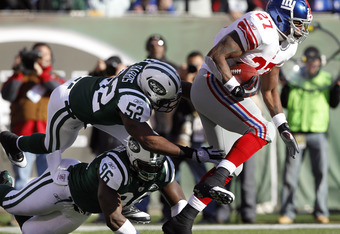 Rich Schultz/Getty Images
OT: D'Brickashaw Ferguson
OG: Matt Slauson, Caleb Schlauderaff
OC: Nick Mangold, Colin Baxter
OG: Brandon Moore, Johnnie Troutman
OT: Wayne Hunter, Vladimir Ducasse, Andrew Datko
DE: Muhammad Wilkerson, Ryan Van Bergen
DT: Mike DeVito, Ropati Pitoitua, Marcus Dixon
NT: Sione Pouha, Kenrick Ellis
OLB: Calvin Pace, Aaron Maybin
ILB: David Harris, Josh Mauga
ILB: Bart Scott, Vontaze Burfict
OLB: Chandler Jones, Bryan Thomas
CB: Darrelle Revis, Kyle Wilson
CB: Antonio Cromartie, Marquice Cole
FS: Jim Leonhard, Tracy Wilson
SS: LaRon Landry, Eric Smith
K: Nick Folk
P: Bryan Anger 
I would say this roster could be the AFC's best on paper, with no spot (besides free safety) looking like too big of a need.
What do you think of my plan? Wouldn't you also like to see this? Do you hate it? Leave me a comment so I can see your opinion based on it.