David DeCastro: 6 Biggest Strengths and Weaknesses of 2012 NFL Draft Prospect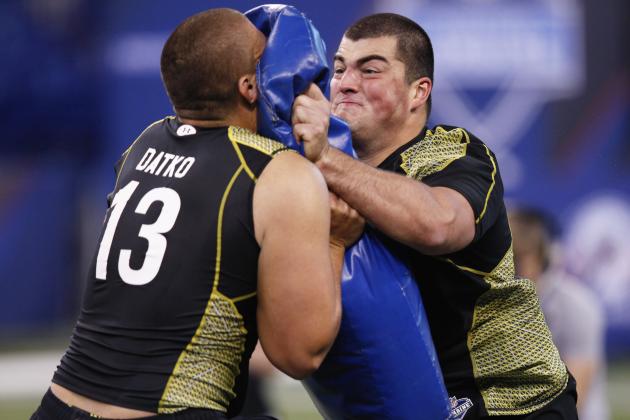 Joe Robbins/Getty Images

When it comes to the most polished, NFL-ready offensive guards in this year's NFL draft, former Stanford standout David DeCastro tops the list.
DeCastro is arguably the top offensive guard product to come out of college in the past decade. He is an exceptional blocking guard who is extremely controlled in his movements and he has body control and balance that is rare for a player of his size.
DeCastro was beyond impressive at this year's NFL Combine as well as his pro day, posting solid times, measurements and excelling in the field work portion of the drills. It would be shocking to see this former Stanford standout not selected in the first 15 picks of the NFL draft.
But, now we ask, is everything perfect in DeCastro's game?
Let's go ahead and break down six strengths and weaknesses in David DeCastro's game.
Bleacher Report Style!
Begin Slideshow

»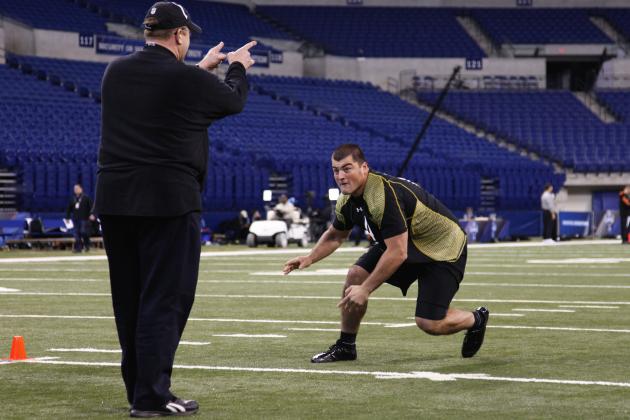 Joe Robbins/Getty Images

You simply won't find another offensive guard in this year's draft class who has the type of exceptional footwork and balance that David DeCastro possesses.
He has the ability to shuffle his feet and avoid being taken down when blocking opposing defensive linemen or linebackers. He understands what angles to take and how to properly slide and move his feet to stop any type of pass rush.
Once the ball is snapped, this former Stanford standout has great base strength and has shown that he can easily adjust to movement. His body control and balance are extremely rare for a player with his size.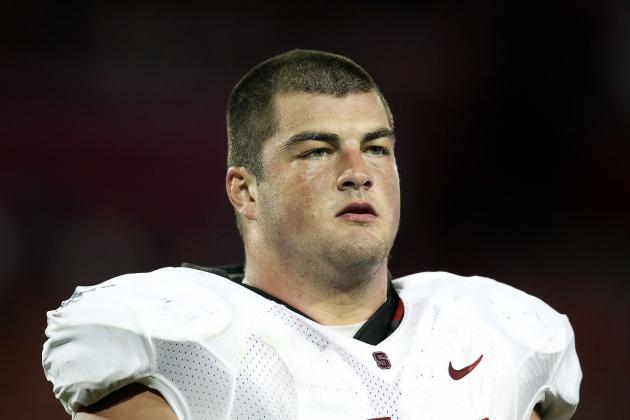 Christian Petersen/Getty Images

David DeCastro is known as a technician, meaning that his blocking skills are very sound and he plays the game according to the book.
However, if there is one knock on him, it is that he is not an explosive, knock-you-off-the-ball kind of player. He doesn't explode off the line and drive defenders into the ground, but instead uses proper technique to keep them from getting to the quarterback on pass-rushing downs and to reach the ball carrier on running downs.
This can be looked at as a weakness by some, but if his "technician" style of plays has worked this well up to this point, there isn't any reason to go ahead and change it.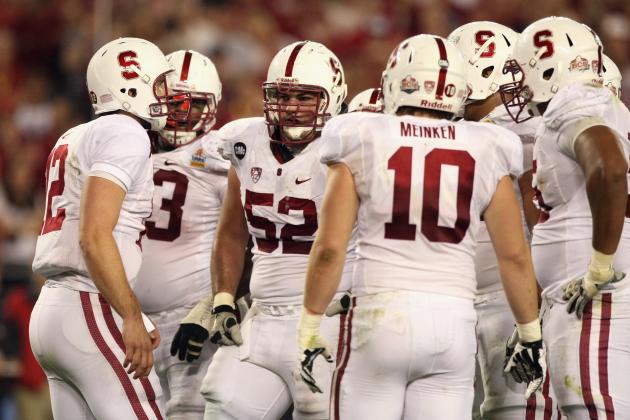 Donald Miralle/Getty Images

David DeCastro was the best offensive guard in college football this past year, but if asked to, he can play every position on the offensive line.
DeCastro has practiced at center before, snapping the ball to Andrew Luck. In addition to that, he has the size and discipline to also play offensive tackle if needed.
In addition to his exceptional size and base strength, DeCastro also has exceptional eyes, instincts and awareness, which allows him to see plays developing and hold off opposing defenders. These attributes would allow him to play at other spots on the O-line, if called upon.
Make no mistake about it, this kid is the most polished offensive guard in the past 10 years.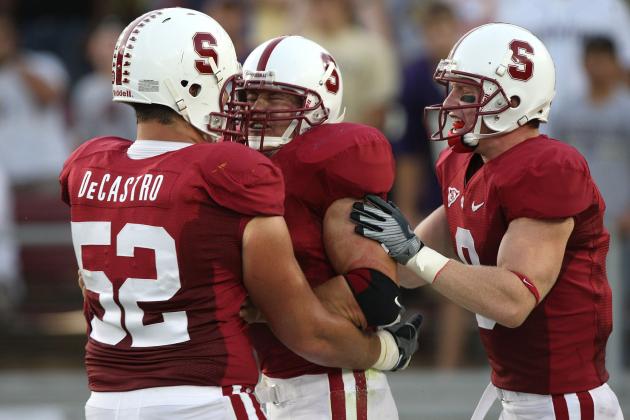 Jed Jacobsohn/Getty Images

If there was one measurable that NFL scouts were not completely wowed on with David DeCastro, it would have to be his arm length.
DeCastro's arms measured in at 32 3/8" at this year's NFL Combine, which is pretty average for an offensive guard.
To put that in comparison, Cordy Glenn (Georgia) and Kelechi Osemele (Iowa State), who are considered by many to be the No. 2 and 3 offensive guard prospects in this draft class behind DeCastro, have arms that measure 35 3/4" and 35 7/8" respectively.
Arm length is an important measurement because it gives scouts an idea of what kind of upper base offensive guards have and their length to hold off opposing defenders. That has never been an issue for DeCastro, so this shouldn't be looked at as anything to make teams shy away.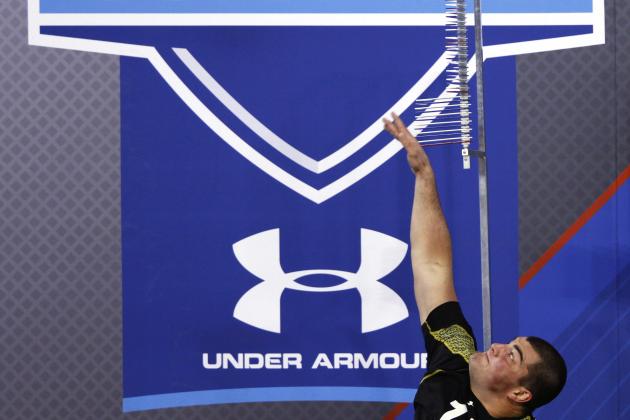 Joe Robbins/Getty Images

David DeCastro is as strong as they come.
This kid excels in both pass and run blocking situations, but whenever there was a situation where Stanford needed a yard or two for a first down, DeCastro would also pave the way in those situations and move the pile.
His 34 reps on the bench press, were the most of any offensive guard participating at this year's NFL Combine. But it's not just his upper body, as DeCastro also has exceptional base strength, never getting bull rushed by opposing defensive lineman and always able to stand his ground.
This is one strong offensive lineman and he let's opposing defenders know it out there.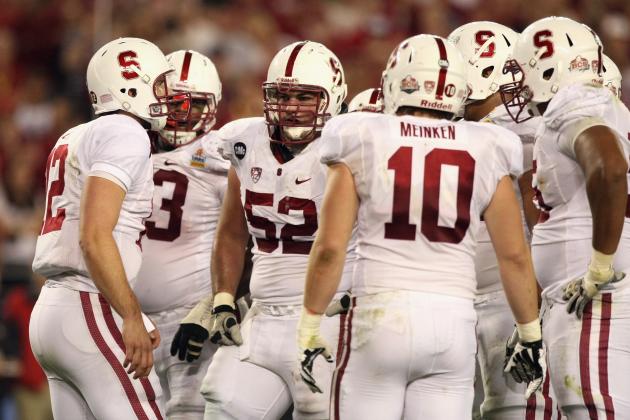 Donald Miralle/Getty Images

Of course, playing in the Pac-12, there wasn't a lack of competition for Stanford.
Going up against teams like USC, Oregon and Cal is never an easy task. But when you take a look at the defensive tackles on those teams who DeCastro lined up against this past season, there really isn't much to write home about.
Washington's Alemada Ta'amu if the only defensive tackle who DeCastro went up against this past season that will likely be selected in the first three rounds of this year's NFL draft. In fact, USC's DaJohn Harris, a likely late sound selection, is the only other defensive tackle from the Pac 12 who is expected to be drafted at all this year.
The point here is that DeCastro has all the necessary skills to be a star at the next level, but he will have to adjust to facing much stronger competition.