2012 FFspin NFL Mock Draft: Picks No. 1-8
April 25, 2012

Doug Pensinger/Getty Images
With the 2012 NFL draft fast approaching (first round kicks off on April 26), we figured now is the time to unveil our take on where the best collegiate players will end up. We don't have any changes to the first eight picks, but we can see a few trades (especially if Miami gets smitten with Tannehill).
Minnesota at No. 3 is looking to trade down (despite having OT Matt Kalil staring them in the face). Miami could actually trade out if Tannehill is gone at No. 8. Get your popcorn ready, as the first few hours of the draft are sure to have plenty of intrigue.
The dust has settled from the free-agent frenzy, Pro Days (aka scripted practice in short shorts) have concluded and NFL GMs are in full smoke screen mode, so we feel we have enough info to make some educated guesses.
We will try to provide all of the relevant info, including free-agent additions/subtractions, team needs, potential injury stopgaps, etc., so without further ado, here is how we see the top eight picks shaking out.
Picks No. 9 through No. 16: Michael Floyd selected by…
Picks No. 17 through No. 24: The Browns get some help at WR.
Picks No. 25 through No. 32: A second RB and some relief for Andre Johnson
No. 1: Indianapolis Colts: QB Andrew Luck (Stanford)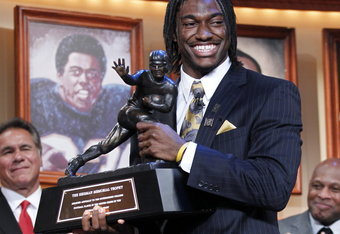 Team Needs (QB, OL, WR, CB)/Draft Strategy: The release of Peyton Manning makes this one of the bigger no-brainers in recent memory.
Offense: Run (26)/Pass (27)
Defense: Run (29)/Pass (15)
Key Offseason Adds: WR Reggie Wayne, DE Robert Mathis
Key Offseason Losses: QB Peyton Manning (Denver), WR Pierre Garcon (Washington), C Jeff Saturday (Green Bay), TE Jacob Tamme (Denver), TE Dallas Clark, RB Joseph Addai
Pick Analysis: Peyton is now in Denver, and the stars are aligned for the Colts to draft their QB of the future. The Indy passing offense plummeted to 27th in the NFL under Curtis Painter (finished No. 1 in passing offense in 2010). Luck has been compared to the best QB prospect since Peyton Manning based on his intellect and accuracy. At 6'4", 235 he has ideal size and played in a pro style the past two years under Jim Harbaugh (now the head coach of the 49ers).
Over the past two seasons, the Stanford junior has tossed 69 TDs and only 18 interceptions. Luck set a new Stanford record for career touchdown passes with 82, breaking John Elway's record of 77. Luck is a once-in-a-decade prospect and a mortal lock at No. 1.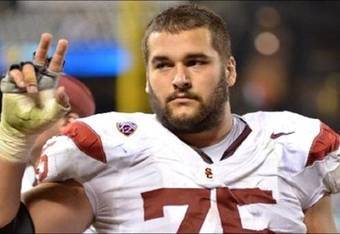 2. Washington Redskins (from St Louis): QB Robert Griffin III (Baylor)
Team Needs (QB, OL, RB, WR)/Draft Strategy: Mike Shanahan paid a heavy price to secure his QB of the future, but we feel it was well-justified.
Offense: Run (25)/Pass (14)
Defense: Run (18)/Pass (12)
Key Offseason Adds: WR Pierre Garcon, WR Josh Morgan
Key Offseason Losses: SS LaRon Landry (NY Jets)
Pick Analysis: Washington traded a boatload of picks to secure a franchise QB via the draft. The teams will swap 2012 first-rounders, while the Rams will get Washington's next two first-round picks and their 2012 second-rounder. The junior QB was extremely productive in 2011, passing for 4,293 yards (72 percent completion percentage), 37 touchdowns and six interceptions while rushing for 699 yards on 179 carries (3.9 YPC) and 10 rushing TDs. He earned several postseason awards, including the Heisman Trophy and Davey O'Brien Award and was named First Team All-American and All-Big 12.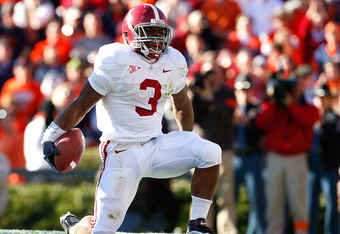 Griffin will step in for a mediocre-at-best Rex Grossman and will have newly-signed weapons Pierre Garcon and Josh Morgan in addition to TE Fred Davis at his disposal.
Other Possible Picks: None; order your RG3 Redskin jersey.
No. 3: Minnesota Vikings: OT Matt Kalil (USC)
Team Needs (LT, CB, WR, S, OG)/Draft Strategy: Vikings GM Rick Spielman has announced the pick is available for trade, but we doubt there is another player outside Luck/Griffin worth trading up for in this draft. The Vikings have numerous holes to fill, and thankfully, their most pressing needs coincide with a few consensus top-10 picks in CB Morris Claiborne, WR Justin Blackmon and OT Matt Kalil. They'll need to address the secondary and WR corps in Rounds 2-4.
If they decide to bolster one of the league's worst secondaries with Claiborne over the consensus pick in Kalil, it won't be without reason. The Vikings tied a franchise record for fewest interceptions (eight) while setting an NFL record for consecutive games without a pick (nine). The Vikings allowed opponents to post a 107.6 passer rating (second-worst in NFL history behind only the 0-16 Detroit Lions of 2008 (111).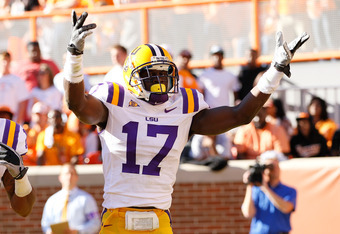 Kevin C. Cox/Getty Images
Antoine Winfield has battled injuries and will be 35 years old. Chris Cook (second-round pick in 2010) missed most of the 2011 season amid domestic abuse charges, which were recently dropped. Cook figures to be back in the starting lineup this season but is unproven. CB Asher Allen was forced into a starting role in 2011, but showed that he's back-up material at best.
Offense: Run (4)/Pass (28)
Defense: Run (11)/Pass (26)
Key Offseason Adds: TE John Carlson, OT/G Geoff Schwartz
Key Offseason Losses: G Steve Hutchinson (Tennessee), CB Cedric Griffin (Washington) 
Pick Analysis: Another potential trade down, as GM Rick Spielman has made it clear that the No. 3 pick is on the table. The release of Bryant McKinnie left the Viking O-line as one of the weaker units in the NFL (allowed the fifth-most sacks (49) in 2011). Guard Steve Hutchinson is 34 years old was released (owed $7 million in final year of his contract).
Kalil is a top-flight LT prospect. At 6'7", 306 pounds, the USC alum is NFL-ready and is labeled by most as the best LT prospect in this draft. The pedigree is evident in the fact that his father was drafted by Buffalo and his brother Ryan (Carolina) is the highest-paid center in the NFL. Kalil has displayed solid footwork, arm length and a killer instinct that should translate well as he projects to be a starting LT at the NFL level.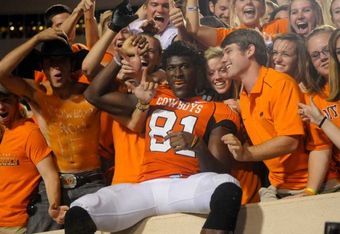 Protecting rookie QB Christian Ponder should be a high priority. The Vikings also need to bolster their WR corps, but this draft class is very deep at wideout, and there should be a starter on the board when they pick early in Round 2.
Other Possible Picks: CB Morris Claiborne, WR Justin Blackmon 
No. 4: Cleveland Browns: RB Trent Richardson (Alabama)
Team Needs (QB, RB, WR, RT, DE)/Draft Strategy: The Browns must address one of the league's more anemic offenses early and often (averaged just 14 PPG in 2011). Apparently, they are willing to go another season with Colt McCoy under center, but taking a QB of the future is a must at some point in this draft; too early for Tannehill in our opinion. RB Montario Hardesty has battled injuries, and WR Greg Little is a No. 2 option at best.
Offense: Run (28)/Pass (24)
Defense: Run (30)/Pass (2)
Key Offseason Adds: DE Frostee Rucker
Key Offseason Losses:  RB Peyton Hillis (Kansas City)
Pick Analysis: With Peyton Hillis signing a one-year contract with Kansas City and reports that the Browns front office plan to start next season with Colt McCoy, upgrading a ground game that ranked 28th seems like a logical move, especially with a prospect in Richardson that has been labeled as the best collegiate RBs to enter the draft since Adrian Peterson. He averaged 132 yards per game to rank fifth nationally and first in the SEC.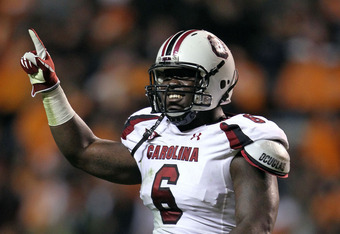 At 5'11" 225 lbs., the Doak Walker Award winner has ideal size/speed combo to be a durable every-down back at the next level. His recent Pro Day cemented him as a top-five pick, as he displayed top-flight speed (4.4 40) and above-average receiving and pass-blocking skills; the knee scope from two months ago appeared to be a non-issue.
Ball security shouldn't be an issue, as Richardson only fumbled one time during his three seasons at Alabama, and his ability in blitz pickup/pass protection is an added bonus. He is a total package and should be able to step in from day one and handle 20 carries. We think he has a much higher ceiling than the last RB taken in the top 10—CJ Spiller went No. 9 to Buffalo in 2010.
Other Possible Picks: WR Justin Blackmon, QB Ryan Tannehill, OT Reilly Reiff.
No. 5: Tampa Bay Bucs: CB Morris Claiborne (LSU)
Team Needs (CB, LB, RT, WR, RB)/Draft Strategy: The Bucs had the most space under the cap this offseason, and they opened up their checkbooks to fill two major holes by signing free agents WR Vincent Jackson (San Diego) and OG Carl Nicks (New Orleans). Addressing the defense should take president unless RB Trent Richardson is still on the board.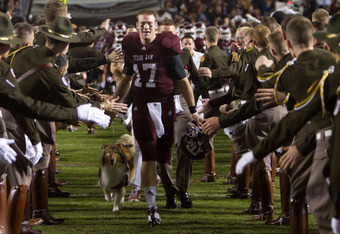 Darren Carroll/Getty Images
Offense: Run (30) / Pass (16)
Defense: Run (32) / Pass (21)
Key Offseason Adds: WR Vincent Jackson, OG Carl Nicks , CB Eric Wright
Key Offseason Losses:  none
Pick Analysis: Tampa has loaded up on defensive line draft picks in the first round over the past two years (DT Gerald McCoy in 2010 and DE Adrian Clayborn in 2011), so with CB Aquib Talib in a contract year in 2012 and Ronde Barber nearing retirement, it's time to address the back-end of the defense in this year's first round. At 6'0", 188 pounds, Claiborne is labeled as the consensus No. 1 CB in a somewhat weak CB draft class.
In 2001, he won the Jim Thorpe Award as the nation's top defensive back (had six of his 11 career interceptions in 2011). Claiborne has shutdown CB potential and above-average hands (former WR) that should translate well for generating interceptions. His elite speed will make him a dangerous return man once the ball is in his hands (4.39 and 4.44 forty times at LSU's pro day).
Other Possible Picks: RB Trent Richardson, LB Luke Kuechly
No. 6: St Louis Rams (from Washington): WR Justin Blackmon (Oklahoma State)
Team Needs (OL, WR, LB, CB, S)/Draft Strategy: First-year head coach Jeff Fisher did well to trade down four places and secure two additional first-round picks, as the Rams have multiple holes and already have a franchise QB in Sam Bradford. Giving Bradford a go-to WR in the passing game should be a high priority following the loss of WR Brandon Lloyd (reunited with Josh McDaniels in New England). Bolstering an O-line that allowed a league-worst 55 sacks is also at the top of the Rams' wish list, especially if they plan to keep Bradford out of the ER.
Offense: Run (23) / Pass (30)
Defense: Run (31) / Pass (7)
Key Offseason Adds: CB Cortland Finnegan , C Scott Wells , WR Steve Smith (Eagles)  
Key Offseason Losses: WR Brandon Lloyd (New England)
Pick Analysis: The 6'1", 211-pound Blackmon had an impressive 2010, hauling in 111 catches for 1,782 yards with 20 touchdowns, but decided to return to school. He proved all doubters wrong at his pro day when the two-time Biletnikoff award winner ran a 4.4 40 time. Sam Bradford is in dire need of a go-to WR as he enters his third NFL season, and Blackmon should provide him the top-flight receiving weapon that he desperately needs.
Other Possible Picks: WR Michael Floyd, OL Riley Reiff, OG David DeCastro, CB Morris Claiborne
No. 7: Jacksonville Jaguars: OLB/DE Melvin Ingram (South Carolina)
Team Needs (QB, WR, CB, DE, S)/Draft Strategy: The Jags defense ranked among the top 10 against the pass and run, but they lack a true sack artist (registered just 31 sacks in 2011), and if they are unable to trade down, they should take the best available player on the board.
First-year head coach Mike Mularkey inherits quite possibly the worst offensive unit in the league. The Jags were the league's worst passing offense, as rookie QB Blaine Gabbert resembled a deer in headlights. Jacksonville averaged just 15 PPG, and adding weapons to pair with RB Maurice Jones-Drew is a must. The offseason addition of former Cowboy WR Laurent Robinson was a step in the right direction. Some have WR Michael Floyd going here, but it might be a bit of a reach amid his character and durability concerns.
Offense: Run (12) / Pass (32)
Defense: Run (9) / Pass (8)
Key Offseason Adds: WR Laurent Robinson, QB Chad Henne, DE Jeremy Mincey (re-signed)
Key Offseason Losses:  none
Pick Analysis: The Jacksonville defense had a very mediocre 31 sacks on the season. Their only legit pass-rusher, Jeremy Mincey, was re-signed, but additions are needed. Aaron Kampman is past his prime and can't stay healthy.
In 2011, Ingram (6'2", 276 pounds) led South Carolina with 13.5 tackles for loss, 8.5 sacks and scored three touchdowns. Ingram is a high motor player that is best suited to play LB. He could be a difference maker from Day 1 in the same mold as Denver sack master Elvis Dumervil (also under 6'2"). Getting selected in the top 10 would be a hell of a birthday present for Ingram, who will turn 23 on April 26.
Other Possible Picks: CB Stephon Gilmore, WR Michael Floyd, DE Quinton Coples, DT Fletcher Cox
No. 8: Miami Dolphins: QB Ryan Tannehill (Texas A&M)
Team Needs (QB, RT, LB, DT, S)/Draft Strategy: Despite his split personality, the trade of WR Brandon Marshall leaves a gaping hole in a Miami passing game that struggled in 2011. We think Miami concentrates on improving the passing game in the early rounds, and what better place to start than at the QB position.
Matt Moore and David Garrard are back-up material at best. First-year coach Joe Philbin (former OC with Green Bay) struck out in his pursuit of Peyton Manning and Matt Flynn.
Since Dan Marino retired in 2000, here is the illustrious list of QBs that have led the Dolphins in wins over the past decade: Jay Fiedler, Chad Henne, Chad Pennington, Gus Frerrotte and Matt Moore. I'd say an upgrade is in order.
RT Marc Colombo allowed nine sacks in 2011 and should not be starting. Miami could consider going with a solid RT like Riley Reiff if they decide to wait on QB/WR.
Offense: Run (11) / Pass (23)
Defense: Run (3) / Pass (25)
Key Offseason Adds: QB David Garrard, NT Paul Soliai (re-signed)
Key Offseason Losses: WR Brandon Marshall (traded to Chicago for two third-round picks), DE/DT Phillip Merling (cut)
Pick Analysis: Matt Moore finished strong and could very well be the starting QB next season, but an upgrade is warranted. I still am not sold on Tannehill as a top-15 pick, but not many expected Christian Ponder to go in the first round last season (No. 12 pick by the Vikings).
Tannehill (6'4", 220) is an athletic, big-armed QB that would be an immediate upgrade in South Beach. He spent his first two seasons at A&M as a WR and is the only player in college football history to record more than  3,000 passing yards and 1,500 receiving yards in a career.
Tannehill suffered a fractured bone in his foot in pre-draft workouts, but appeared 100 percent recovered for his Pro Day on March 29 (ran a very impressive 4.6 40 time). Despite only having 19 starts under center at the collegiate level, his draft stock is on the rise based on his measurables and experience in a pro style (West Coast) offense while at Texas A&M.
He's best served to sit in his rookie season as he struggles to look off defenders, and his accuracy on passes over the middle needs work. He does possess franchise QB upside provided he can improve his accuracy and prove that he's a solid leader (lost most close games against ranked opponents in 2011).
It's worth noting that Broncos WR Demaryius Thomas broke his foot around the same time as Tannehill did in 2010 and was still a top-25 selection. Miami could look to replace recently traded WR Brandon Marshall with Michael Floyd, but it might be a slight reach at No. 8. Miami allowed an alarming 52 sacks in 2011 (third-most in the NFL), so going with the best O-lineman on the board is also a possibility.Dolphins OC Mike Sherman coached Tannehill at Texas A&M; that might make Miami a natural fit for the third-best QB prospect in this draft. 
Other Possible Picks: WR Michael Floyd, DE Quinton Coples, OT Reilly Reiff, OG David Decastro
Join us for a LIVE CHAT during the first round of the NFL draft on Thursday April 26th starting at 7:45 PM and lasting until the final pick of round 1. Rob Warner and Scott Pashley will be joined by several other top fantasy football experts throughout the night to pontificate on the picks and their fantasy football impact. Space will be limited, register for the free chat HERE.
If interested in additional offseason insights, sign up for the FFSPin Monthly newsletter, and be sure to friend us on Facebook.