Michael Phelps and 9 Other Famous Pro Athletes Who've Used Illicit Drugs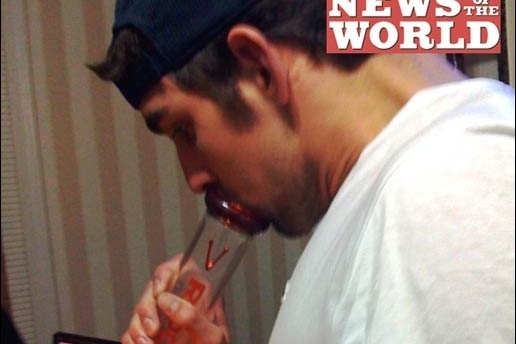 From marijuana to cocaine to painkillers to LSD, the prevalence of drugs in sports is staggering.
While many advocates support the use of some drugs medicinally, there is no denying the damage that drug abuse has inflicted on some of this generation's greatest athletes.
We have seen drugs and alcohol ruin the potential Hall of Fame careers of countless athletes through the years.
Here is a list of ten of the most notorious drug abusers in recent memory.
Who did I leave out? Feel free to leave comments and feedback.
Begin Slideshow

»
Dock Ellis is best known for pitching a no-hitter in 1970 and later admitting to being under the influence of LSD throughout the game.
Ellis hadn't realized he was scheduled to start that day and took the hallucinogen prior the game. Despite walking eight batters, Ellis managed to keep the San Diego Padres hitless that afternoon.
Here's Ellis's recollection:
"I can only remember bits and pieces of the game. I was psyched. I had a feeling of euphoria. I was zeroed in on the (catcher's) glove, but I didn't hit the glove too much. I remember hitting a couple of batters, and the bases were loaded two or three times. The ball was small sometimes, the ball was large sometimes, sometimes I saw the catcher, sometimes I didn't. Sometimes, I tried to stare the hitter down and throw while I was looking at him. I chewed my gum until it turned to powder. I started having a crazy idea in the fourth inning that Richard Nixon was the home plate umpire, and once I thought I was pitching a baseball to Jimi Hendrix, who to me was holding a guitar and swinging it over the plate. They say I had about three to four fielding chances. I remember diving out of the way of a ball I thought was a line drive. I jumped, but the ball wasn't hit hard and never reached me."
Ironically, Ellis retired to California to begin a career as a drug counselor.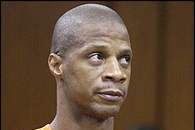 At the age of 29, Darryl Strawberry had notched 280 career home runs and was destined for the Hall of Fame.
But Strawberry's struggles with alcohol and cocaine ruined a once promising career and a Cooperstown resume.
Strawberry received multiple suspensions from Major League Baseball after positive drug tests for cocaine. He also experienced trouble with the law after numerous arrests eventually led him to an 18-month prison sentence for probation violations.
Strawberry, a 4-time World Series champion, is just another casualty of drugs and alcohol devastating a potential Cooperstown-worthy baseball career.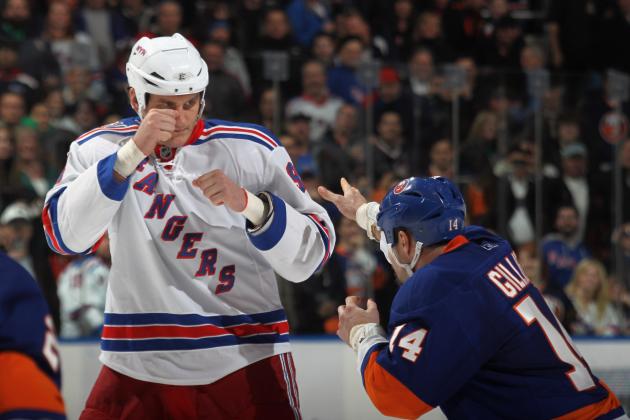 Bruce Bennett/Getty Images

Derek Boogaard established himself as one of the most feared enforcers in the NHL during his time with the Minnesota Wild and New York Rangers.
During the 2008-09 season Boogaard began taking prescription pain relief medicine for back pain from a previous injury. After multiple surgeries, Boogaard was able to obtain prescriptions to multiple pills including Percocet, Vicodin and Oxycontin.
Boogaard developed an addiction to the pain medication and prior to the 2009-10 season, his team sent him to Southern California to attend a drug rehabilitation center.
Boogaard continued to struggle with his addiction and eventually lost the battle after an accidental overdose from oxycodone and alcohol led to his death in May of 2011.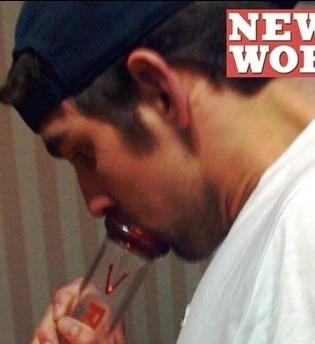 Michael Phelps might have taken the most famous bong hit of all-time.
In 2009 after a photograph emerged of the Olympic swimmer taking a hit of marijuana from a bong, USA Swimming suspended Phelps for three months.
The photograph stirred controversy throughout the world and Kellogg's announced that they would not renew their endorsement deal with the 8-time gold medalist.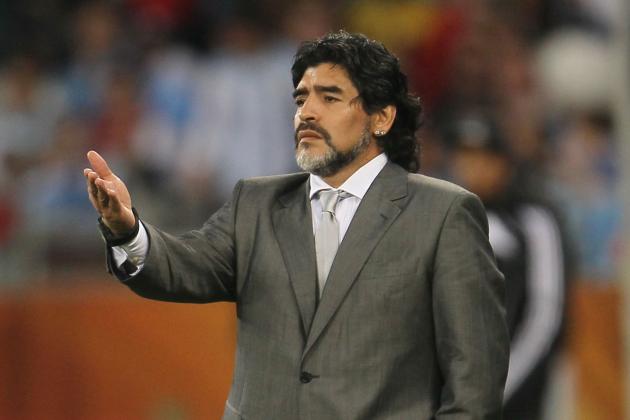 Chris McGrath/Getty Images

From early in the 1980's up until 2004, Diego Maradona was addicted to cocaine.
Maradona, the Argentinean midfielder who is regarded by some as the best soccer player ever, suffered serious health consequences because of his drug use.
Following a cocaine overdose in 2004, Maradona suffered a myocardial infarction and was admitted into intensive care for over a week.
During his playing career Maradona failed multiple drug tests and was suspended three times from playing soccer.
In 2007, the soccer legend claimed to have been clean from cocaine for over two years.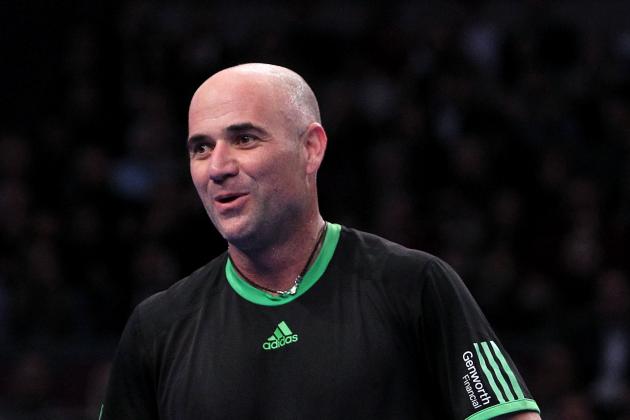 Nick Laham/Getty Images

Andre Agassi, one of the most dominant tennis players of our generation, admitted in his 2009 autobiography that he frequently used crystal meth during his career.
After failing a drug test for amphetamines in 1997, Agassi admits in his book to writing the ATP a letter where he claimed the usage to be accidental.
Agassi explains the letter:
"I say Slim, whom I've since fired, is a known drug user, and that he often spikes his sodas with meth—which is true. Then I come to the central lie of the letter. I say that recently I drank accidentally from one of Slim's spiked sodas, unwittingly ingesting his drugs. I ask for understanding and leniency and hastily sign it: Sincerely."
Agassi, who retired in 2006, married tennis star Steffi Graf and has two children.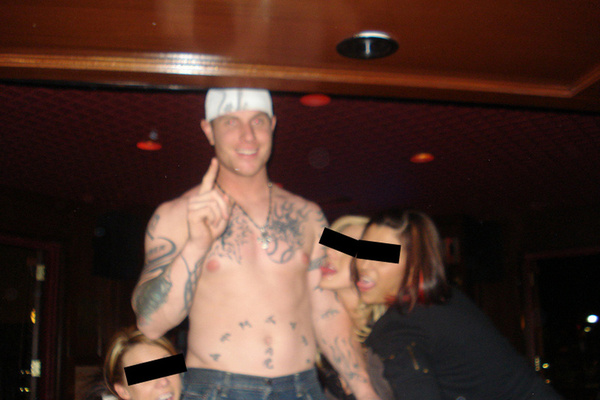 In 1999, Josh Hamilton was the first overall pick by the Tampa Bay Devil Rays but his major league debut was delayed for eight years after his issues with drugs and alcohol derailed his baseball career.
The eventual 2010 AL MVP made several attempts at rehab but it was not until 2008 that he was able to cope with his addiction and start making a living by driving baseballs into the seats.
The outfielder struggled to pass drug tests for years and was faced with several suspensions by the MLB. From 2004 until 2006, Hamilton did not play baseball at all.
Hamilton's recovery has been well documented and his teammates are mindful of his journey. Rather than celebrating division titles and postseason series victories with champagne, the locker rooms get sprayed down with ginger ale instead.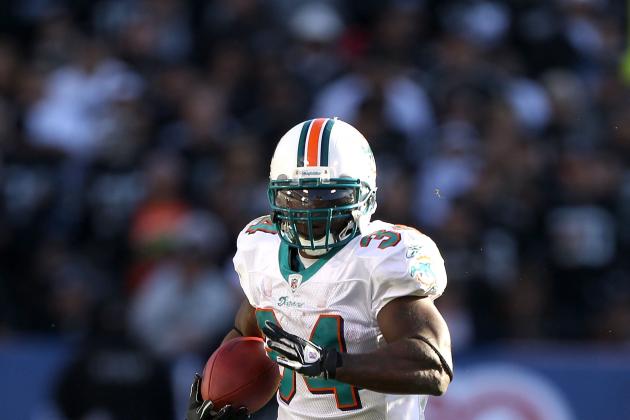 Ezra Shaw/Getty Images

Ricky Williams has become infamous for his outspoken infatuation with marijuana.
Williams won the 1998 Heisman Trophy award at the University of Texas and left college football as the all-time leading rusher.
Williams was busted by the NFL four times for violating the league's substance abuse policy.
Ricky has been bouncing around between the NFL, the CFL and retirement for almost a decade now but he has still had difficulty evading his reputation for being a stoner.
Ricky Williams might be the only person ever to combine being a running back, a vegan, a yoga instructor and a pothead.
There is no denying that the eccentric personality of Ricky was entertaining, but one can't help but wonder how great a football player Williams would have become if he had only stuck to burning linebackers.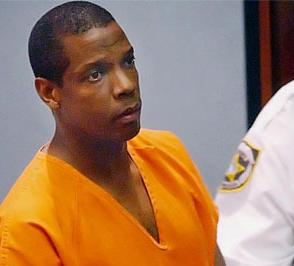 Dwight Gooden dominated the National League in the late-1980's with his powerful fastball and looping curveball but his difficulties with drugs and alcohol undermined a great career.
Gooden became the third New York Mets pitcher to win the Cy Young award in 1985 when he led the league in wins, earned run average and strikeouts.
In 1987, coming off a World Series title with the Mets, rumors of drug abuse were confirmed when Gooden tested positive for cocaine. Gooden was forced to enter a rehabilitation center prior to the 1987 season to avoid suspension and despite missing a third of the regular season, Gooden still finished with 15 wins.
Gooden continued to struggle with drug abuse as he failed two drug tests for cocaine in 1994 and was suspended for the entire 1995 season.
The day following receiving the suspension, Gooden's wife found him in his bedroom with a loaded gun to his head.
Gooden's run-ins with the law also continued. As recently as 2010 he was arrested for DWI with a child passenger as well as leaving the scene of an accident in Franklin Lakes, New Jersey.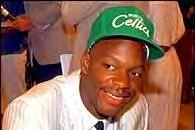 Len Bias may be the best basketball player of all time to never reach the professional level.
The University of Maryland All-American died from a cocaine overdose just two days after he was selected second overall in the 1986 NBA Draft by the Boston Celtics.
In 1988, U.S. Congress created "The Len Bias Law" which entails stricter drug penalties and expansion of the DARE program.